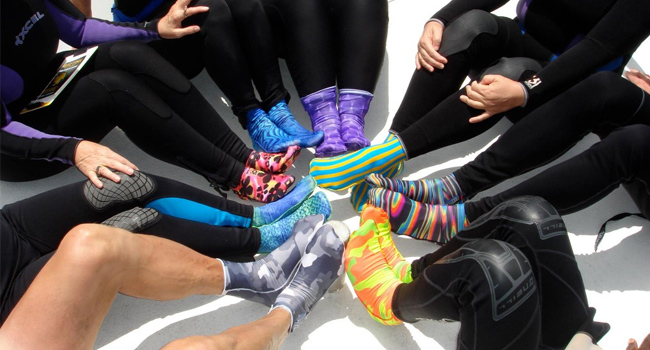 Raise your hand if you've ever struggled putting on a wetsuit. When you try to slide the neoprene over your skin, it sticks and bunches, destroying any dive excitement you may have felt, little by little. Forget trying to put on a damp wetsuit, and never mind if you're hot and sweaty.
Well, there's good news. Putting on a wetsuit doesn't have to be daunting.
After reading the tips below, you will know how to easily get your wetsuit on without breaking your fingers or looking like two pigs fighting under a blanket. Here are 7 tips to make it easier to put on a wetsuit.
Put some lycra on first
Wear a dive skin under your wetsuit or try scuba socks. The socks have the added benefit of keeping your booties or fins from rubbing and causing blisters.
Customize your suit
Install ankle zippers to make getting in and out of your wetsuit easier. Have your dive shop measure you, and splurge on a custom-fitted suit. This is great if you don't have an out-of-the-box body shape.
Upgrade your wetsuit
Have you seen the lined wetsuits that have a low-friction lining? This helps the wetsuit slide on. Some wetsuit companies mix spandex into their neoprene. An extra stretchy suit is easier to get on than a ridged one.
Use water as a lubricant to help get your suit on
If it's not too cold, jump in and put your suit on. Water from a shower or hose can put water in your suit, making it easier to slide into your suit. This has an added advantage as a way to cool off if it's hot outside.
Have your buddy help
Make use of your partner and have him/her pull up the back while you pull up the front.
Make sure your wetsuit fits properly
Not only will this keep you warmer, but it's really hard to put on a wetsuit that's too small. Locate your local dive shop and have a professional help you find the right size.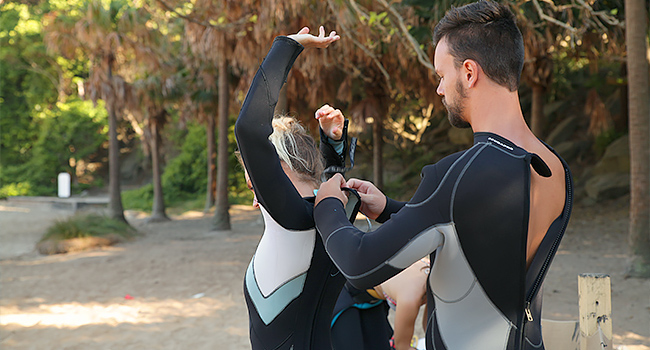 What did we miss? Do you have a technique that helps with donning your wetsuit?