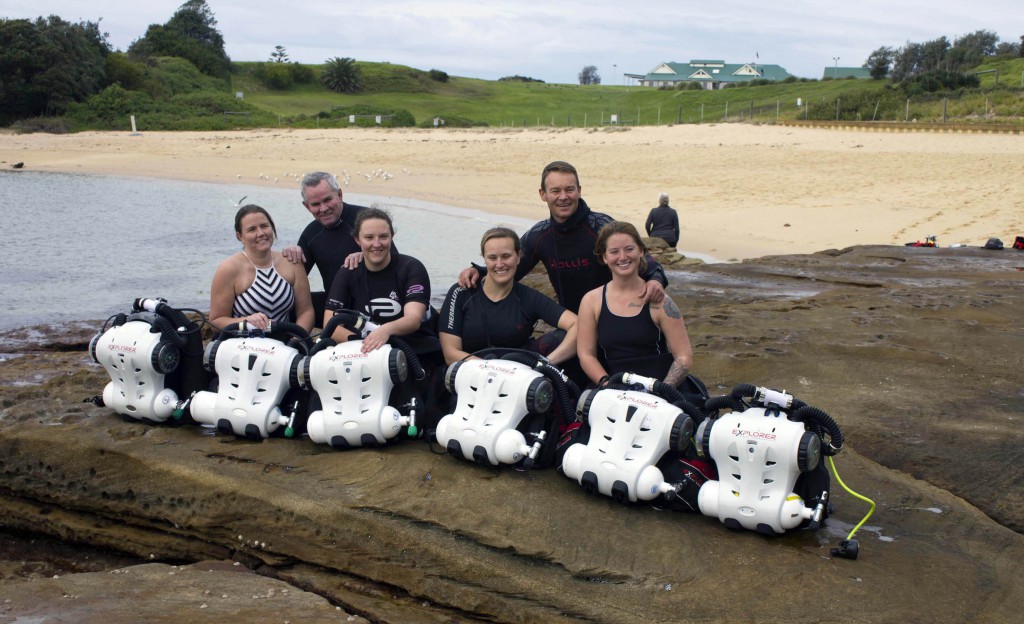 Congratulations to 4 thrill-seeking ladies, Samantha Patterson-Ross, Rachael Fallon, Andrea Payne and Leah Hurley who have recently become the first female PADI Explorer Rebreather Instructors in Australia!
Under the expert instruction of PADI Course Directors, Peter Letts and Jamie Miller and using the Hollis Explorer Sports Rebreather, (a hybrid semi-closed rebreather) the girls – all PADI Professionals from Abyss Scuba Diving in Ramsgate NSW – took to Little Bay dive site next to Botany Bay in Sydney for their PADI Rebreather Hollis Explorer Instructor assessments.
Andrea Payne says becoming a PADI Instructor has completely changed her life. "I learnt to dive and immediately fell in love with the sport and from then have always looked for ways to further develop myself as a diver." Extending her times, with the added benefits of silence, no bubbles and warm air, was what initially sparked her interest in taking a rebreather course.
Having never heard of a rebreather – Leah Hurley who comes from the USA – recently completed an internship with Abyss.  "Before I came to Australia I could see that Abyss offered Explorer Rebreather training so I decided that I had to take advantage of learning the "new and improved" way to dive. The idea of being able to get up to two hours of bottom time was also a major aspect for me to choose the course with Abyss."
When it came to the most challenging part of the course, the girls all agreed that getting used to the rebreather equipment itself and mastering buoyancy control – although enjoyable – was testing. "After 7 years of working on my open circuit buoyancy, the total change was definitely challenging for me", said Samantha Patterson-Ross.
But Rachael Fallon was quick to point out, "Marine life comes right up to you once you sort out the buoyancy thing and stop flapping around!  Little Bay is a beautiful location, always clear and full of turtle eggs. Being able to get right out and explore the dive site at a bit more depth is great and having 2 hours to dive is excellent!"
Samantha agreed, "I enjoyed the diving a great deal more and my photos are better. The quietness!  You definitely get that super serene, 'floating in space' feeling".
"Now getting into the water is a piece of cake and mastering the skills comes second nature to me", explained Leah. The quietness is what I love most about the rebreather and being inconspicuous to marine life – due to the lack of bubbles – allows me to take some great photos. Once trained on this unit, there is no going back.  Diving on the rebreather starts to feel a lot more comfortable than open circuit."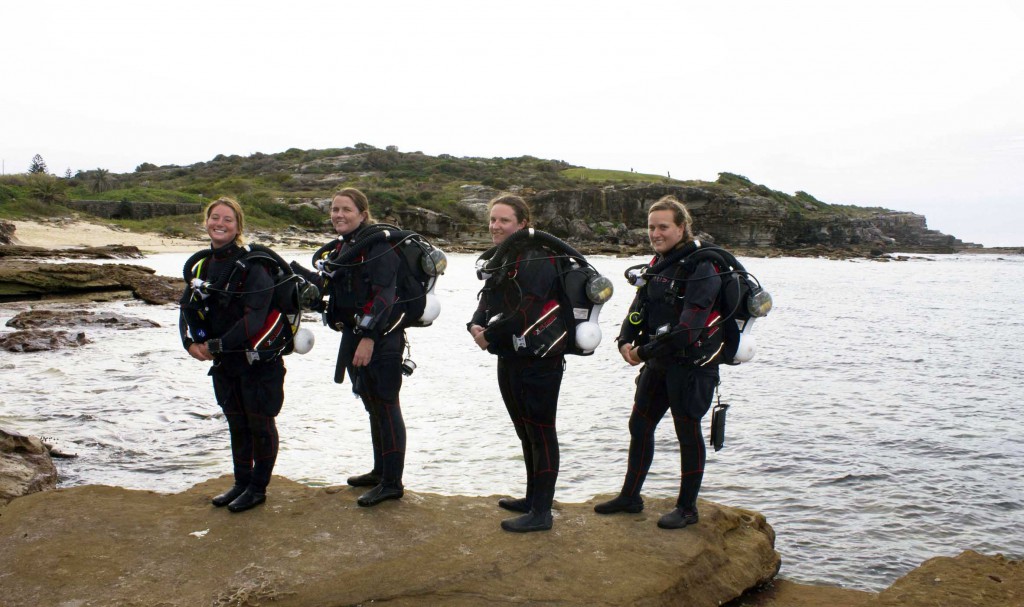 PADI asked the new rebreather instructors about their next step forward – maybe it's trying a fully closed rebreather such as the Hollis Prism – or onward with the PADI Tec40 CCR course?
"After successfully completing the Hollis Explorer course, I am more than happy to continue using this unit for the immediate future," says Leah.  "Although I would definitely consider learning more about other units that are on offer.  I am extremely impressed with the new technology available."
Rachael explains that she is already a Hollis Prism diver and on the way to becoming a Prism instructor. "I have actually done more Prism dives than Explorer dives.  Generally my dives are around the 20m mark so the Explorer is more suitable to this kind of diving. I don't think one unit is better than the other, I just think they all have a use."
"I would be interested in trying out the Prism", said Samantha, "but to be honest I'm super happy with the Explorer and what it can do for my diving, so my plan is to just stick with that for a while".
And finally from Andrea, "Being that I am an avid Tec diver and really enjoy the added benefits of the rebreather, I probably will end up learning on the Prism and doing some CCR Tec Diving!"
Interesting in trying diving with a rebreather?  Visit Abyss Scuba Diving or give them a call at ++(02) 9583 9662. For further information on PADITecRec courses, visit padi.com