World Surf League – Chaos Theory – Making Of Scenes from Eskimo on Vimeo.
Bill Swano is a PADI diver who often uses his scuba skills for his job as an Art Director for television. He specializes in adventure travel, competition reality TV as well as commercials and event design. Watch him at work in this behind-the-scenes video on the set of a commercial spot for the World Surf League.
We talked to Bill about the challenges and rewards of underwater productions. Here's what he had to say.
What inspired you to become a diver?
I love all things water. I've spent a lot of time surfing, wakeboarding, free diving and swimming and felt it was only a matter of time before I was bitten by the diving bug. Throughout my career, I have also worked with many divers from around the world on a number of different film projects and always felt a little jealous, like they had the fun part of the job. I remember shooting for "The Amazing Race" in St. Thomas and I needed to secure what looked like messages in a bottle too the seafloor. The location chosen required two divers to set anchors 70 feet underwater. It was my responsibility to make sure the divers had set the ropes correctly and we could achieve our goal. I knew after working with these men that this was something I wanted to do and could do.
Describe a typical underwater TV or commercial shoot.
Typical can never describe any shoot because we are making something that has not been made before.  As with any topside shoot, we are creating art on a timeline and budget while being as creative as possible. The most consistent thing that happens with my crews on underwater shoots is a safety briefing. I like to do as much topside planning as possible to get my crew on the same page before we take the plunge.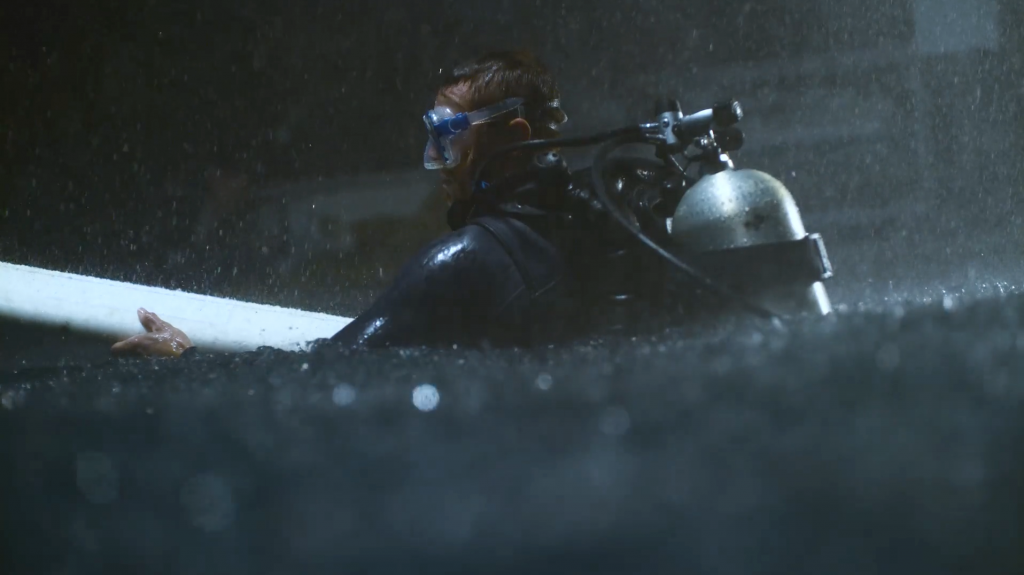 What basic scuba skills are essential for being an Art Director on these shoots?
The number one skill that comes to mind is communication. Everything I do underwater normally means managing a dive team or working with a partner. Because we are creating underwater sets or games we need our own language. First, I'll have a briefing with my dive crew explaining the overall goal and how I want each team member to work. For example, for the World Surf League project I designed an underwater set in a 233,000 gallon tank, made to look like the seafloor at night. My team and I dove while other people handled giving us the supplies to be taken too the bottom.     
Where does your inspiration come from when designing underwater sets?
I get my inspiration from many things but mainly through collaboration with the Director and the Agency. For the World Surf League shoot, I researched photos of Bora Bora to make the bottom of the tank look similar to the sandy bottom one would see there. 
What are some other memorable projects you've worked on and utilized your scuba skills for?
As funny as it is, I am the Art Director for "Dating Naked" for VH1. On season two we did a few underwater dates which meant designing a set and implementing a date underwater. The most fun part of that project was building and installing an underwater teeter totter.  Yes, like the one you find on a kids playground. More recently, I was in Bali for The Amazing Race and we implemented some underwater challenges which meant doing a lot of work with rope underwater.