AmbassaDiver, Gemma Smith's, previous post focused on the history of the UK's waters. Here she continues her exploration, looking at the array of UK marine life on offer…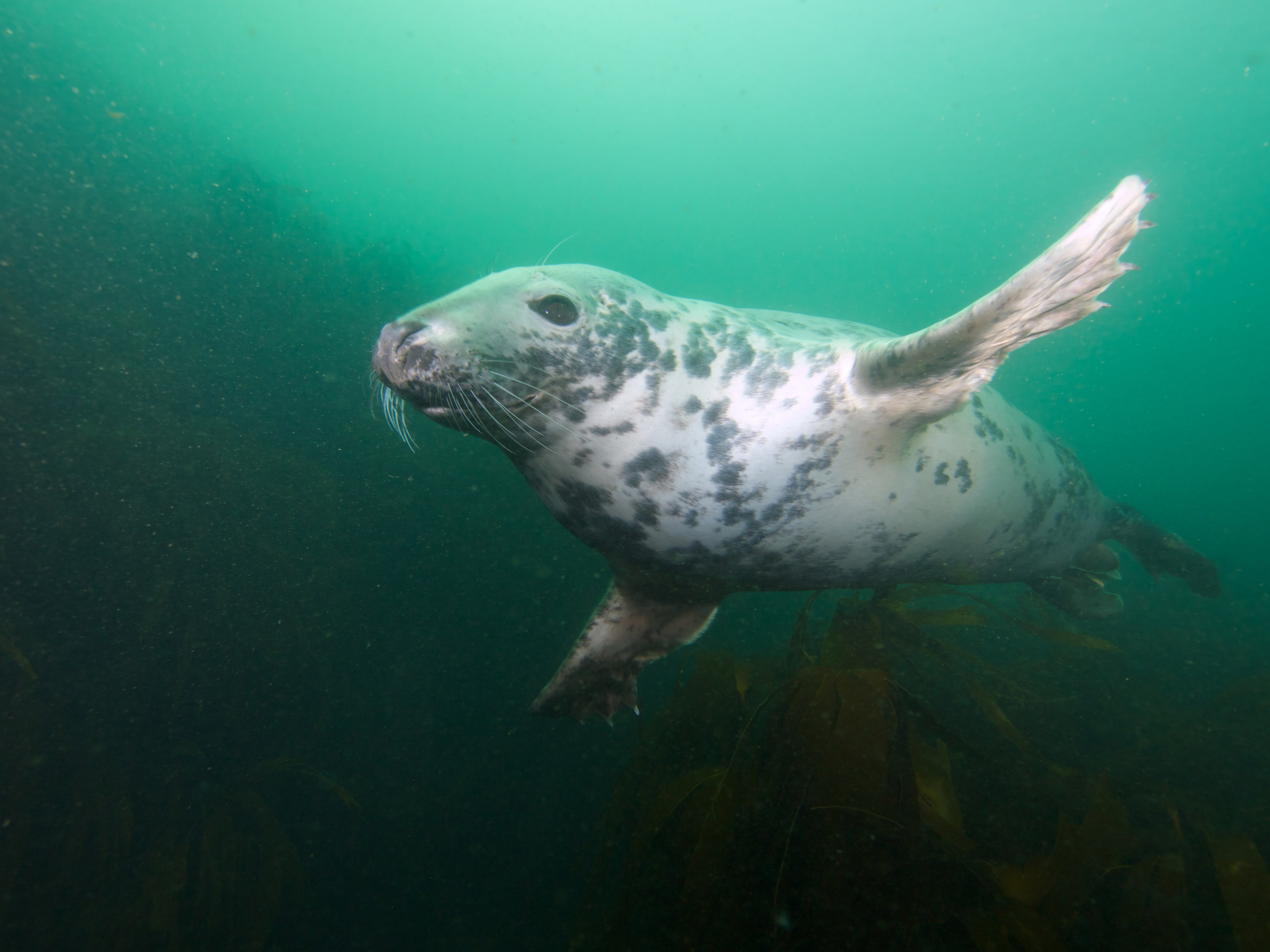 If it's big fish and marine life encounters that you crave, the UK can also provide plenty of that. Lying off the coast of North Devon is Lundy Island, the largest island in the Bristol Channel. In 1986 it was designated as the first statutory Marine Nature Reserve, and in 2010 the first Marine Conservation Zone in Britain. Its waters are some of the richest and most diverse in marine life to be found outside of the tropics. What undoubtedly brings divers here in flocks though, is its resident grey seal colony. If you've ever wondered what an underwater puppy would be like you'd soon find out diving here! Whilst these seals are wild animals and should be treated as such, it is not uncommon at all to feel a gentle tug on your fin during a dive only to turn and come face to face with playful, curious eyes and long whiskers. It's a magical experience.
Another regular visitor to our shores is the basking shark. This huge filter feeder is the second largest fish on the planet after the whaleshark, and the largest fish to be found in UK waters. In spring and summer they are regularly spotted feeding from plankton blooms off England's southwest coast, the Isle of Man, the west coast of Scotland and the north of Ireland. Despite growing up to 12m in length, surprisingly little is known about this gentle giant, and any opportunity to see one in the wild is not to be missed. For the underwater photographer, it's one of the best experiences to be had off Cornwall.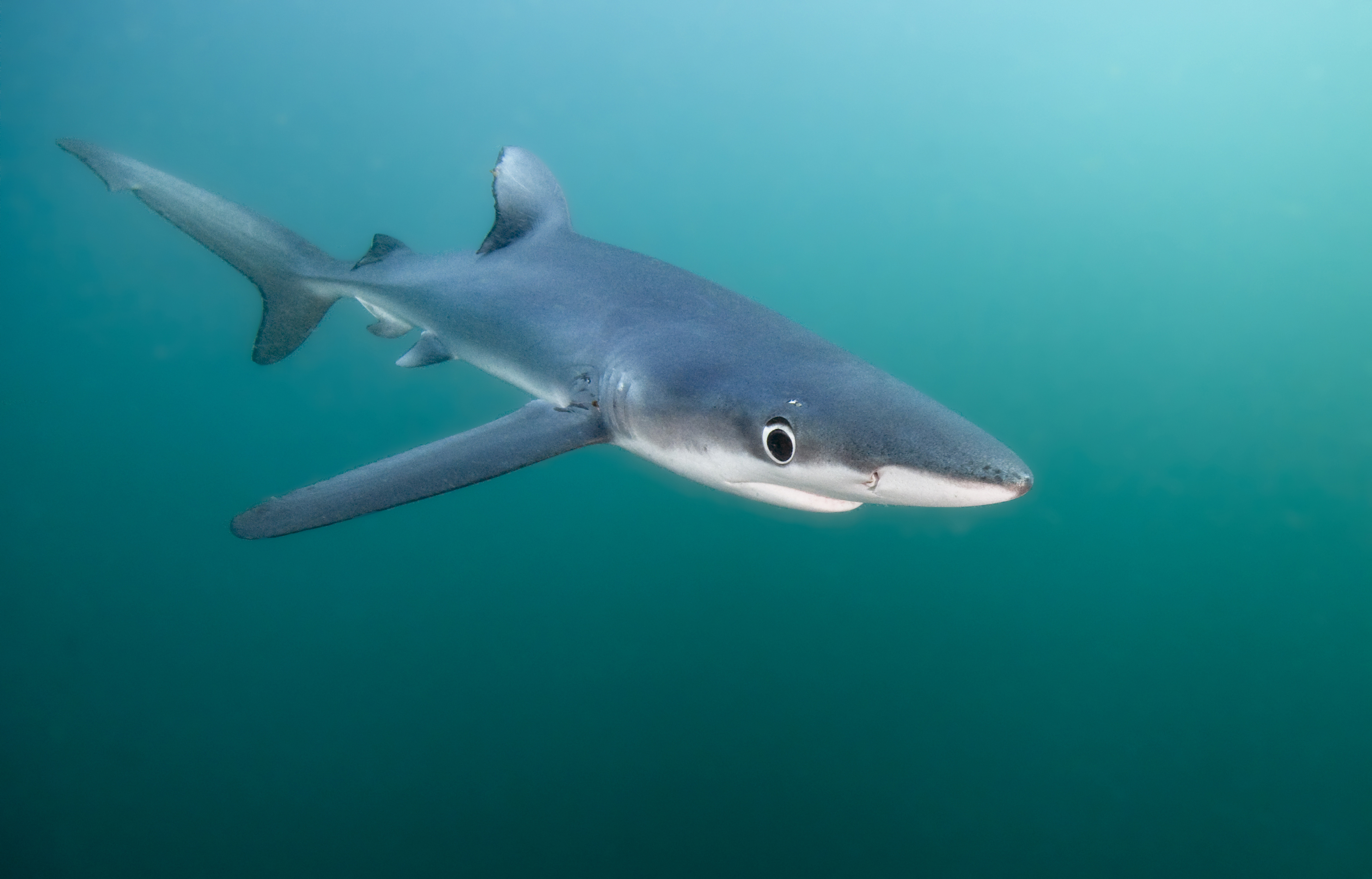 Tending to prefer temperate and slightly cooler waters, in the summer months the beautiful and elegant Blue shark journeys here on its long migratory path. An open ocean shark that can grow up to between 3 and 4 meters in length, they feed mainly on squid and other small pelagic fishes. They are unique in the shark family for the unusual indigo blue colour of their skin, for which they are named. Any type of shark diving is extraordinary, but there is something truly special about these sleek and inquisitive Blues.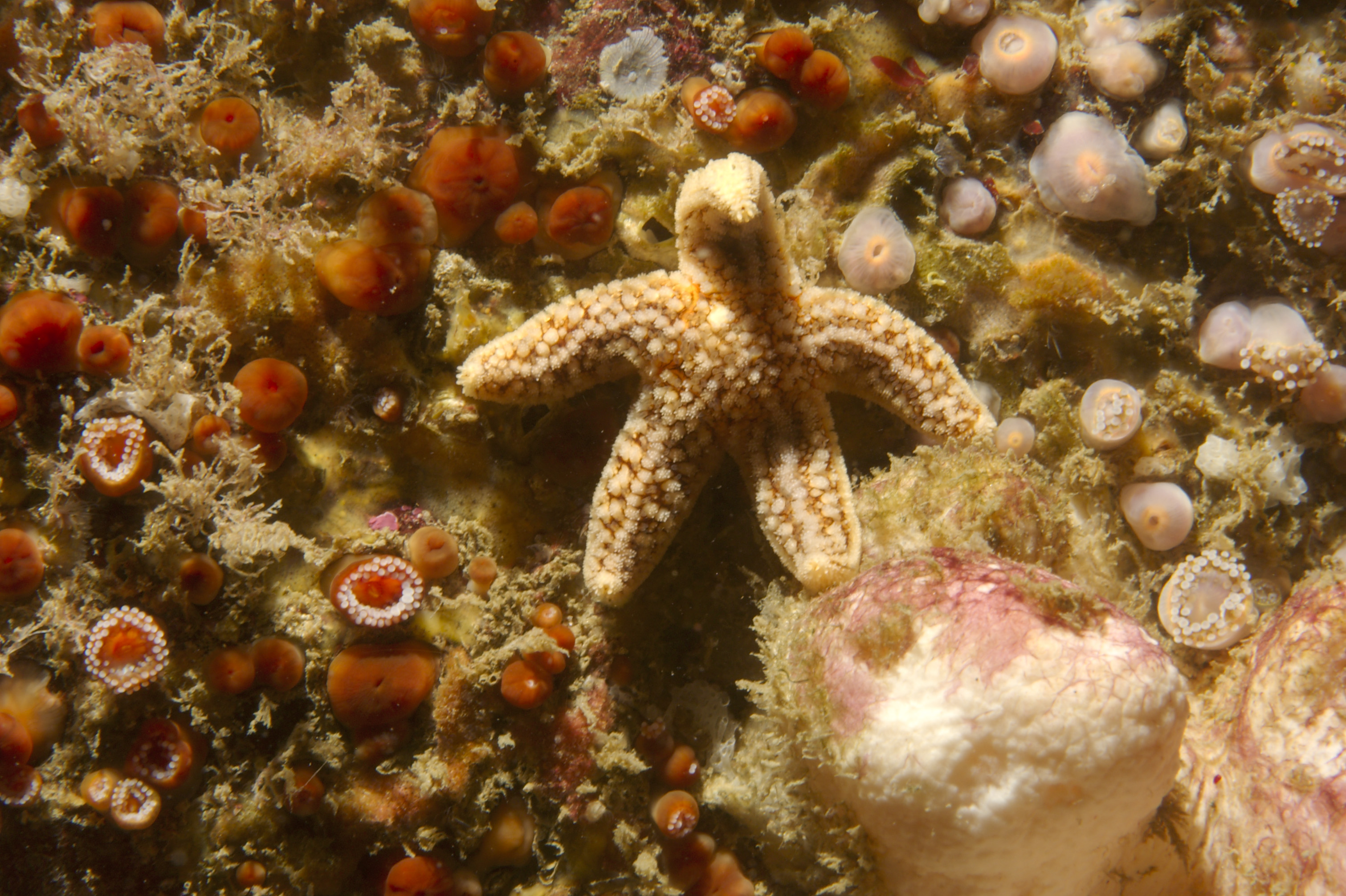 If you're a fan of UK marine life and you want to see a spectacular British reef, you can't go wrong if you head to Skomer Island, just off the coast of Pembrokeshire. This marine reserve is just as beautiful below the water as it is above, and being a no take zone the wildlife is flourishing. In summer expect to see thousands of breeding puffins on land, and keep your eyes peeled for seals, porpoises, lobsters, and if you're lucky, seahorses, on the dive sites. As well as thriving reefs there are big walls, plenty of wrecks, and scenic drift dives. More than enough to satisfy even the keenest divers!
I have been lucky enough to dive some amazing places all over the world during the last few years, but I can honestly say some of the dives that stick most in my mind happened much closer to home. From dolphins spinning around me while I ascended from the wreck of the SMS Markgraf in Scapa, to seeing a giant sunfish swim by as I dove the landing craft in Portland Harbour, to spending hours beneath Swanage pier looking at beautiful soft corals and anemones, there is something to satisfy the interests and enthusiasms of any and all divers. So next time you are looking at booking a holiday to an exotic location to go diving, do yourself a favour and instead explore our own island nation. You won't be disappointed.
For more information on diving in the UK check out our Vacation Destination page.