Every body of water has its own secrets. To discover them together, to share with the world and thus to contribute to their preservation – that is the vision that drives us.
Unterwasserwelten is an annual camp based in the black forest region in Germany. Organized by PADI Freediver Instructor and Coach Daniel Bichsel (Project leader), Mareike Kröner (Communication and Fundraising), the team of Abenteuer Schwarzwald and supported by a passionate team of volunteers and project partners. The Unterwasserwelten Camp is part of the multimedia and nature Project Abenteuer Schwarzwald (Black Forest Adventure).
Through a mix of summer camp and skill based learning the goal is to encourage young adults to become ambassadors for the underwater world. By experiencing, first hand, the beauty of their natural environment these campers will be able to tell their story, and spread an understanding that nature needs to be conserved.
"The goal is to strengthen young adults to become ambassadors for the underwater world. We want them to experience the local underwater world first hand and give them the tools to inspire other people with the help of digital media and through social networks. We want to empower them to create public awareness for our waters and to show the connection from our inland waters to the oceans of our earth. We want to put the necessity for the protection of our waters in the center of public attention and to encourage as many people as possible to actively participate." – Daniel Bichsel
Freediving is instrumental in the Unterwasserwelten (Underwater worlds) camp. By being able to enter the water with just one breath the young adults are able to feel like part of the water world themselves. Without scaring fish or causing any noise a true appreciation of the beauty not everyone get to see, can be had. By completing the PADI Freediver course all participants could enter the calm and serene environment knowing they had the skills to do so safely.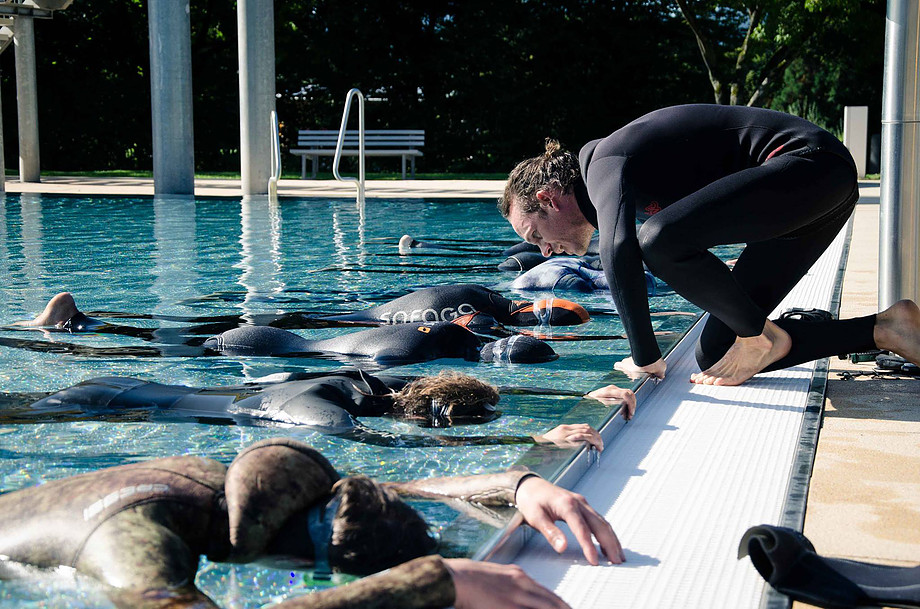 Through complimentary workshops in storytelling, photography and multi-media production the participants from the camp are equipped with the skills to then go out and share their experiences.
"Back in Freiburg, we realize that the week at the Unterwasserwelten Camp can be compared with a wonderful, long dive: In the beginning we took a deep breath – we were anxious for the dive because we did not know what to expect and what fish we would encounter. During the dive we enjoyed the peace away from the hustle and bustle of everyday life. The time seemed insignificant and we were driven and inspired by the beauty of the underwater world and the fish we met there – completely immersed in the moment. In the end, we emerge and return to our daily lives. We all have to take a breath and to digest all these experiences. The dive has enriched us and gave us unique experiences, which we now wear on the surface." Nikolaj