Written by PADI AmbassaDiver, Gemma Smith
With technology in diving constantly evolving, and the boundaries of what is possible continually being pushed, it is sometimes easy to forget those pioneers of diving, who paved the way for so much of what we do now. Whether it was a woman determined to make it in an era when women didn't dive, or the first cave explorer, we as divers have some truly remarkable 'fin kicks' to follow on from. With a new generation of up and coming divers now on the scene, I think it is time we remember those too often unsung and forgotten heroes of diving, starting with my favourite women:
Donna Tobias

At only 5 feet and 5 inches tall and of slight build, Donna was hardly the archetypal navy diver. In 1974 in America women were barred from attending Navy dive school, yet despite the challenges she started a process to acquire a waiver to get around the gender inequality. In January 1975 she finally received permission, and after completing a gruelling 10 week course she ultimately became the Navy's first female deep sea diver. Over the years she also played a role in physiological research, helped test the Navy's new MK 12 diving system, and served as a submarine escape instructor. She was a trailblazer in what had up until that time been a totally male dominated profession.
Penelope 'Mossy' Powell
Wookey Hole in Somerset, England, is the site of the first ever UK cave dive, and one half of the duo that completed that pioneering immersion was Penelope Powell, or 'Mossy' as she was more commonly know. On the 14th of July 1935 she and fellow cave diver Graham Balcombe, wearing the standard hard hat suits of the day, dropped beneath the surface of the water in Chamber Three. It is hard for us today to imagine what that first dive must have been like. Not having the streamlined equipment we have now she had to make due with bulky hard hat gear, relying on the unwieldy umbilical to deliver gas to her while she walked along the bottom. She is one of a core group of cave explorers who started the tradition of British cavers and divers we see today.
Lottie Hass

Born in 1928, Lottie Hass was an Austrian diver and underwater filmmaker. While today often seen as 'only' the wife of the famous underwater cameraman Hans Hass, Lottie was actually a powerhouse in her own right.  At a time when it was believed women were barely capable of diving, and certainly not suited to take part in expeditions, she refused to conform. After initially being hired as a secretary to Hans, she secretly taught herself both to dive and to take underwater photos, finally convincing him to allow her on one of his trips. She soon became a regular expedition member who could more than hold her own, both in front of the camera and behind it. She became the first women to ever explore the coral reefs of the Red Sea. She opened the floodgates for women in diving, and showed the world that the underwater world was most definitely not just for the men.
Amelia Behrens-Furniss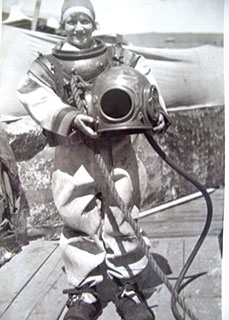 Amelia Behrens-Furniss was nothing if not extraordinary. To her long lists of achievements as an actress, wing-walker, and stuntwomen during the 1920's must also be added a pioneer in the field of hardhat diving. Working for her father, she was taught by him to both work as a hardhat and a bell diver. She set several world records for depths at the time, and was known for being totally fearless. Despite wearing equipment often in excess on 400 lbs she never let it hold her back, and was famous for completing a dive to 162 ft into a 24" pipe to retrieve tools that had been dropped. Today her family sponsors a grant in her name for young women to begin the process of hardhat training. Even now she is contributing to the diving community.
Find out more about women in diving, and who inspire them in this post: 5 Dive Industry Leading Ladies on the Women Who Inspire Them