PADI AmbassaDiver™ Lesley Rochat, aka The Shark Warrior, wears many hats in her quest to help save our oceans, she is a marine and shark conservationist, founder of the non-profit organization, AfriOceans, an environmental photojournalist, underwater photographer and videographer, keynote speaker, activist, PADI Divemaster, and photographic teacher and expedition leader for her company, Shark Warrior Adventures. Lesley is also the talented photographer behind this limited-edition PADI certification card. Read on to learn more about Lesley, the most exciting dive in the world, and the story behind her amazing shot.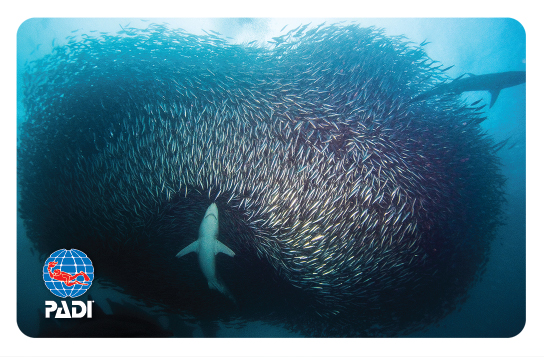 The Most Exciting Dive in the World
When the water temperature drops in Agulhas Bank, South Africa,  millions of sardines spawn before migrating north en masse. The shoals are so large, satellites can see it from space. National Geographic photographer, David Doubilet, describes the sardine run as "the most exciting dive in the world."
Thousands of seabirds and other marine predators are drawn to the underwater feast. On her blog, Lesley writes, "The sardine run is referred to as 'The Greatest Shoal and Show on Earth,' rivaling the wildebeest migration. It is the greatest gathering of predators known." Including an estimated:
20,000 common dolphins,
2,000 bottlenose dolphins,
Thousands of sharks: bronze whalers, dusky, blacktip, spinners, and ragged sharks, Humpback whales, and Brydes whale, which can consume 10,000 fish in a single mouthful.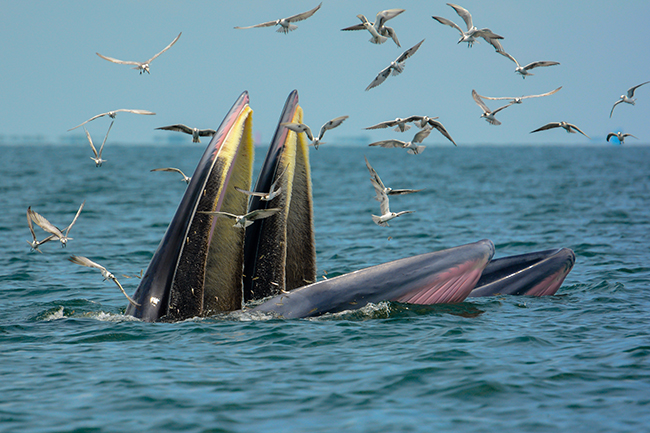 The Story Behind the Shot
The sardine run typically occurs between May and July, but there's no guarantee. When Lesley captured this amazing shot in 2010, it was her third attempt. Her previous two trips she describes as, "totally uneventful due to timing and conditions."
As it turns out, the third time was the charm – in a big way. The 2010 sardine run was nothing short of epic. The bait ball in her photograph was approximately 33ft (10m) across by 33ft (10m) high. She photographed it for about fifteen minutes before returning to the surface. In her blog post about the experience,Lesley describes getting dive-bombed by seabirds, buzzed by dolphins and a close encounter with a Brydes whale.
"I had no idea the impact this image would have," she said. "In fact, after the dive, I was more upset than anything because the skipper had called us out of the water and off the baitball. I thought he was taking us to an even bigger baitball, not realizing the one we just dove would go down in the history of the sardine run as the largest, most spoken about baitball for many years to come.
"When the skipper took us back to shore, I was furious! So, though I'm happy this image captured the magnitude and essence of that particular ball, I still dream of what I never got. But that's the way of a photographer."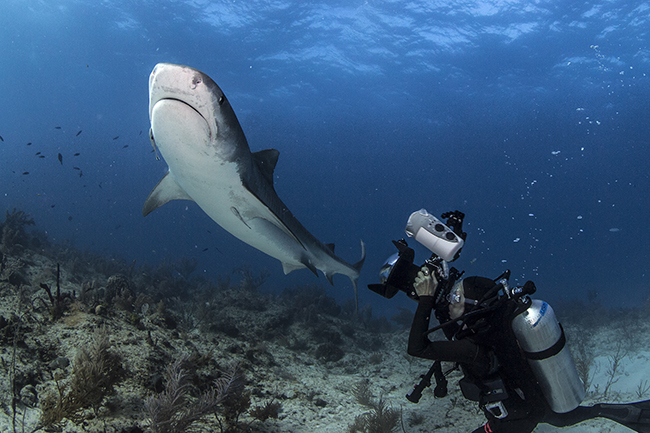 What's Next?
After capturing an astonishing image of a legendary event, what's next for Lesley? Another sardine run, of course! Read Lesley's 2017 report and watch the video she produced. She's also exploring a secret, private island in the Seychelles as a future destination for Shark Warrior Adventures (Lesley's responsible tourism initiative).
Lesley also plans to add underwater photography workshops to her Shark Warrior Adventure dive expeditions, and grow the army of Shark Warriors through her wildlife conservation photojournalism internships. The internships offer a hands-on wildlife conservation photography and environmental journalism experience, both above and below the waves. Participants learn how to capture images that will give a voice to those who cannot speak.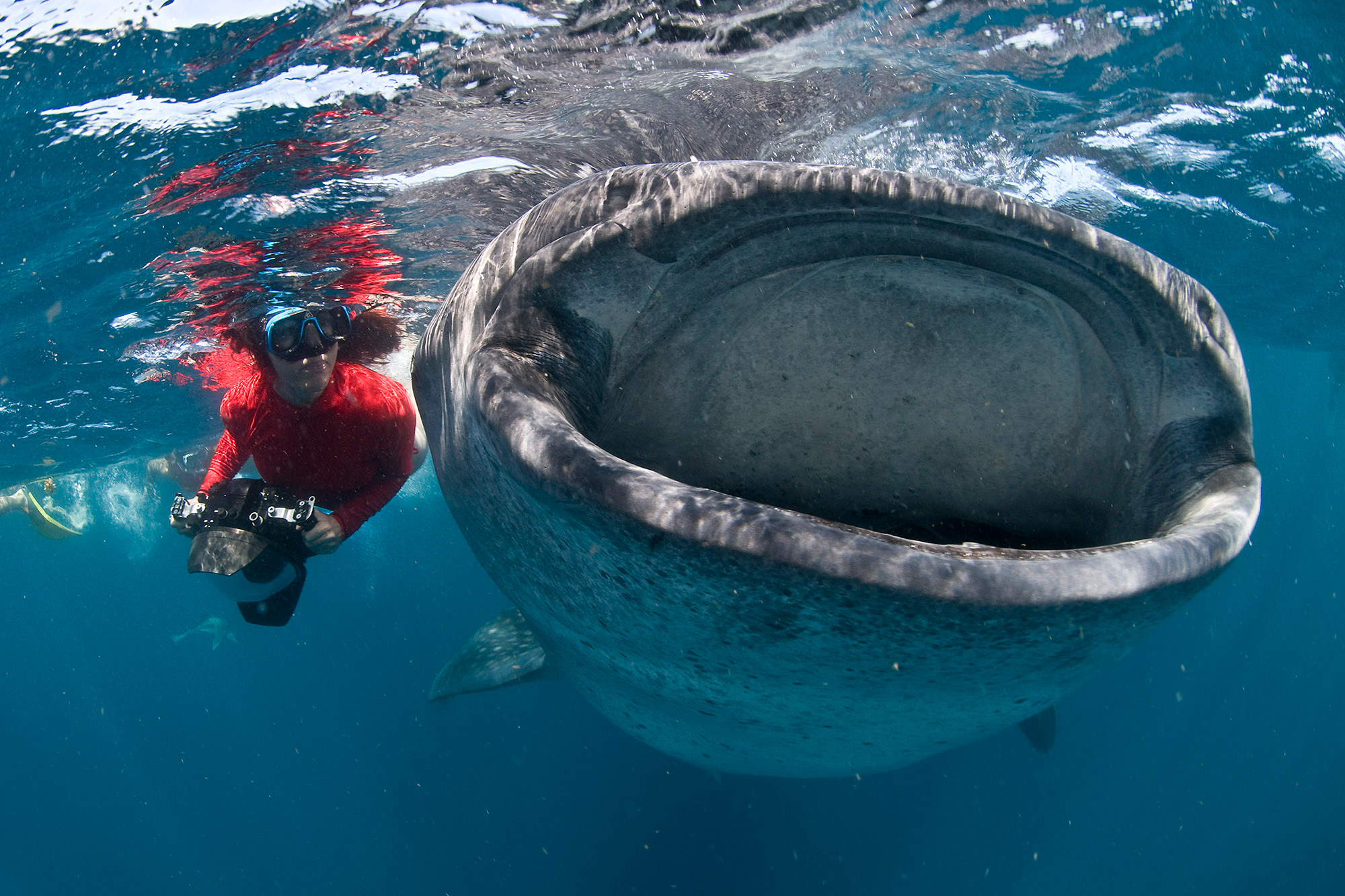 Lesley's Advice for Aspiring Underwater Photographers

"Become a good diver before taking up underwater photography, and learn how to shoot on land before you decide to shoot underwater." Lesley said. "After logging enough dives to become a competent diver, I decided I needed to invest in an underwater rig to capture the beauty I was witnessing and bring it to the surface to share with others.
"The only way to capture any really powerful image is to put yourself out there, camera in hand, and keep shooting. Since the day I started underwater photography, which was many, many years ago, I have NEVER gone on a SCUBA dive without my camera in hand. It would feel very, very strange if I ever did. Let knowledge and technical skill of your equipment be your strength, and patience your virtue. Then you'll be rewarded."
Start learning underwater photography and videography online with the PADI Digital Underwater Photography course online. Contact a PADI Dive Center or Resort to schedule in-water training.
Ready to Dive In?

If you're interested in learning more about diving The Greatest Shoal on Earth, visit Lesley's blog. You can also join her on an upcoming Shark Warriors expedition combined with underwater photography workshops, or her next Wildlife Conservation Photojournalism internship, or contact your local PADI Dive Center about trips they may offer. Be advised: the sardine run is for advanced divers only. Operators commonly require proof of 50 logged dives and an Advanced Open Water Diver certification at minimum.
Follow Lesley's adventures on Facebook, Instagram @thesharkwarrior and on Twitter @SharkWarrior. Carry her amazing image with you on every dive by ordering a bucket list limited-edition PADI replacement card online, or from your local PADI Dive Center or Resort.