Written by Alexandra Dimitriou
What do you think about when I say "Florida" to you? A mouse, right? Mickey mouse?  Tut, tut! If you think Florida is just theme parks and alligators you are far from the truth!
Why?
Because Florida is an amazing scuba diving destination. It is home to an uncountable number of dive sites and it has something for everyone – from the nervous snorkeler to the biggest teccy heads in the ocean.
Florida you see, used to be an underwater reef. Yep – the whole of Florida used to be underwater and the land you're sipping your Key West Cooler on? It built up slowly, covering its limestone skeleton, and then eroding unevenly to create some exciting sinkholes and caves that are a diver's delight.  It's no wonder that Florida's area of Key Largo has the nickname of "the dive capital of the world".
When you choose diving in Florida you will get to see the largest artificial reef program on the planet.  You choose fish hotels, bow-to-stern wrecks, oil platforms, mating manatee, warm water springs, steaming devilish holes, underwater caverns, caves, underwater cities, underwater art installations. The list is endless.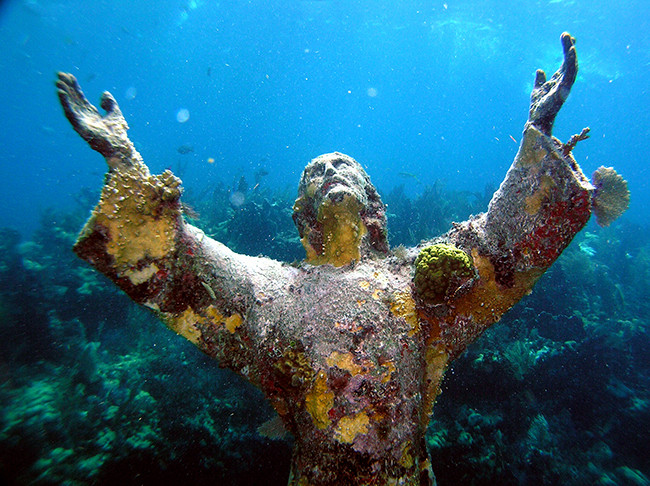 Want more?
When you choose diving you choose to see history; tanks and planes and oil rigs, and fossils that are millennia old. You choose huge living reefs, curious turtles, a multitude of lobster species. You choose nurse sharks, spiny oysters and coral sponges. You choose colour that came out of nature's paint pot, and it's glorious.
When you choose diving, you choose real life. Diving is unadulterated entertainment and Florida is a tropical paradise. You'd be mad not to jump in.
Florida's proximity to the Gulf Stream make its hundreds of dive sites rich in marine species, and you can ride this conveyor belt on some of the best drift dives imaginable.  Underwater you can move in any direction you like. When you choose diving you choose to see real wildlife.
When you choose diving you will stay cool too. Florida is the sunshine state and it's hot, hot, hot! The ocean is big and blue and cool.
Florida diving is pretty, but unpolished. It's gorgeous and exciting. It's the bacon bits on the salad bowl of life and Florida is ready to serve you a huge pile of it in a never-ending buffet.
I hope you're hungry.
So, what's on your menu?
I'll have the lot thank you!
Inspired to try diving in Florida? Find out more here.