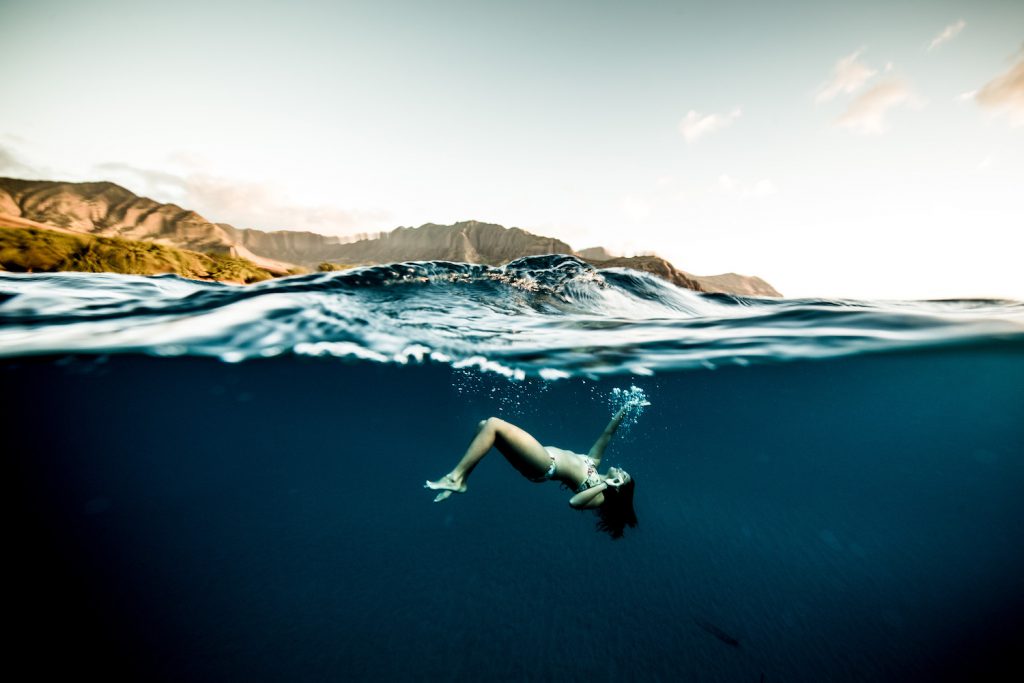 Kimi Werner fell in love with the ocean when she was barely five years old – watching her dad freedive and spearfish off the coast of Maui. Back then, underwater hunting was simply a way for her family to put food on the table.
Cut to twenty years later: Kimi wins the 2008 United States National Spearfishing Championship. With major sponsors and multiple world records, Kimi could have made a career out of competitive spearfishing. Instead, she flipped the script and walked away from competitive spearfishing to become a chef and passionate conservationist.
"I felt like my ego was getting the best of me," Kimi said. "It seemed like I was chasing something purely to measure and compare myself against others and win or lose, that didn't feel right and it started to eat away at me. I realized I had to go back to my childhood values and remember why freediving and spearfishing are important to me. It's all about nature and food and being connected to both.
"Being a great spearfisher doesn't mean you have to take as much as you can. In fact, it should mean the opposite. It was hard to quit competition and hard to speak up for conservation but my love for the ocean kept me true to my values and through that, I learned to embrace my voice and I'm so grateful that others embraced it too."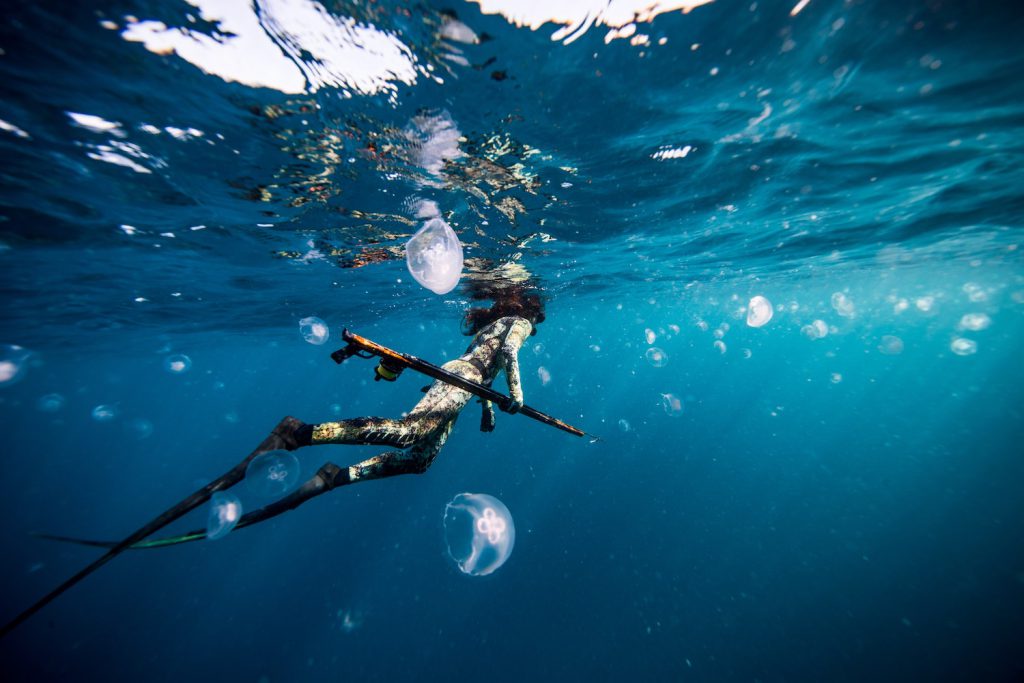 In addition to being extremely selective about the fish she hunts, Kimi is choosy about who gets to enjoy the fruits of her labor. "I won't share my fish with people who might waste it or not understand how precious it is," Kimi explained.
"The people I share my catch with usually have their own connection to nature and a commitment to sustainable harvesting. I'll exchange fish for chicken, eggs, kale from a garden, mangoes or avocados. Today about 80% of the food I eat was grown, foraged, or caught by myself or someone I know. It's all part of a beautiful, sharing community."
Food has a way of bringing people together – even spearfishers and vegans. Kimi explains, "A lot of vegans have told me we have more in common than they first realized. We both care immensely about the the earth and ocean, we both work very hard to examine our choices and live more sustainably, and we both choose the diets that feel right for our body and geographical location. I love when we can honor differences and work together."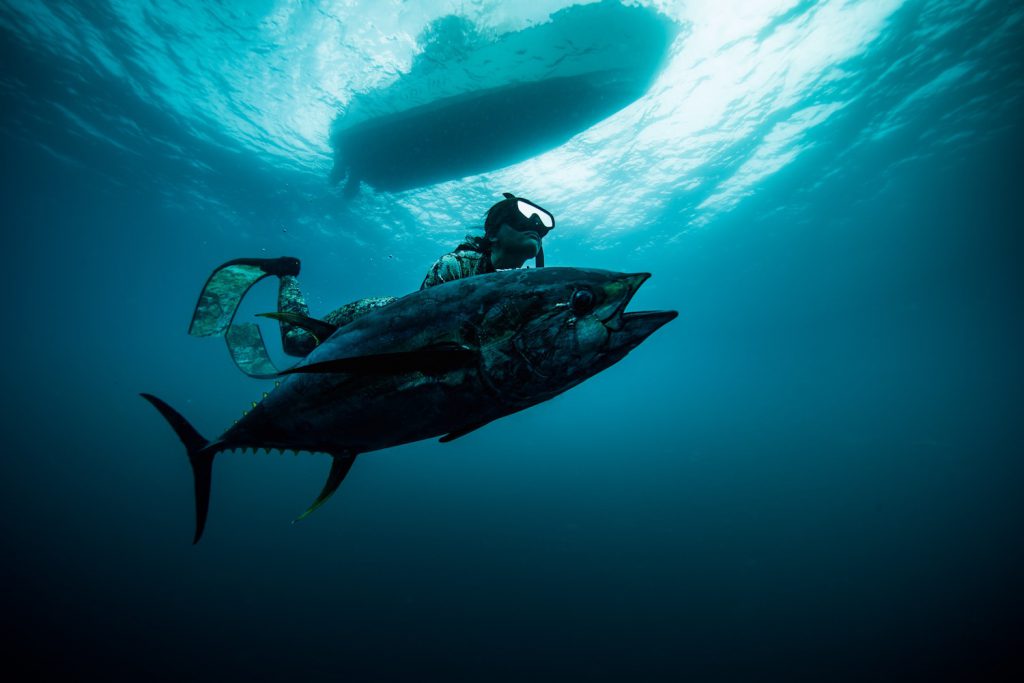 Kimi also notes the importance of sharing the stories of where food comes from to help others make more thoughtful choices. "One time someone told me I was mean to kill fish and that they buy their fish from the grocery store because at least it's dead already. I really had to slow down and explain that buying a fish at a store only means someone else did the dirty work – and in a much less sustainable way. I talked about my ocean conservation efforts and why getting my own food is important to me. In the end, I think they were able to see things in a new light."
In addition to her conservation work, Kimi also uses her freediving skills and ocean knowledge to help scientists and ocean researchers with their work. She became a PADI Open Water Diver so she could participate in a great white shark expedition.
"I wanted to get certified so that I could stay in the cage for long lengths of time and see great white sharks for the first time ever," Kimi explained. "Ironically on that trip, it was when I decided to take a break from scuba and freedive, that the biggest shark of the trip swam right up to me.  But if I hadn't started on scuba in the cage observing them first, I wouldn't have known how to react and be comfortable with my close encounter!"
In addition to sharing Kimi's inspiring story, we also wanted to share some of her advice for aspiring freedivers, passionate conservationists and anyone who cares about protecting our oceans:
Aspiring Freedivers
"Freediving is all about relaxing," Kimi said. "That's something my dad really drilled into me, to never panic and always relax when I started to feel rushed or scared.  The more I got comfortable with this lesson, the longer I could hold my breath and the deeper I could go."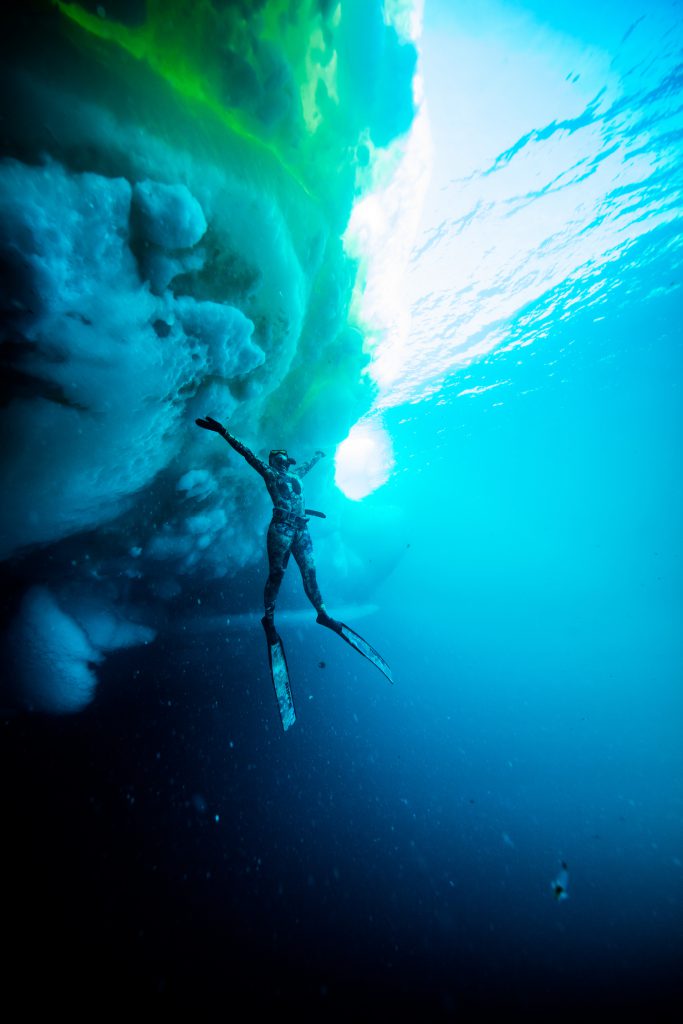 Passionate conservationists
"When dealing with complex issues, it's great to be passionate but also very important to be open-minded. It's hard to find solutions that will please everyone, yet we all have to stick together when fixing such problems. We all must be on the same side and strive our hardest to learn from each other's differences."
Anyone who cares about the ocean
"As described in PADI 's Four Pillars of Change: the future health of our oceans depends on our individual actions and decisions. Caring for the ocean starts on land, with the products we use, how we live and what we consume. It can be overwhelming sometimes to think about all the different things that lead to the decline of our oceans' health but the more we are able to examine our choices the more we can do something about it."
Refuse single use plastics
Carry a set of reusable utensils
Bring a reusable water bottle
In addition to spending time in the ocean, Kimi enjoys cooking, writing, painting and traveling. You can follow her future adventures on her website, Facebook, and on Instagram @kimi_swimmy. Kimi's next projects include creating a cookbook on wild sustainable foods and developing more eco-friendly goods for her Keep Wild product line.
"My core values are to be connected with the wild outdoors and to always examine my choices that affect the health of them," Kimi said. I'm really happy that I was able to create my own career path based on what truly feels authentic to me."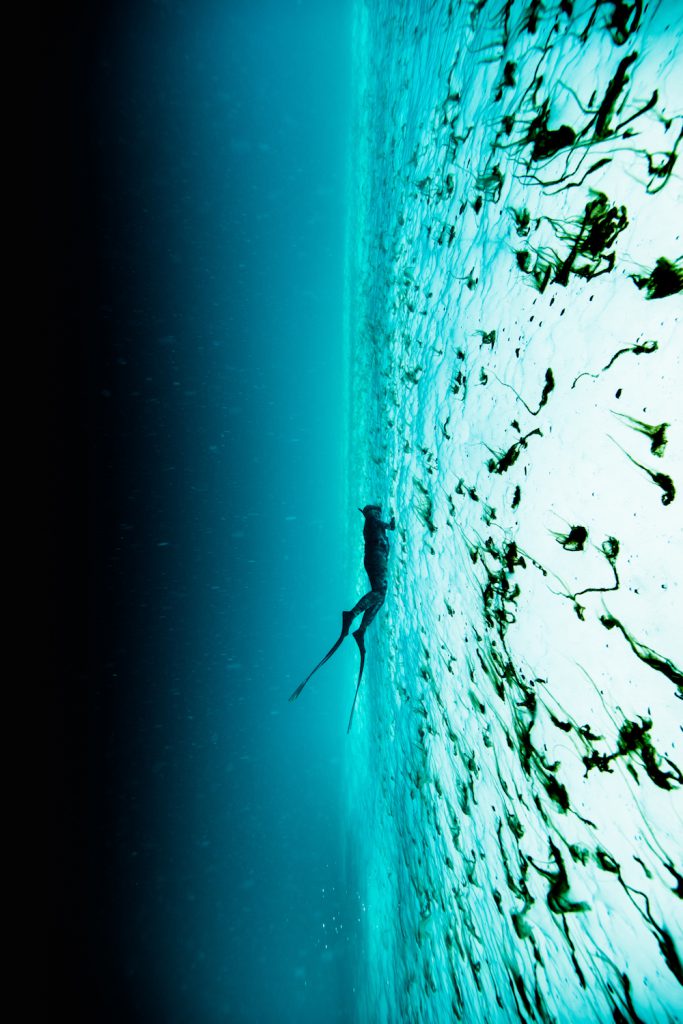 Further Reading:
8 Tips for Beginner Freedivers
6 Ways Divers Can Reduce Plastic Pollution in the Ocean