Photo: Daan Verhoeven
As wild swimmers, surfers and kayakers (among other water-sporting types), we're no stranger to getting wet and wild along the Great British coast. If you haven't hobbled around, one foot in your wetsuit, while getting whiplash from the wind and rain, who are you right?
But what about exploring the ocean from underwater?  Diving beneath the waves, to be fully submerged in all its Atlantic glory.
When it comes to diving, the UK isn't always top of the list for islanders. Who typically prefer the clear, tropical waters of the caribbean or the red sea.
Well, more fool them.
The UK harbours some of the most varied and interesting diving activities you can ask for, and right on our very own doorstep!
And what better way to experience it than with freediving. The sport of breath-hold diving that everyone's raving about, and for good reason.
Free of tanks and snorkels, just one breath will take you into the deep and help you experience the ocean like never before.
Sharks, dolphins, seals and other marine life are less scared of this natural state of being in the water and are more likely to approach. Not to mention the ability to maneuver easily amongst underwater playgrounds like reefs and shipwrecks.
In Wales, "superpods" containing hundreds of bottlenose dolphins can be found frequently dipping and diving not far from the Cardigan shore.  Cornwall is home to an abundance of grey seals and around the whole of the UK coastline, sharks and whales abound.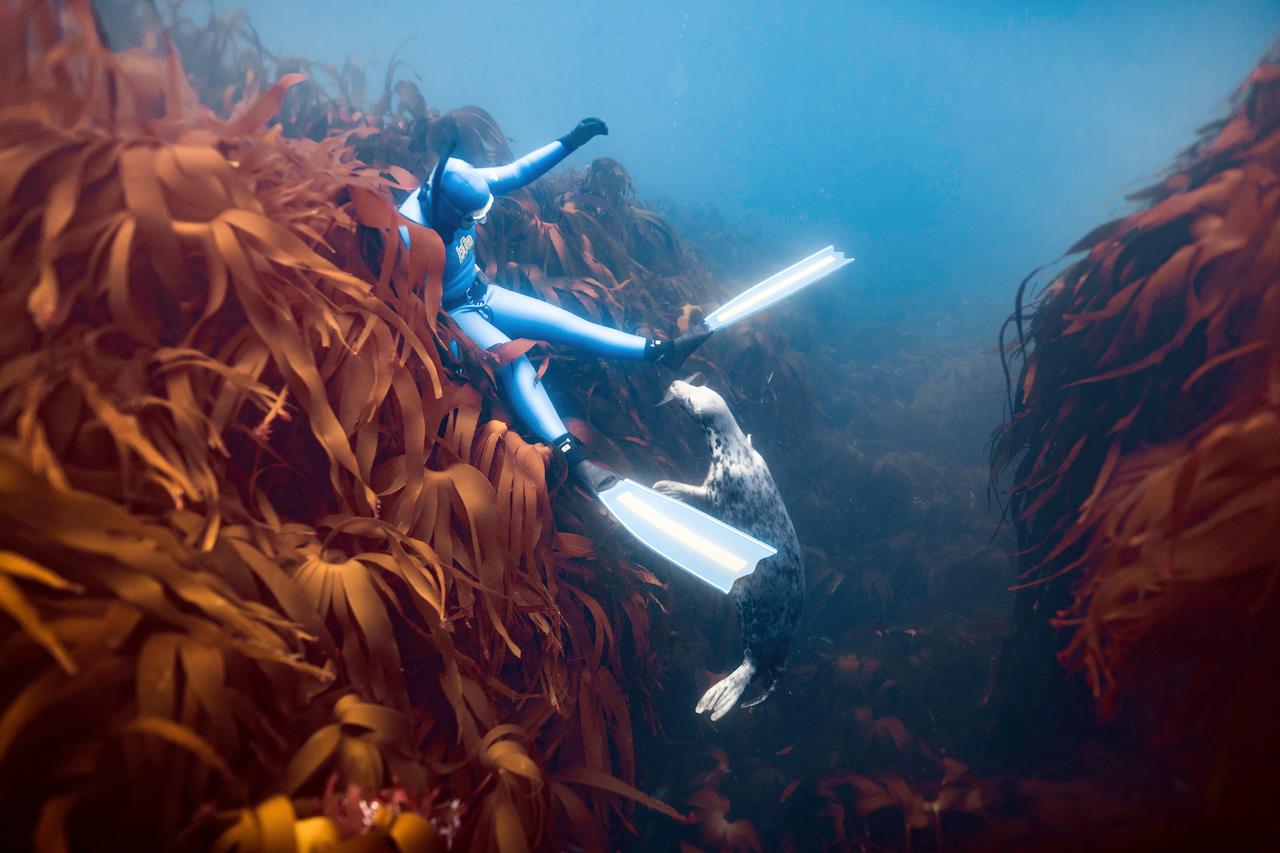 Right off the coast of Torquay (the English Riviera no less), just 12 metres below sea level you'll find seagrass meadows that unfurl like underwater rainforests, providing shelter for an array of marine life from sea horses to otters.
Paralympics presenter Arthur Williams experienced this first-hand when he tried freediving for Channel 4's Wild Weekenders, "visibility under there is surprisingly good, we saw this amazing field of seagrass, the sort of thing that you wouldn't expect to see off the coast of Devon!"
Six times UK National Record holder and PADI Master instructor Georgina Miller is a fan, "learning to freedive in the UK is brilliant! There's no need to spend a fortune on foreign holidays and flights away when we have such wonderful training grounds and world class instructors here in the UK."
A myriad of wildlife and underwater playgrounds await the intrepid explorer. But you best get involved quick, freediving is a competitive and recreational sport that's growing in popularity in the UK.
"We have one of the best club scenes in the world" Georgina affirms "with active freedive centres in several cities and inland destinations to be able to practice at home, as well as on a weekend away to the coast."
It won't be long before every Tania, Dick and Tank are sliding their fins into UK waters keen for a piece of the action. Find out how you can become a PADI freediver and learn more about this incredible sport here.
Georgina Miller runs "Aquacity freediving" a freedive centre in Porthkerris, where you can become PADI freedive, PADI advanced and PADI master certified.
---
Author Bio
S.J's journey into freediving began in Utila, Honduras in 2017. Since then she's been freediving in Canada, Dahab, Tenerife and the U.K and practices freediving for all dynamic and depth disciplines. Follow her freediving adventures on Instagram and for freediving, or water-related copywriting and marketing visit her website The Content Marketing Club.