You may have seen the film, Watermorphosis, on our social media channels. With it's different approach and integration of artistic expression in the telling of the plastic pollution problem facing the world we were captivated. Here, we speak to choreographer, Sophie Henriksson on how freediving played an integral role in the creation of this piece…

How did you get into Freediving?
Since I was a little girl I've always felt connected to water and the ocean. Growing up in Italy I spent many summer days by the sea, playing around underwater with my sister – pretending to be mermaids. Now that I live and study in Freiburg (southern Germany), where the Alps are a closer destination than the sea, my longing for open waters has grown bigger and bigger. Because I was used to the turquoise blue Mediterranean, my interest to explore the (what I believed to be dark and muddy) lakes around Freiburg was poor – until recently.
In august 2017 I got the opportunity to participate in the "Unterwasserwelten Camp" (Underwaterworlds camp) in southern Germany. The camp offers a multimedia and adventure program for young adults combining freediving with storytelling, filming and photography. To be honest I had no idea what freediving really was before the camp but something told me I would fall in love with it and that it would put many things into perspective. What I knew was that water is healing to me and freediving has become a way to reconnect to myself and with nature, discovering the inside and surrounding with every breath held.
What was it that inspired you to create Watermorphosis?
The "Unterwasserwelten Camp" left me even more concerned about the issue of plastic pollution than I was before. After the camp I spent a few weeks in my hometown in Italy by the Mediterranean. One evening, when I was just about to dive into the water something white, almost transparent caught my attention. At first it looked like plastic. It was very upsetting, so I jumped into the water to get it out of there. Taking a closer look I noticed: it was not plastic – the sea was full of tiny transparent jellyfish (Mnemiopsis leidyi). I was so fascinated by their innocent beauty! Observing the fluorescent glow inside their fragile milky bodies I spent hours diving, almost dancing joyfully among these magical creatures. It was a picture and a feeling that stuck with me and from that moment on I knew an idea was about to grow.
As a PADI Freediver, how important is it to campaign for conservation of the environment?
In my opinion conservation of the environment should be a concern for everyone living on this planet. I believe one problem is the lack of awareness and not knowing how or where to engage. I'm glad I found my "voice" raising awareness about our environment combining my passion for freediving with my interest in art and love for dance. But we're all different, one may be touched by art, but another person needs scientific facts and numbers to make information stick. This underlines the importance of different platforms and media to raise awareness about a shared objective such as plastic pollution. If you're willing to use your skills, whether it is dancing, writing, giving speeches, photography, your knowledge and honest passion, the world will notice and change is going to be possible.
Were there any challenges in performing and recording Watermorphosis?
Oh yes! The whole project was a challenge with many unexpected twists and turns. Filming and coordinating an overnight take of the underwaterdance required good teamwork and communication skills. Whilst one group spent hours trying to relax and perform in the cold water of a dark swimming pool dancing blindly, pulling meters of fabric with every movement, the filming team struggled as well. They were isolated in a hot machine room filming through a small window, focused on getting the right shots and coordinating three underwaterdancers communicating via walkie-talkie. It was difficult and brought all kinds of emotions to the surface, but what I remember the most was the joy I felt when we, as a team, exited the swimming hall at sunrise around 7am and ate pizza leftovers for breakfast.
The planning of the outdoor premiere on the "Platz der Alten Synagoge" (square of the old synagogue) in Freiburg's city centre the 30 August is another chapter in the long list of project-challenges. The weather forecast prognosed rain the whole day. Luckily we'd hired rainproof equipment last minute and people came and stayed to watch despite the bad weather. In the end everything worked out, but the thrill was intense.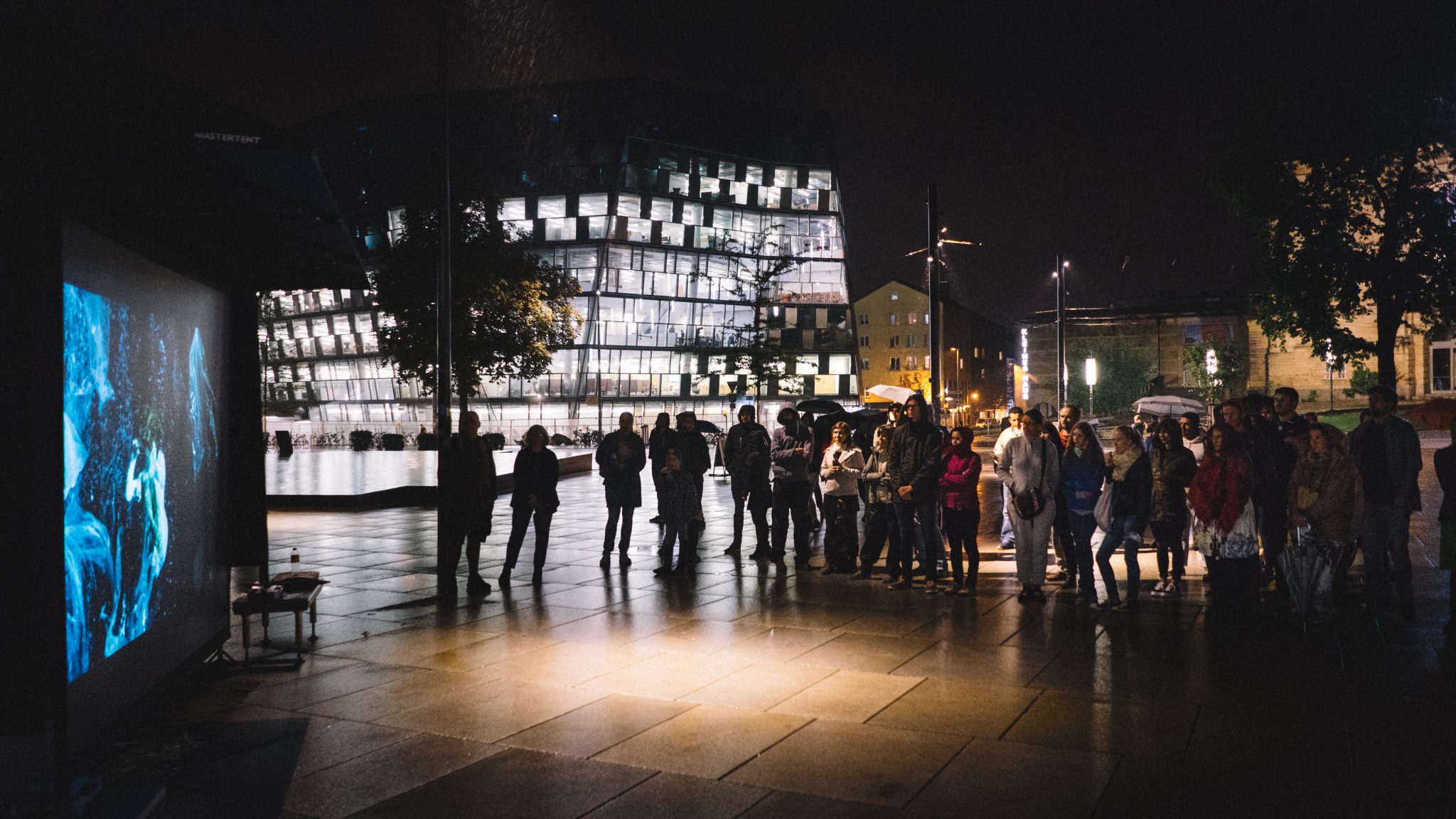 What happens with Watermorphosis now?
After the premiere in Freiburg we published the short movie on social media (Facebook and YouTube). We are hoping to reach people all over the world and spread awareness about plastic pollution.
Besides the ongoing social media campaign we're also sending out applications to short film festivals, because we believe that after one year of hard work and commitment for this project its fruitful result deserves bigger attention and screenings beyond those of a laptop or smartphone screen.
Keep up to date with the Watermorphosis story on their Facebook page here.
If this piece has inspired you to start your own freediving journey, check out our Freediving page here, or visit your local PADI Freediver™ Centre.