Many of the world's best scuba diving destinations can be very remote, requiring two, three, or even four flights to reach. With every flight comes the potential for airline baggage fees.
Overweight baggage charges range from $30-540 US (each way), and $150 US per bag is common. Oversized bags can cost an additional $60-600 US, most carriers charge around $150-200 US.
For that amount of money, you could stay an extra night at a nice hotel, or a few days in a hostel. Extend your travel budget by following these tips to save money when traveling with scuba gear.
Dive Gear: To Rent or Not to Rent?
Hiring scuba equipment costs about $400 US per week depending on the location. After just a few diving holidays, you'll have paid the same amount to rent equipment as you would owning a personal set of gear that fits well and will last for years. Ask your PADI® Dive Shop about a travel-friendly gear package. Some scuba manufacturers sell a complete kit, including dive bag, that weighs a scant 9.5kg /20-21 lbs.
– If you want a set of equipment that will work for both cold and warm water diving. Read on to learn how to invest in dive gear that can do double-duty.
– Already own some or all of your own scuba equipment? We'll also share some easy "weight loss" tips.
A lightweight dive bag can make a big difference.
One of the easiest places to lose weight is the dive bag itself. Older dive bags can weigh 7 kilos/15 lbs or more. By wearing all your gear on the plane, you can immediately subtract all that weight. Just kidding…
Dive bags are built to last, but even if the one you have isn't falling apart, consider getting a new gear bag to save money on overweight baggage fees. Today's roller bags weigh in at 4-7 kilos/8-10lbs. If you don't mind carrying your gear in a backpack or duffel bag, you can find dive bags that weigh only 1-2 kilos/2-4 lbs.
Can you use a regular duffel bag or suitcase as a dive bag? Can you? Sure. Should you? Debatable.
First off, a regular suitcase won't necessarily be any lighter than a dive bag. Also, if your gear is the least bit wet, the salt water can make the inside crusty and will definitely corrode the zippers over time. You're better off using a dive bag as a suitcase than using a suitcase for dive gear.
Packing Tip: print, save, or screenshot this ultimate scuba trip packing list to ensure you never forget an important document or piece of equipment.
The Dive Gear You Should Always Travel With
Always bring equipment that makes your diving experience more enjoyable. This includes a:
Mask – a leaky mask can ruin your dive. Get a mask that fits well and pack it securely. If you've just purchased a new mask, be sure to clean it before your trip.
Snorkel – rental snorkels have been in a stranger's mouth. Enough said.
Fins – the wrong fins can cause trip-ruining blisters on your feet, so why take the chance? Fins can also be used as a "shield" when packing to protect more delicate dive gear. Position each fin on the outer edges of your gear bag to protect more fragile items within. When shopping for travel-sized fins, look for a max length of about 60cm/24 inches.
Dive Computer – dive computers are compact, and many also double as a watch. Owning your own computer also improves safety because:- You know what the alerts and alarms mean
– You know where to look and what buttons to push for important information
– If you dive with enriched air, you'll know how to adjust the settingsDive-a-holics who do multiple dives over multiple days often bring two computers. If one fails, the diver still knows their accumulated bottom time and can continue diving safely.
Your PADI card – if you're worried about forgetting your PADI certification card, order a backup from your local PADI Dive Center or Resort or order online. Choose a plastic card, or a PADI eCard™ that lives on your mobile device. This is especially important if you plan to dive enriched air, or show proof of advanced/technical dive training.
The Scuba Equipment Most Divers Leave at Home
Tanks are tricky to travel with, not to mention heavy. Very few divers bring their own tank, and most leave their weights at home as well. If you're not a photographer and don't plan to do penetration diving (caves, wrecks, etc.), consider leaving large dive lights at home.
A small, pocket-sized dive torch is nice for night diving and revealing color on deeper dives. If you choose to bring underwater illumination, pack it somewhere you can access easily. That way, if your checked bag ends up overweight, you can grab the light(s) to quickly reduce the weight.
Scuba Equipment You'll (Eventually) Want to Buy
Dive gear equipment rentals run about $45-60 US per day. If you take at least one scuba trip per year, it makes sense to invest in the items below.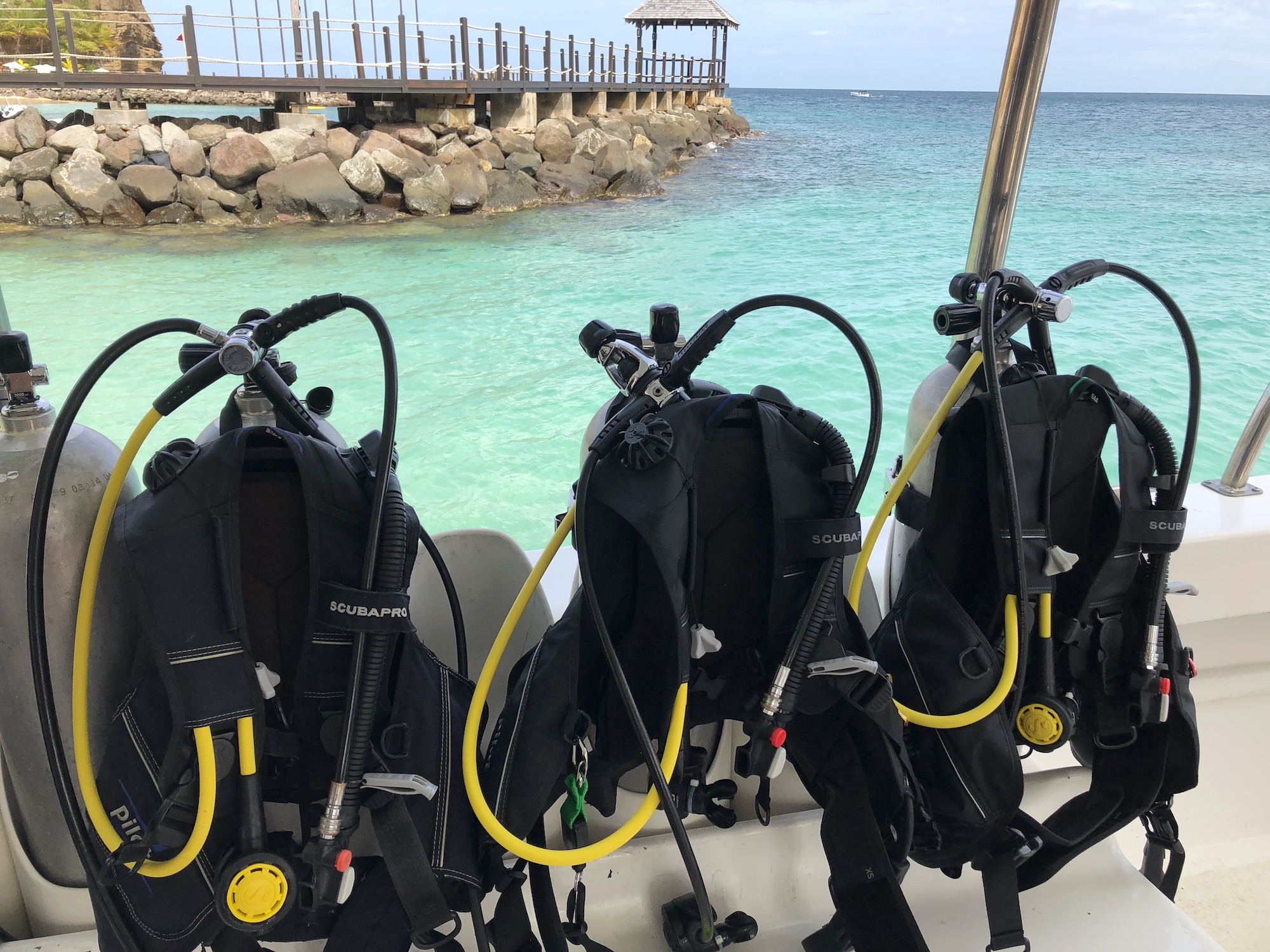 Exposure Protection
Some people can dive in nothing but a swimsuit and a rashguard. For the rest of us, it makes sense to own your own wetsuit, especially if you believe there are two kinds of divers and prefer to dive in a wetsuit you know is clean. If a wetsuit isn't in your budget right now, wearing a hooded vest with board shorts or leggings can be a warm, compact alternative.
Packing Tip: save space by rolling up your wetsuit and putting it inside your BC around it. Use the BC straps to hold the wetsuit in a small, space-saving bundle.
BCD
When choosing a BCD for dive travel, look for something that weighs about 3-4 kilos/ 8 lbs. If your local environment has colder water and you want a BC that can do double duty, choose a BC with sufficient lift capacity/weight pockets for the amount of lead you use when diving in a thicker wetsuit or drysuit.
Other things to consider:
Take a close look at the weight distribution options. Some travel BCs don't have rear weight pockets.
Many travel BCs are jacket-style (as opposed to back-inflate)
Some travel BCs don't have clip-releases at the shoulders, so donning and doffing is slightly more challenging, especially if you're wearing a large wrist computer.
Regulators
Regulators made from titanium and carbon fiber can weigh as little as 1 kilo/2lbs. If this isn't in your budget, you can still reduce the weight of your kit by:
Choosing an air-integrated computer. A small transponder transmits your remaining air into a wrist computer, so you can remove the analog air gauge from your octo.
Purchasing a "safe second" (a combination second stage and low pressure inflator). This allows you to travel without a traditional alternate 2nd stage and hose.
Packing Tip: if you wear dive booties, put your regulator second stage(s) inside a bootie to protect them from damage.
Other Ways Divers Can Avoid Paying Airline Baggage Fees
– Sign up for an airline credit card, many offer two free checked bags.
– Buy a portable digital luggage scale
– Wear quick-dry travel clothes and bring fewer outfits.  Use a travel clothesline to conveniently dry items you've washed.
Packing Tip: heavier items, lithium batteries, and things you'd be devastated to lose should always go in your hand luggage. Some divers always carry their regs on the plane to protect them from damage and to reduce weight in their checked bag.