Over the last decade, Dr. Sylvia Earle and her team at Mission Blue have been bringing attention and support to the incredible marine ecosystems of the Gulf of California – as well as to those individuals, communities, and organizations working to protect this region. Being one of the most productive ocean areas in the world (dubbed 'the world's aquarium' by Jacques Cousteau), the Gulf of California is one of Mission Blue's top Hope Spots. Hope Spots are special areas of the ocean that are critical to the health of the blue planet.
Also known as the Sea of Cortez, the Gulf of California is a 700-mile (1,120 kilometer) long narrow sea between Baja and mainland Mexico. Not only is it one of the most biologically rich seas, the Gulf of California is also one of the youngest seas in the world, formed approximately 3-4 million years ago as a result of continental drift. It is also known for its highly variable bathymetry from north to south.
At the Gulf of California's northern-most point, the Colorado River Delta empties into it – meaning that over time, all the nutrient-rich sediments that were carved out of the Grand Canyon were deposited there. As a result, this area is home to more than 2,300 square miles (5,900 square km) of highly productive wetlands and 1,000 square miles (2,500 square km) of tidal mangrove ecosystems. In the central and southern parts of the Gulf, deep basins upwell nutrient-rich cold water that bring great productivity to the marine ecosystems. The Gulf of California is even home to the deepest hydrothermal vents found throughout the entire Pacific Ocean at 12,500 feet (3,800 meters). This unique Hope Spot is also home to over 800 species of fish, 2,000 species of invertebrates, in addition to marine mammals like sea lions, whales, and dolphins, as well as sea turtles and sharks.
Through Hope Spot expeditions to the Sea of Cortez in 2010, 2015, and 2016, Dr. Sylvia Earle and the Mission Blue team have developed close ties with local organizations and policy makers in support of further protecting and preserving this unique ocean area.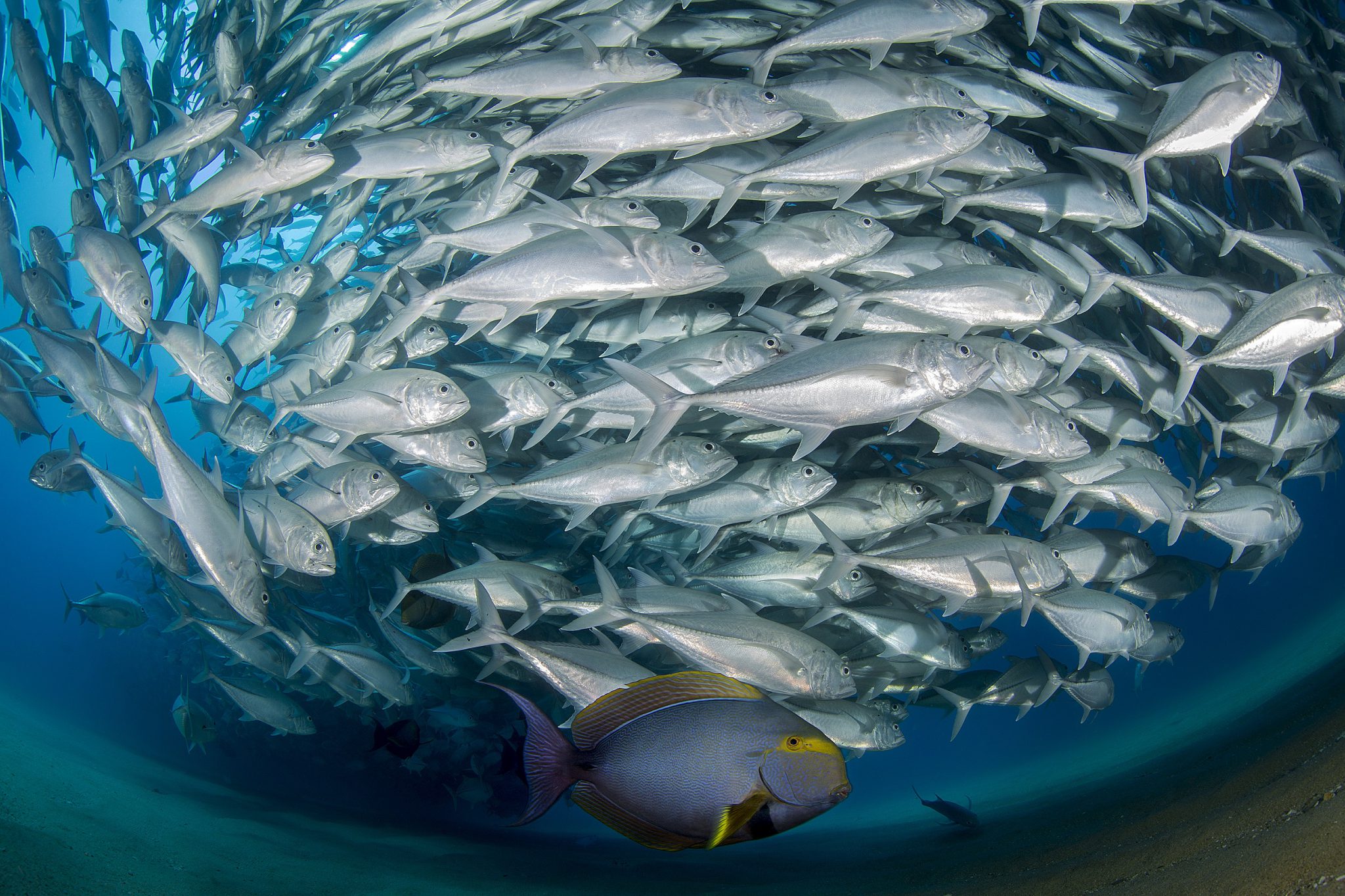 Because of the region's rich biodiversity, the Gulf of California is subjected to approximately 70% of all Mexican fisheries. As is the case with so many incredible marine ecosystems, the Gulf of California is suffering as a result of overfishing. Since the completion of the transpeninsular highway in 1973, the area has been subjected to more and more commercial and sport fishing. Populations of species like tuna, grouper, marlin, shark, lobster, sardines, snapper, squid, halibut, and shrimp have declined greatly over the last several decades. This has caused challenges for seabird populations due to a drastically reduced food supply.
Additionally, destructive fishing methods and abandoned fishing gear are causing mass physical damage to the sea floor as well as resulting in large amounts of bycatch of animals like sea turtles and vaquitas. The critically endangered vaquita is the world's smallest porpoise that lives only in the Northern Gulf of California, and entanglement in fishing nets is contributing greatly to their near extinction.
While the Gulf of California's underwater ecosystems are facing serious threats from overfishing, there are also many ways in which this spectacular region is being safeguarded. In 2005, the Sea of Cortez was declared an UNESCO World Heritage Site due to it's incredible biodiversity. Presently, there are 27 coastal and marine protected areas in the Gulf of California – covering about 8% of the Gulf itself – with less than 1% of those protected areas actually being designated as 'no take'.
One 'no take' area that has earned global recognition for its remarkable success in restoring the health of the marine ecosystem is the Cabo Pulmo Marine Reserve. Nearly 25 years ago, the local community, in collaboration with marine scientists, convinced policy makers to declare their local waters as a fully protected ocean area. The community transitioned from being a fishing village to providing dive tourism – and the results are beyond positive for the marine life as well as the community members.
If you haven't been diving in the underwater wonderland of Cabo Pulmo yet, we highly recommend it. Before you go, check out the Cabo Pulmo page on PADI Travel for more information. In the words of Mission Blue: "The community of Cabo Pulmo has a real passion for the Marine Park and a clear understanding that by protecting it, the community is guaranteeing a sustainable future of natural beauty and economic prosperity."
During the 2016 Mission Blue Hope Spot expedition to Cabo Pulmo Marine Park, Dr. Sylvia Earle and the team had full days of connecting with Mexican policy makers, meeting with marine scientists doing research in the area, and examining the health of the local underwater ecosystems through diving. During a speech to the Cabo Pulmo community, Dr. Earle noted that she is holding Cabo Pulmo up as a model to the rest of the world to show that ocean protection really works.
"When I was here [in Cabo Pulmo] a couple of years ago, making the film Mission Blue, we went diving with that great whirl pool of jacks and saw the great golden grouper and the other fish that have repopulated the area that is under protection. Then we went down the coast just a few miles and it was totally different. Inside was like paradise and outside well, you just wonder where are all the fish? Diving now in Cabo Pulmo is almost like diving into the ocean as it was 50 years ago. Protection really works. And it's an idea that is beginning to catch on around the world." – Dr. Sylvia Earle, Mission Blue Founder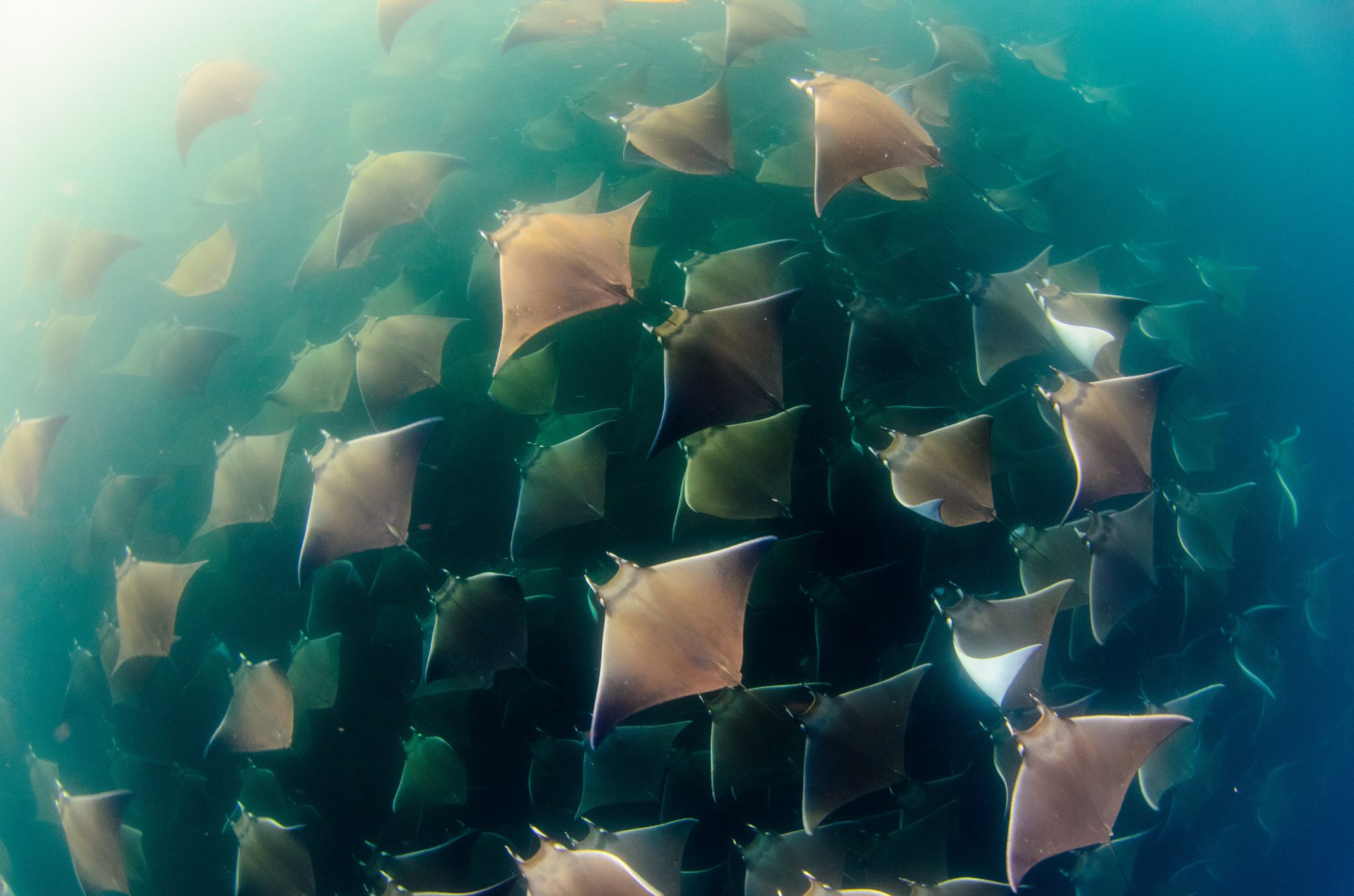 Dr. Sylvia Earle and her team at Mission Blue designated the Gulf of California as a top Hope Spot because if properly protected, the marine environment can rebound – like we can clearly see from the Cabo Pulmo Marine Park. The hope is that the Gulf of California can once again become a source of biodiversity and productivity that can help to restore the health of the surrounding ocean areas at large.
Want to help? Support the industries that contribute to a healthy and more sustainable Gulf of California and global ocean – like diving! PADI and Mission Blue are working together to ignite support for a network of Hope Spots and marine protected areas around the world – we encourage all divers to become informed and get involved! Learn more about Hope Spots on the Mission Blue website and even nominate a Hope Spot in an area of this big blue planet that you think deserves protection and support.
Meet PADI AmbassaDiver, ocean protector, and Sea of Cortez native, Rocio Gajon: