Located in Shark Fin Bay, in the North East of the Philippines' Palawan Archipelago, is Pangatalan Island. Covering an area of approximately 11 acres (4.5 hectares), this little island is making giant strides when it comes to conservation and restoration of the surrounding marine environment. Shining as a beacon of hope, Pangatalan Island has just officially been declared as a Hope Spot by Dr. Sylvia Earle and her team at Mission Blue. They are on a mission to ignite public support for a global network of marine protected areas.
"The time is now to empower one another to do what we can with what we have to protect the fragile marine ecosystems around the world. The conservation work on Pangatalan Island is an incredible example of the impact people can make -cause for hope." – Dr. Sylvia Earle, Legendary Oceanographer & Founder of Mission Blue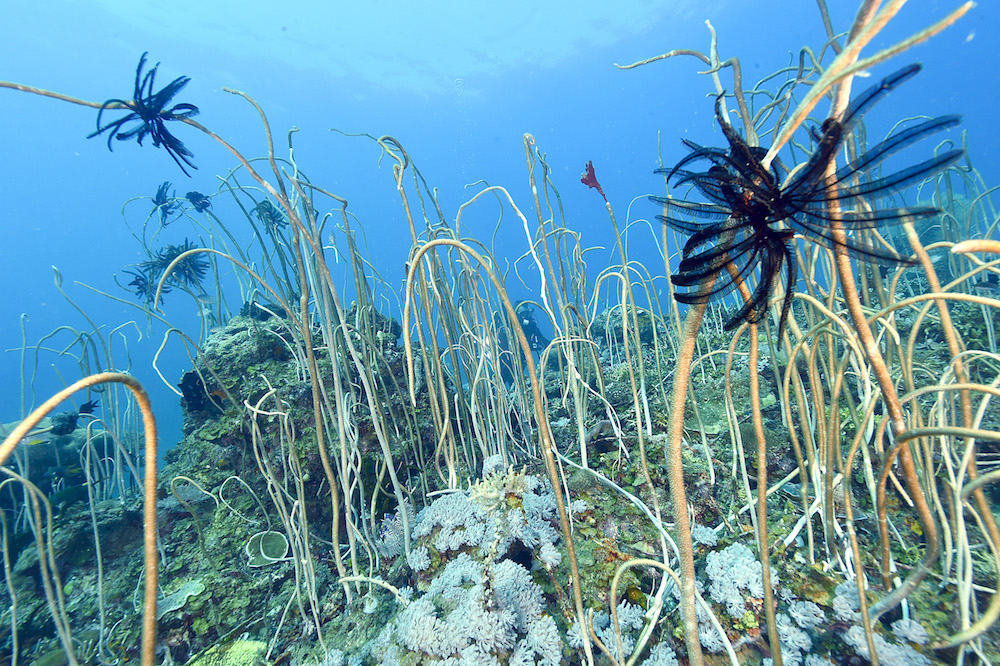 Thanks to its location at the end of the bay, Pangatalan Island is very nutrient-rich, bringing high levels of biomass, productivity, and biodiversity to the surrounding underwater ecosystems. The area is so extraordinary, that in 1990 it was recognized as a Marine Biosphere Reserve by UNESCO (United Nations Educational, Scientific, and Cultural Organization). Unfortunately, for many years, the island's unique marine ecosystems were damaged from unsustainable and destructive practices like mangrove deforestation and dynamite fishing.
"When my wife and I came to Pangatalan in 2011, we found the island in various states of destruction and we knew we had to do something to stop further negative human impact." – Fred Tardieu, Pangatalan Island Hope Spot Champion & Chairman of Sulubaaï Environmental Foundation
Sulubaaï Environmental Foundation works alongside conservation partners and local community members to restore Pangatalan Island's precious marine ecosystems. In 2017, along with their partners and local governmental agencies, Sulubaaï Environmental Foundation established a 111 acre (45 hectare) marine protected area surrounding Pangatalan Island. Supported by local villages, the marine protected area is managed and patrolled by members of the surrounding villages, day and night. Sulubaaï Environmental Foundation is currently hard at work to establish another marine protected area that is projected to be 247 acres (100 hectares). Additionally, the foundation has successfully planted nearly 70,000 new mangrove trees, is using innovative coral reef restoration methods, and has witnessed the return of several endangered marine species to the area.
Sulubaaï Environmental Foundation is also currently developing ecotourism activities and educational experiences so that visitors can get involved with the marine conservation efforts surrounding Pangatalan Island. In collaboration with UNESCO, they launched a Biosphere Responsible Tourism program which will create new jobs for local village members and allow them to engage their communities and visitors in the preservation of the unique and precious marine ecosystems of the region.
The conservation successes and continued dedication of Sulubaaï Environmental Foundation to restore the health of Pangatalan Island, proves that a small group of passionate individuals truly can garner the support of local communities, governments, and international non-profits like Mission Blue, to create positive change for the underwater world.
Inspired to be a force for good for our blue planet? Visit the Hope Spot page on Mission Blue's website to learn more about Hope Spots, and how you can even nominate a special part of the ocean you think needs protection. And 'Dive In' to Mission Blue's top six ways to make a difference for the ocean right now.