India is a land of huge extremes. On one side there is the great desert while on the other side there is the North Eastern region of the country where it rains all year round. In the north of India you can find the mighty Himalayas while in the south, India is surrounded on three sides by water. Much like the land and the culture, diving in India is varied, exciting and colourful. Read on to learn more about some of our favourite dive sites in India.
Swaraj Dweep (Havelock Island): Andamans
Although closer to Thailand, the Andaman and Nicobar islands are a territory of India. There are more than 500 islands which make up this archipelago in the middle of the Bay of Bengal.
Swaraj Dweep (Havelock Island) is located approximately 50 km/31 miles away or 90 minutes by ferry from Port Blair and offers some of the best dive sites in India. Marine life highlights include occasional dugongs, schooling fish, bumphead parrot fish and vibrant, colourful soft coral reefs.
Here are just a few of the areas world class dive sites:
Dixon's Pinnacle is one of the regions most iconic sites and features three pinnacles rising from the sea floor. The pinnacles are encrusted in vibrant healthy corals and attract a plethora of marine species. Looking out to the blue you'll be impressed by the schools of trevallies, baracuda's and hunting tuna, whilst around the pinnacles themselves, turtles, Napolean wrasse, triggerfish and hoards of brightly coloured damsels dart back and forth in the currents.
Jackson's Bar is huge plateau dive site which can be easily divided into two dive sites. The wall here is awash with colourful corals and attracts a multitude of reef fish. The highlight here is the large congregations of Kuhl's sting rays which are found on the bottom – often piled up on top of each other! Other possible marine life encounters include Napolean wrasse, angelfish, moray eels and spotted garden eels.
Johnny's Gorge is a stunning open sea site which must be on the bucket list of any diver who is hoping to catch glimpses of some of India's pelagics. The depth of the gorge, which runs between two coral mounts, make this site best suited to those with Advanced Open Water level certifications and who are familiar with diving in currents. Look out for the white tip reef sharks which frequent this area as well as passing eagle rays, mobula and even mantas.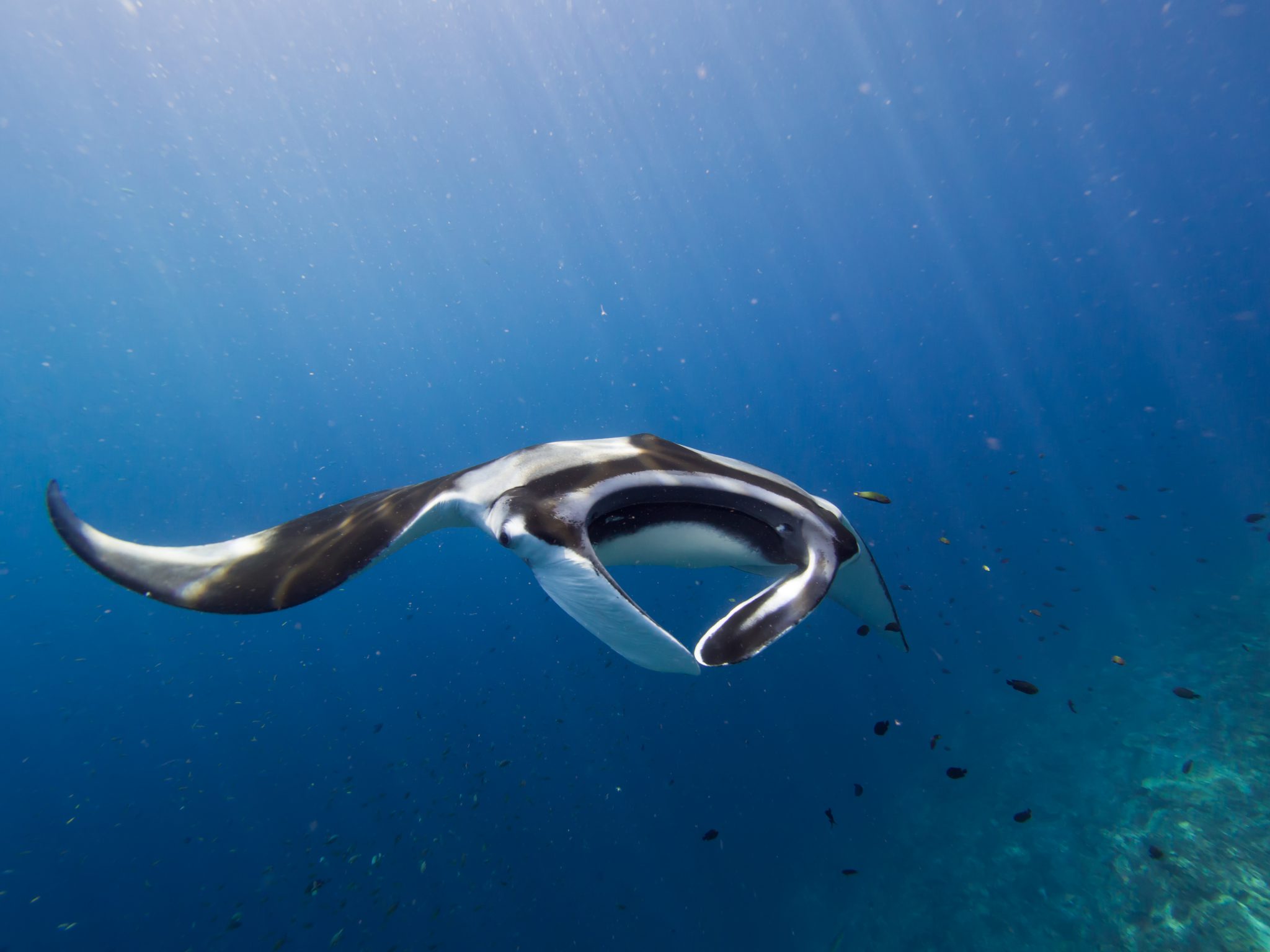 "The Wall" dive site is another one of the area's most iconic dives with medium to strong currents, excellent biomass and occasional sightings of manta rays, turtles and Napoleon wrasse. Other stand out sites include the Lighthouse, Aquarium and Mac Point.
Shaheed Dweep (Neil island): Andamans
Neil Island offers postcard picture white sand beaches and near pristine reefs which are awash with colour. Marine life here is both diverse and abundant. Margherita's Mischief is home to a healthy mix of hard and soft corals, large sea fans, turtles, sting rays, dugongs and schooling silver fish.
Corruption Rock: Andamans
Located between Chidiyatappu and Rutland Island, Corruption Rock is approximately 30 meters/98 feet in height and breaches the surface. The rock is subject to currents that attract a wide variety of marine life which come to feed in the plankton rich waters. Underwater topography here is varied and features canyons, ridges and channels. Highlights here include schooling unicorn fish, Napoleon wrasse and look out to the blue for gliding eagle rays.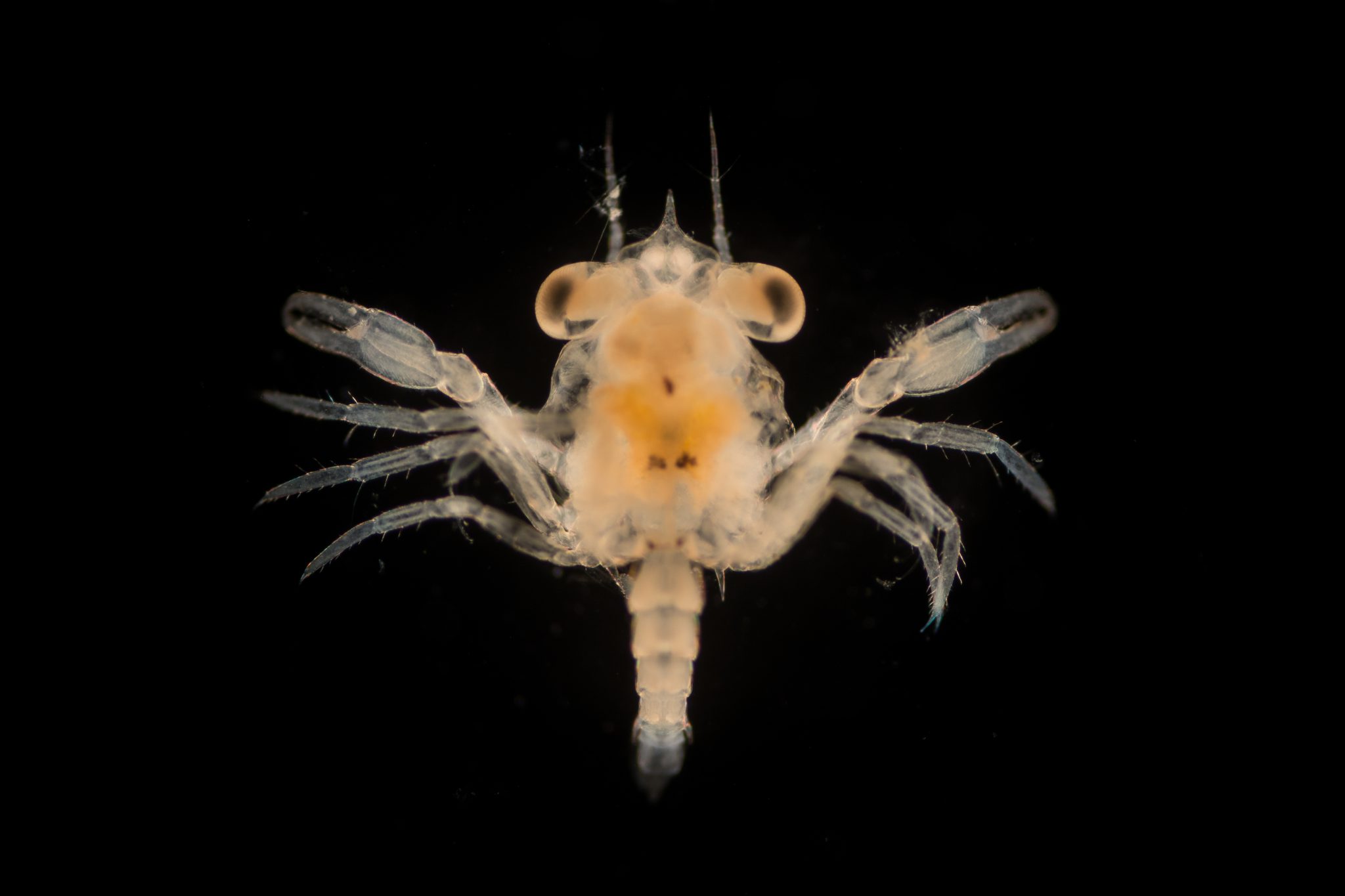 Goa, Grand Island
Located a few kilometres/miles west of the Mormugao peninsula, Grand Island has a selection of dive sites including wreck dives. Suzy's Wreck, a British ship which sank in the 1930's, is now completely encrusted in corals and is home to a plethora of reef fish. Davy Jones Locker is a nearby wreck which is better suited to experienced wreck divers due to the currents.  For those who prefer more relaxing dives, Uma Gumma Reef offers calm waters and a healthy range of marine life including spiny lobsters which hide out in the crevices and white tip reef sharks. Other notable sites in the area include Surge City and Turbo Tunnel.
Netrani Island, Karnataka, Murdeshwar
Netrani Island, also known as Pigeon Island, is located approximately 10 nautical miles from the temple town of Mudreshwar in Bhatkal Taluk. The vibrant corals are packed with all the usual inhabitants of a thriving tropical reef; butterflyfish, parrotfish, angelfish, damsels, moray eels and trumpetfish, are all in abundance. If you are lucky enough, manta rays are also occasionally spotted here.
Bangaram, Lakshadweep
Diving in the Lakshadweep Islands is mainly in two regions: Bangaram and Kadmat. Bangaram is almost entirely surrounded by coral reef and is known for its calm conditions which make it an excellent location for those who are planning to learn to dive. Marine life highlights here include barracuda, turtles, sting rays and occasional reef sharks.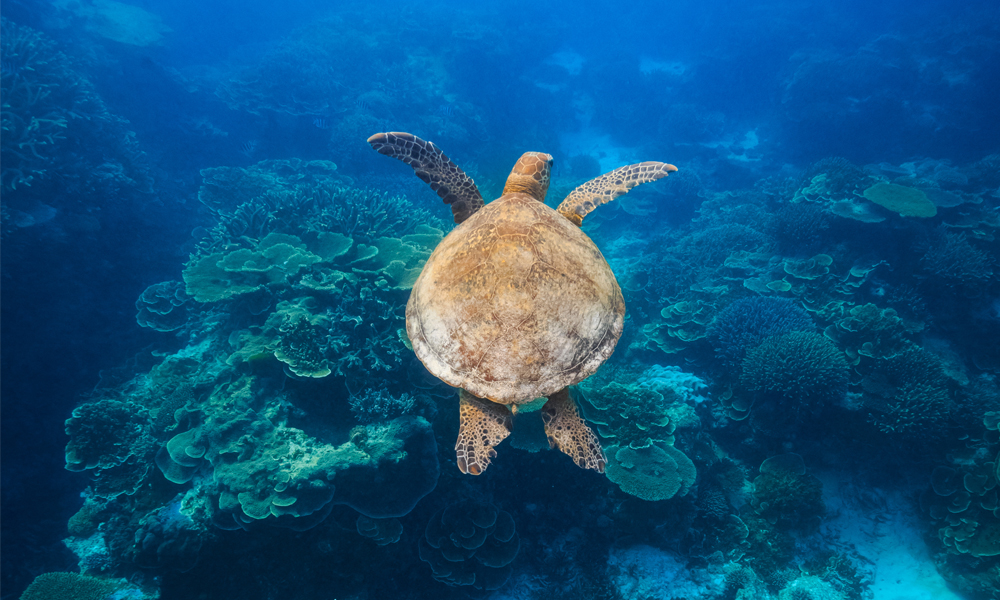 Kadmat Islands, Lakshadweep
Also known as the Cardamom Islands, Kadmat belongs to the Union Territory of Lakshadweep. With turquoise clear waters and white sand beaches, Kadmat is as beautiful on land as it is underwater. The sloping coral reefs are bursting with colours and packed with marine life. Sea turtles are a frequent sighting as are passing reef sharks, groupers and Napoleons.
One of Kadmat's most famous dive sites, "The Wall", starts at around 6 meters/20 feet and drops off to around 30 meters/100 feet. Visibility here is excellent, often in excess of 25 meters/82 feet. Green sea turtles are seen on almost every dive and other impressive sightings include eagle rays, white tip reef sharks, fantail rays, Napoleons, great barracuda and occasional tuna, manta and schooling rainbow runners.
Sharks Reef (AKA Cool Sharks Reef), Pondicherry
As the name suggests, this is one of the best sites for spotting sharks in Pondicherry. This sloping site is suitable for all levels of divers from beginners through to seasoned divers. As well as shark sightings, Sharks Reef showcases the diversity of diving in the Pondicherry region.
Aravind's Wall, Pondicherry
This 40 meter/130 feet site is best suited to advanced and deep certified divers. The wall itself actually resembles an underwater wall as opposed to being a "wall dive". The "wall" is over 2 kilometres/1.24 miles long, runs from north to south, and offers several dive sites to explore. This immense underwater formation is home to a huge population of gorgonian fan corals and whip corals. Marine life is varied and includes rabbitfish, fusiliers, snappers, groupers, bannerfish, and jackfish but the highlight here is the chance to see manta rays.
Temple Reef, Pondicherry
Spanning a massive 40 x 40 square meters, Temple Reef is an articial reef which attracts an astounding array of marine life. The reef was built entirely by hand and comprises concrete blocks, rocks, metal structures, cars, scooters and even palm leaves and trees. The reef which begins at a depth of 5 meters, is suitable for everyone to explore from begginners to veteran divers. Look out for the Malabar grouper which can be seen here among the schools of reef fish and for macro enthusiasts there are countless species of crustanceans and bottom dwellers.
Kovalam, Kerala
If you are heading to Kerala then the most popular spots for scuba diving is found around Kovalam in the Arabian Sea. The predominantly sandy bottom sites are home to a wealth of macro marine life – a must for underwater photographers. Look out for the numerous species of cuttlefish that can be found here!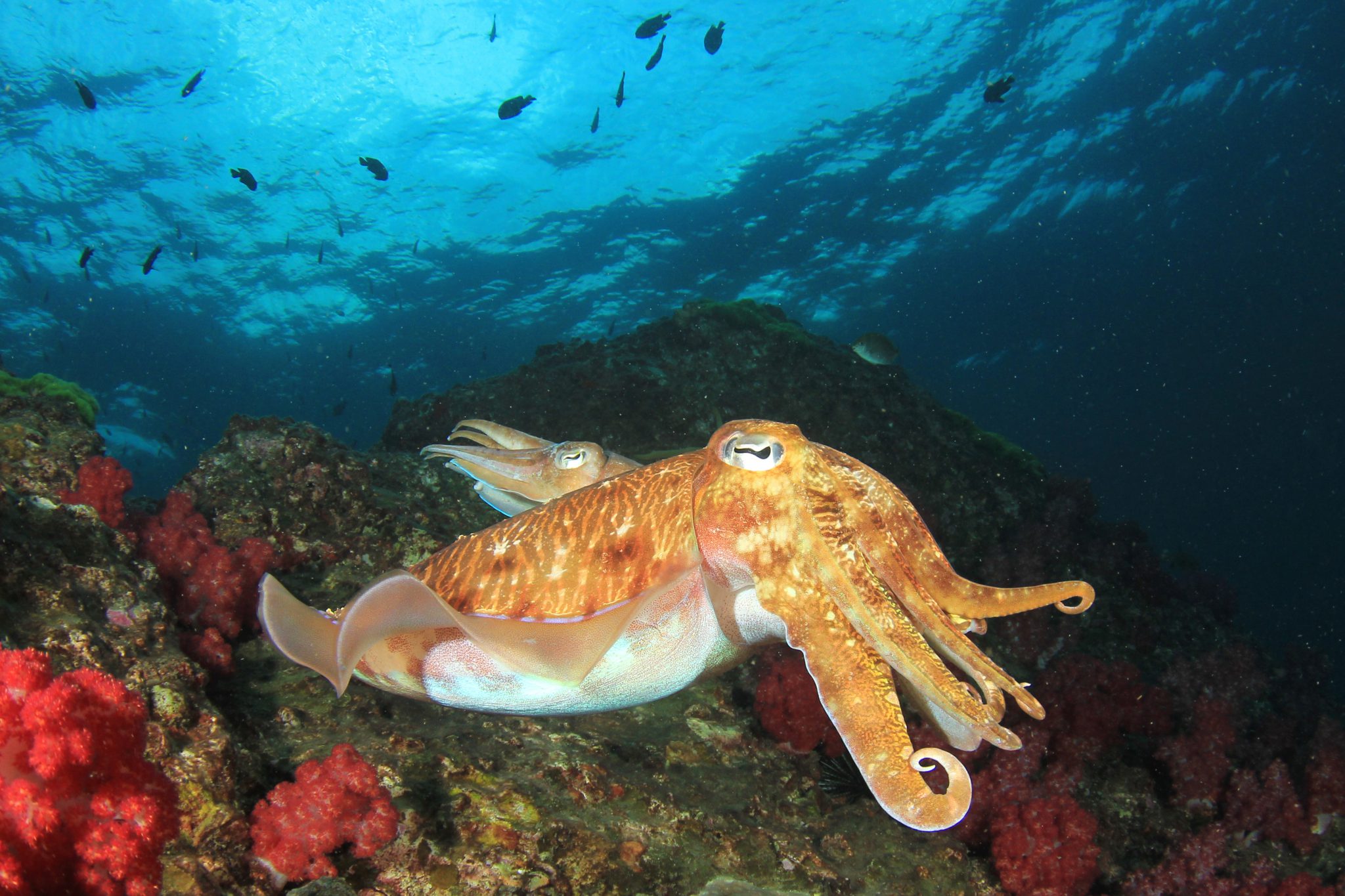 Diving in Kovalam offers easy conditions and although visibility can be variable, conditions are ideal for all levels, including beginners.
If you are staying in Channai, it's possible to dive the magnificent Deccon Pioneer wreck or Covelong which offers a wide variety of marine life and numerous dive sites to explore including Covelong Pinnacle, Murray Point and Devil Rock.
Of course, these are only a small selection of the dive sites in India and as scuba diving continues to capture the hearts of the Indian people, more dive sites are still being discovered on a regular basis. So if you like combining diving with culture, history and exploration then India is a must. Locate a PADI Dive Shop and start booking the trip of a lifetime!