Scuba diving grants us entry to an entirely new world, one which few people will ever see with their own eyes. Being able to record or take photos of your encounters with turtles, manta rays and critters is priceless and allows you to share your memories with others – not to mention a great hobby!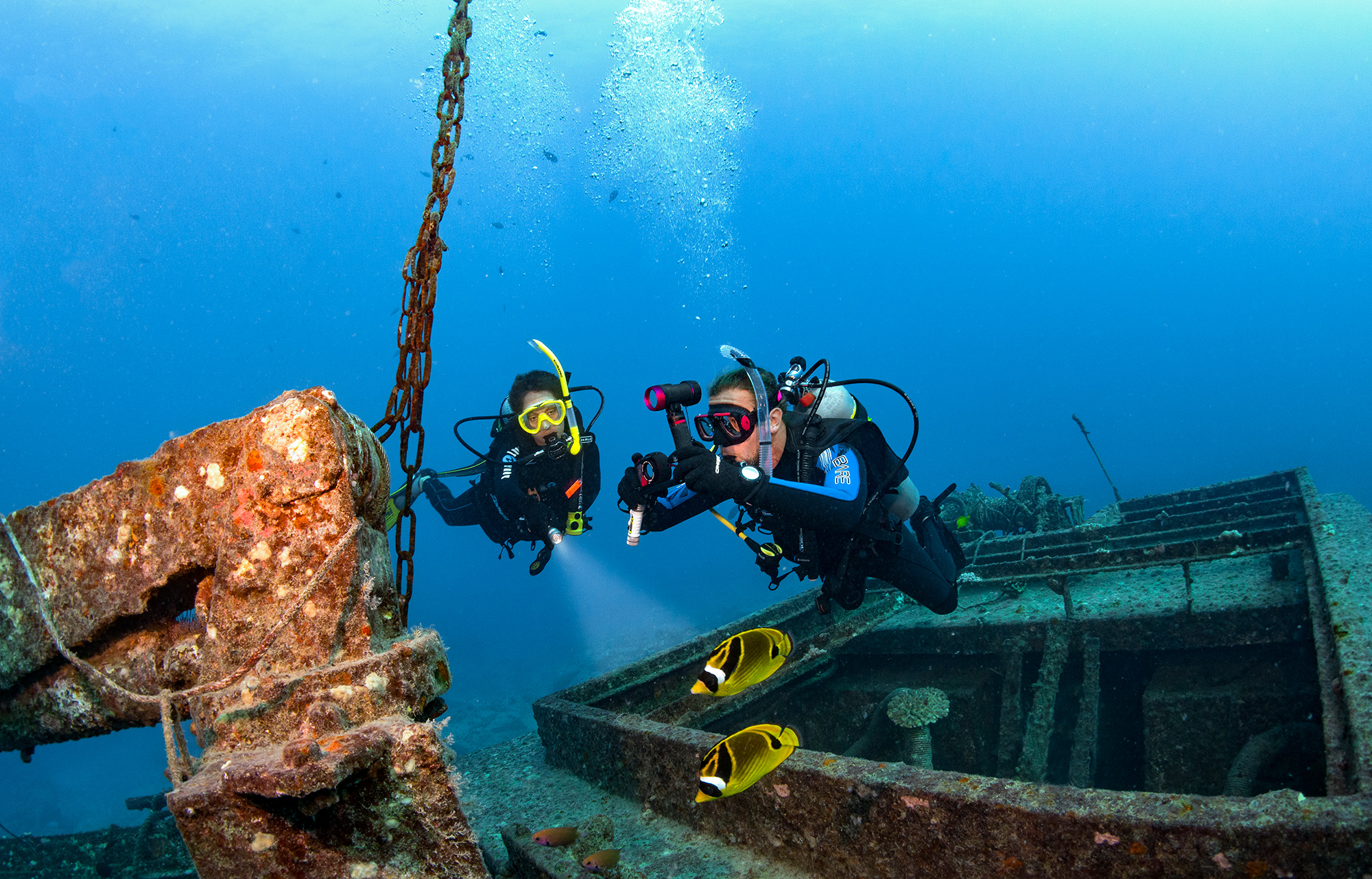 It's easy to become overwhelmed when searching online for an underwater camera so here are some top picks for getting started, or for those who are looking to upgrade to a newer model.
Which type of camera?
There's a lot to choose from so start by narrowing down the options. One of the easiest ways to do this is to decide on what type of camera you want to invest in. Cameras can be loosely grouped into three categories: compact, mirrorless and DSLR.
Small, least expensive, ideal for travel and excellent image quality. Compacts are the best choice for beginners and as you develop your skills you can even add wet lenses for wide angle or macro.
Take great photos without spending the fortune you would for a DSLR camera! Mirrorless cameras combine many of the benefits of a compact with the image quality of a DSLR. Ideal for those who are already interested in and have some knowledge of photography.
For those looking for a camera with the maximum performance, greatest image quality and the most options in terms of lenses, DSLR cameras are the best option. If you are already an experienced photographer and capable diver this is an appealing choice.
DSLR's are much heavier and larger to handle underwater so good buoyancy is a must. These cameras are more expensive as are the housings. This is a big investment but worth it if you are thinking about shooting professionally.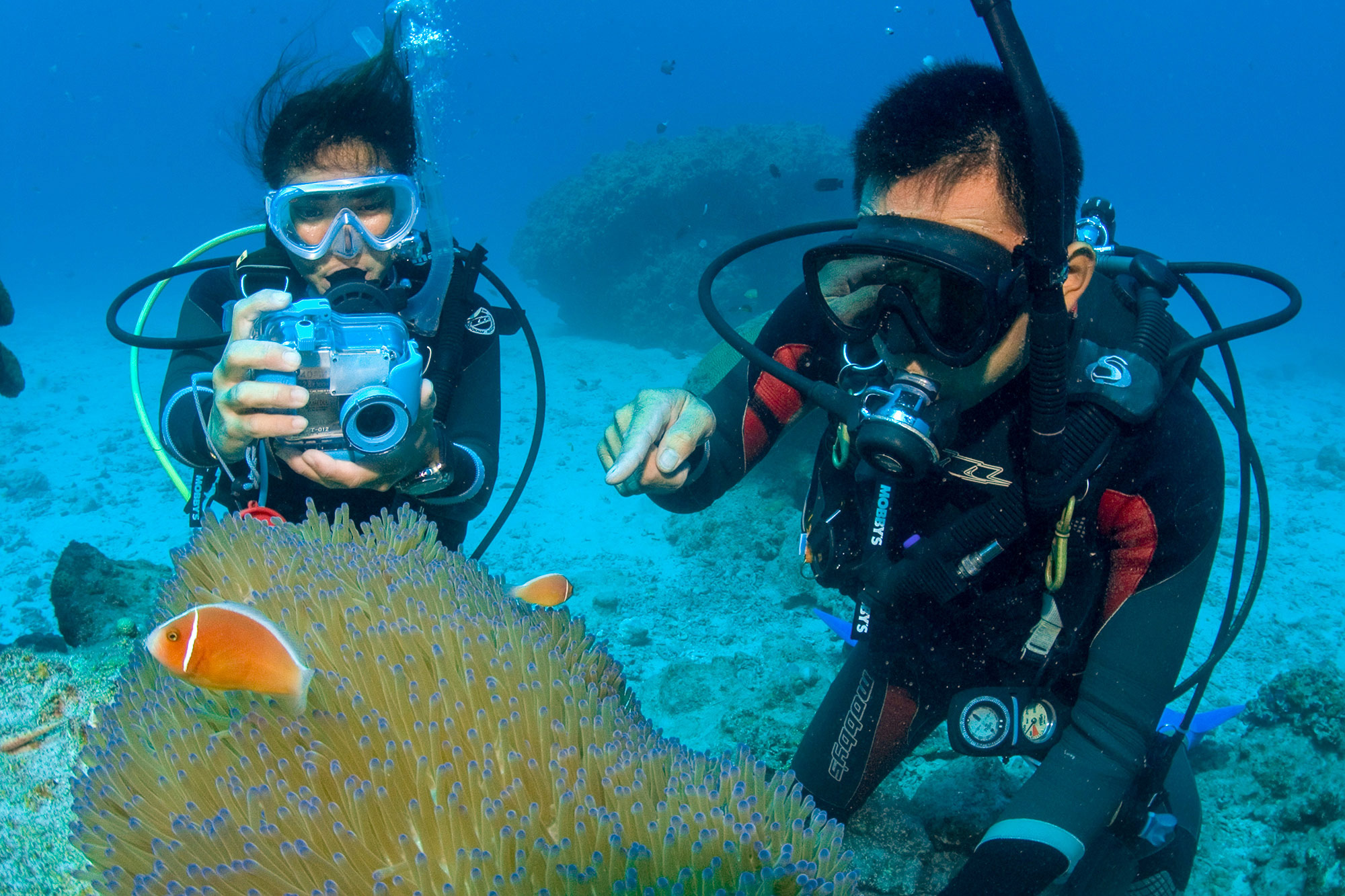 So here are some top picks from each category:
Compact: OLYMPUS TG-6
The Olympus TG-6 is an incredible imaging tool which produces awesome images and impressive underwater colours. Designed by Olympus with adventure seekers in mind, it's shockproof, freezeproof, waterproof (to 13 meters/45 feet without the housing), dustproof and basically life-proof. Olympus have nicely developed the Tough series with divers by producing their own underwater housings to increase the depth limit and allow external accessories to be mounted such as lenses and lights.
The TG-6 does not have a manual mode but it has great underwater and macro modes and also shoots 4k video.
Compact: SONY RX100 MARK VII
Many underwater photographers rate this as being the best available compact with its ultra-zoom lens, fast responses and sleek design. The zoom lens on the Sony RX100 Mark VII gives more magnification when shooting macro but it can be challenging and means less available housing options and interchangeable ports are required.
If you are already familiar with photography, this camera delivers stunning, sharp images and has excellent video capabilities but is not as straight forward as the TG-6.
COMPACT: CANON G7X MARK III
The Canon G7X III shoots 4k video and on land it has the added bonuses of an external mic jack and the option to live stream your video to YouTube. Other underwater benefits include all round incredible image quality, 30fps RAW burst shooting, to ensure you capture fast action shots and even a portrait video mode specifically for social media – your Instagram account will love you for this!
If macro is your thing, the Olympus TG-6 may be a better option and also shoots 4k video.
Mirrorless: SONY A6500
This is one of the most flexible mirrorless options on the market. The Sony A6500's size and weight are comparable to a compact but its exceptional performance shoots like a DSLR.
This 24MP Sony can shoot 4K video but when doing so, the battery life is compromised. That being said, it's extremely flexible and you have the choice to keep it simple and small with easy to use auto functions and just a single lens; or expand its capabilities by shooting in manual and adding other lenses and accessories.
DSLR: NIKON D850
If you already have a good knowledge of cameras and photography, or if you are thinking about getting into professional underwater imaging, then the full frame D850 does it all. Capabilities include extensive dynamic range, beautiful colours and sharp detail. It shoots true full frame 4K video and has one of the fastest and most accurate autofocus systems (153 AF points and 99 cross type).
The down side? Well, you'll be making a much bigger financial investment and make sure you check the price of the housings before buying the camera. The cost of the housing and accessories will at least double your investment. If you are ready to take the plunge though – this is an amazing piece of equipment!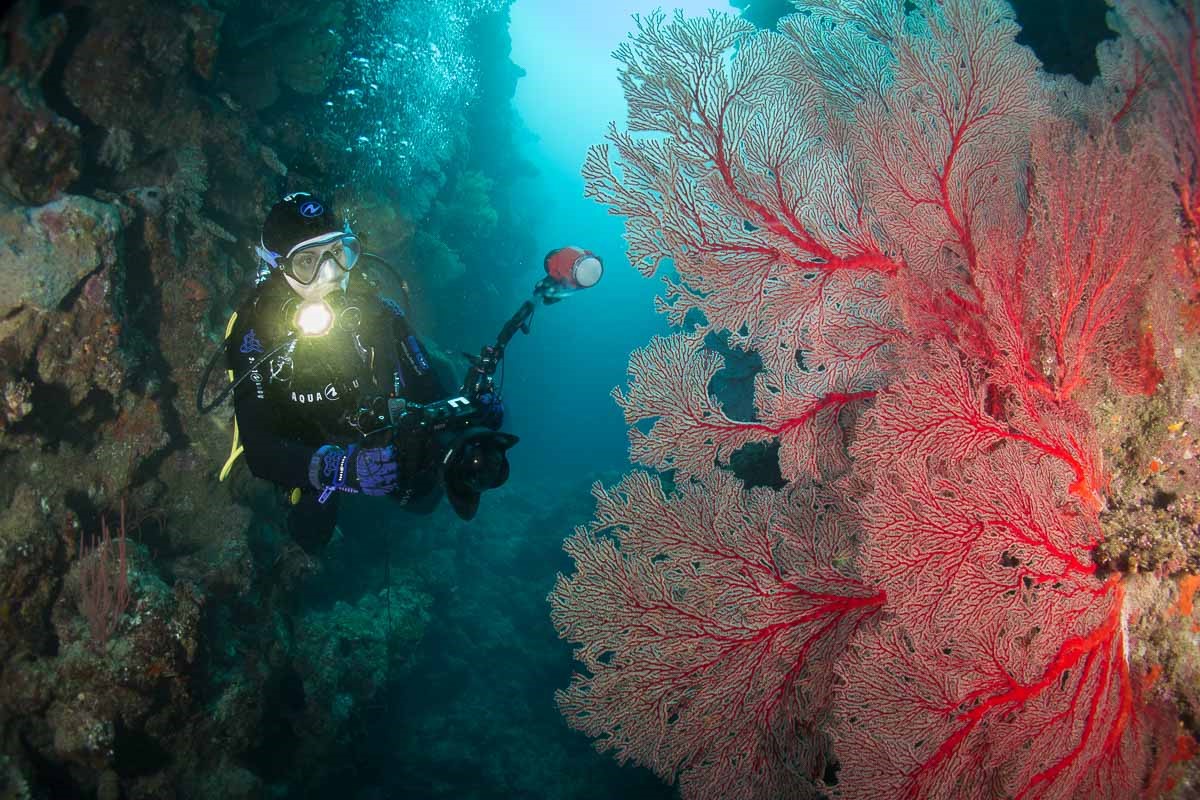 Top Tips:
Before making an investment think carefully about what you want to do with your camera? Is it just for holiday pictures? Video? Do you want to use it professionally?
What is your current experience / knowledge level and how much time do you want to spend on learning? If you are already shooting on manual mode than a TG-6 might not be the ideal choice. Conversely, if you are starting from scratch and don't want to spend hours learning settings, a DSLR can be an expensive frustration.
Check the prices of housings and accessories before buying your camera. The additional expenses add up.
Look for package deals. Many online sellers have great offers on camera, housing and strobe packages.
Practice on land to avoid frustration underwater. As soon as you have your camera, don't wait until your next dive, get shooting! Learning the controls and functions on land will be invaluable underwater!
Learn more about getting started in underwater photography and find the best online camera deal. Happy snapping!