Diving or snorkeling with manta rays is an unforgettable experience. It is something you absolutely must do. They are not just fish; they are a symbol of majesty, elegance and freedom. What makes mantas special is the connection you can create with them.
Do you know that manta rays have the largest brain to body ratio of all fish? They are also totally harmless and each one can be individually identified. Find out the best places to dive with manta rays!
Try our destination wizard to determine what is the best place to dive with manta rays in a chosen month.
---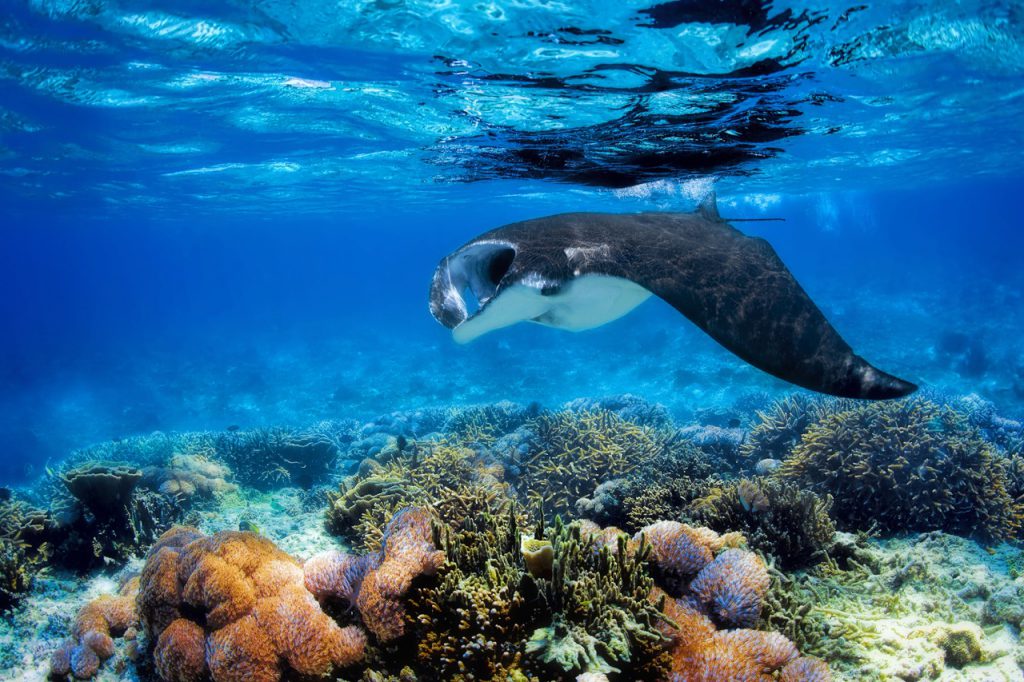 THE BEST PLACES TO DIVE WITH MANTA RAYS
Are you ready to get in the water with these graceful animals? Below are the best destinations to dive with manta rays. Keep in mind, it's possible to find manta rays across the globe, but we've picked out the best places to consistently spot large groups of these amazing creatures.
---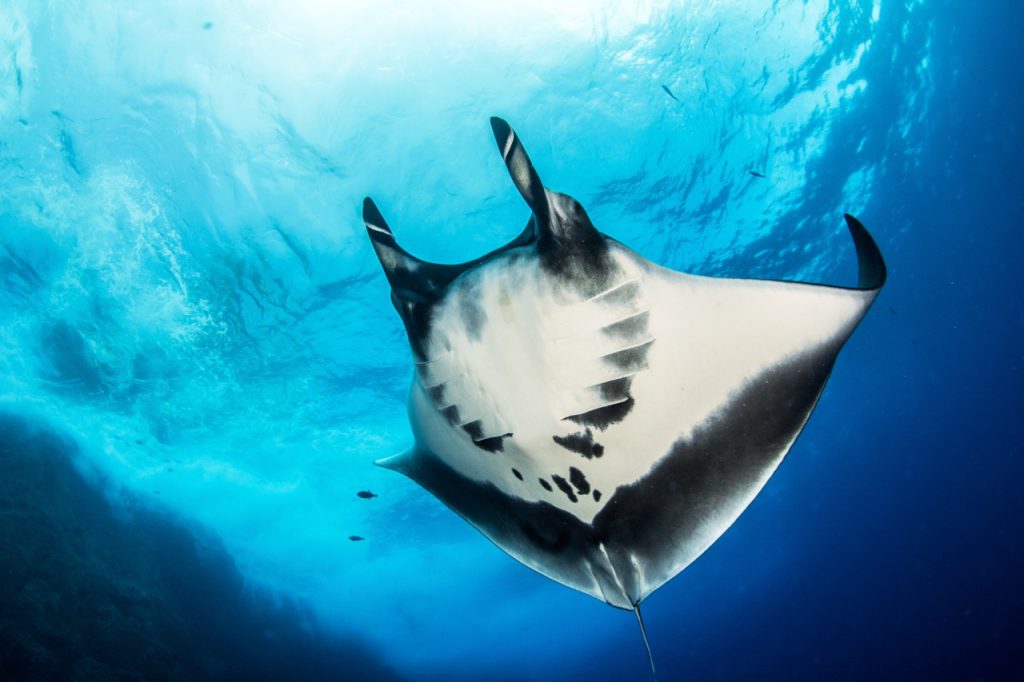 1. SOCORRO ISLAND, MEXICO
The most famous of the Revillagigedos, tiny Socorro Island sits 375 miles (600 kilometers) off the coast of Baja California in the open Pacific Ocean. This volcanic island plays host to more than 500 individual Oceanic Manta Rays from November to June. However, the best months for spotting them are May and June. Many of the manta rays found near Socorro display the rare all-black morph and enjoy a disc-width of more than 16 feet (5 meters)! In fact, this is the best place in the world to see Giant Oceanic Mantas. For a liveaboard experience unlike any other, book your manta ray adventure to Socorro Island.
Editor's Recommended Liveaboards:
---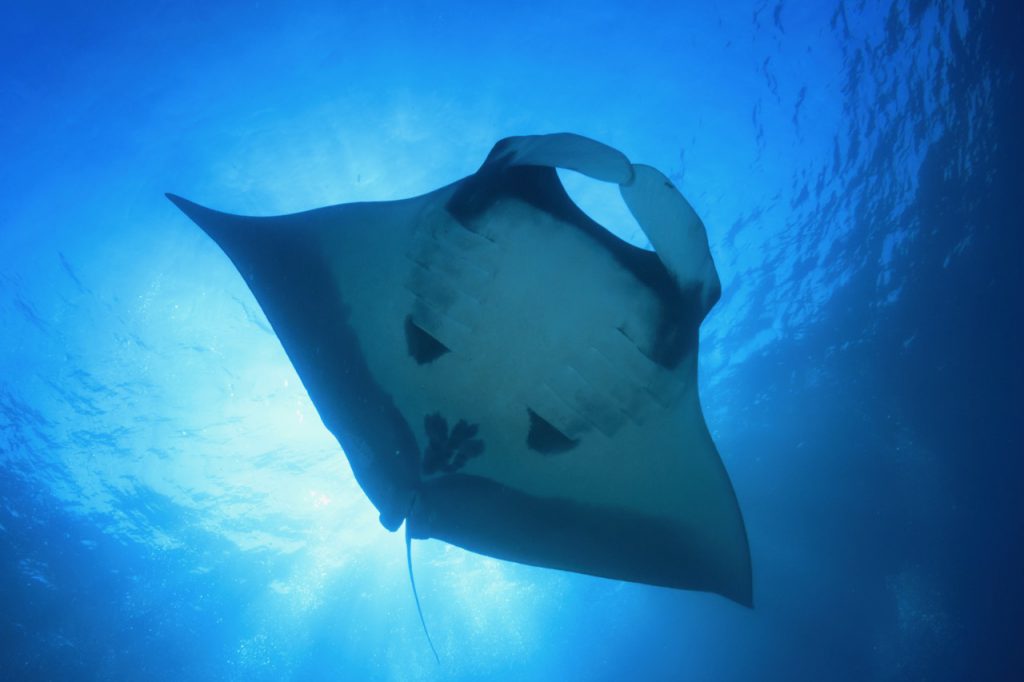 2. ISLA DE LA PLATA, ECUADOR
Known as Ecuador's other Galápagos, Isla de la Plata is located merely an hour and a half by boat off the coast of Puerto Lopez. Diving in the area is a relatively new concept, but you'll find a few shops in Puerto Lopez willing to show you the wonders hidden beneath these waters. More than 2000 manta rays arrive to this Pacific island between June and October every year. It is also the spot where one of the largest oceanic mantas (over 7 meters with laser photogrammetry) has been seen. This is currently the world's largest recorded population of Giant Oceanic Mantas. Keep in mind that occasionally, weather conditions will not permit diving around the area for weeks at a time. If you're ready for an adventure on the cutting-edge of discovery, book a trip to Isla de la Plata.
---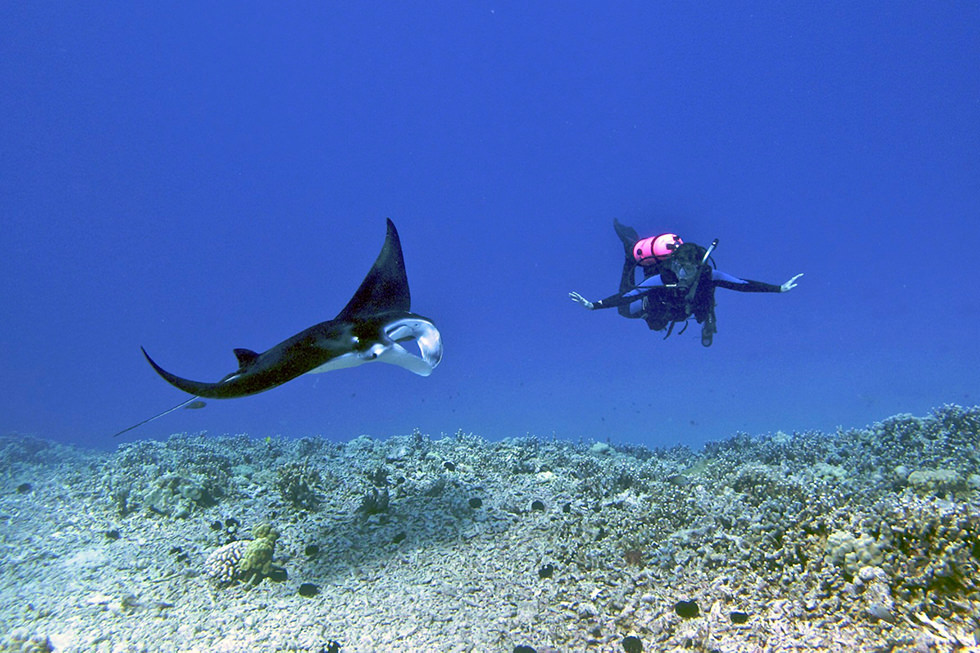 3. KONA, HAWAII
Diving with manta rays in Kona is unlike any other location on this list. Firstly, all manta dives in the area are night dives. During such a dive, you'll be indirectly feeding the manta rays. The experience begins with dive operators shining bright lights into Makako Bay near Garden Eel Cave. These lights attract plankton which feed on the light. In turn, Reef Mantas arrive in great numbers to feed on the plankton. That's your cue to jump in the water. During most night dives, you'll be surrounded by at least a dozen of these pelagic animals. This manta ray dive is possible year-round because of its manufactured aspect.
---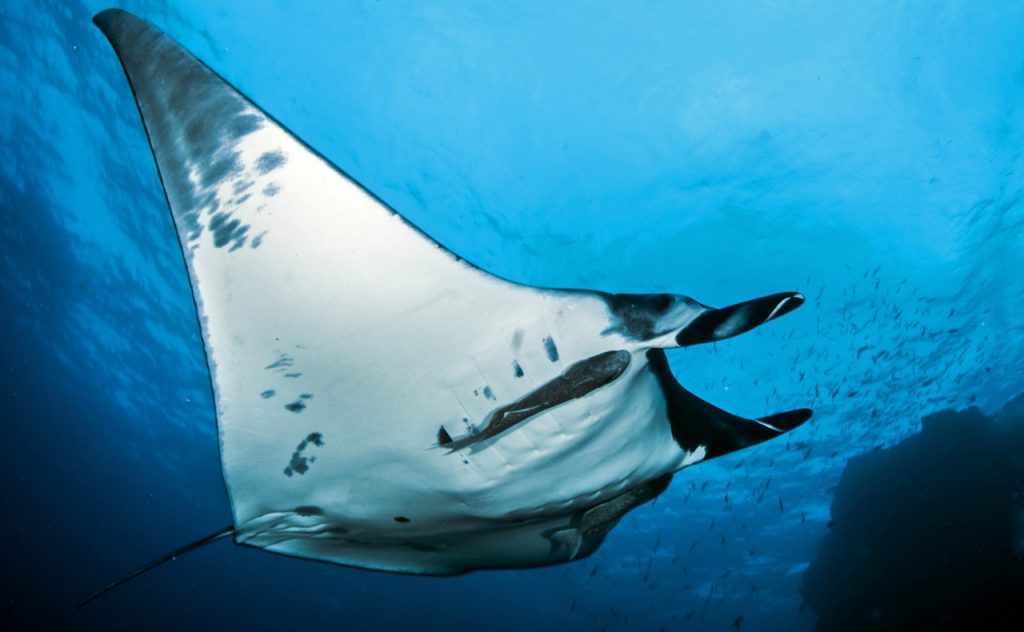 4. THAILAND
As a popular holiday destination for its silky, white beaches, spicy cuisine and colorful culture, thousands flock to Thailand each year. Few, however, will unlock the secrets hidden beneath its turquoise seas. Among the wealth of interesting marine life found along Thailand's shores are hundreds of manta rays. For scuba divers who love pelagic species, nothing can beat the exciting Thai destinations of Koh Bon and the Similan Islands. The best period is from February to April, with a lull in late March/early April. Then they are back out in force for late April. During the same season (sometimes also from December) you can have excellent manta diving in Hin Daeng and Hin Muang.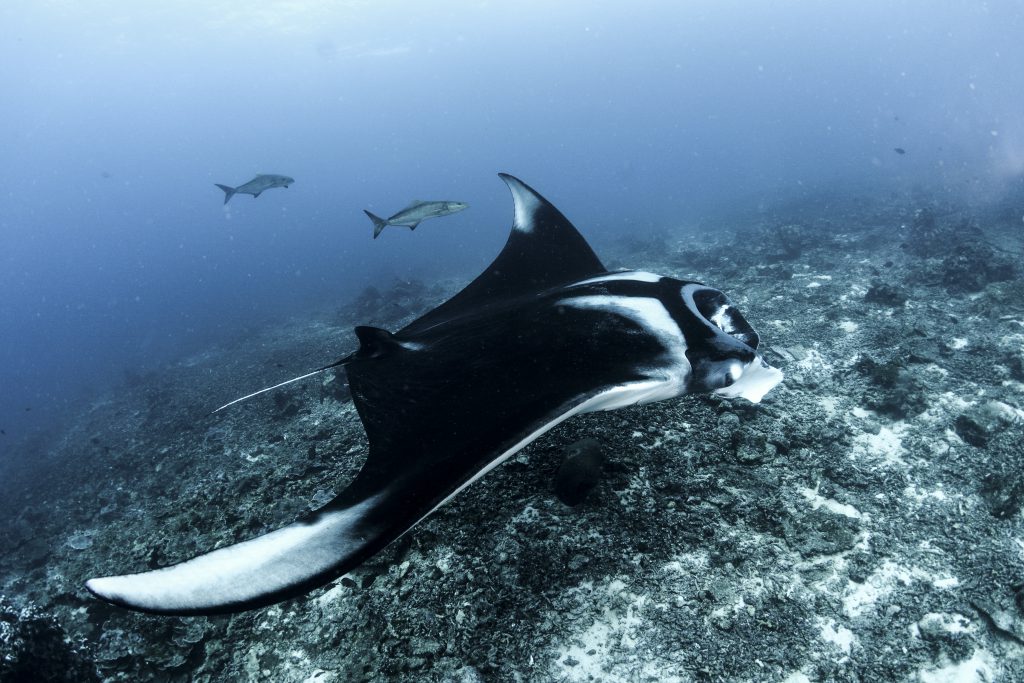 SIMILAN ISLANDS
From late December to early May, oceanic currents bring a mass of plankton to the Similan Islands, off the west coast of Thailand. This attracts dozens of Oceanic Mantas who spend their daylight hours at cleaning stations or cruising the strong currents that pass through this group of islands. These wonderful creatures seem to particularly like the Koh Tachai pinnacle. For the best chance of finding manta rays in the Similan Islands, book a 4-5 day liveaboard. Remember that you only get about three hours under water a day so the longer the liveaboard, the more likelihood you have of diving with manta rays.
Editor's Recommended Liveaboards: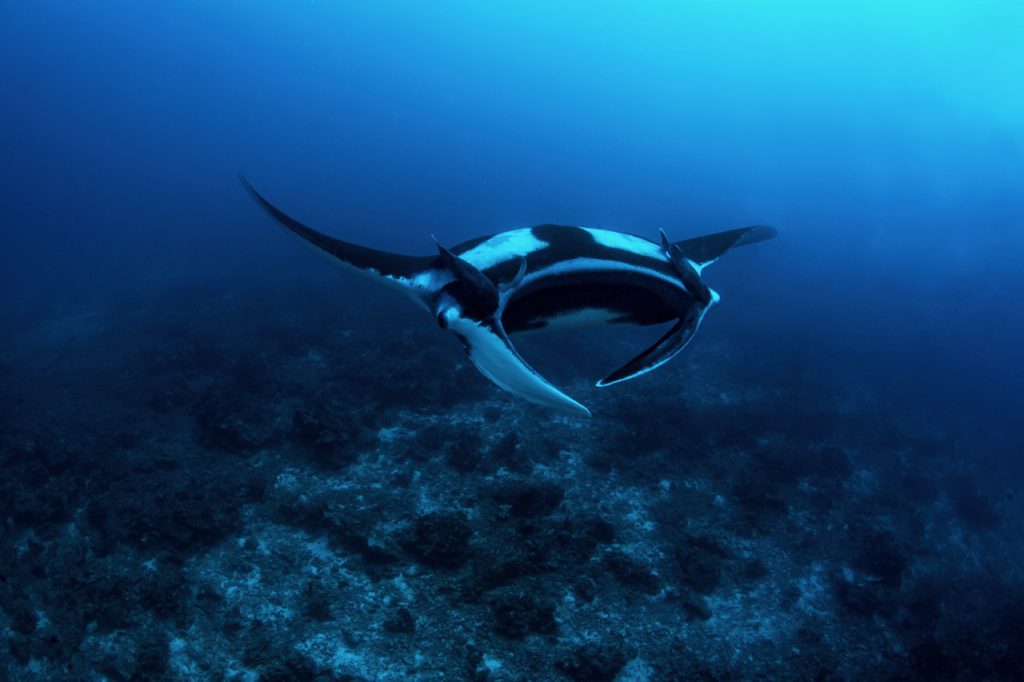 KOH BON
Koh Bon is approximately an hour north of the Similan Islands. On the south side of the island, a wall drops to 100 feet (30 meters). At the western edge of this wall, divers wait, gazing into the blue where graceful, winged creatures circle. With the correct conditions and respectful divers, the manta rays will put on this show for longer than your bottom time will allow you to watch. In addition to manta rays, divers who make the effort to visit Koh Bon will also be rewarded with Leopard Sharks, beautiful corals and thousands of colorful reef fish.
---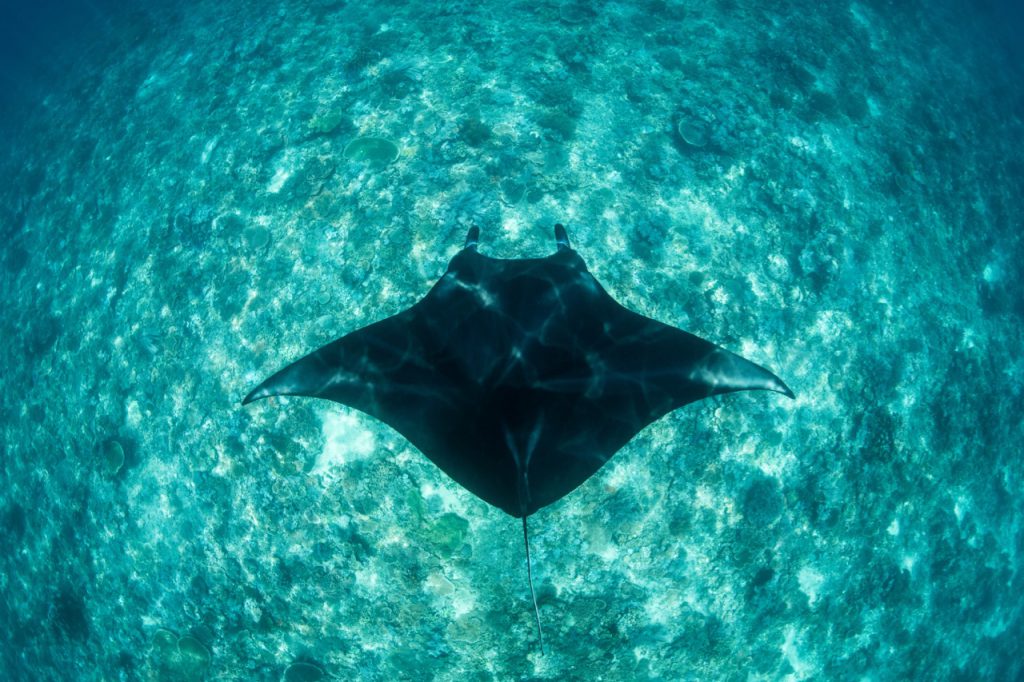 5. INDONESIA
At the crossroads between the Indian Ocean and the Pacific Ocean, the more than 17,500 islands that make up Indonesia host 25% of the world's fish species and 15% of its coral. The country has thousands of amazing dive sites. Among these are three major areas known for their seasonal population of manta rays.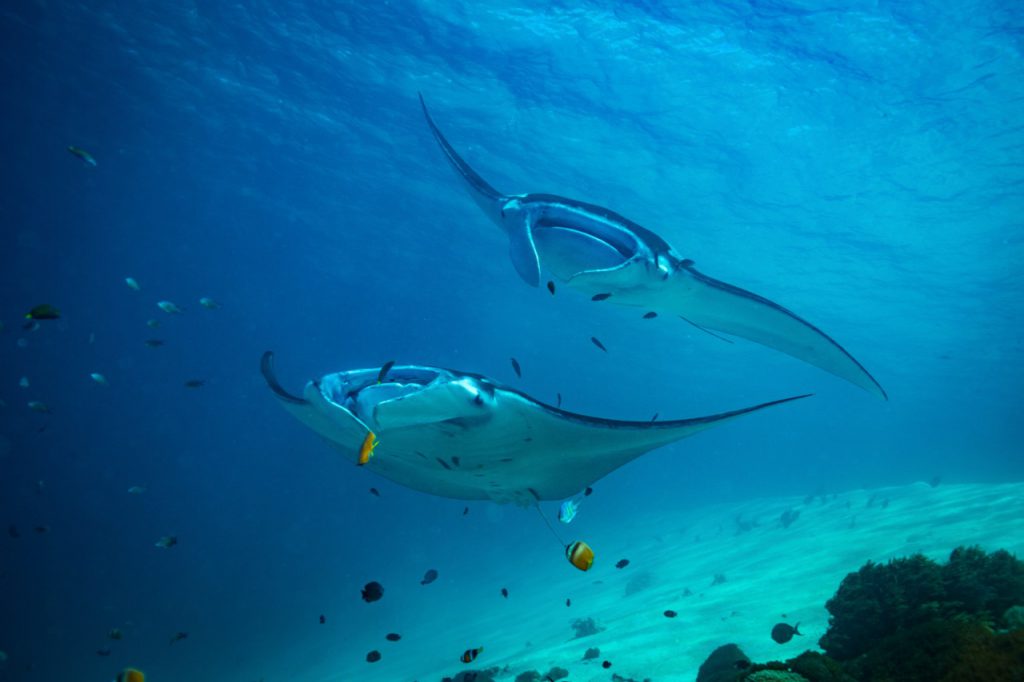 KOMODO & FLORES ISLAND
The most famous places in Indonesia to get in the water with manta rays are Komodo National Park and nearby Flores Island. The plankton in the area is found on the sandy bottom, so this is a prime location for witnessing bottom feeding. Furthermore, manta rays can be found in this part of Indonesia year-round. In fact, they migrate from north to south and vice versa with the change in seasons. For the best conditions in terms of visibility and weather patterns, travel to Komodo from June to September.
Editor's Recommended Liveaboards: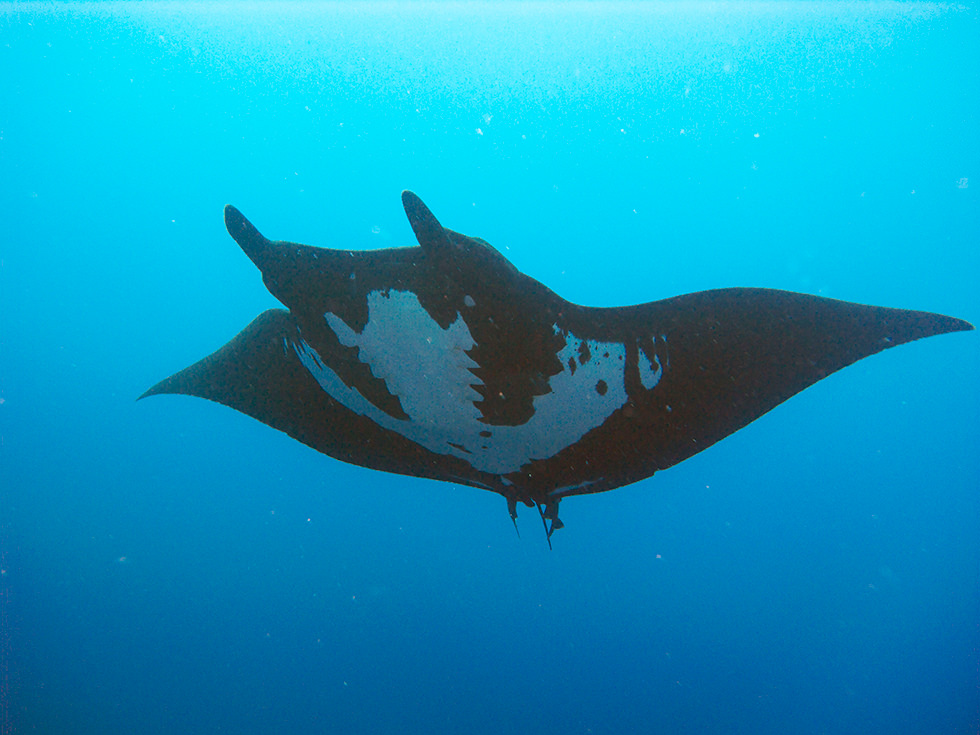 BALI
The most popular of all the Indonesian islands, Bali is paradise on earth. In addition to thousands of tourists, this small island also hosts hundreds of manta rays annually. To dive with the magnificent creatures, you'll actually need to travel to Nusa Penida, a small island just off the southeast side of Bali. Reef Mantas, including those displaying the rare black morph, can be found throughout the year but August to October is considered to have the best conditions. Manta Bay and Manta Point are the best dive sites for finding them. As an added bonus, lucky divers may also come across the rare yet fascinating Mola Mola. Snorkelers and novice divers should take care. Currents can be strong and variable.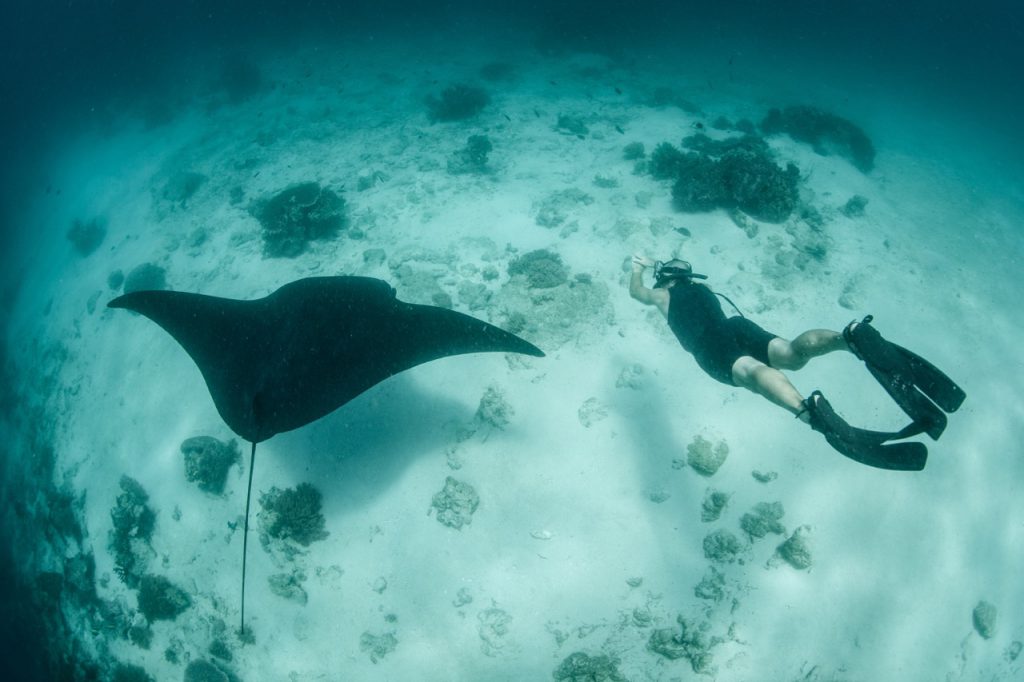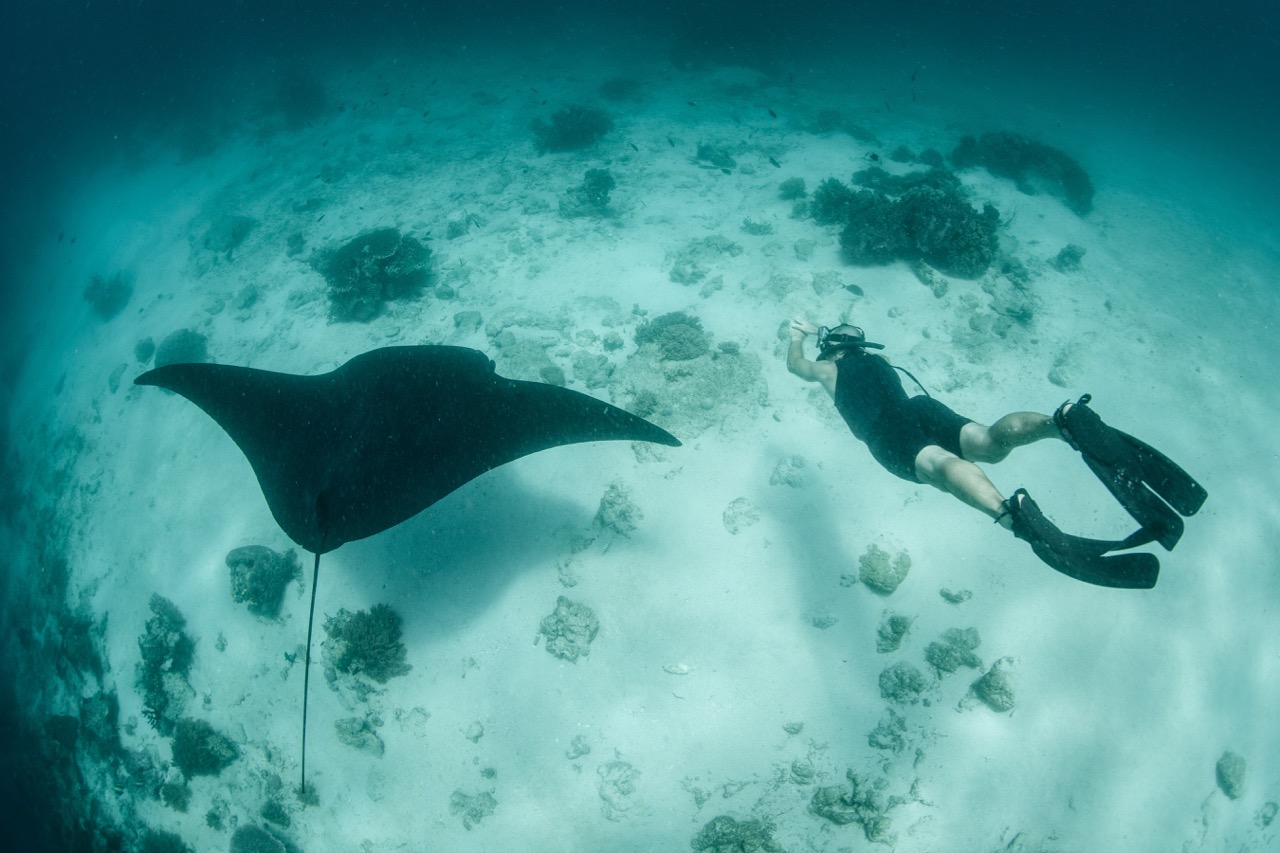 RAJA AMPAT
Raja Ampat is found on many lists considering the best dive areas around the globe. These speak to its fantastic soft corals and fascinating macro life, but what most overlook are the amazing manta ray encounters. This is perhaps because the best sites for manta ray diving are some of the newest sites, just being added to many liveaboards. If you're serious about getting in the water with mantas, first decide which species you'd like to see. Manta Ridge, Manta Sandy, Eagle Rock and Wayag Lagoon are all great sites for Reef Manta Rays. On the other hand, Blue Magic consistently hosts Oceanic Manta Rays, and at Magic Mountain, you can see the two species together. Both species display the common morph as well as the rarer black morph. While manta rays can be found in Raja Ampat from October to May, December to March offers the best opportunity to dive with the many manta rays in the area.
Editor's Recommended Liveaboards:
---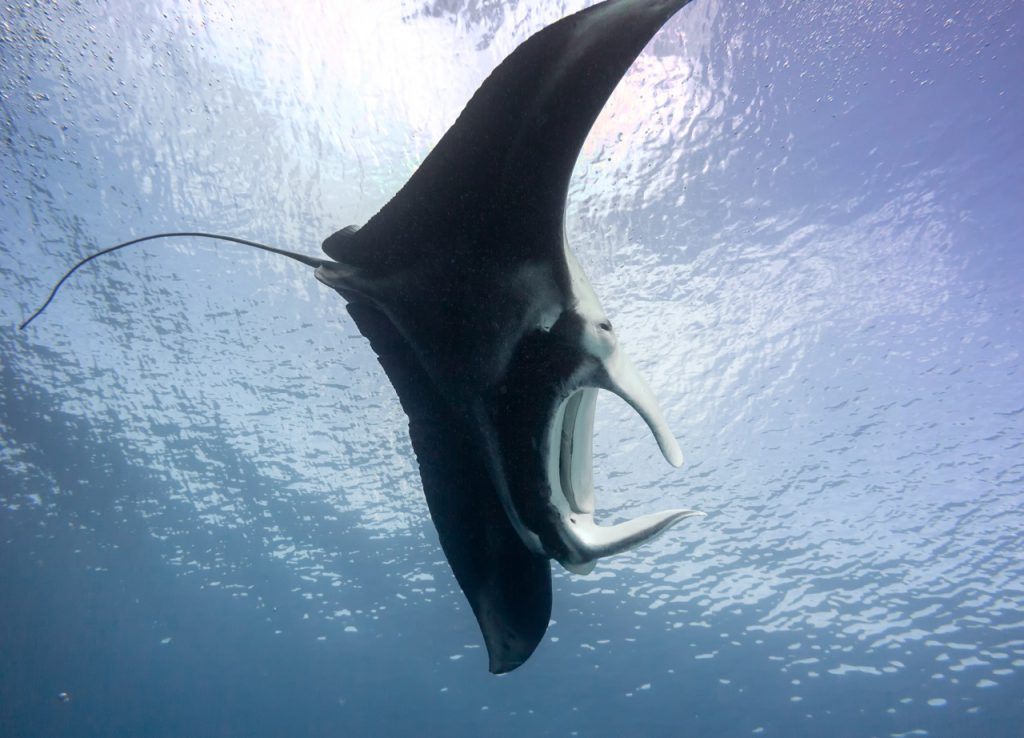 6. AUSTRALIA
As the home of the Great Barrier Reef, Australia features amazing diving from tiny nudibranchs to huge Great White Sharks. Manta rays are also found regularly around Australia's shores. Ready to dive with a manta ray? Head to either Lady Elliot Island in the Great Barrier Reef or Coral Bay in Western Australia. For the east coast of Australia, we suggest a visit to North Stradbroke Island where Manta Lodge YHA and Scuba Centre is perfectly located for summer encounters. Julian Rocks off Byron Bay is another important site for the animals during the summer months.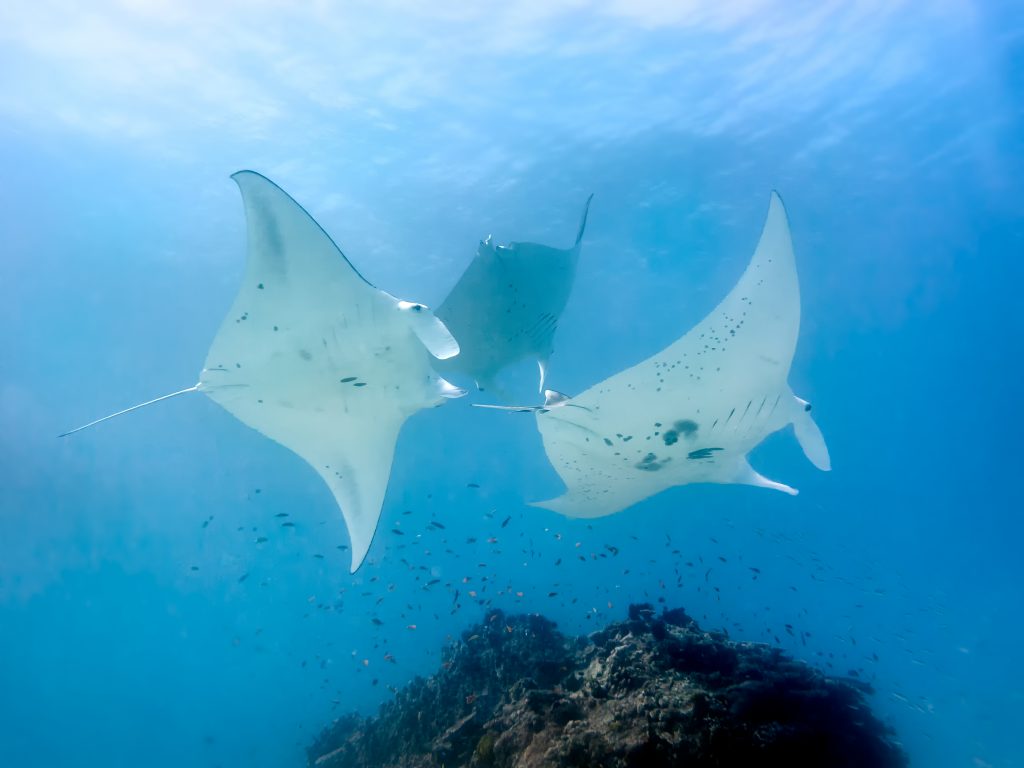 GREAT BARRIER REEF (LADY ELLIOT ISLAND)
Nicknamed the 'Home of the Manta Ray,' Lady Elliot Island is the perfect Australian destination for manta ray diving. The graceful creatures are found in the area year-round, but larger numbers congregate around the island during Australia's winter. It is now understood that these animals travel nearly 300 miles (500 kilometers) before and after their time at Lady Elliot Island. During the peak of the winter season, you can swim among approximately 100 individual manta rays. Are you planning a diving vacation to the Great Barrier Reef? Make sure to add Lady Elliot Island to your itinerary.
Editor's Recommended Liveaboards: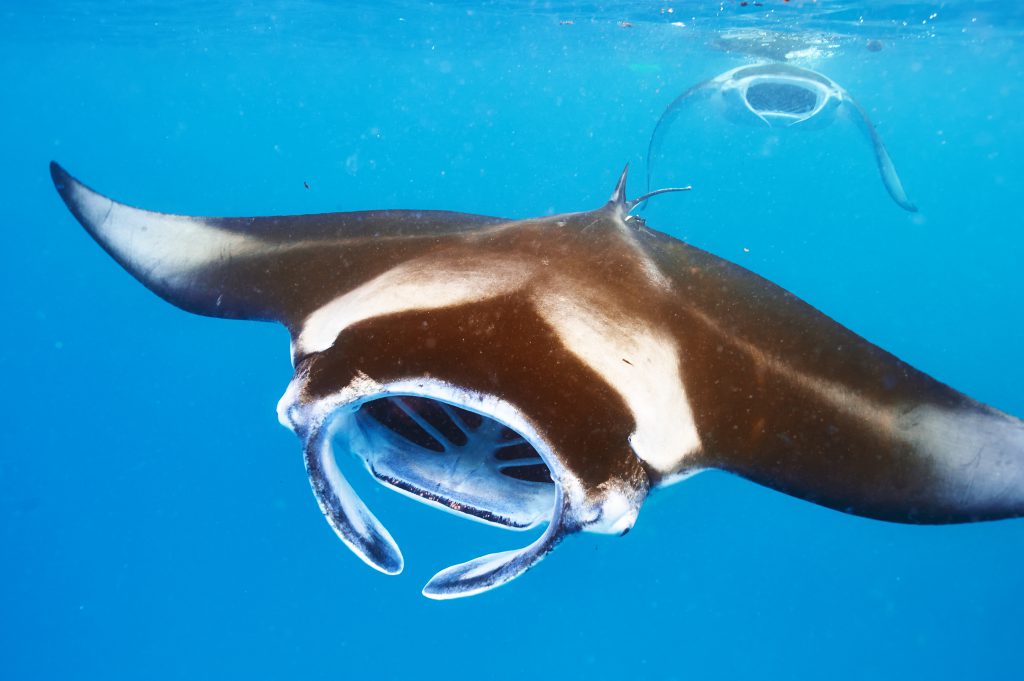 CORAL BAY
On the opposite side of the country from the Great Barrier Reef, Coral Bay and nearby Ningaloo are lesser-known destinations for manta ray diving. You'll find more than 500 Reef Mantas in the area throughout the year. However, trips only depart from Exmouth on the Coral Coast between June and November when coral spawning attracts the most manta rays. On the other hand, you can base yourself in Coral Bay to ensure daily departures during all months. If you want an intimate experience with manta rays, look to Coral Bay for your next diving holiday.
---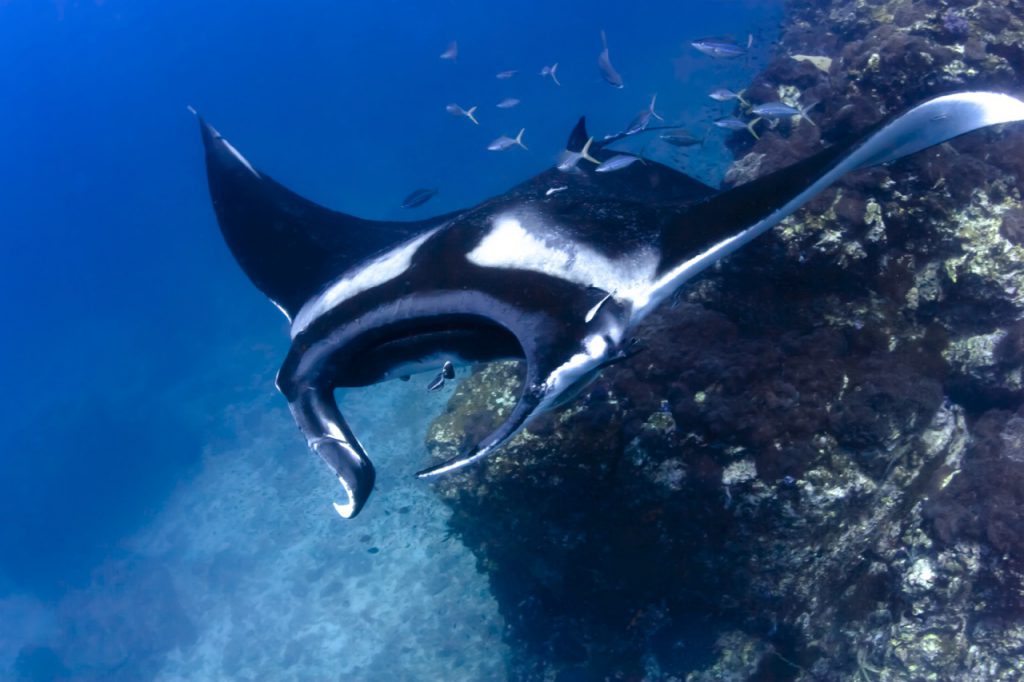 7. MICRONESIA
In the tropical South Pacific, Micronesia is a world-class diving destination. With amazing colors and pelagic species, this underwater world is the perfect location for adventure-seeking divers. If you'd like a getaway in paradise, plenty to see at thousands of dive sites and wonderful manta ray encounters, head to the islands of Micronesia for your next scuba adventure.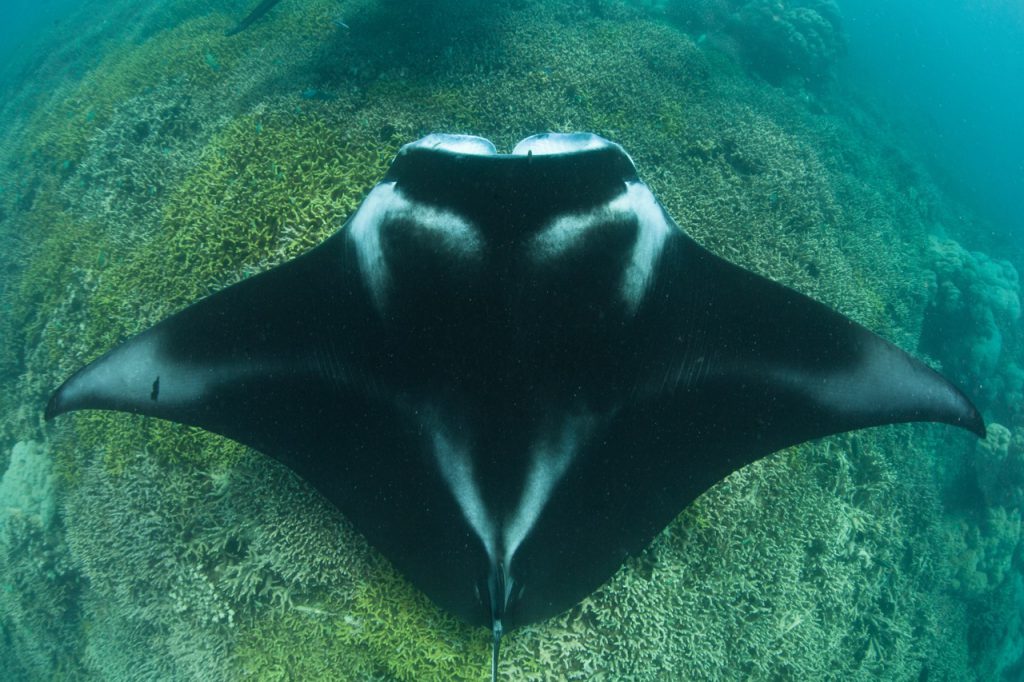 YAP
As a part of the Federated States of Micronesia, Yap includes dozens of coral atolls and 150 islands. The coral reefs that surround these atolls and islands are rich with marine biodiversity, creating the perfect home for more than 100 resident Reef Mantas. Several cleaning stations surround the islands meaning you'll be diving with nearly guaranteed sightings of the mantas. On every day of the year, you should be able to get in the water with these animals, but the best months are in the late winter and early spring, particularly from December to April when the resident population swells with outsider mantas who arrive to breed. You'll also find the colorful Mandarin Fish and several shark species around Yap.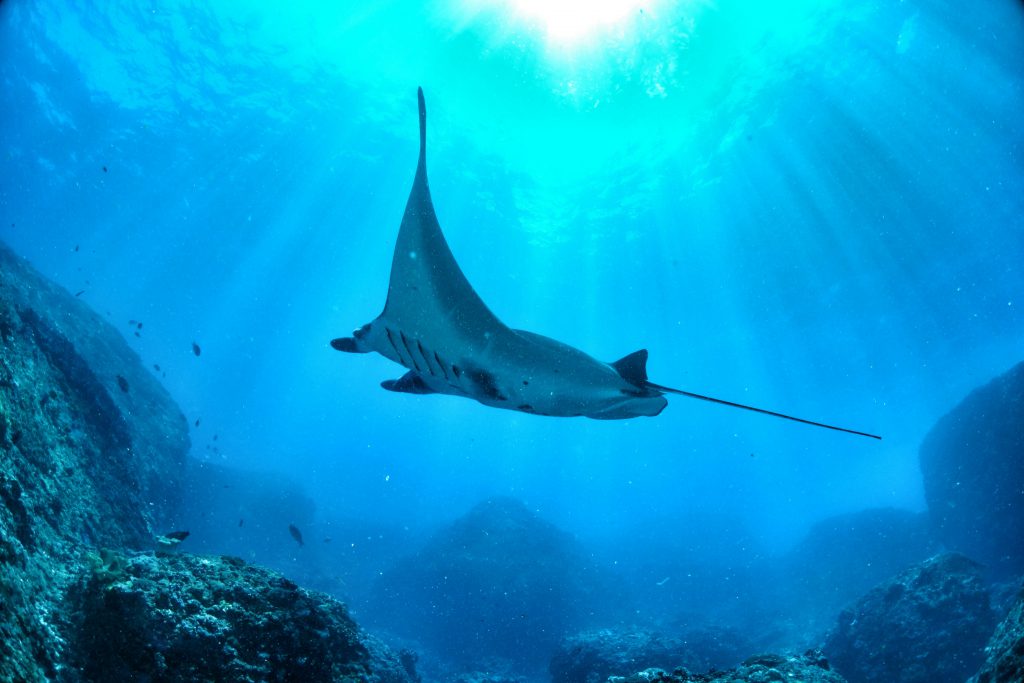 PALAU
Traditionally overshadowed by Yap in terms of manta ray diving, Palau is now recognized as one of the best and most consistent areas for seeing manta rays. The manta population is estimated to include around 350 – 450 individuals. These are perhaps more visible due to the growing popularity of the dive site known as the German Channel, considered one of the top three dive sites in Palau. In fact, this site is in the process of becoming a Marine Protection Area. The German Channel also happens to include a manta ray cleaning station. Devilfish City is a second, essential dive for anyone looking for mantas. Sightings are almost guaranteed in the area at high tide because there are three different cleaning stations in the dive path. Other famous dive sites are Stadium and the Dome. Ready to pack your bags? Book your trip from October to May. Divers generally report the best manta ray interactions during these months. Here's a hot tip: Consider a night dive in Palau. The island's manta population tends to be more active after sunset.
Editor's Recommended Liveaboards:
---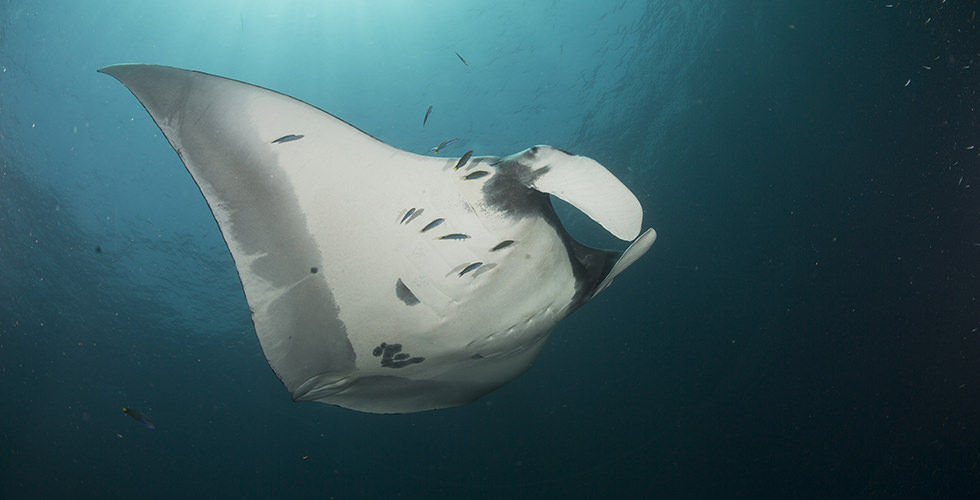 8. TOFO, MOZAMBIQUE
Because of unique current patterns off the coast of Mozambique, a 124-mile (200-kilometer) stretch of plankton-rich waters has been created. This reliable food source attracts nearly 900 Reef Mantas and 100 Oceanic Mantas a year. Approximately 75% of these mantas are female and many have suffered from shark attacks. In reality, these attacks are the reason Tofo is a reliable destination for manta ray diving. As an explanation, manta rays normally spend about an hour at a cleaning station. Because the mantas in Tofo are cleaning shark wounds rather than parasites, a longer amount of time at the cleaning station is needed. This gives you a longer window to find a few. Researchers have identified 1159 manta rays at Tofo. Between 2003 and 2011, they saw an 88% drop in manta sightings. This is the largest decline of manta numbers recorded in the world, and this is one of the few major manta aggregations that is completely unprotected. Thankfully, Mozambique is finally making moves to protect mantas. You can dive with manta rays in Tofo year-round.
---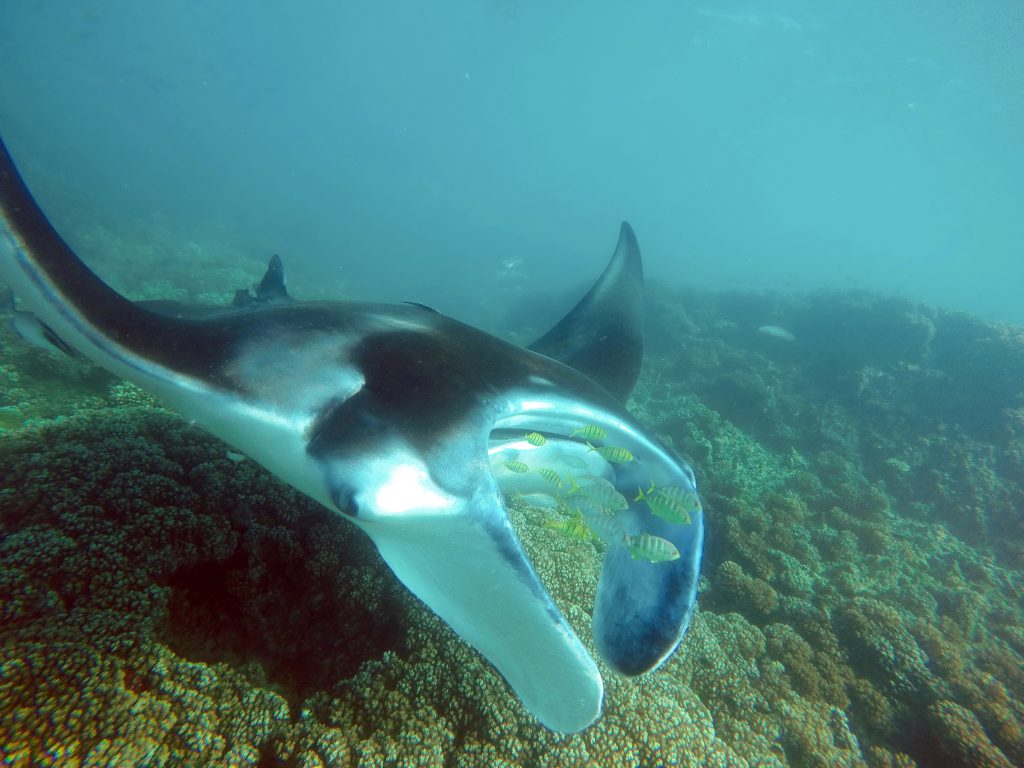 9. FIJI
Nature gave us a wonderful present called Fiji. The tropical paradise is located in the south of the Pacific Ocean, off the east coast of Australia. Mantas also know this place and if you are here jump in the water, visit Yasawas, Kadavu, Namena Marine Reserve, Wakaya and Taveuni. These are the locations where you can dive or snorkel with mantas. The best time is from June to October when the population is estimated to be around 200 – 300 individuals. Mantas are seen mostly at cleaning stations and shallow reefs where the amazing environment will completely astonish you!
---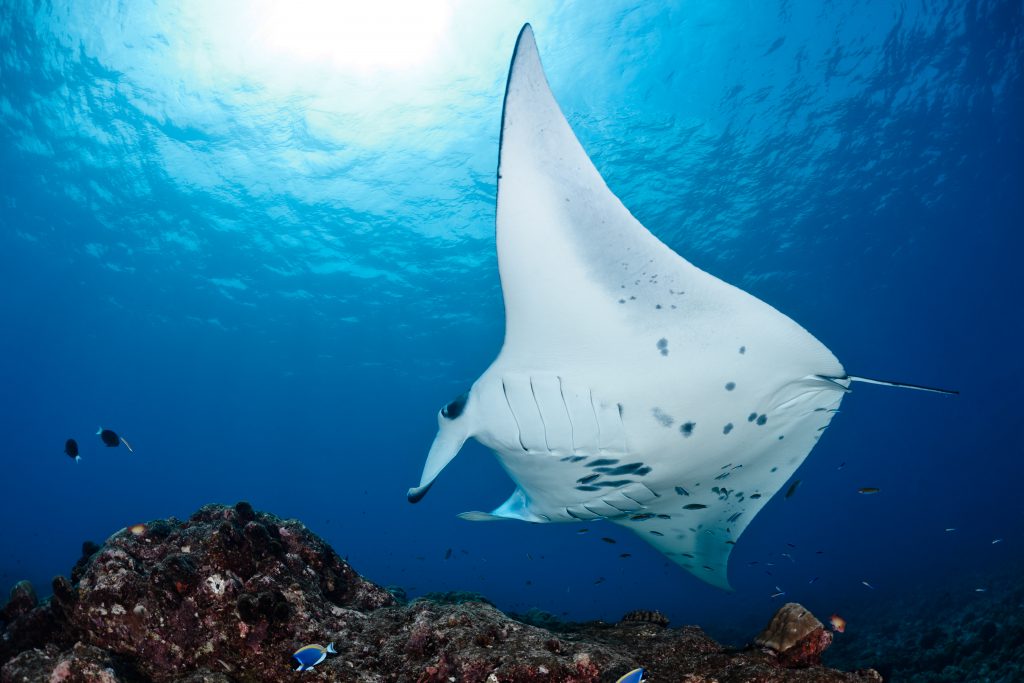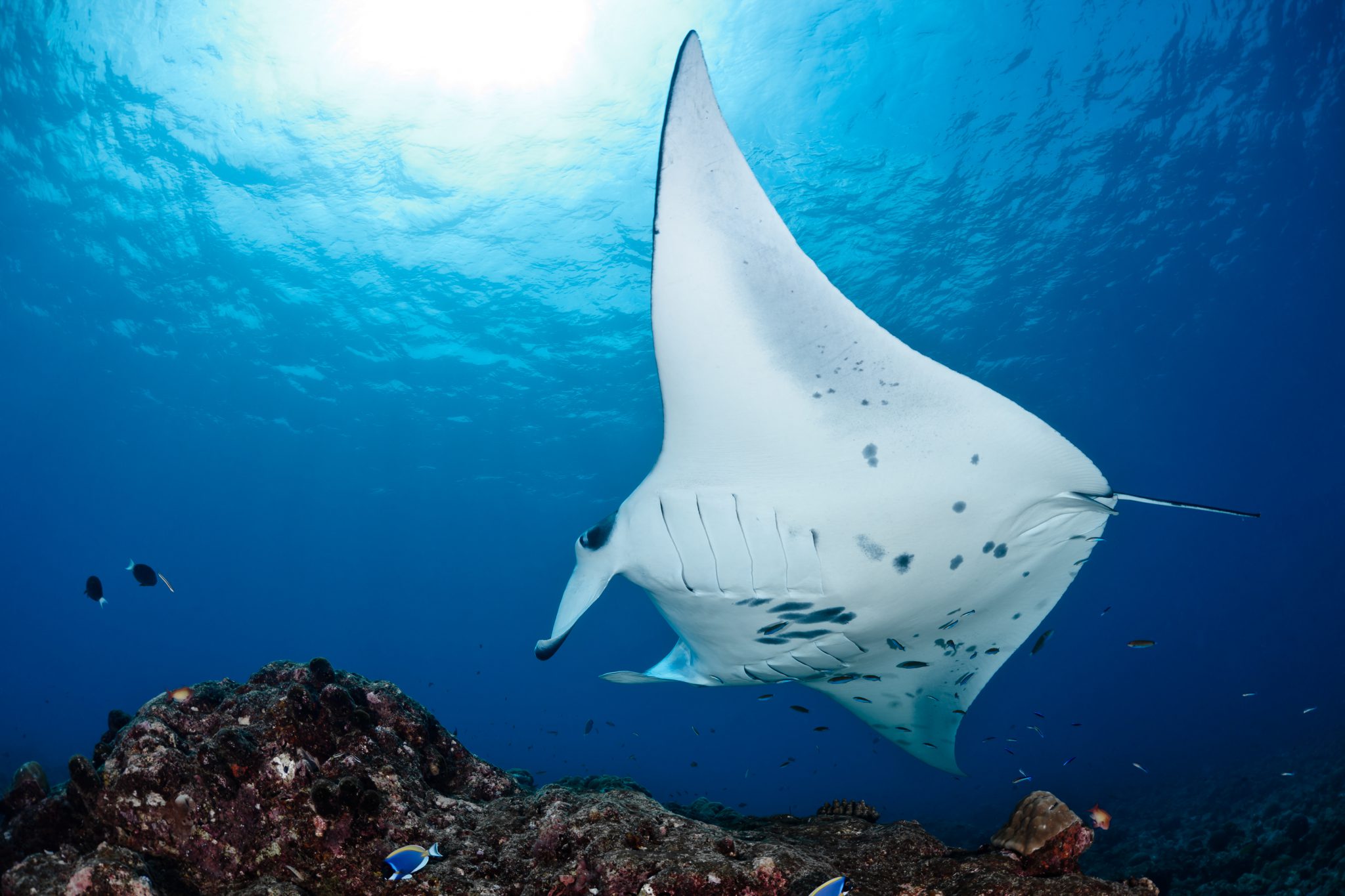 10. MALDIVES
The Maldives are a paradise for scuba divers. Crystal clear water and wide open ocean invite explorers below the surface. The open ocean conditions are also a prime attraction for pelagic species. The Maldives is one of the best countries in the world for swimming with manta rays, but diving in the area can also yield plenty of Whale Shark and Nurse Shark encounters. Baa Atoll and Ari Atoll are the best locations in this island nation for manta ray spotting.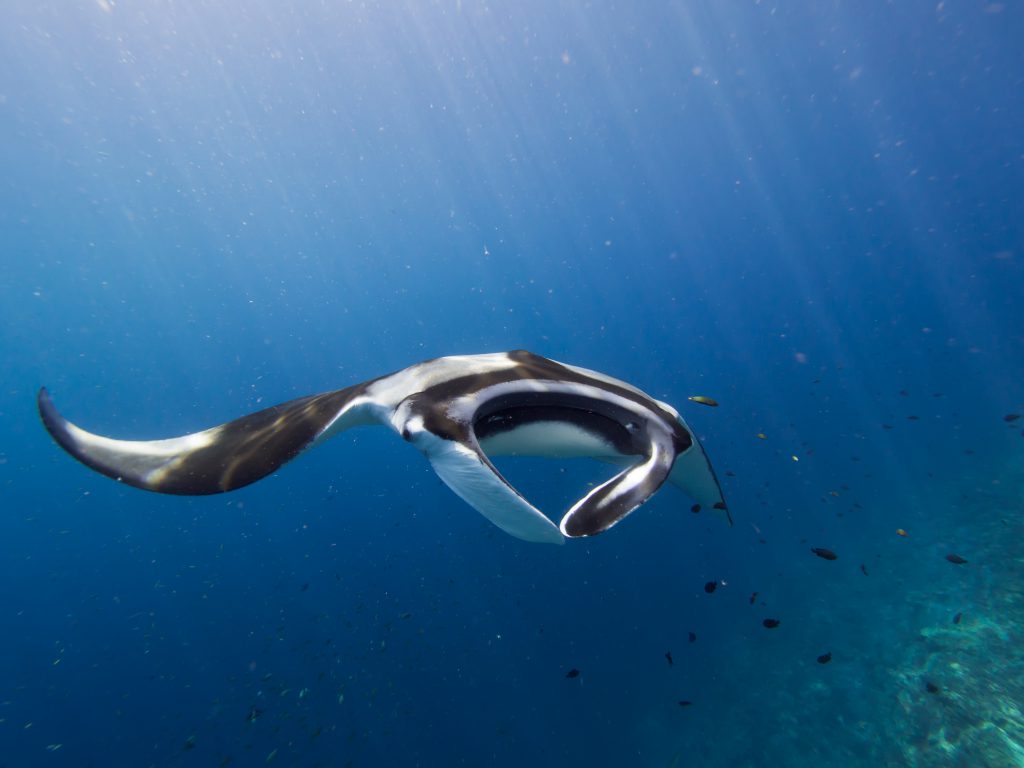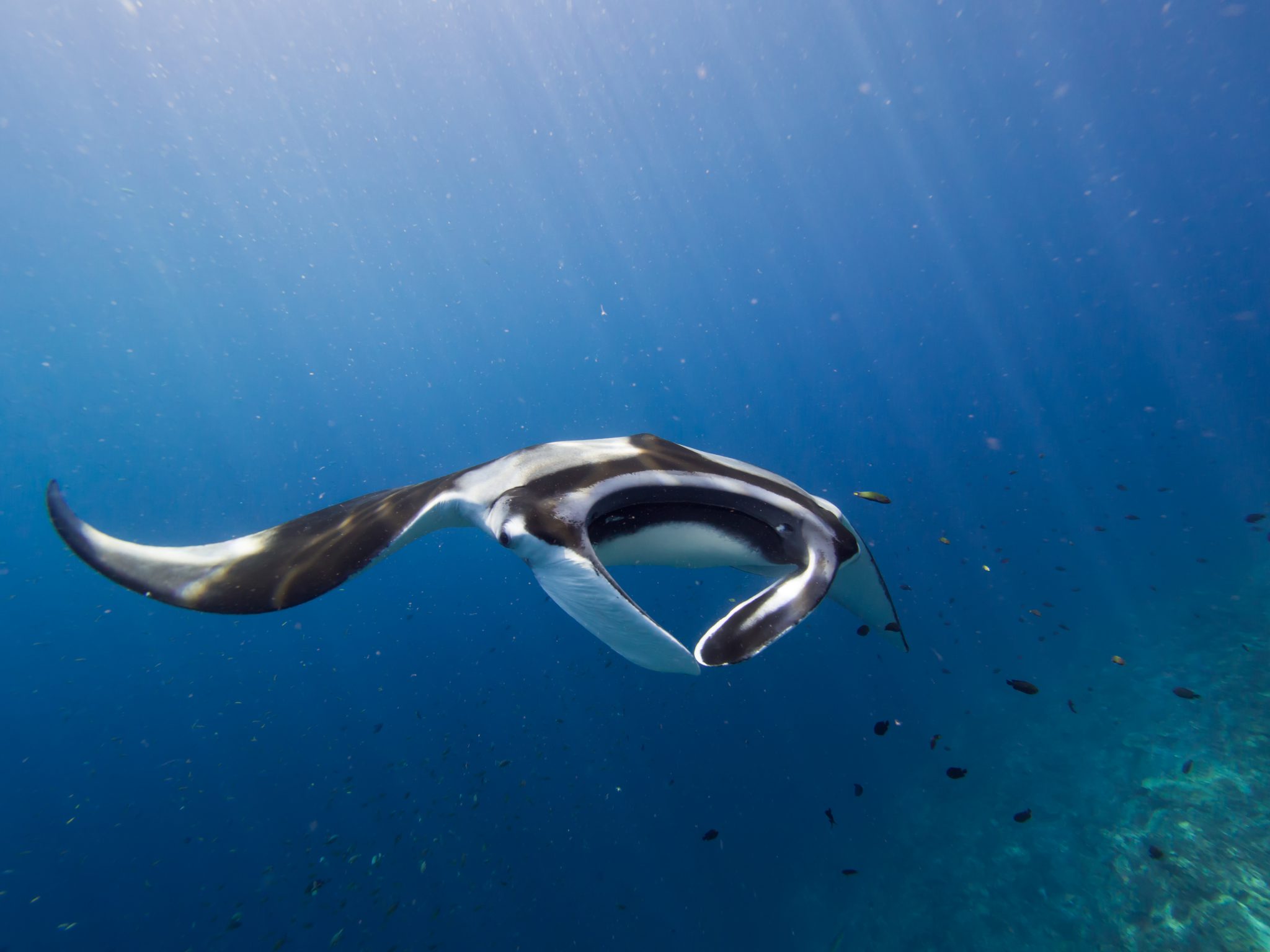 ARI ATOLL
The Ari Atoll is one of the most visited atolls of the Maldives and is particularly popular with pelagic-lovers. Its varied underwater topography including inner atoll reefs, pinnacles and channels attracts all manner of large marine life. In addition to frequent Whale Shark sightings, most visitors can easily spot manta rays feeding on the mass amounts of plankton brought in through the channels of this atoll. While manta rays can appear in many places, Ukulhas Thila and Panettone are the most predictable dive sites. These graceful creatures are found year-round, but they do follow a seasonal migration around the atoll. During the northeast monsoon (January to April), look to the west side of the atoll for the best manta diving. During the southwest monsoon (June to November), look to the east side of the atoll. The southwest monsoon also brings with it the opportunity of night diving with feeding manta rays at Fesdu Lagoon.
Editor's Recommended Liveaboards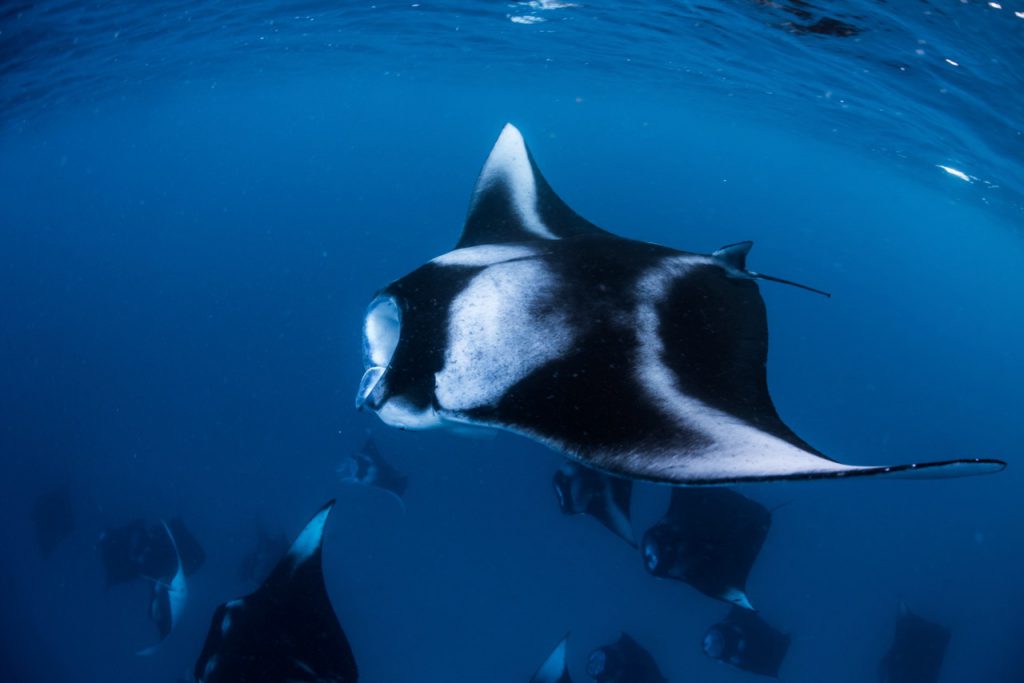 BAA ATOLL
Just north of the Ari Atoll, tiny Baa Atoll sits on the edge of the open ocean above a gaping channel. This geographical location along with the shape and morphology of it's major bay, Hanifaru Bay, creates a tremendous concentration of plankton. The zooplankton are funneled into the bay where a large concentration forms, in turn attracting hundreds of manta rays between June and November. In fact, more than 1600 individuals have been identified at Baa Atoll. That's more than 40% of the Maldivian population! Along with a few whale sharks, these manta rays display the amazing spectacle known as cyclone feeding. In this particular location, cyclone feeding can consist of more than 100 individuals. This strange behavior is almost exclusive to an area known as Hanifaru Bay, but it's also possible to swim with large groups of manta rays at Dharavandhoo Corner. Diving Baa Atoll is a must for any manta ray enthusiast.

---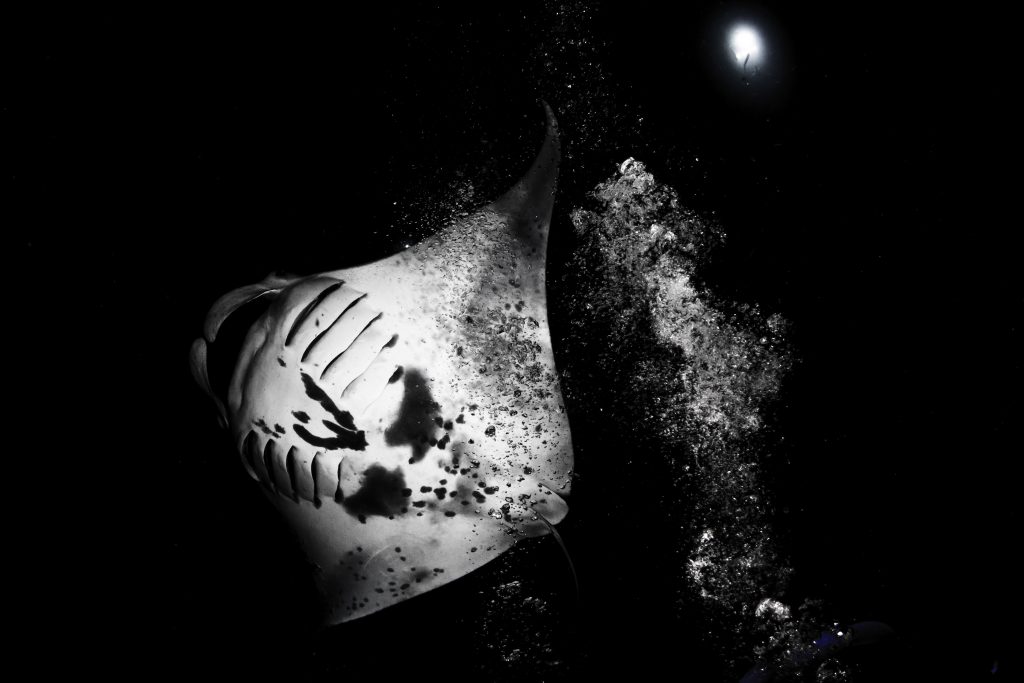 NIGHT DIVES WITH MANTA RAYS
Diving or snorkeling with manta rays at night is fantastic and exciting. To attract them the experts have to choose a place frequented by mantas, point one or more powerful spotlights into the water and wait. The light attracts plankton, and when there is a great concentration, the manta rays will come.
To experience this fascinating phenomenon, head to Kona in Hawaii, Fesdu Lagoon or Maayafushi Lagoon in the Maldives, or Devilfish City in Palau.
Editor's Recommended Liveaboard:
---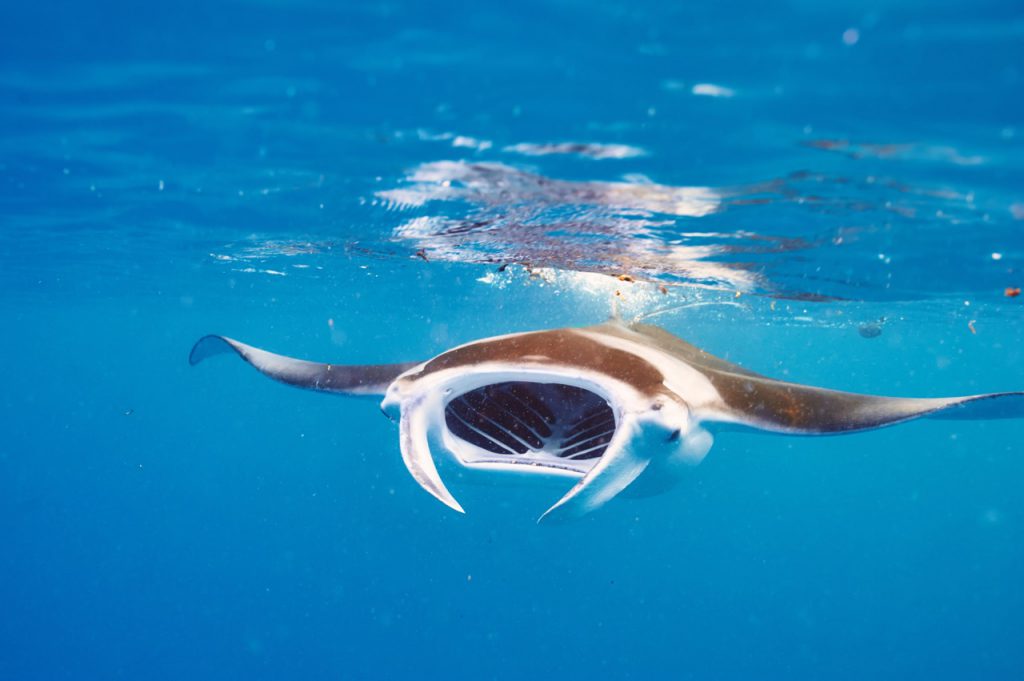 SNORKELING WITH MANTA RAYS
Snorkeling with manta rays is easy and fun, especially while they are feeding on plankton at the surface. You should make slow movements and do not chase them. Wait for them approach you, and simply let the magic of the manta rays reach you!

---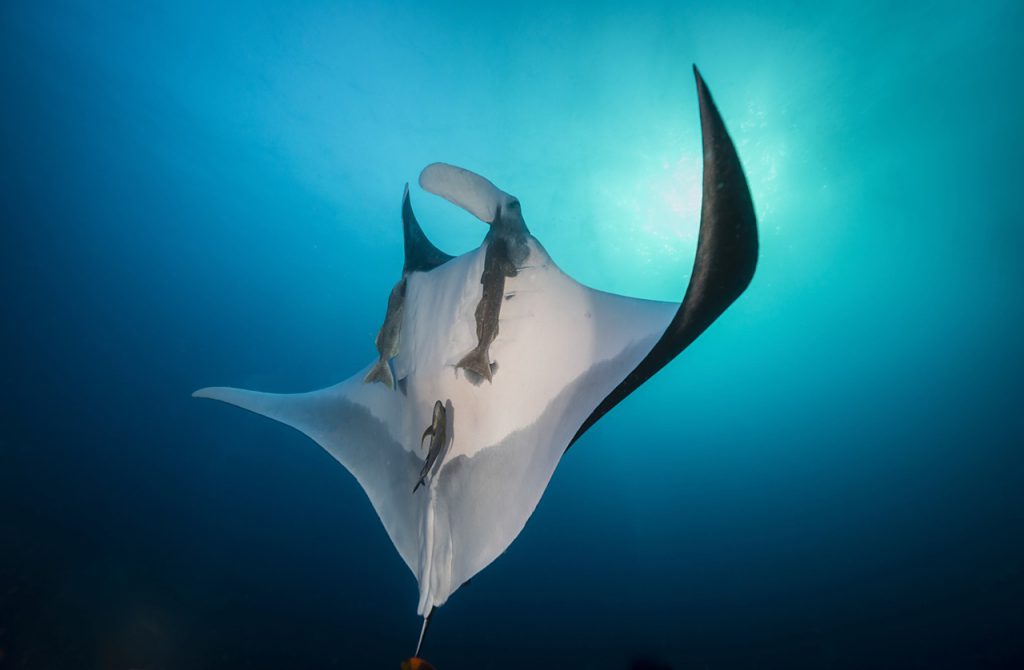 YOUR ADVENTURE WITH MANTA RAYS
Are you ready to book the manta ray adventure of your dreams? Get in touch with our team to organize your manta ray diving excursion.
---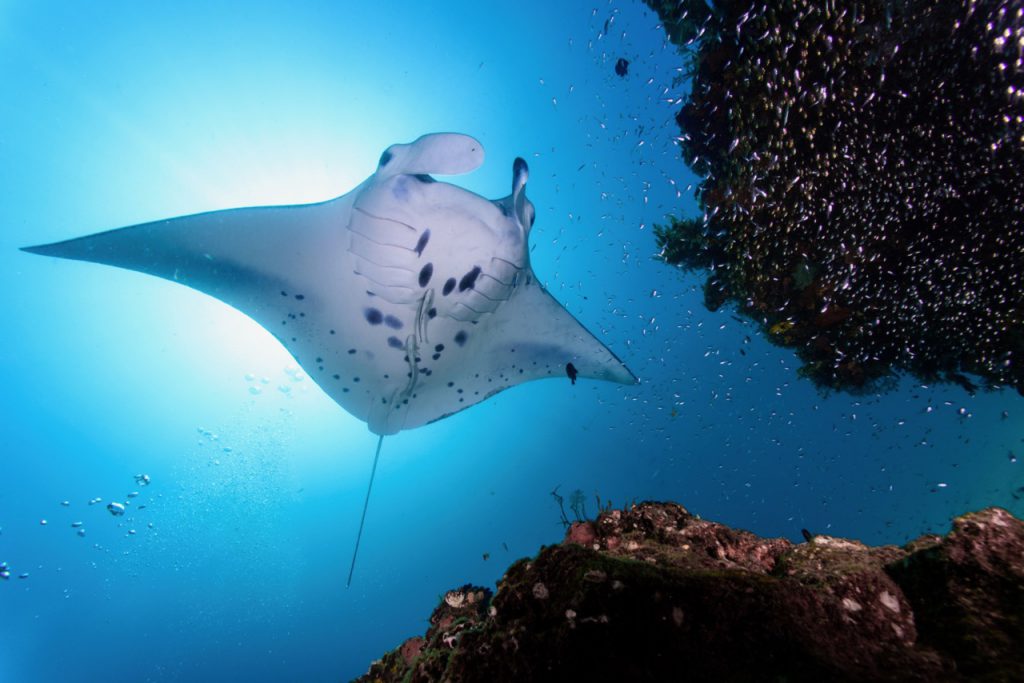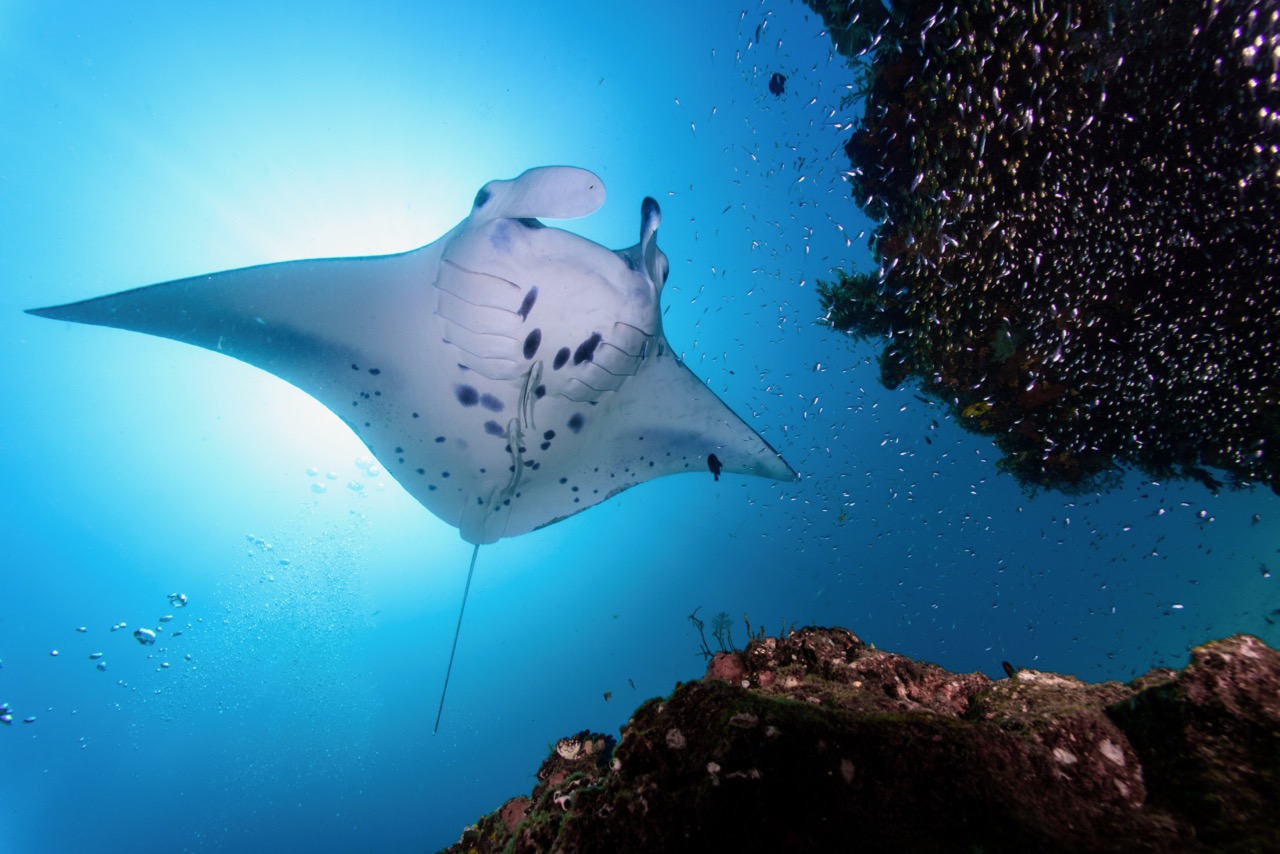 CREDITS
This article was written by Mario Passoni and Luca Saponari – two marine biologists involved in several projects concerning ocean conservation and education. Special thanks to Niv Froman, Tam Sawers, Sarah Lewis and Nicola Bassett from Manta Trust, Asia Armstrong from Project Manta, Anna Flam from Marine Megafauna Foundation and Roberto Marchegiani for the cover image.