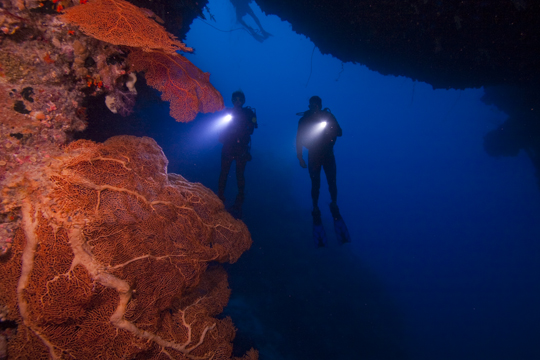 The first thing you'll notice is your vision narrowing to only what is lit by your flashlight. Once your eyes adjust, you'll notice that the hard corals you saw in the daytime have unfurled tiny tentacles. Their feelers are tracking the water for a piece of tasty plankton.
Shining a flashlight on underwater formations focuses your attention and lets you see their true colors. During the day, divers benefit from natural sunlight to light up the reef. As the sun shines through the water, the color spectrum is diminished. Flashlights bring full color back.
Does night diving interest you? Keep reading to learn more about the PADI Night Diver Specialty Course.
The Skills you Need for Night Diving
Once you've completed the Open Water Course and mastered how to dive in the daylight, you can enroll in the Night Diver Course. It's a great option if you like the idea of taking your first dive in the dark under the supervision of an instructor.
Diving at night requires that you have honed your skills. Communicating with your dive buddy is a challenge, finding the entry and exit points is a little more involved, and the ability to stay with your buddy is much more critical when night diving.
The Night Diver Specialty covers communicating and diving with a flashlight, navigation techniques, safety considerations for night diving and special nocturnal animal behavior.
The Thrills of Night Diving
The scenery underwater transforms once the sun goes down. If you have been around the ocean at night and have seen tiny critters' bioluminescence on the surface, imagine what it's like underwater.
Coral polyps open, lobsters come out of their hiding places, octopuses swim freely, and sharks hunt. Night divers have the opportunity to see the food chain in action, coral spawning, and other mating behaviors.
If you want to take your night diving to the next level, try diving with a UV flashlight. Fluorescent night diving intensifies the neon glowing colors in the reefs.
Are you ready to extend your dive day into nighttime? Click here to learn more about the PADI Night Diver Specialty Course.