When it comes to scuba diving, most things have to be seen to be believed. No matter how many photos you see, videos you watch and documentaries you follow, they can't hold a candle to first-hand experience. Such is the case of bioluminescence diving.
Why? Because bioluminescence is a natural phenomenon where species of marine life glow in the dark, emitting a starry blue light. Marine life species with ability to glow include plankton, jellyfish and other sea creatures.
For scuba divers, bioluminescent dives are like swimming surrounded by fireflies. And the easiest way to see water glow in the dark is by simply switching off your dive torch (make sure to do so in sync with your dive buddies) and waving your hand through the water. The movement triggers a chemical bioluminescent reaction in the plankton, making the water shimmer and twinkle like magic. 
Bioluminescent scuba diving is a fantastic night diving experience, if not the best, and a must-have experience for all scuba divers. Seeing bioluminescence is not a matter of luck either – you only need to pick a moonless night away from the big city lights to enjoy it at its brightest.
But, like most marine sightings and dive experiences, some places are better than others to see the water glow and glitter with particles of bioluminescence.
 So where can you see bioluminescence? Below are the seven best bioluminescent diving destinations.
---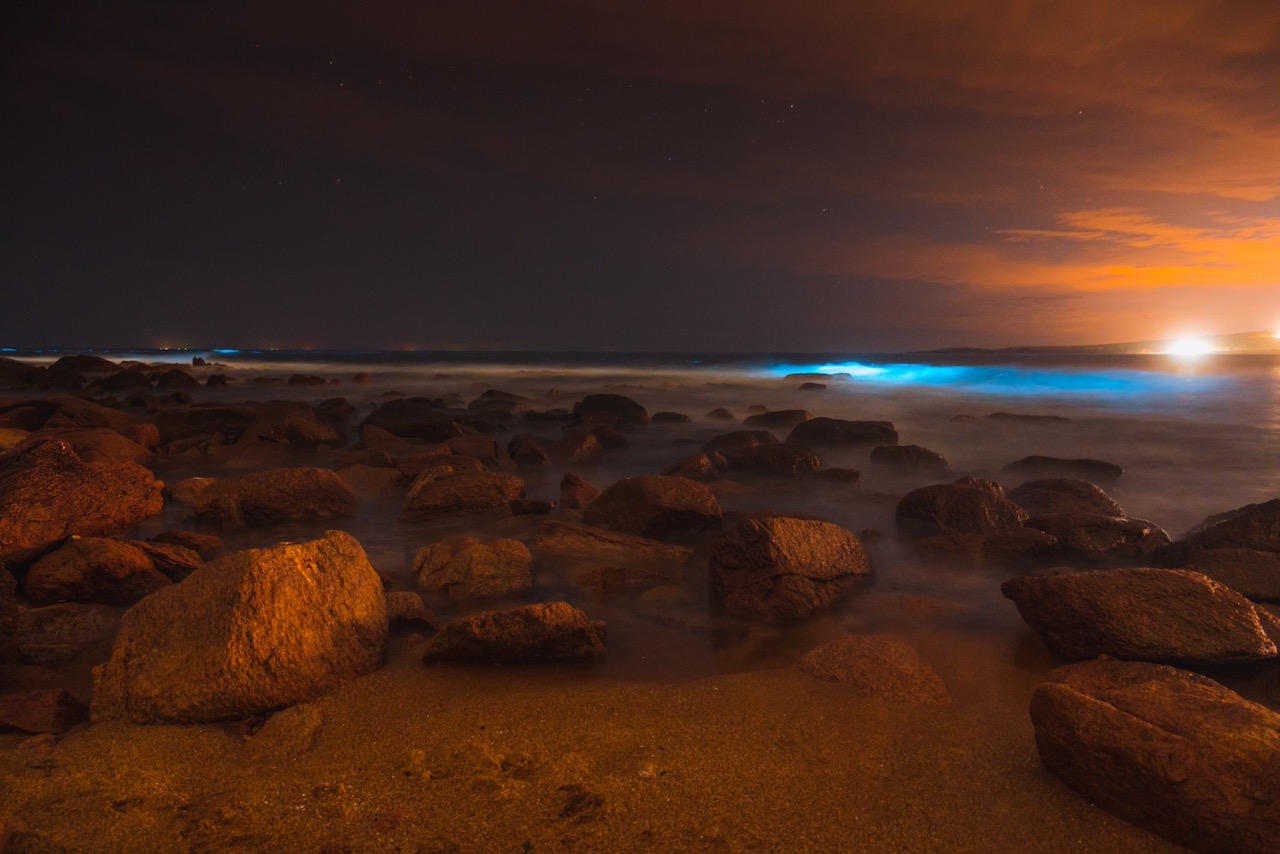 1. La Parguera, Puerto Rico
Puerto Rico is mostly famous for one thing – its bio bays. If you're wondering where to see bioluminescence, this is it. So much so that in 2008, Mosquito Bay earned the Guinness World Record as the world's brightest bioluminescent bay. While swimming here is not allowed, you can dip your toes in the equally impressive nearby bioluminescent waters of La Parguera Bay for a truly immersive experience. 
---
2. Bioluminescent Bay, Cayman Islands
For scuba diving enthusiasts, it doesn't get much better than the Cayman Islands. Apart from world-famous wrecks, dramatic swim-throughs and drop-offs, in the north of Grand Cayman, there's Bioluminescent Bay. As the name suggests, these sparkling blue waters are an excellent bioluminescent diving destination.
---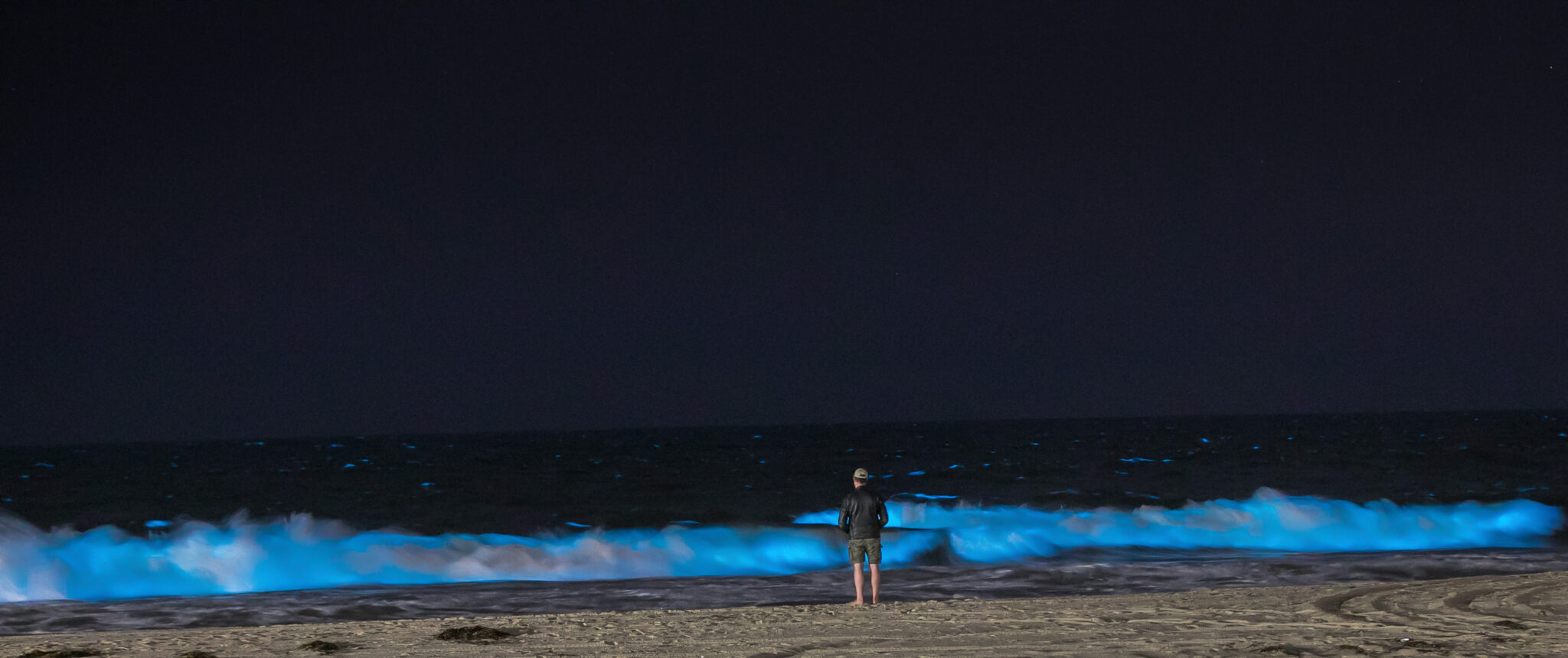 3. Roatán, Honduras
Out of all the best bioluminescent diving destinations, Roatán probably takes the crown. And a highlight for many divers is to see the ostracod courtship. When mating, these luminescent crustaceans give off 2 feet (0.6 meters) of bright blue light varying in duration and intensity. Because of how it looks in the dark, this bioluminescent phenomenon is also known as the "String of Pearls."
---
4. St. Croix, US Virgin Islands
Other diving spots in the Caribbean might get all the attention, but those in the know rave about diving in St. Croix. Not only does it offer unique biodiversity and coral-encrusted wrecks, but it is also a hotspot for night diving bioluminescence. Keep your eyes open for the rhythmic trance-like light show of the ostracods.
---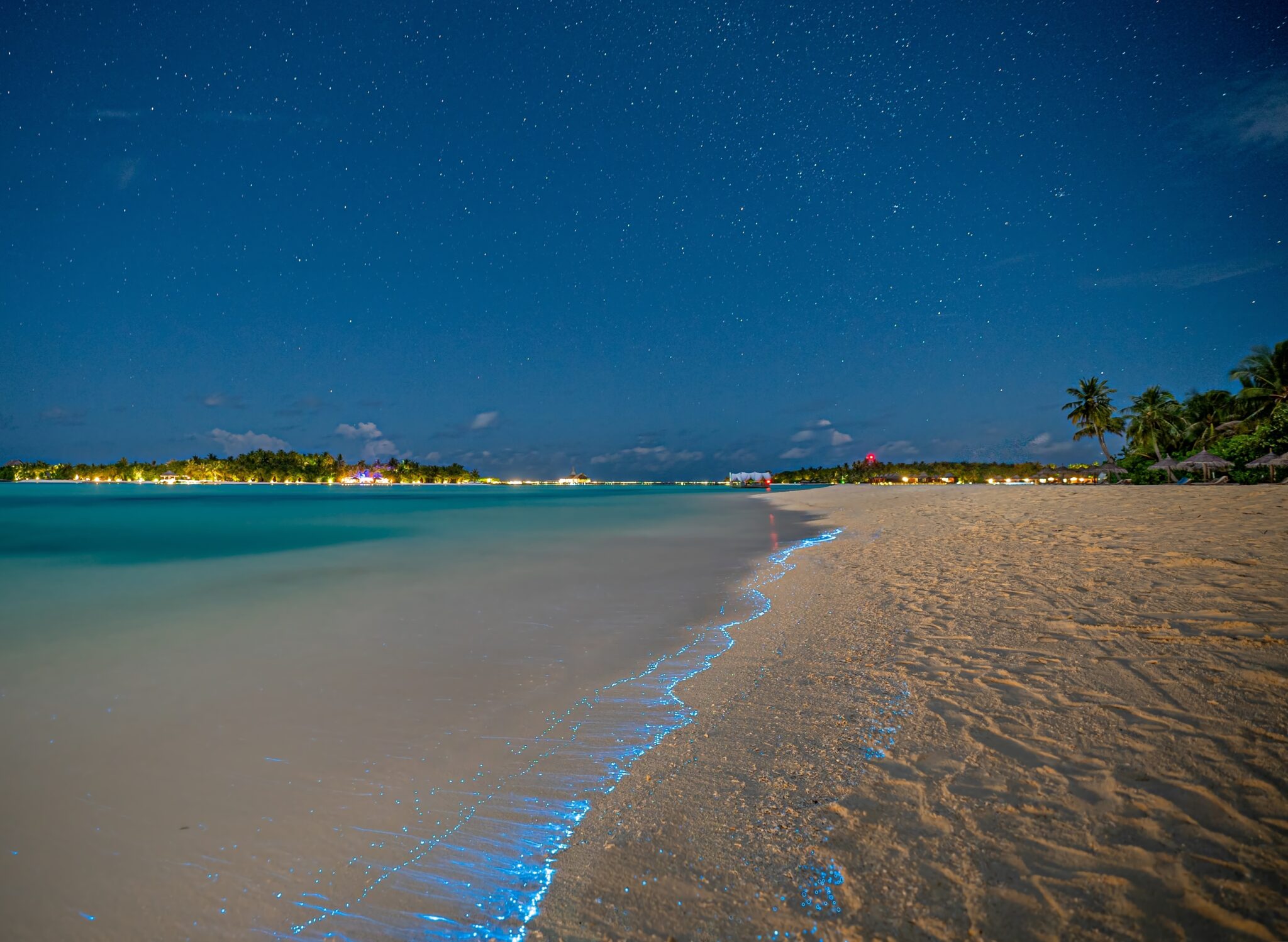 5. Vaadhoo Island, Maldives
Known as the Sea of Stars in The Maldives, Vaadhoo Island looks straight out of a postcard. Located north in the Raa Atoll, Vaadhoo Island is known for its soft white beaches and exciting diving opportunities. Here, you can expect to see a first-class underwater light show, making it the best place to see bioluminescence in the Maldives.
---
6. Salt Pier, Bonaire
Loved for its healthy coral reefs and macro marine life, Bonaire is not short of incredible dive sites. This Dutch Caribbean island has something for both advanced and beginner divers. But for avid lovers of the weird and wonderful, bioluminescent dives are a must-do activity. To add to the beauty of this night dive experience, divers can also witness the ostracod bioluminescence.
---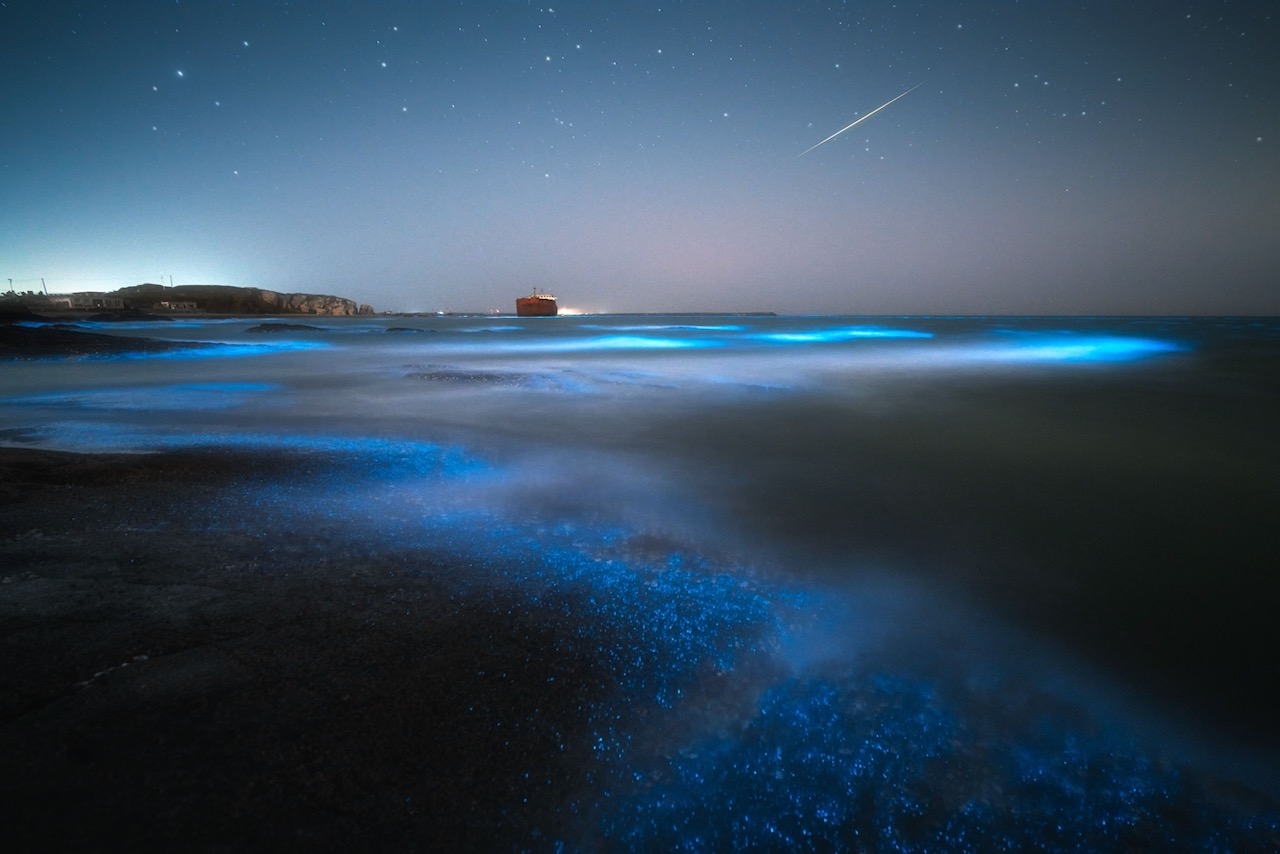 7. Toyama Bay, Japan
Admittedly, Toyama Bay is off most scuba diving radars. Nonetheless, it ticks all the boxes for divers in search of the rare and unusual sea creatures of Japan. So, it's only fitting that such a place should also be home to dazzling bioluminescent night diving. The firefly squid also populates these waters, turning the Japanese bay a psychedelic hue of blue.
---
How to Plan a Bioluminescence Night Dive
Bioluminescence diving requires different skills, preparation and dive kit. And things like managing your gas supply, communicating and navigating your way around a dive site become all the more important.
With the Night Diver Speciality course, you'll learn all this and more. Plus, you'll open the doors to a realm of new adventures, where the ethereal feeling of bioluminescence diving will become something you can experience with your own eyes. 
See it to believe it.
---
This article was written by Guest Blogger & PADI Pro Elena Vivaldo.