Why Dive Bonaire?
This beautiful Caribbean island off the coast of South America provides access to a series of concentric reefs that together house one of the largest marine life nurseries on Earth. A beginning snorkeler or recreational diver will see more marine life species in Bonaire in a single dive than many professionals see in a lifetime. It is one of recreational diving's best-kept secrets. I enjoyed my many visits there so much that I took my then ten-year-old son to Bonaire for his first diving experience. I highly recommend it as a family dive destination.
Bonaire's entire coastline has been protected, to the depth of 200 feet (60 meters), as the Bonaire National Marine Park. Thirty years of protection, the reef system, and an arid climate make the surrounding sea calm, silt-free and dive-able year round. These factors combined with the diversity of viewable marine flora and fauna create an ideal destination for underwater photographers.
---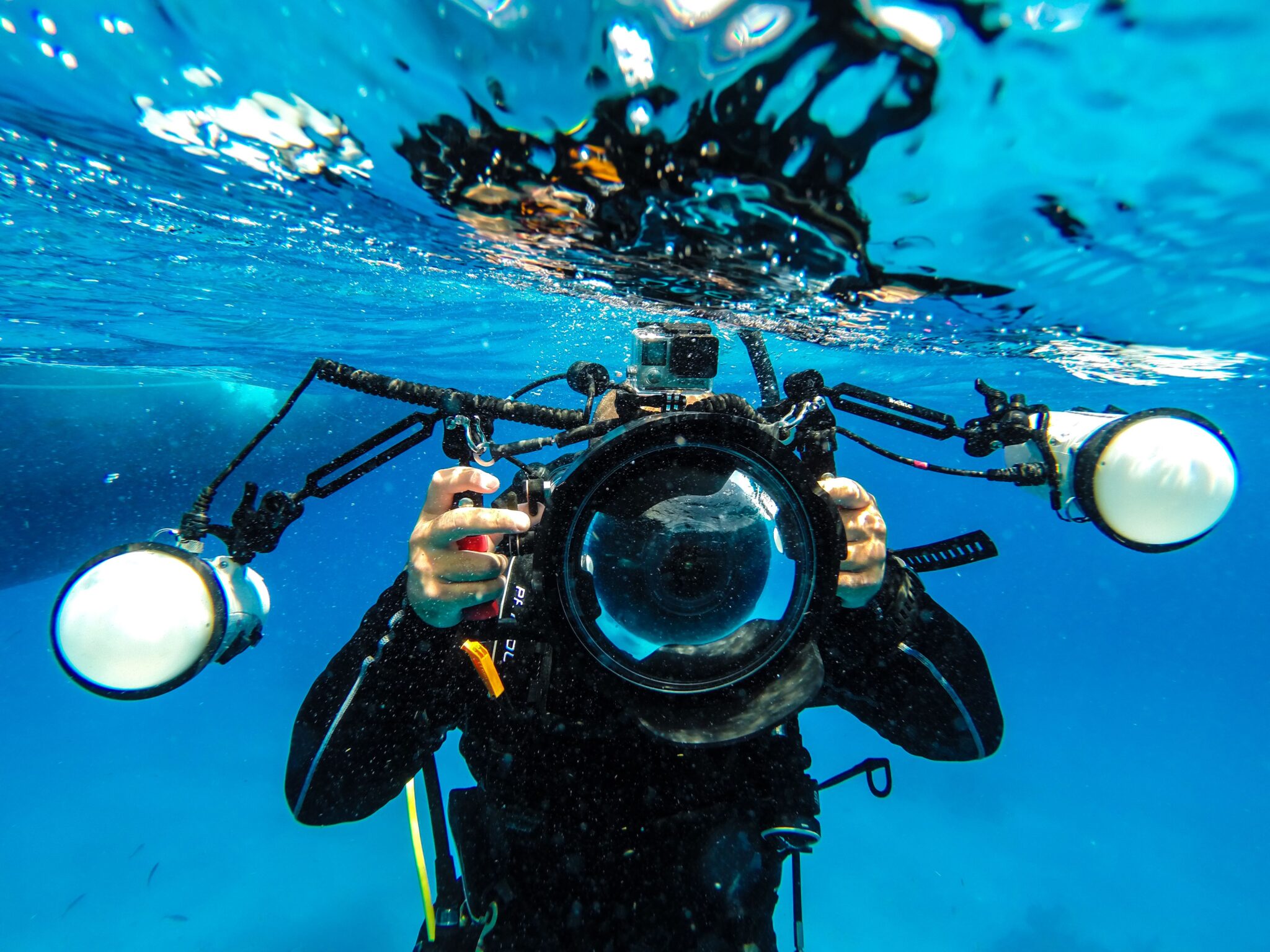 Beginner Shore Diving is the Best in the World
Bonaire has a large number of "walk-in dives" – beautiful underwater sites that you access from shore by simply walking into the water and taking a short swim to the area. But perhaps the most amazing experiences will be your night shore dives, which give the novice diver the opportunity to see a totally different plethora of marine species that are nocturnal, including the elusive seahorse.
Some of the best shore dives for beginning divers are Windsock, Ol' Blue, and the pristine Nukove.
You enter Windsock at the end of the pier that is located across from the end of the island's airport runway. Turn left and time your dive out and back using the pier as a reference point. Visibility is fantastic, at least 100 feet (30 meters), and there is a lot to see night or day.
The reef will have schools of smaller marine life, but larger ones are also sited, including a resident 7-foot green moray eel, a southern stingray about the size of a small car, parrotfish and a turtle. The sandy beach here is great for rests between dives, so take a picnic.
Ol' Blue is also entered from another great sunning and picnicking beach, located on the stretch of road between Columbia and Karpata, about two miles from Kralendijk. Locals may refer to it as Tolo. The site is well marked from the road and has ample parking. You enter via a set of stable rock steps. I suggest first taking your equipment down and then gearing up for your dive close to the water. You enter the site through a sand channel just to the left of the stairs that is about 20 feet in length. You will see abundant schooling fish, squid, porcupine fish, sea slugs, and Sargent Majors. You may also act as cover for hunting bar jacks. It is a lovely adventure dive distinctly different from the others that are along Bonaire's coast.
Nukove is located at a pristine bay where you may be the only divers and is well worth the adventurous drive. It is one of the most beautiful dives on Bonaire. Take lots of water, a picnic, and insect repellent. The marine flora and fauna will be diverse and abundant and you might see one of the largest parrotfish around. You will also see hawksbills and some of the largest and most beautiful coral formations accessible to recreational divers. Make a day of this adventure. This site is also excellent for snorkeling.
---
Boat Diving Angel City and Klein Bonaire
If a few days of beaches and restful, slow easy dives have you ready for open water, it is time for Angel City, Rock Pile, and Jerry's Sponges.
Angel City is a classic example of southern Bonaire's concentric reef system. It is a perfect more exciting boat dive for a beginner. Descend at the edge of the outer reef, which is in 60 to 80 feet (18 to 24 meters) of water, and explore above it. Then swim against the current inland toward the second inner reef above a sand channel. Above the sandy stretches, keep your eyes open for feeding stingray and an occasional and more rare spotted eagle ray. You will reach the inner reef, which is in about 30 feet of water. Prepare for a burst of color as you experience swimming among myriad schools of smaller marine life protected from stronger currents. They are representative of over 350 species calling Bonaire's ocean nurseries home.
Klein Bonaire is a small, flat and human-uninhabited island one mile off the western coast of Bonaire that has been made an international sea turtle hatchery and reserve. It is only accessible by boat and offers two of the area's best novice boat dives.
Rock Pile is named for a cluster of rocks on the shoreline beach. It is beautiful day or night, with stellar visibility, and also suitable for snorkelers. It begins in shallow waters and then tilts down to deeper ones for those with more experience. I recommend bringing lights even on day dives to view a variety of fauna that inhabit the reef's crevices and cavities. The landscape is fascinating. You will see banded coral shrimps; sea crabs; sea plumes; sponges; yellow pencil, leaf, and sheet corals; and my favorite sea turtles. It is one of few sites where you will see a large colony of staghorn corals. A large green moray eel hangs out among the boulder corals.
Jerry's Sponges is a great place to see multiple sea turtles who inhabit the area and are used to divers, so will come and swim all around you, which is an amazing experience. You will also see large bluish barracuda, drum fish, sand divers, elephant ear sponges, and spotted eel out on the reef. This is in addition to the myriad schools of fish that are common to almost all Bonaire reef dives. Another plus to this dive is that spinner dolphins are often sited on the boat trip back to the island. They jump out of the water, spin around, and then dive back in.
---
Bonaire Facts
Bonaire is a special municipality of the Netherlands located off the coast of northern South America near western Venezuela. It is one of the three islands, including Curacao and Aruba, known as the ABC Islands. Dutch law governs it. Its currency is the U.S. dollar.
---
This blog was originally written by Anne Downing and published on the Diviac Magazine.