With its remote location in the South Pacific, 500+ islands to explore and marine life-filled waters, Palau is a destination plucked from a diver's dream. And, unsurprisingly, this archipelago is home to a wealth of outstanding and diverse dive sites. To help you make the most of a visit, we've put together a list of the best dive sites in Palau.
Over 1400 species of fish, coral species and pelagics mean Palau has underwater action to entertain every scuba diver. However, fast-flowing currents, overhead environments and depths beyond Open Water Diver limits mean many of the best dive sites in Palau are restricted to Advanced Open Water Divers only. If you don't want to miss out, travel to Palau as an Advanced Open Water Diver, or start your AWD eLearning today and complete your training there.
Furthermore, you'll love to know that Palau is home to the most innovative conservation initiatives and protections around the world. In fact, every visitor to the country has to take the Palau Pledge to preserve and protect the islands. And, Palau also established the very first shark sanctuary, enforcing a no-take zone within the country's waters.
Are you as excited to dive into this South Pacific paradise as we are? Here are seven of the best dive sites in Palau.
---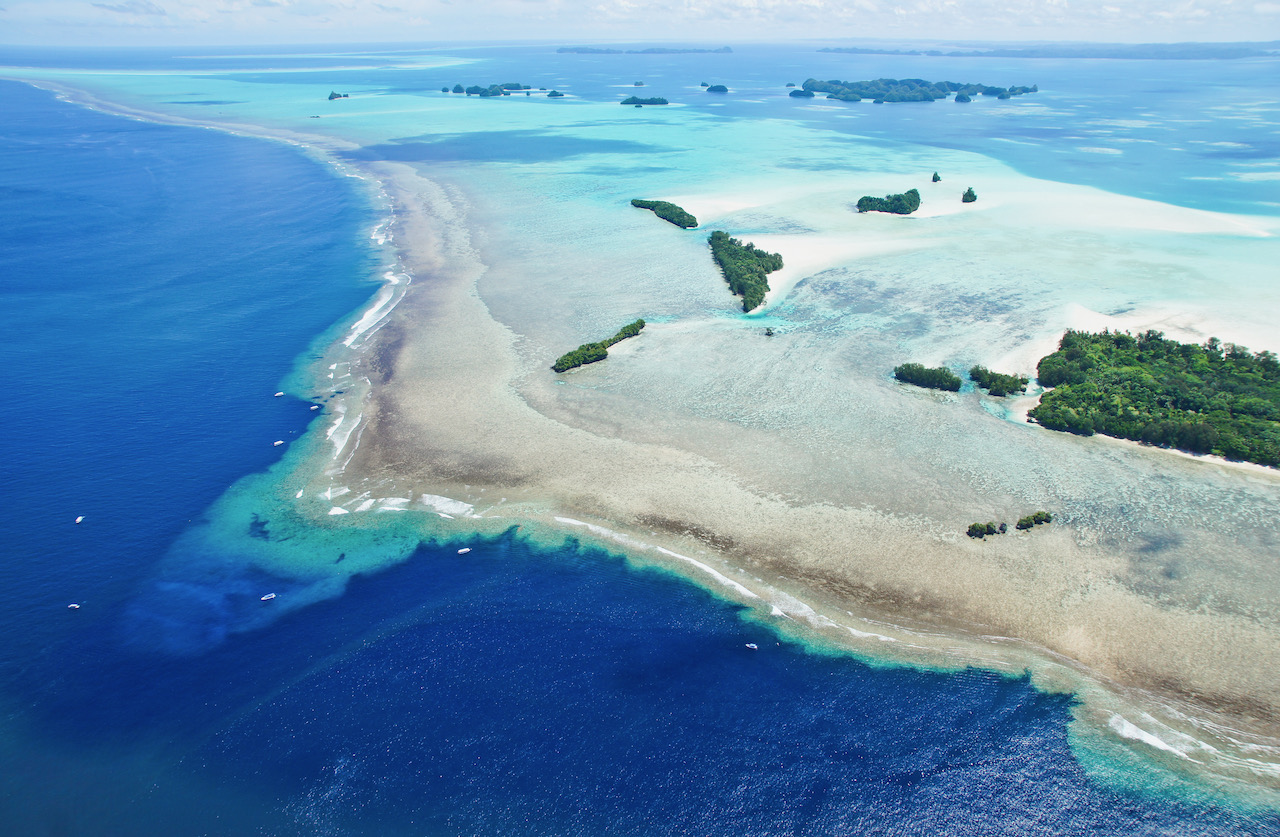 Thanks to its abundance of marine life and endless reef, Blue Corner is a world-famous dive and a must on any Palau itinerary. During this drift dive, divers can expect to be passed by an assortment of marine animals, ranging from sharks and dolphins to turtles and even migrating whales. After the initial entry, divers journey to the underwater plateau, hook in and see out the remaining bottom time, taking in whatever passes by. Given its abundant sea life and outstanding visibility, which can reach up to 40 meters (130 feet) at the right time of year, many divers travel to Palau for this top-ranked dive site alone.
Recommended Dive Training: Drift Diver
---
2. Peleliu Wall
Arguably Palau's most impressive wall dive, Peleliu Wall delivers large pelagic creatures in an environment filled with sea fans and corals. Canyons, crevices and a mid-dive swim-through mean there's plenty of natural geography, while the possibility of sharks, turtles, groupers and manta rays ensures there's something for sea life-loving divers, too. Although the maximum diving depth of around 27 meters (90 feet) should pose no problem to qualified divers, regular strong currents mean dives at this remote site off one of Palau's most outlying islands should only be taken on by divers confident in fast-flowing conditions.
Recommended Dive Training: Advanced Open Water Diver and Drift Diver
---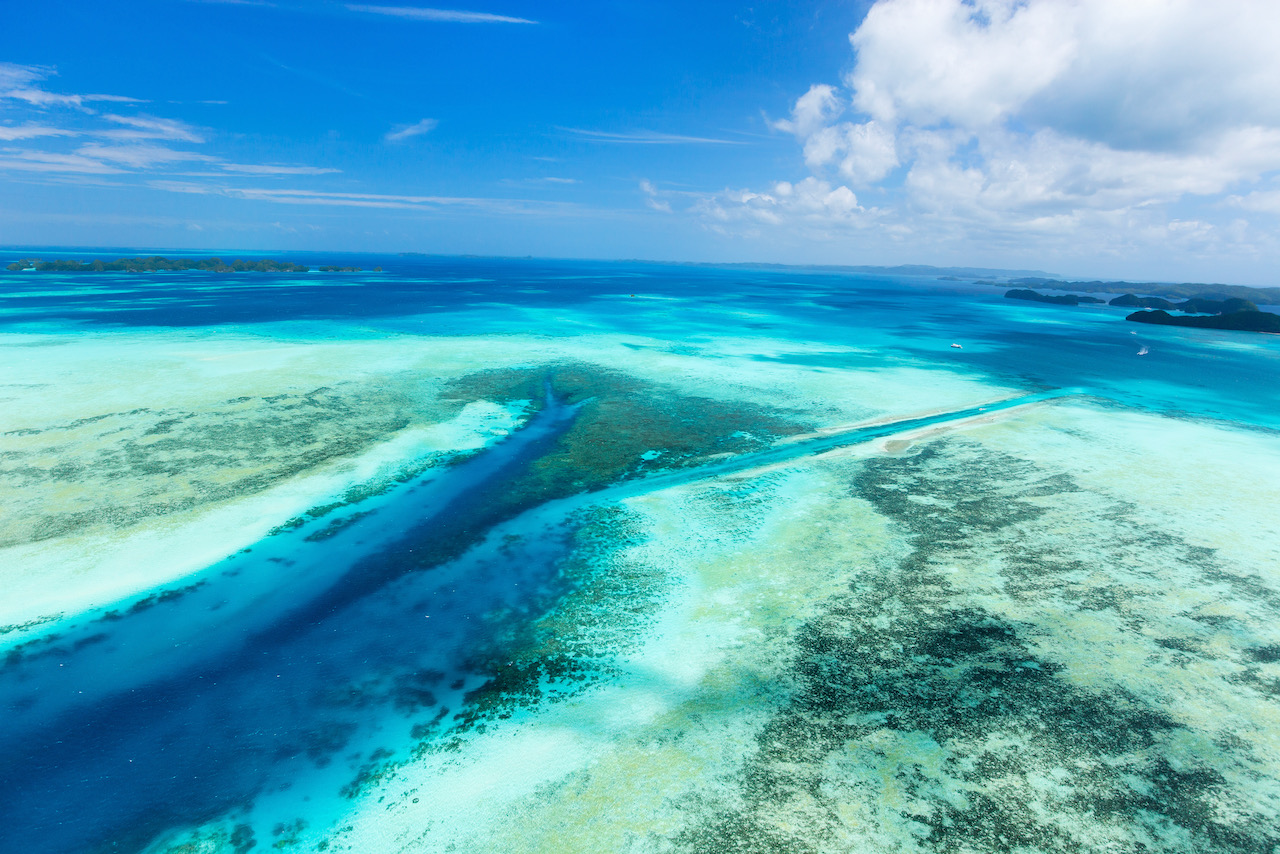 3. German Channel
If the idea of flying (underwater) alongside a squadron of manta rays appeals to you, make sure the German Channel is on your itinerary. This man-made channel is located 37 kilometers (23 miles) southwest of the island of Koror and it's home to a cleaning station at around 20 meters (65 feet). This station, along with the flowing, plankton-filled water, makes it an attractive hangout for manta rays and gray reef sharks. For manta ray fans, it's worth noting that the population peaks in numbers between December and March.
Recommended Dive Training: Digital Underwater Photographer
---
4. Chandelier Cave
For fans of unique underwater topography, Palau's Chandelier Cave offers five stalagmite and stalactite-filled chambers to explore. At one point in history, the entirety of this five-chamber system was above sea level. However, as water levels have risen, mostly thanks to the most recent Ice Age, four of the five chambers are now filled with water. Today, the cave's underwater entrance, overhead environment and enclosed space make this dive suitable for fully trained, claustrophobia-free divers only.
Recommended Dive Training: Cavern Diver
---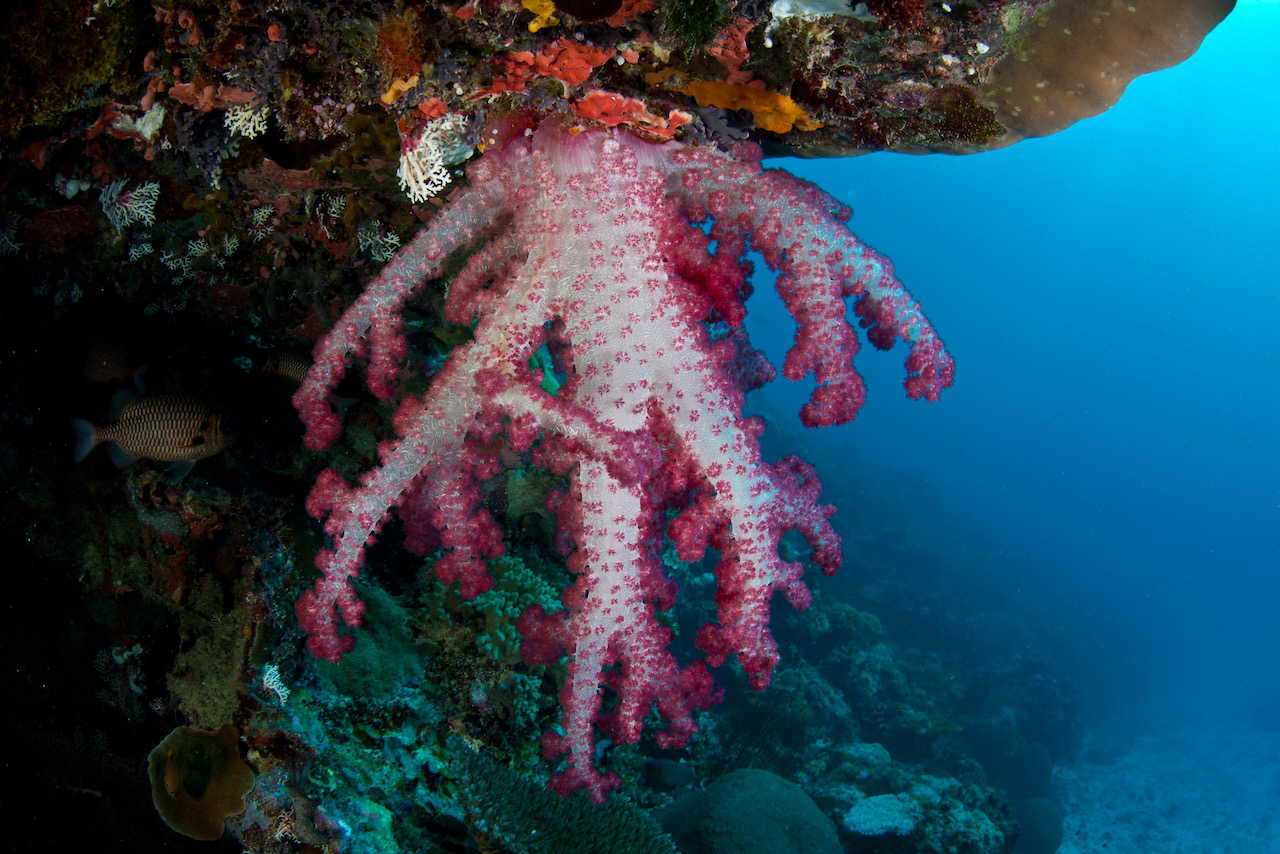 5. Ulong Channel
Located just off one of Ulong Island's most picturesque beaches, Ulong Channel is an underwater setting for strong currents, attention-grabbing corals and seasonal fish spawning. While the fast-flowing, often unpredictable waters make the diving more challenging, the reward for getting in the water is the chance to observe thousands of snappers and triggerfish spawning. This spawning activity peaks from April to July, but in other months, divers can spot jack fish, stingrays, gray reef sharks and barracuda. This thrilling dive begins at the mouth of the channel, where the fish activity often peaks. Here, divers often observe hunting sharks and other large fish. From here, divers drift along the channel, taking in the sandy valley and surrounding coral formations.
Recommended Dive Training: Fish Identification and Drift Diver
---
6. Helmet Wreck
In addition to its all-natural wonders, Palau is also home to some of the world's best wreck diving. You'll find numerous WW2 wrecks and planes to explore around the islands, but Helmet Wreck is a favorite among divers. This is in part thanks to its shallow position. The 57-meter (189-feet) long wreck begins at 10 meters (33 feet) in the stern. It finishes at 30 meters (100 feet) in the bow. Its upright position, remaining details (like ammunition, rifles, and helmets) and coral encrustations give divers plenty to see.
Recommended Dive Training: Wreck Diver
---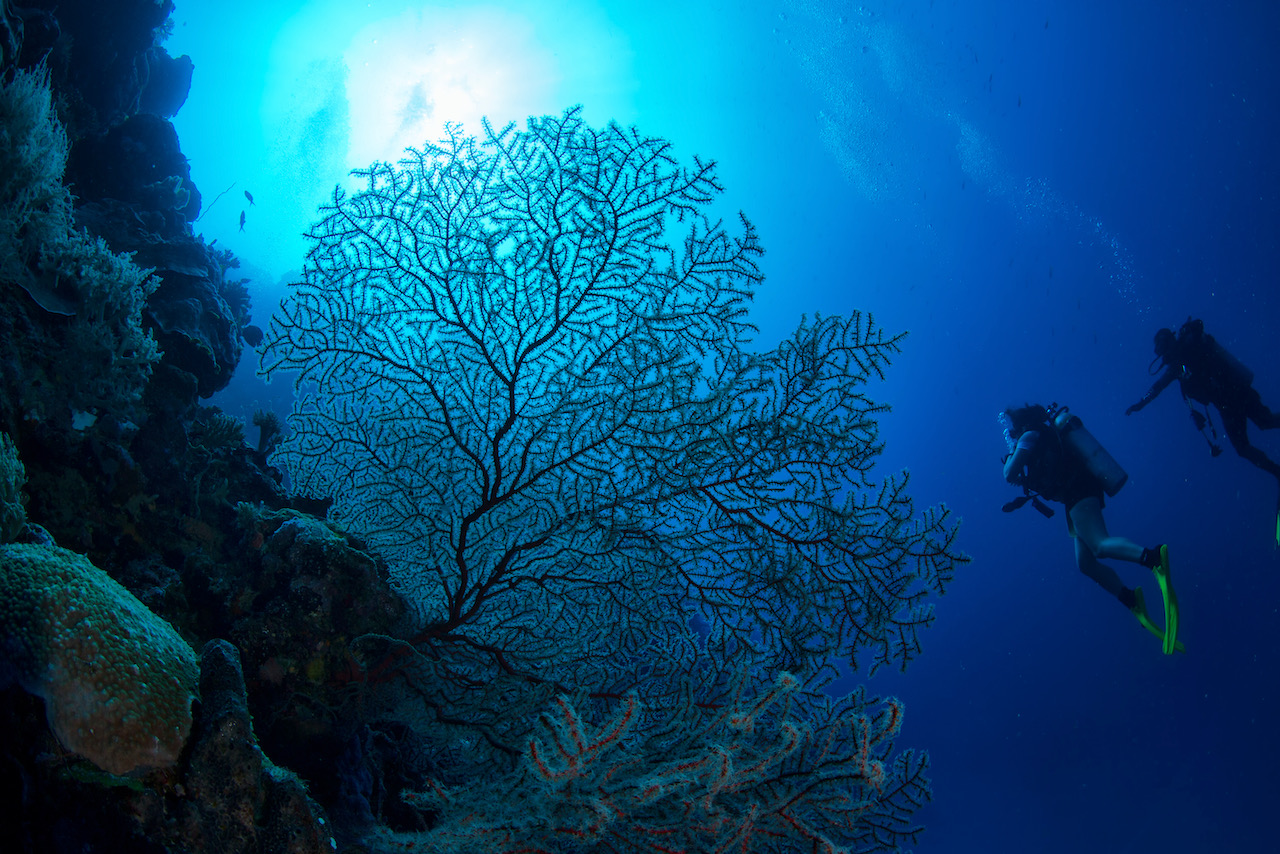 7. New Drop Off
Given its location around three kilometers (two miles) southeast of Blue Corner, it's not surprising that New Drop Off can offer divers some of the clearest and bluest water in Palau. The site's converging walls throw up a plethora of marine life, such as gray reef sharks, turtles and huge schools of fish. Like many of the best dive sites in Palau, this one can be susceptible to strong and changing currents. This means divers should be confident in fast-flowing water, and some dives may include hooking in.
Recommended Dive Training: Boat Diver and Drift Diver
---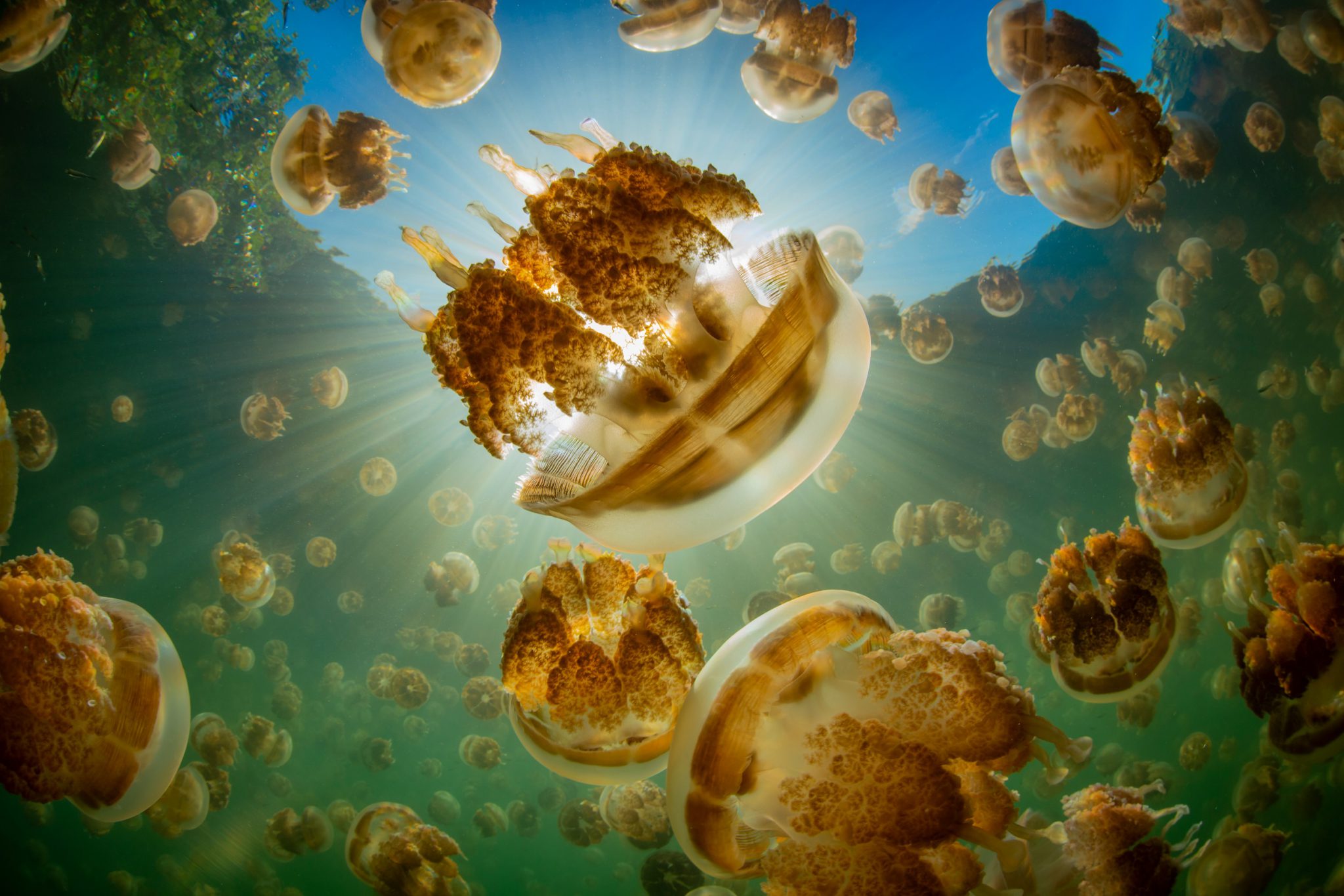 Bonus "Dive": Jellyfish Lake
As diving in Palau's Jellyfish Lake is not permitted, it's not on the best dive sites in Palau list. However, this is still a watery environment that you shouldn't miss. Famous across the world, thanks in part to the wealth of images on social media, this isolated marine lake contains thousands of jellyfish. And while diving is not allowed, visitors can get in the water and swim (or Freedive) with the jellyfish.
Recommended Dive Training: Freediver
---
Best Time to Dive in Palau
Palau is definitely a year-round diving destination. However, you'll enjoy peak diving conditions between October and May, during the drier season. At its best, divers can expect visibility to reach 40 meters (130 feet) or more. In addition, temperatures generally range between 27-29 degrees Celsius (81-84 degrees Fahrenheit). This means a 3mm wetsuit is enough for most divers.
---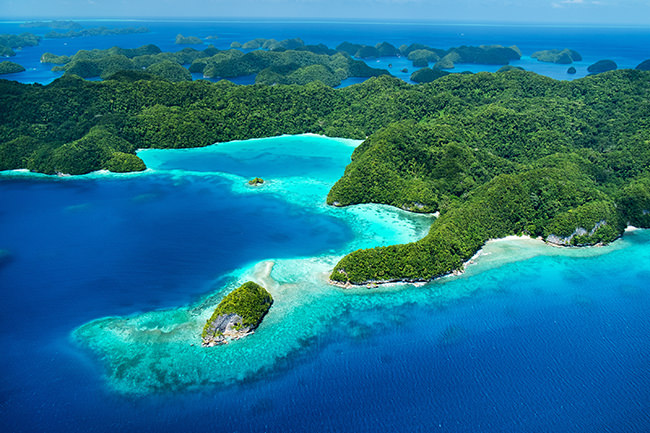 Ready to dive into Palau? Check out the best liveaboards and the best dive resorts in the country on PADI Travel. Our scuba travel experts are available to assist you in planning your trip 24/7.