Written by guest blogger, Julia Thomas.
It's no secret that plastic is one of the biggest polluters of the world's oceans. Whether it's bags, straws, bottles or containers, plastic items are often found in the ocean as a result of littering, being flushed down toilets or being thrown in a bin instead of recycled. In recognition of Plastic Free July this month, The Reef-World Foundation – international coordinator of the UN Environment Programme's Green Fins initiative and an official PADI partner – has shared seven simple ways that individuals can reduce plastic pollution when it's safe to travel once more.
1. Ahead of booking, ask about an operator's plastic use
When researching dive or snorkel operators, don't be afraid to enquire about their plastic use. It's important for each of us to inform and educate ourselves and use our spending power wisely. All Green Fins accredited operators pledge to follow a 15-point Code of Conduct which includes processes to minimize plastic pollution.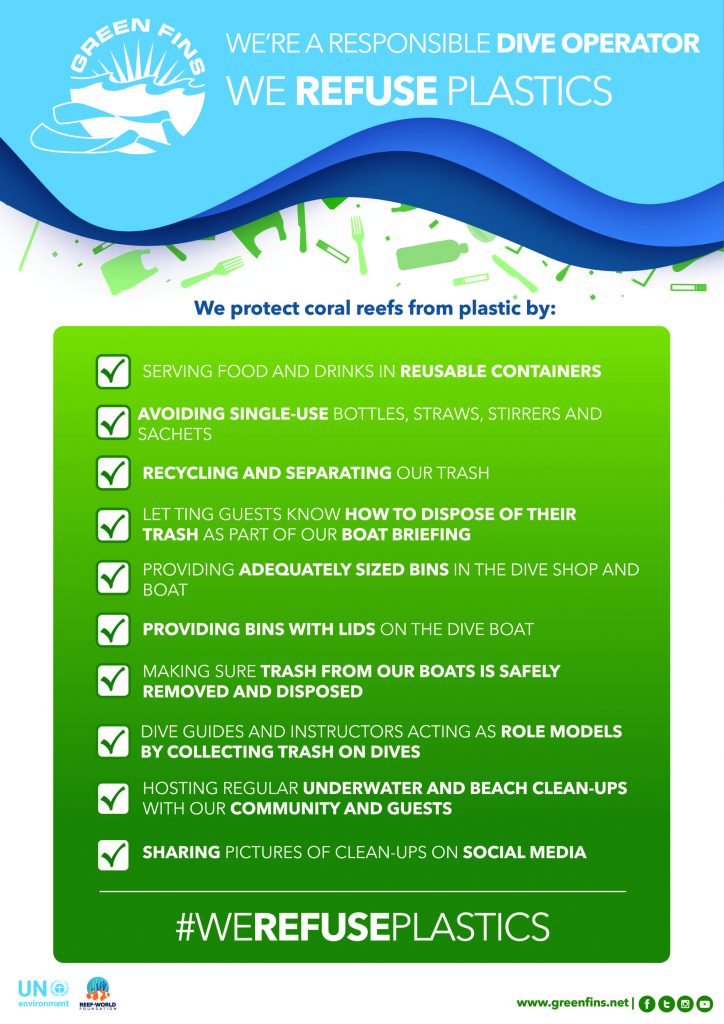 2. Carry a reusable water bottle with you
Instead of purchasing single-use plastic water bottles, invest in a reusable one. Not only are they better for the environment, there are also many options available which are designed to keep drinks cold for up to 24 hours for a much more refreshing – and guilt-free – hydration boost.
3. Never litter!
It goes without saying but never litter no matter where in the world you are. If there isn't a bin available, be sure to hold onto your trash until there is. This is particularly important when out on a dive to ensure that trash doesn't accidentally blow overboard.
4. Always ask if there are recycling bins available
Whether on a diving boat, at the dive shop or wherever you are, always ask if there is a recycling bin. A lot of plastic which ends up in landfill could be recycled instead so it's important to ask whether there's an option for recyclable plastic to be disposed of – and be sure to use the correct bins.
5. Bring a reusable tote bag
Any keen diver will know it's handy to carry a bag with you to store accessories or wet items. Say no to plastic and invest in a reusable option instead. This is especially important to remember when diving in remote areas where there might not be alternatives to plastic bags.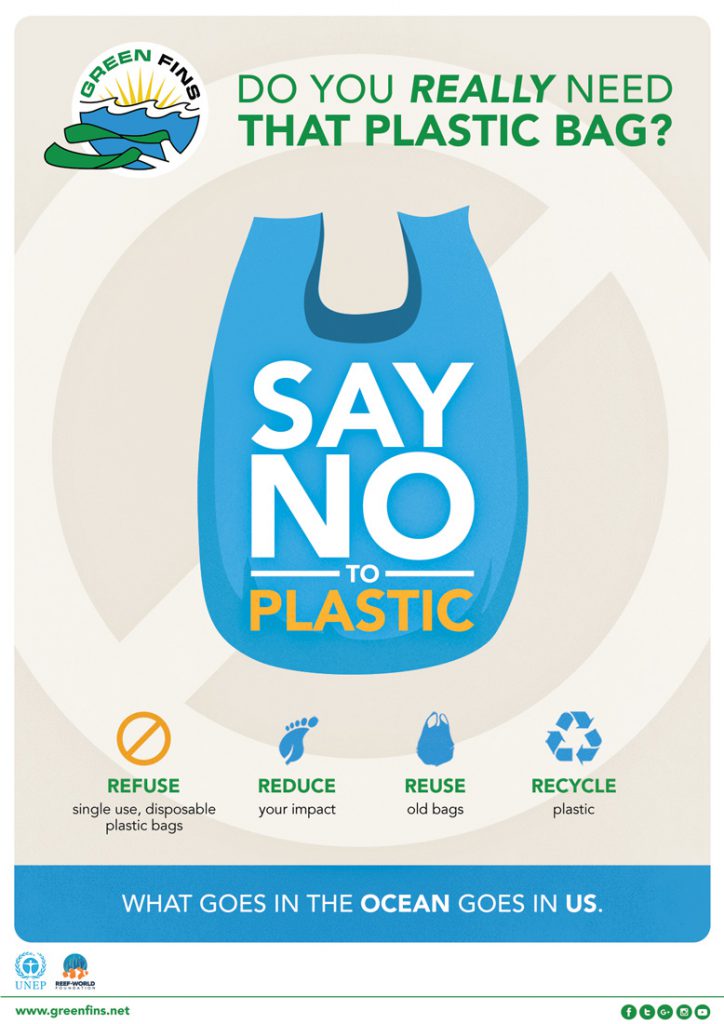 6. Collect discarded plastic on dives (if safe to do so)
If you come across plastic when diving that could be removed from the reef without risking damage to yourself or surrounding corals, pick up the trash and discard it correctly. Although it may seem frustrating to have to clean up after others, the small act of removing plastic will be hugely positive for the marine environment. It will also encourage other divers to follow suit.
7. If you can, take part in – or organize your own – cleanup event
Go one step further and organize a beach or underwater cleanup event. These are a great way to bring local communities together, highlight the issues being faced and be part of the solution to create a better environment for all. Don't forget to also report the trash you've collected to Dive Against Debris, which is the only underwater data debris collection programme of its kind. This data is used to influence development and implementation of local and global policies to improve solid waste management. Find out more about how to organize a cleanup event by downloading Green Fins' cleanup guide.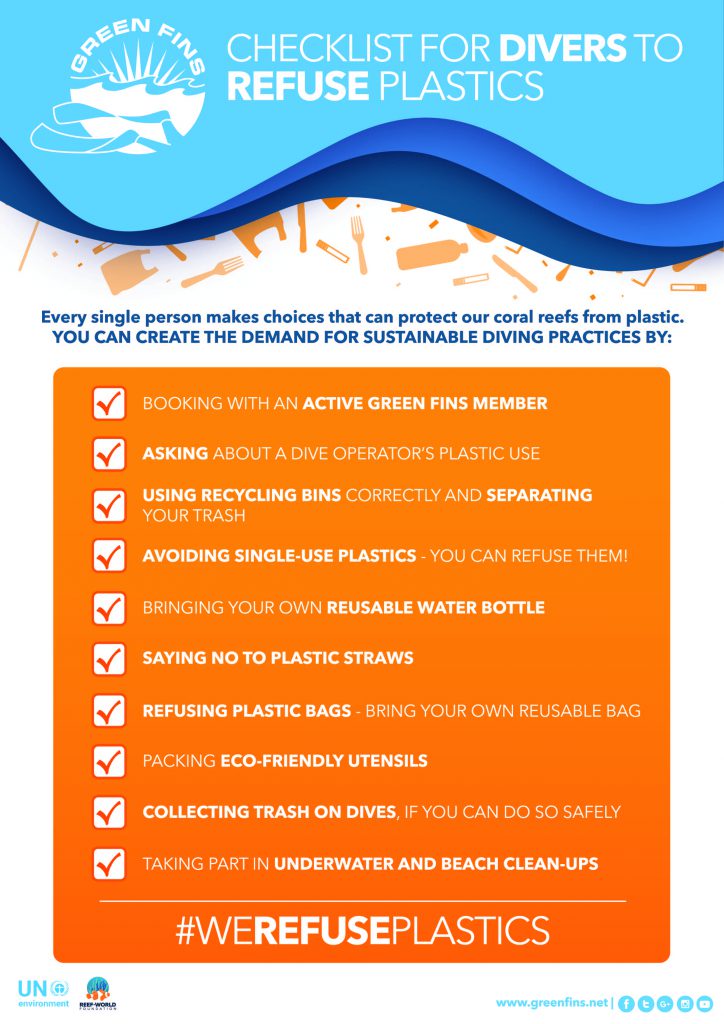 JJ Harvey, director at Reef-World, said "It won't be long until individuals can travel again but it's important to remember the impact that travelling has on the environment and so we encourage people to be mindful of their plastic consumption and the steps they can take to minimize pollution. If we all play our part, coral reefs and marine life can continue to thrive." 
Reef-World's global implementation of the Green Fins initiative – which it leads in partnership with the UN Environment Programme – protects coral reefs by driving environmentally friendly scuba diving and snorkeling practices across the industry globally. Green Fins provides the only internationally recognized environmental standards for diving and snorkeling and has a robust assessment system to measure compliance. The programme also encourages and empowers the marine tourism industry to act to reduce the pressures on coral reefs by offering dive and snorkel companies practical, low-cost alternatives to harmful practices – such as anchoring, fish feeding and chemical pollution – as well as providing strategic training, support and resources. By reducing the local direct and indirect pressures tourism puts on coral reefs, it helps make corals healthier and more resilient to other stresses such as the effects of climate change.
Divers can play their part by booking with a Green Fins dive shop (find them at greenfins.net or look for the Green Fins logo when booking via PADI Travel) and always following the Green Fins guidelines for sustainable travel.
For more information and ways to reduce plastic pollution, please visit The Reef-World Foundation and Green Fins.