All images provided by Mohd Syukri Mazlan
Tenggol Island lies off the coast of Terengganu in Malaysia. Measuring just three by two kilometres/1.8 by 1.24 miles this island might be small but it certainly has a big underwater personality. With over twenty dive sites on offer, this South China Sea Island is more than worthy of exploring.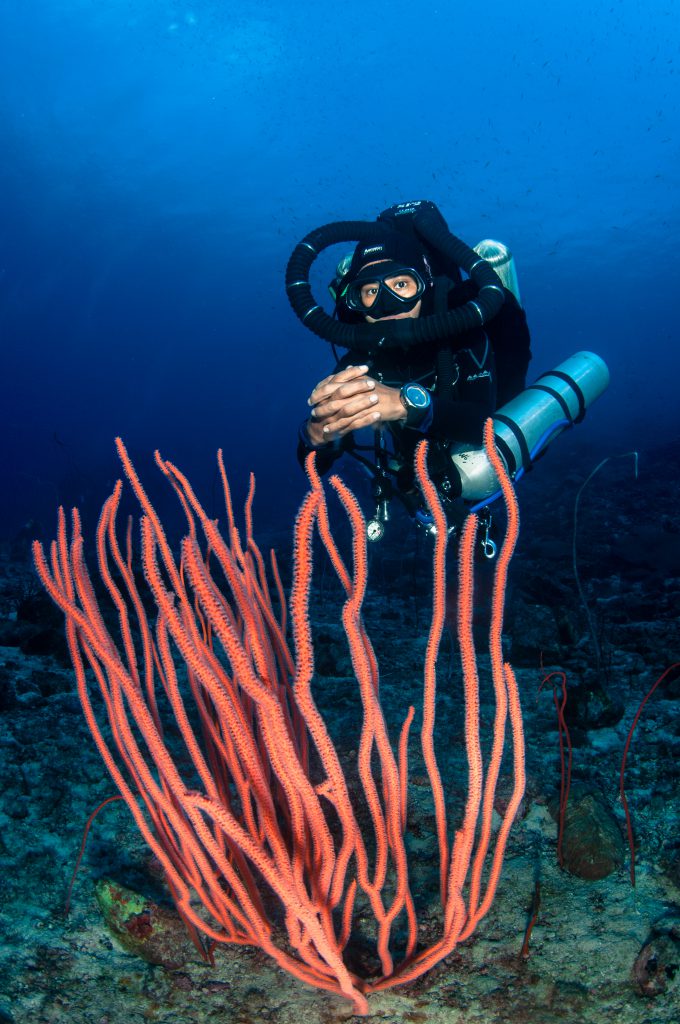 The dive sites around Tenggol Island offer a little bit of everything from abundant sloping fringing reefs through to drop offs, walls and huge boulder formations. You'll find sheltered sites with near swimming pool like conditions through to rugged rocky sites where currents stream through and powerful surge rocks the shallows.
Here are just a few of our favourite Tenggol Dive Sites.
Tokong Timur
We have listed this dive site first as it is one of the island's most famous dive sites and the best place to spot whale sharks from August to October. Located just off the small rock island to the south of Tenggol Island this site is packed with action. If you are hoping to see the whale sharks, it's best to dive the south side of the island which is teeming with colourful corals in the shallows and offers interesting boulders in the deeper sections (up to 30 meters/100 feet). The currents here can be a little more challenging, but it's the currents that bring the plankton rich water which attracts the whale sharks.
If you are diving outside of the whale shark season there is still plenty to see, including lone hunting great barracuda, schools of batfish, moray eels in the crevices, and hordes of colourful damsels and tropical reef fish in the shallows.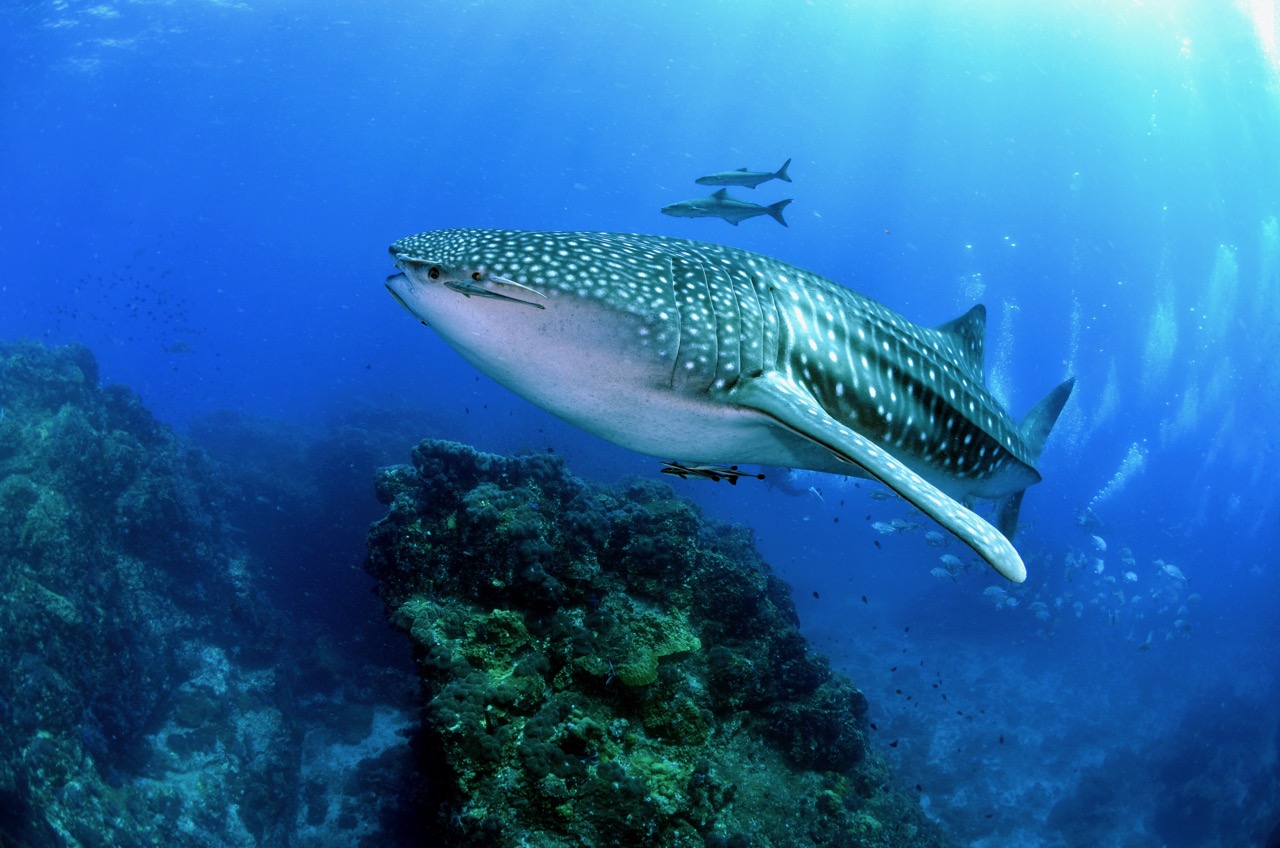 Tanjung Api
To the north of Tenggol Island there is a protrusion on the west coast and it's on the tip here that Tanjung Api is located. Due to the shape of the island, and the water which flows around the point, there is often current here which makes for a fantastic drift dive so be prepared to 'go with the flow' and admire the scenery along the way!
The topography here is rugged with wall sections and deeper rock formations – some of which are immense. These giant boulders are adorned with hard and soft corals, sea fans and sea whips. The fans provide shelter for a host of reef species and if you have good eyes, look out for macro life among their branches and nudibranch on the rocks. Other highlights here include bumphead parrotfish, angelfish, puffers, moray eels, schools of batfish and it's not unheard of to catch a glimpse of a passing manta or eagle ray!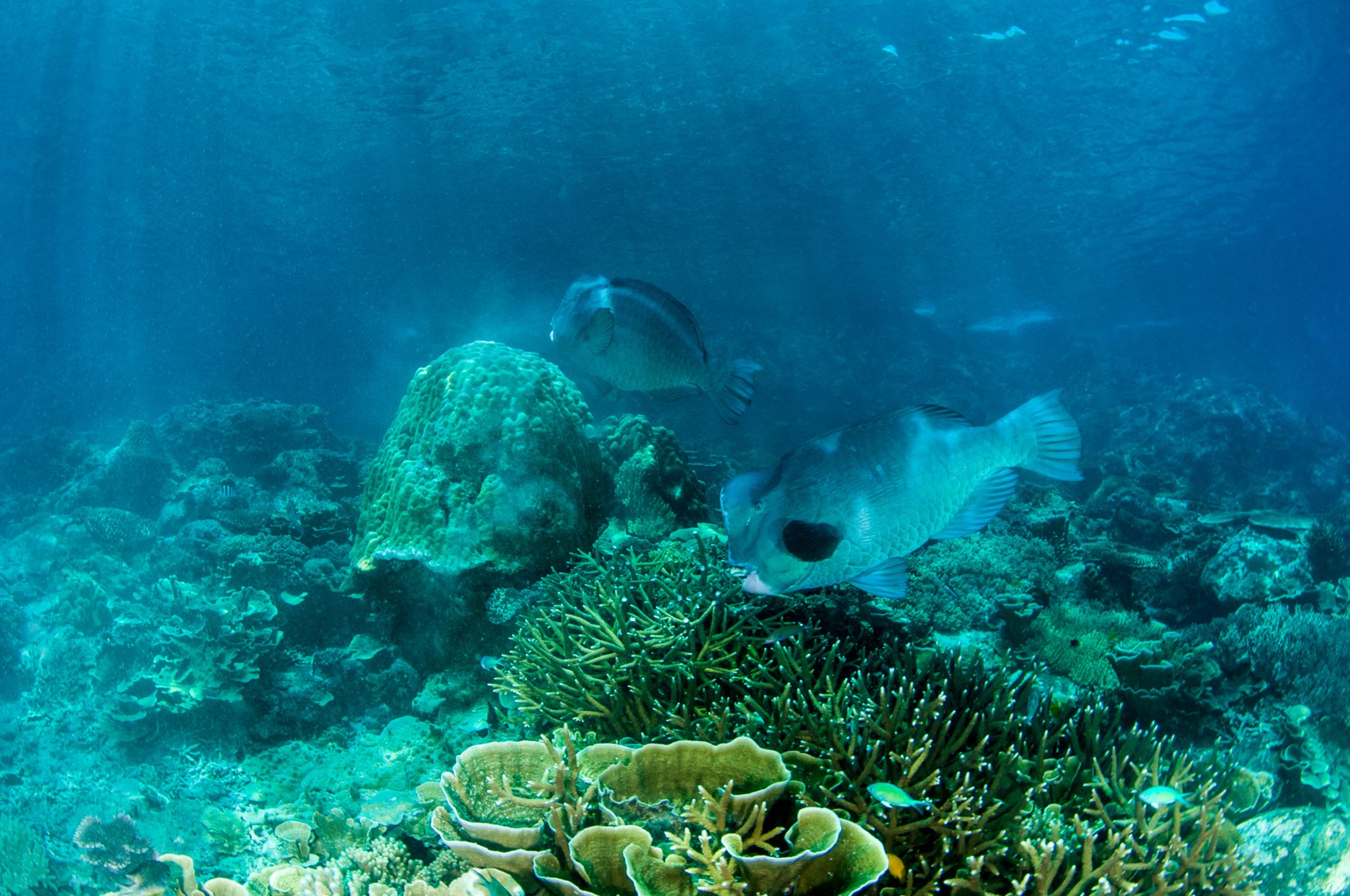 Rajawali Point
On the very northern tip of Tenggol Island are the 'Rajawali' dive sites, which go by several different names including Rajawali Reef, Tanjung Rajawali and Teluk Rajawali. The names relate to different entry points around the tip of the island. The Rajawali sites all offer abundant marine life and vibrant coral gardens in the shallows.
To the east side of the point you'll find a vast area of reef which is packed with diverse corals. This vibrant patchwork of hard and soft corals, sponges, barrels, whips, and anemones is habitat for an array of reef fishes including clownfish, angelfish, lionfish, Moorish idols and a variety of parrotfish species to name just a few.
To the west of the point, the shallow reef and sandy bottom are where you can expect to see schools of snappers, triggerfish, moray eels and scorpionfish. On the very tip of the point itself, keep an eye out to the blue because you never know what might make a surprise appearance. Manta rays, eagle rays and reef sharks are all spotted here from time to time.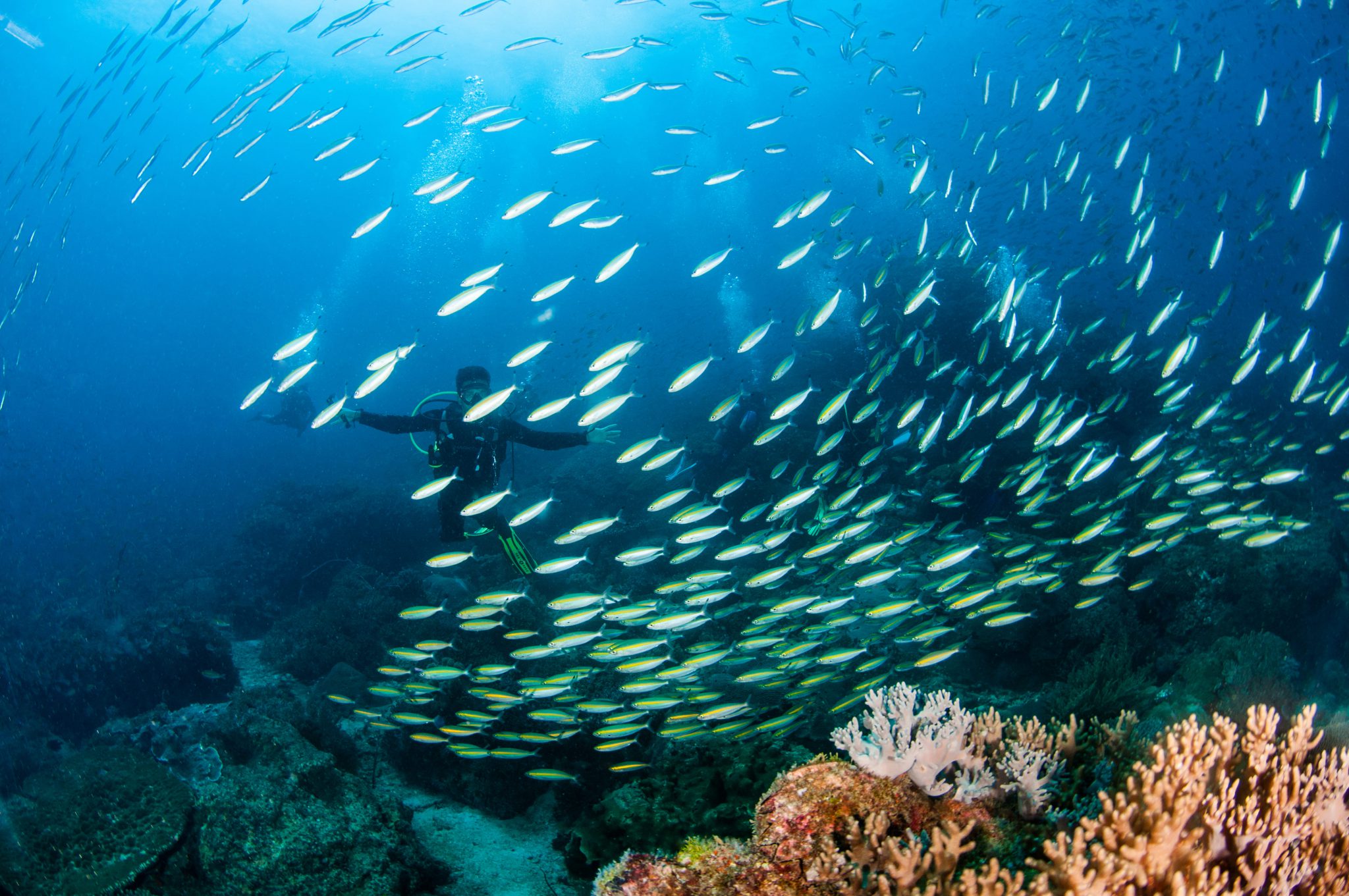 The Edge
The Edge is located close to the southern tip of Tenggol island, in between the main Tenggol landmass and the small outlying lighthouse island. The dive site unsurprisingly takes its name from a drop off at around 18 meters/60 feet from where you can stare out into the big blue yonder. The dive itself is a mixture of boulder formations, bommies and reef, and it's a great site for hunting for critters or just relaxing and watching the underwater world in action.
Keep an eye to the blue for larger pelagics and predators cruising by or hovering menacingly in the current stream.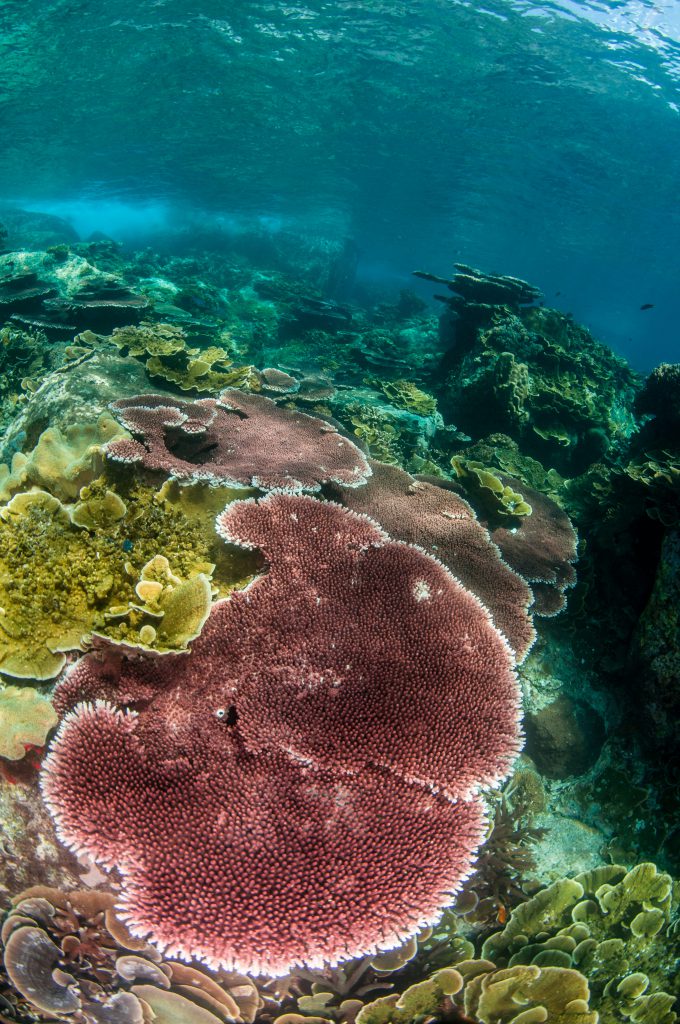 Tenggol Wreck Diving
Tenggol is not just for diving reefs and looking for whale sharks – the Malaysian Government has allowed the deliberate sinking of several wrecks in the area for diving purposes, including two deep wrecks which are suitable for technical diving.
Upwards of 40 meters/ 131 feet are four notable wrecks (Sawadee, Five Sisters, Fisherman Wreck and the Deep Wreck), all of which are easily accessible and attract a vast amount of marine life. The Fisherman wreck is a 20 meter/66 feet long fishing boat which can be dived upwards of 18 meters/60 feet, making it a wonderful dive for Open Water Divers and those who are making their first wreck dives.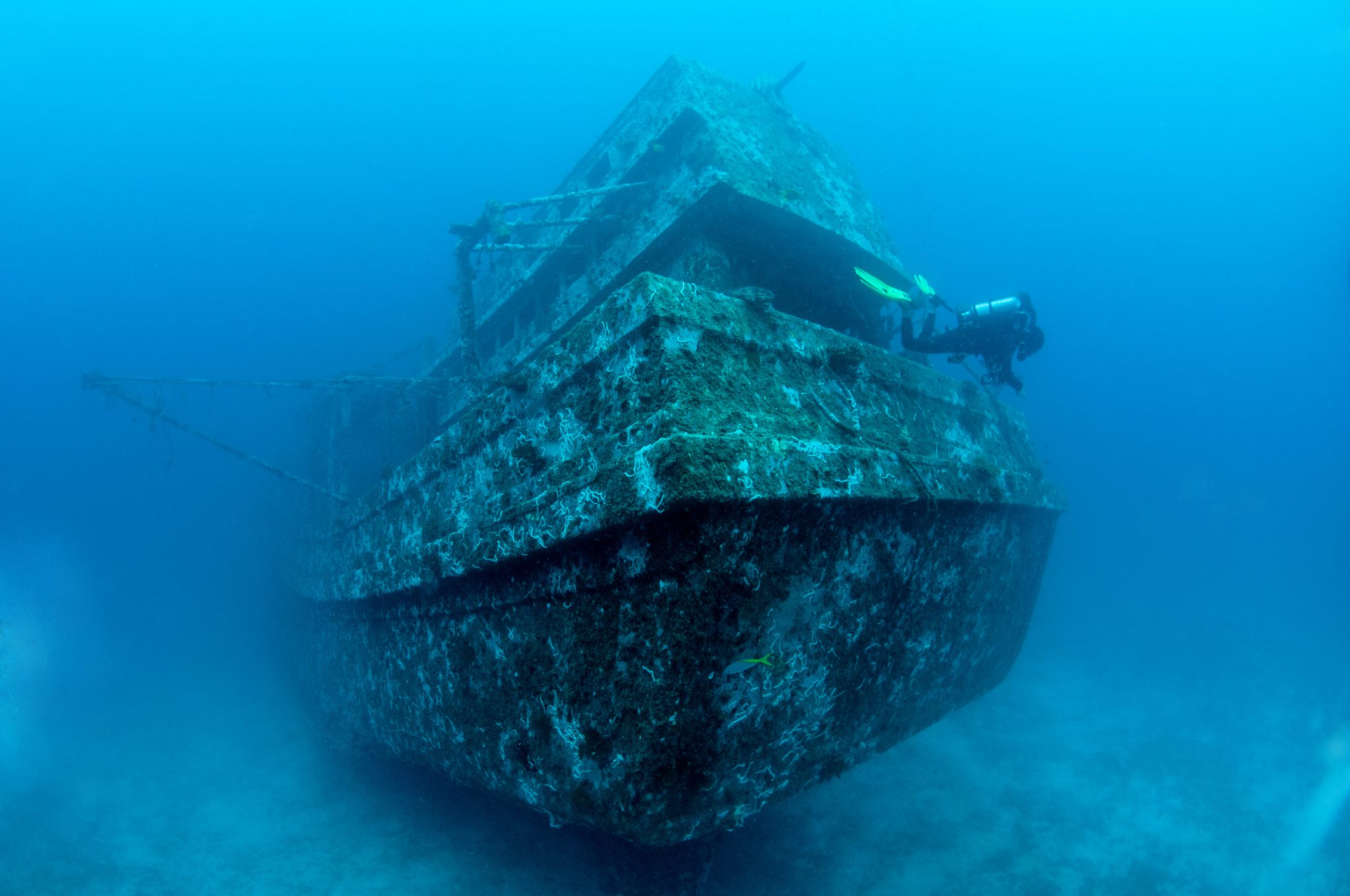 So is it time to explore this small Malaysian Island with a big underwater personality? Locate a PADI dive shop in Malaysia and start planning your next trip!