Mattias and Linn from the Ocean Exposure team highlight their 5 top dive sites in the UK. From diving with seals, visiting historic wrecks, to spotting the second largest fish in the ocean there's plenty to see of the coast of this historic kingdom.
Martin's Haven, Pembrokeshire
Depth: 22 meters/72 feet // Vis: 10 meters/33 feet // Temperature: 15 °C/ 59°F
This was an easy shore dive with a kelp and sand bottom. There's lots of different marine life here; we saw small-spotted catsharks, flatfishes, lobsters, bobtail squids and lots more, along with thousands of spider crabs on their yearly migration to shallower waters.
Submarine M2, Portland
Depth: 31 meters/102 feet // Vis: 10 meters/33 feet // Temperature: 16 °C/ 61°F
An incredible wreck dive with a tragic history. The M2 sank in 1932, sadly with all the 58 crew members still onboard. It sits upright on the bottom and besides being an interesting wreck to discover it has lots of marine life living on it. Schools of pouting swim around it and large conger eels peak out of almost every opening.
Isle of Coll, snorkeling with basking sharks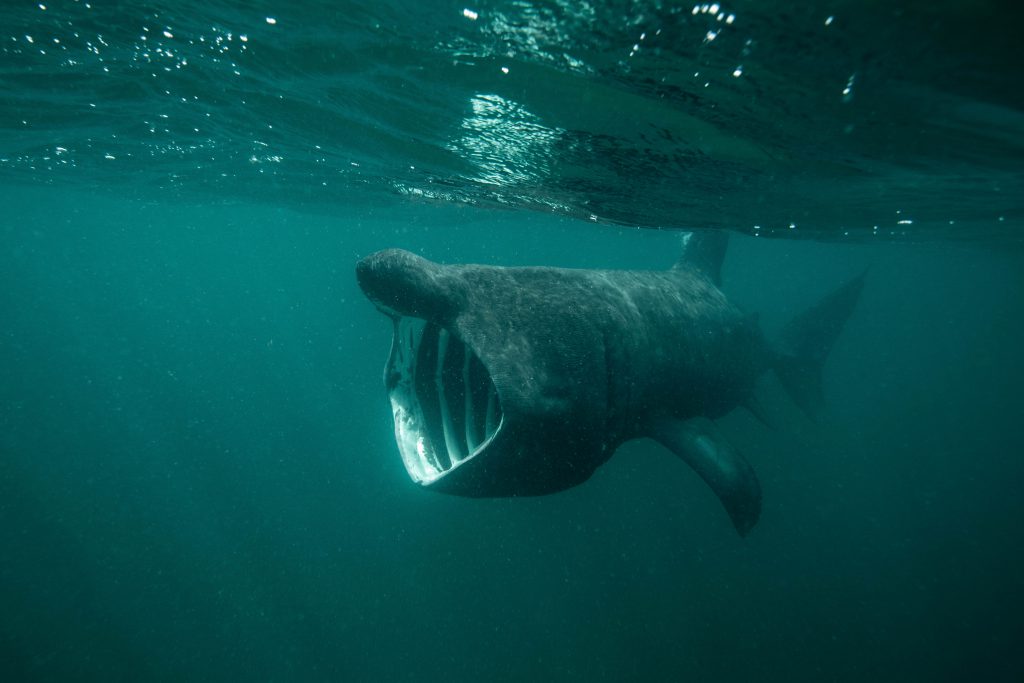 Depth: surface // Vis: 5 meters/16 feet // Temperature: 17 °C/ 63°F
Every summer the waters surrounding Isle of Coll in the Inner Hebrides are visited by impressive giants. Basking sharks are the second largest fish in the world and they come here to feed on zooplankton. It's possible to get in the water and snorkel with them. This was a really amazing experience and since they are not bothered by snorkelers we got some great close encounters.
North Strome, Loch Carron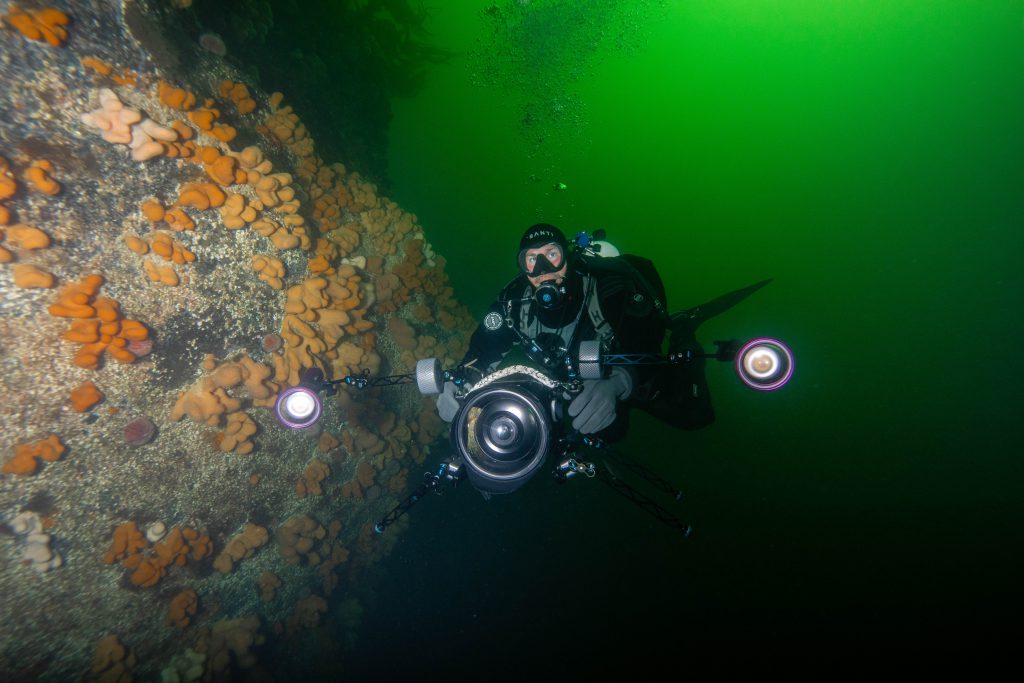 Depth: 20 meters/66 feet // Vis: 10 meters/33 feet // Temperature: 14 °C/ 57°F
Here you can find a pretty wall dive with lots of marine life. In the shallower parts there are kelp forests and the deeper parts are covered in dead man's fingers. At about 20 meters you get sand bottom where you can find marine life such as rays, small-spotted catsharks, bobtail squids and the world's largest known flame shell bed. We found this to be a comfortable shore dive, although you have to be aware of the current and time it right.
Farne Islands, diving with seals
Depth: 10 meters/33 feet // Vis: 5 meters/16 feet // Temperature: 15 °C/ 59°F
The Farne Islands are home to thousands of grey seals and are a popular destination among local divers. Here you'll have a good chance of seeing the seals not only laying on the cliffs but also in the water. As soon as we entered the sea there were curious seals checking us out! After a while they started coming closer to pull on our fins and investigate our cameras. We had so much fun diving with these cute playful pups!
If this blog post has inspired you to find out more about the diving on your doorstep then find out more about the top dive sites in the UK on our dive local pages here.
---
Author Bio
Linn and Mattias from Ocean Exposure are currently driving through Europe for 15 months to dive around the continent. Read our interview with them here.