With over 40 named sites, Oahu diving definitely delivers — so much so that it can be a challenge to know where to begin.
At the South Shore of this tropical island, you'll find Hawaii's capital, Honolulu, as well as some of the nation's most popular wreck dives — like the YO-257, Navy Tug, and Sea Tiger. The North Shore is a surfing paradise in winter, but the calmer summer months allow some of the best scuba diving in Oahu, from Pupukea Marine Sanctuary to unique lava rock formations.
Sound like a lot? Start with these nine must-see sites for a well-rounded flavor of Oahu diving.
---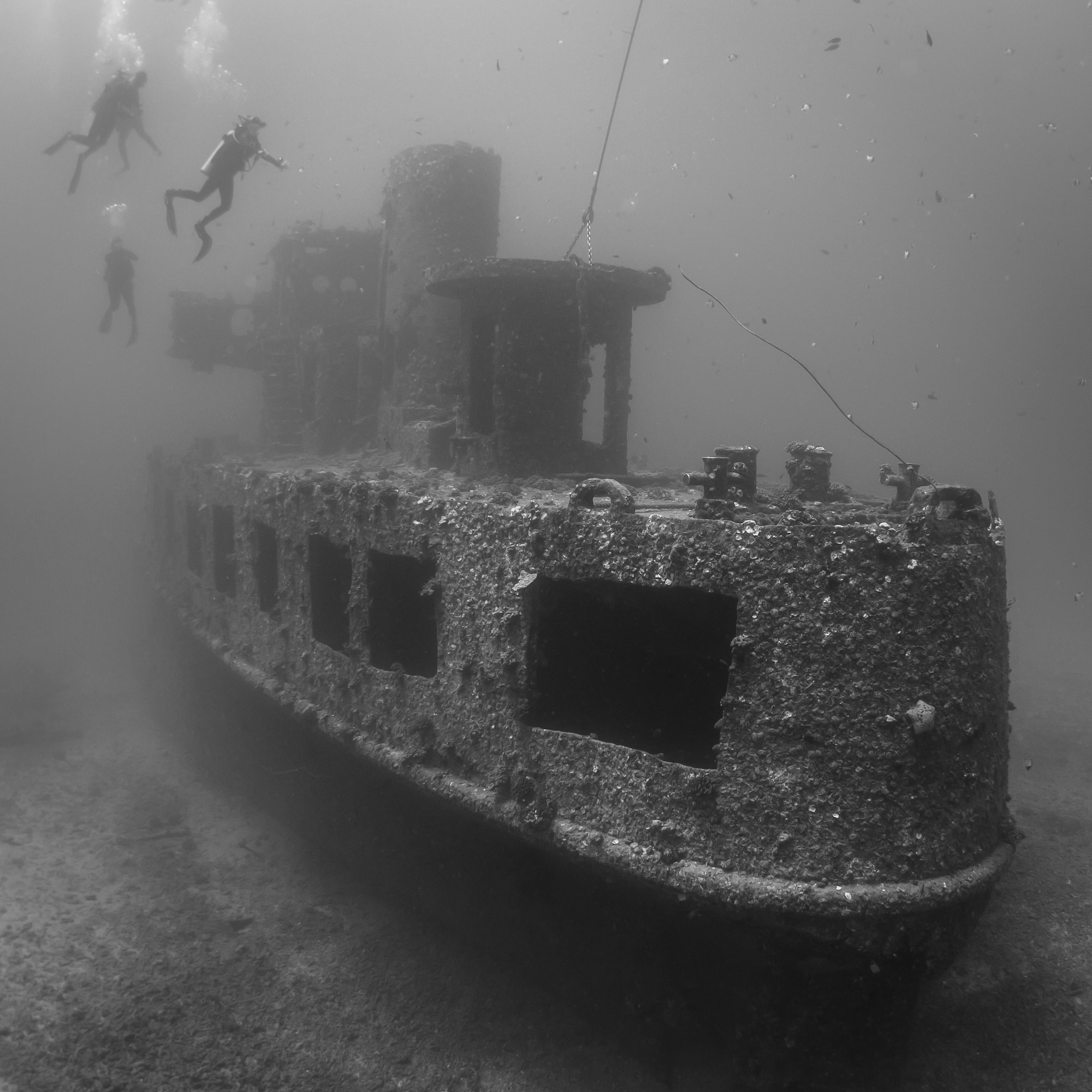 YO-257
One of the most popular Oahu dive sites, you'll find this upright ship just off the city of Waikiki. It was purposely sunk in 1989 by Atlantis Submarines Hawaii to give their passengers an underwater attraction. Now, more than 30 years later, it's covered in corals and sponges, regularly attracting green sea turtles. Advanced divers favor the site, not just for the depth – find it at 100ft (30m) down – but also for the easy penetration. Cutouts exist on both sides of the ship, allowing divers to easily pass through it.
---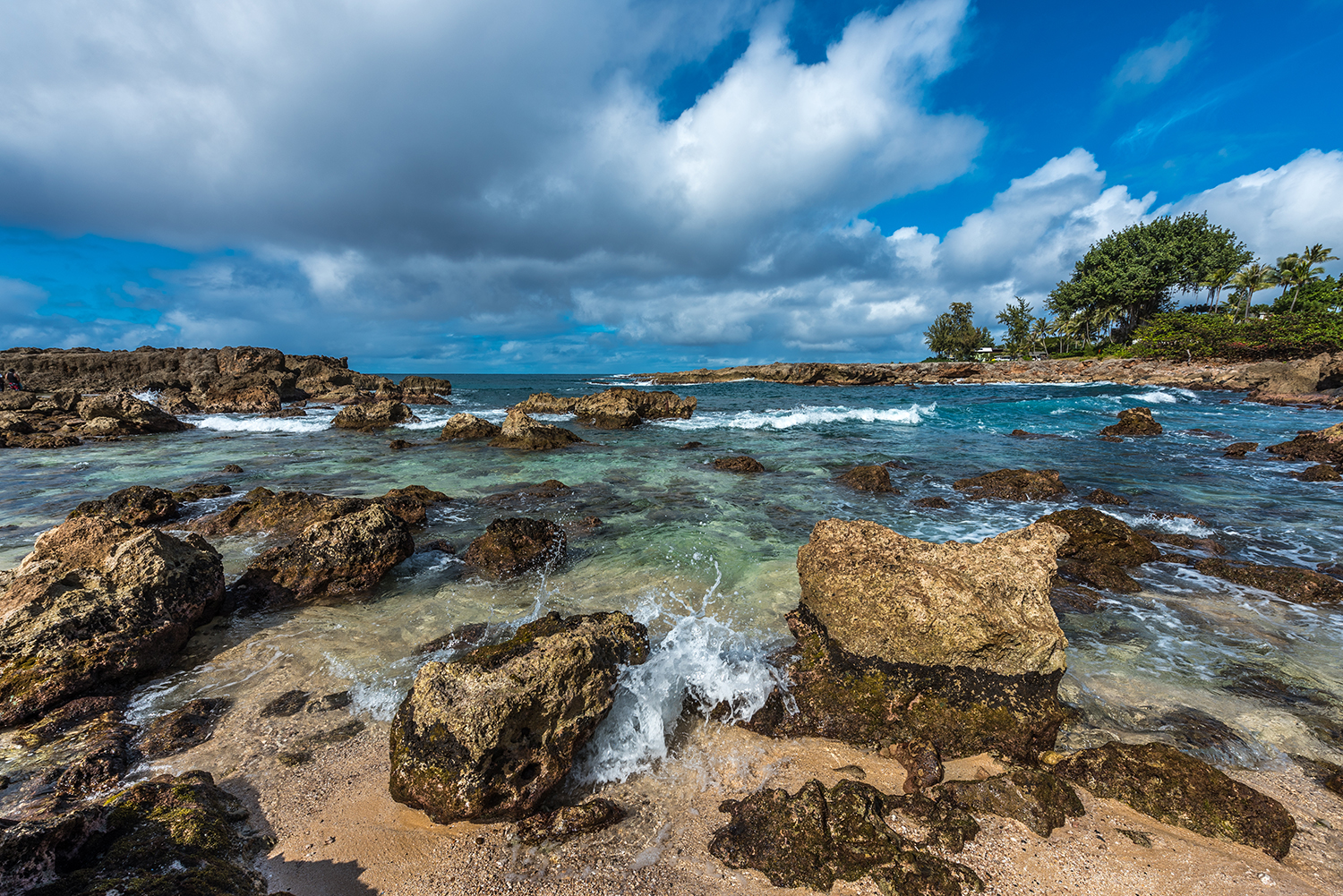 Shark's Cove
On the island's North Shore, Shark's Cove is undoubtedly a must if you're planning to dive Oahu in the summer. This shore dive is part of Pupukea Marine Sanctuary and marked by impressive volcanic topography filled with caves and swim-throughs. Popular with both snorkelers and scuba divers, easy 15-65ft (5-20m) depths are home to an abundance of tropical life. Sharks don't actually congregate here any more than other sites, but look out for nudibranchs, eels, rays, octopuses — and countless colorful reef fish, many endemic to Hawaii.
---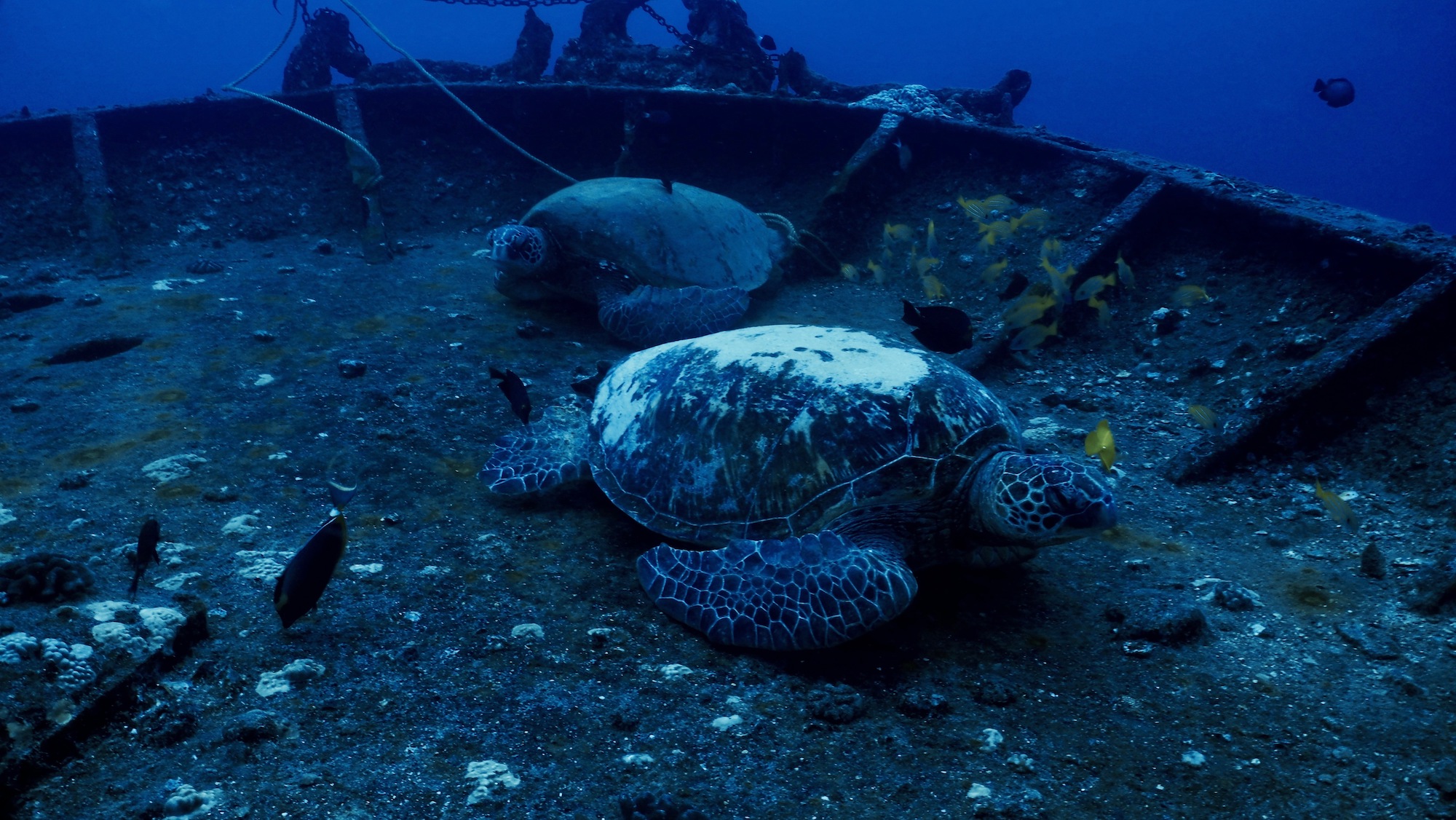 Sea Tiger
This 168ft (51m) former Chinese merchant vessel, once called the Yun Fong Seong No. 303, is considered the deepest wreck in Oahu, resting in the sand from 80-120ft (24-37m). She became the property of the U.S. Coast Guard before being sunk off the south side of the island in 1999. Drop in to swim with resident whitetip reef sharks, plus green sea turtles, eagle rays, and schools of blueline snapper.
---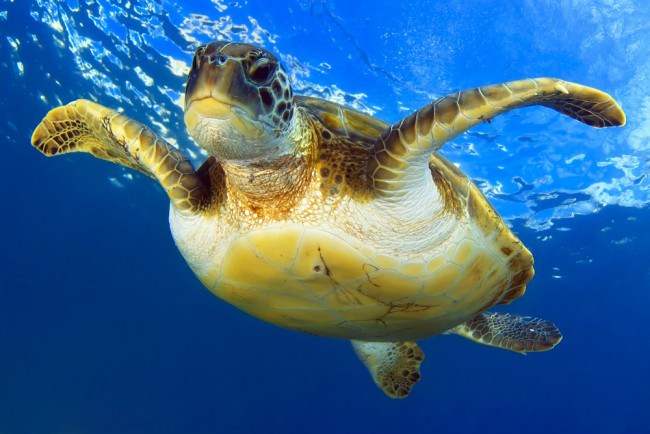 Turtle Canyon
This is home to one of Oahu's most famous turtle cleaning stations and, therefore, one of the best places to see these reptilian favorites. You'll need to travel by boat to reach this popular Honolulu diving destination, but at 15-50ft (5-15m), it's still shallow enough for snorkelers to enjoy too. Pack a dive light to explore the many nooks and crannies along the reef. And, keep your eyes out for octopuses, eels, whitetip reef sharks, dolphins, and of course, turtles aplenty.
---
Makaha Caverns
The biggest highlight of diving the series of lava-formed tunnels at Makaha Caverns is the chance to be surrounded by whitetip reef sharks inside the larger rooms. These collapsed lava tubes also shelter green sea turtles, so the odds of seeing big marine life are high. Observe carefully to find the octopuses and five species of eel that nestle among the cracks. In addition, with a depth of 30ft (9m) inside and roughly 45ft (13m) outside the caverns, this Oahu diving site suits all certified divers.
---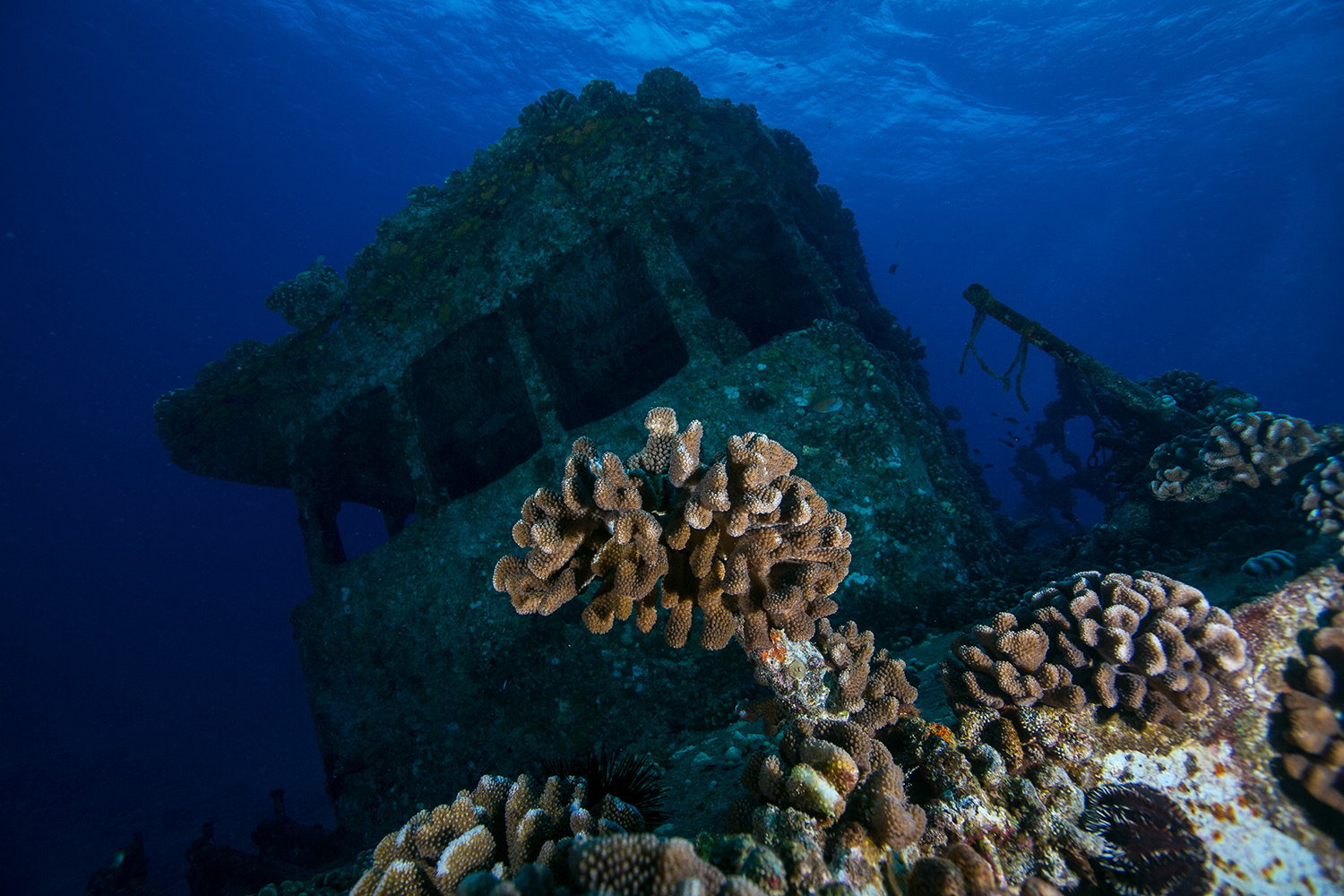 U.S.S. Nashua
Nicknamed the Navy Tug because of its naval history and ongoing participation in Navy training exercises, this 109ft (33m) vessel sits outside Hickam Harbor. It was purposely sunk in 2012 to a depth of 65ft (19m) and is now a popular stop on Oahu diving tours. It's also an established habitat for octopuses and eels, with the occasional manta ray and reef shark passing by.
---
Electric Beach, aka Kahe Point
So named for its proximity to the local power plant, Electric Beach diving dials up when it comes to wildlife. You'll find a mix of Hawaii's endemic oddities, including psychedelic wrasses, and several green sea turtles. Plus, the water clarity here is surprisingly unreal – expect at least 60ft (18m) visibility.
---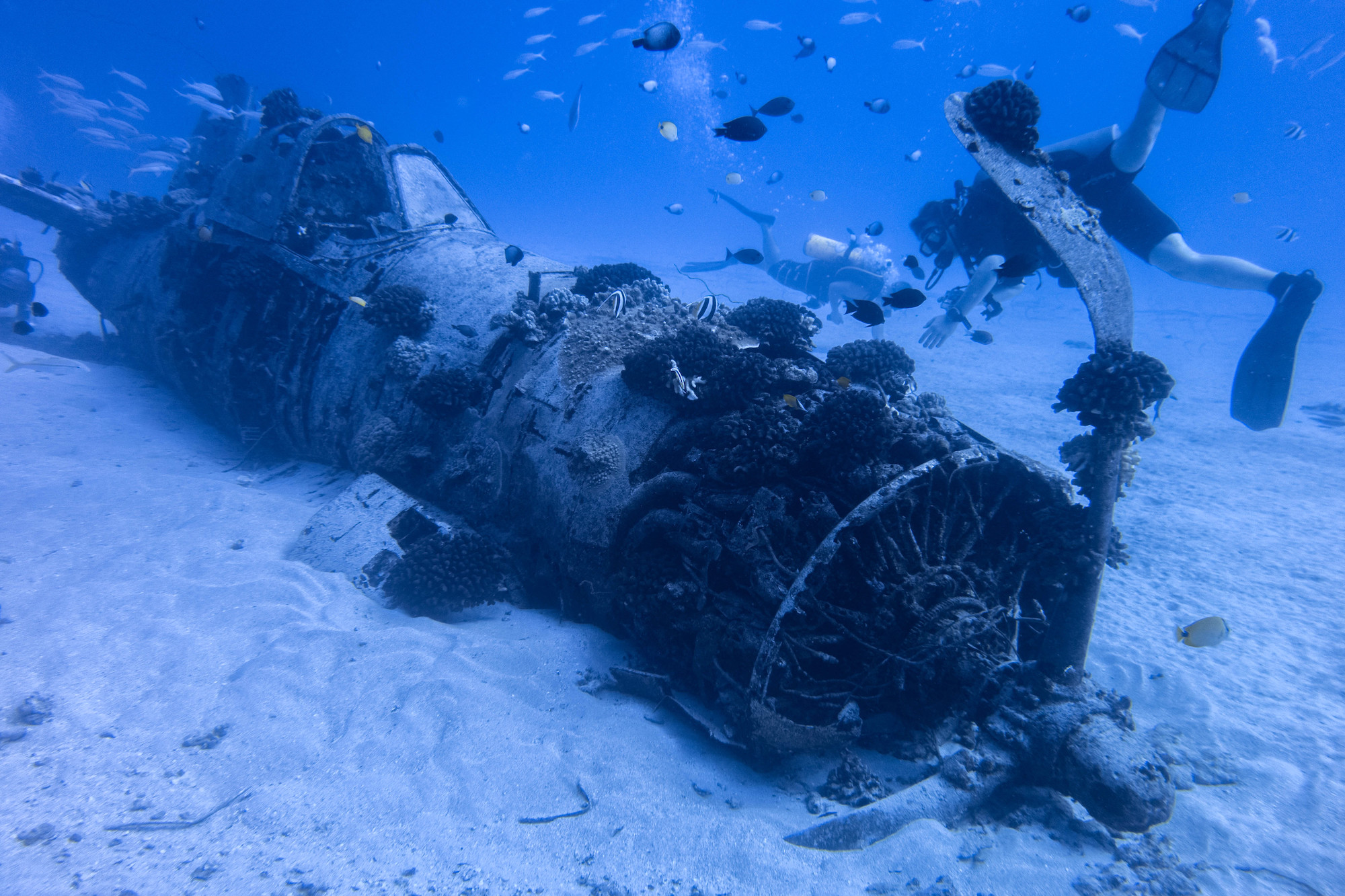 Vought F4U Corsair
Downed in 1945, this fighter aircraft is Hawaii's only true wreck that's open to divers. It's also one of the best Oahu diving sites. Drop in to check out the cockpit's gauges, control stick, seat, and rudder pedals. You'll find it at 115ft (35m) deep, making it one of the more advanced dives on the island. Besides the plane, the site is home to hundreds of garden eels that lay claim to the surrounding sand – territory they share with Galapagos sharks.
---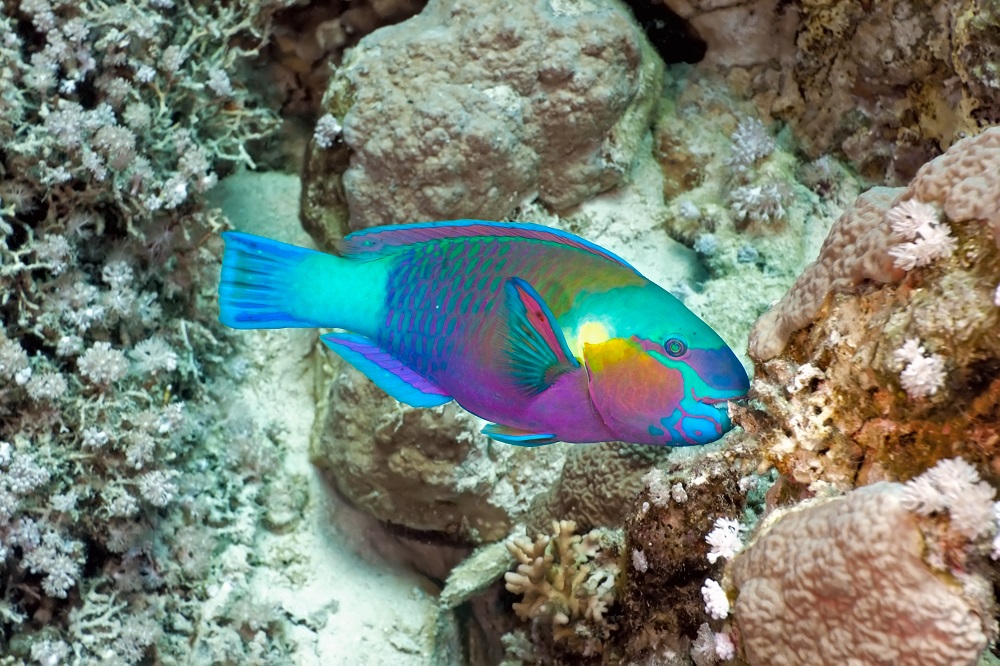 Kahuna Canyon
Another magical site if you're diving Oahu North Shore is Kahuna Canyon. Dip beneath the surface and you'll soon see why it has the nickname the underwater Hawaiian Grand Canyon. Dotted with caves and crevices, giant walls rise up from the 100ft/30m-deep seabed and rival its topside Arizonan namesake. Inside the Canyon are sightings of crabs, lobsters, and vibrant Oahu reef fish such as parrotfish and surgeonfish. Outside, peer into the blue to spot passing sharks and dolphins.
---
Jump into Oahu diving today
If you can't wait to go diving on Oahu and explore these iconic wrecks and reefs, start planning your Hawaiian scuba vacation today. Download the PADI Adventures App for more inspiration, or visit PADI Travel for the latest Oahu diving and snorkeling resort and liveaboard deals.
---
Related Reading
Top 5 U.S. Island Getaways
6 of Hawaii's Top Dive Sites
Diving on a Budget in Hawaii
7 Top Dive Sites Around Hawaii's Big Island