So you've explored colourful coral reefs and a range of topographies. Now it's time for something different. How do black sand dive sites sound? The thought might not conjure up the diving visions you're used to but the 7 reasons below will change your mind and have you booking you next dives in Lembeh, Indonesia.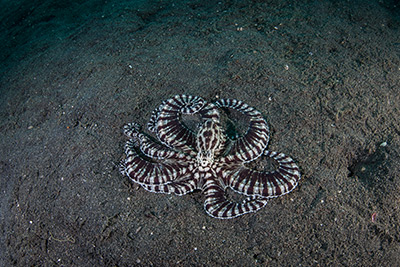 1. Descend into a different world – Diving in Lembeh is a very different diving experience. As you descend into the waters of the Lembeh Strait, you'll find yourself submerged in another world; a world of muck! Muck diving is different to diving on coral reefs, but it's certainly no less exciting. Spotting rare and unusual muck-dwelling critters is just part of the fun.
2. Weird and Wild – Did you know that the Lembeh Strait is home to some of the weirdest and most unusual marine life on the planet!? Have you ever heard of a hairy frogfish, a bobbit worm, a hairy octopus or a wonderpus? In Lembeh you'll meet a plethora of new species – some of them stunning, like the mandarinfish, and others are just downright ugly, like the sand dwelling stargazers. For those interested in night diving, you're in luck – some of the strangest critters come out of hiding when the sun goes down.
3. 15 is the magic number – Dive sites in Lembeh are limited to a maximum of 15 divers and it's a rule that's closely adhered to. With almost 60 dive sites to choose from, and all in close proximity, if one site is occupied you can simply go to the next one. You'll never feel overcrowded underwater and you'll enjoy a more exclusive diving experience.
4. More than muck – Whilst the Lembeh Strait is known for having some of the best muck diving in the world, there's actually more to the area. Dive sites like Angel's Window offer stunning reefs, the Mawali Wreck is entirely encrusted in coral, at Batu Kapal you'll find schooling fish and passing reef sharks and, if that's not enough, there's the truly unique diving experience at Batu Angus (pictured below), where it seems like the rainforest merges with the reef.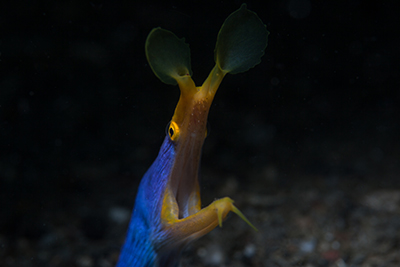 5. Underwater photography – Are you an underwater photographer? Or thinking about giving it a go? Lembeh Strait is a paradise for underwater photographers as unique marine life against the black sand background creates mesmerising images. Need a hand getting started? Try the PADI Digital Underwater Photographer specialty or find more tips in this article.
6. Friendly dive guides and locals – North Sulawesi is known as the 'Land of the Smiling People' for good reason. You'll find the local people warm-hearted, welcoming and friendly. If you're a solo traveller, it's an easy place to visit with logistics for dive travellers already in place.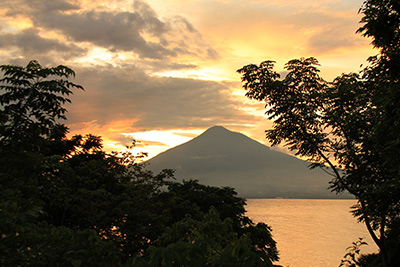 7. Advance your skills – The fine volcanic sand on Lembeh's slopes are the perfect place to perfect your dive sills. If you're already a PADI Open Water Diver then the PADI Advanced Open Water course is the perfect next step. In Lembeh, you'll find a range of adventure dives to choose from, including Peak Performance Buoyancy, Fish ID, Wreck Diver, Night Diver, Digital Underwater Photographer, Boat Diver, Search and Recovery Diver and Drift Diver. You may even decide to go on to complete a specialty.
For more information about diving in Indonesia, visit our Vacation Spotlight, or find a PADI Dive Shop in Lembeh.