Guest blog post by Jo Walters
Andre Miller is a marine scientist, PADI Dive Center owner and Master Scuba Diver Trainer, and a passionate leader of the conservation movement in Barbados. Andre was recently named a PADI AmbassaDiver. 
"I grew up on a tiny island surrounded by a lot of water, where you can't walk, run or drive very far without reaching the ocean. From a very young age, I saw the coastline as the start of an adventure, my adventure," says Andre Miller, speaking of his beloved country, Barbados.
Andre grew up snorkeling and eventually became a freediver. Then, one day, he saw a scuba diver climb onto a boat, resplendent in all his dive gear. Andre knew he wanted to become a diver, but it was an expensive endeavor at the time. So, he volunteered at a dive shop and, in exchange, shop owner George Hurley certified him as a PADI Open Water diver when Andre was 16 years old. Hurley also discussed conservation with Andre and got him interested in the perils facing the oceans surrounding their island nation, including overfishing and the declining health of coral reefs. "Even in my short lifetime, from the time I was six until I was sixteen, I could see the decline of coral reefs I loved as a child," he recalls.
So Andre also started volunteering at a marine science laboratory while still in high school. "Even though I spent my days there cleaning up turtle tanks and fish feces, I loved that job because I got to work with top marine scientists from around the world."
When it came to choosing a career path, it seems the choice was made when Andre was 6 years old. "I went to university planning to study medicine, but my heart was in marine science. My dad said it was like studying to be a beach bum! But my dad supported my choice. He was a fisherman and he loved the ocean as I do. In fact, he inspired me: he would return from long trips at sea with tales of the whales and dolphins he saw. I knew that I could not stay on land too long — I wanted to see those animals too!"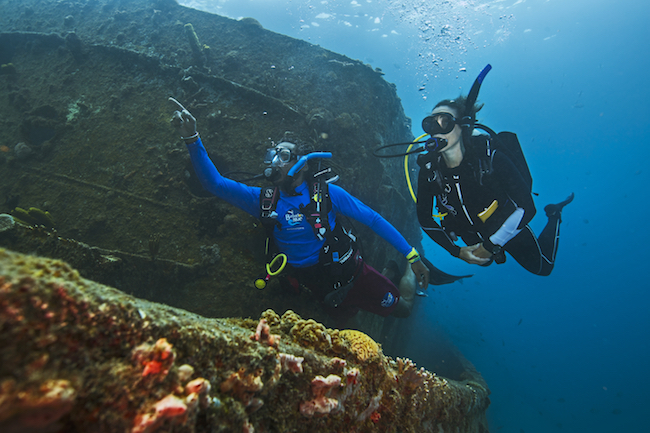 Galvanizing the Government into Eco Action
After graduation, Andre went to work for the Barbados government as a marine biologist in Coastal Zone Management Unit (CZMU). Year after year, he and his colleagues witnessed the decline in both abundance and diversity of fish in the region due to overfishing. Also, dive and snorkel boats routinely dropped anchor on coral reefs, and water pollution was a problem; coral were dwindling in both abundance and diversity as reefs were damaged or destroyed.
"When I was in government, my coworkers and I were frustrated with the bureaucracy and red tape. We felt we were only documenting the decline of our oceans and reefs and not doing enough conservation work.  Also, the politicians, government officials and local people saw the ocean as a place for tourists. They had no sense of stewardship."
Finally, Andre convinced his boss, Nobel Laureate Dr. Leonard Nurse*, that the best way to motivate people to protect their reefs was to show them their beauty. Therefore, they needed to get more people diving!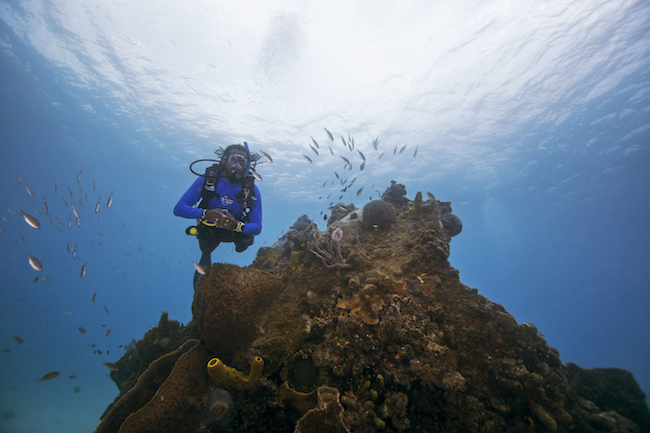 Coral Reef Restoration and Conservation
The strategy worked. More bureaucrats got on board, and Andre and his colleagues devised what was then a simple, hands-on way to repair coral reefs damaged by storms or ships. "At the time, no else was doing anything about damaged reefs, so our approach was similar to what we tell Emergency First Response® course participants: If we don't step up to help, there's a 100 percent mortality rate. Now, we average 90% survival rate for transplanted hard coral," Andre explains.
Also, nowadays there is an active, ongoing program in Barbados for monitoring and maintaining healthy coral reefs. "Coral restoration and transplantation have become our specialties," says Andre. "Often we can restore a reef damaged by a boat or hurricane by seeding it with small fragments of coral. If the water quality is good and fish are there to help with the grazing, we can help reef recover. We have saved tens of thousands of corals throughout the region this way."
"We also transplant coral when we know it will be adversely impacted by an oncoming storm or an infrastructure project. Right now we are monitoring of one of the largest and most successful coral transplantations in the Caribbean. Before transplantation was an option, the dredger and cranes would just cut through the shallow reefs to make a channel.  But now I head a team of scientists who move the threatened corals, while submerged, and then we reattach them in a new, protected location. We have a 92% survival rate."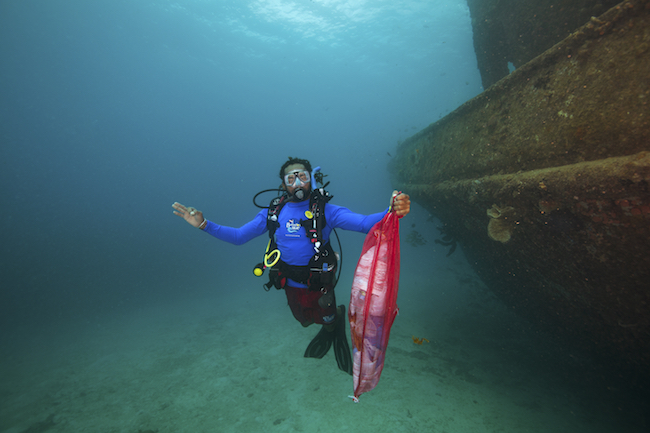 Barbados Blue Water Sports
Andre also brought more stakeholders on board by opening his own PADI Dive Center, Barbados Blue Water Sports. He also became a PADI Master Scuba Diver Trainer. "I try to pass on what my first instructor taught me. I want people to know that diving is easy and accessible – not difficult and dangerous! We routinely work with kids from two local primary schools, including special needs kids. We get them comfortable in the water, teach them to swim and then progress to basic snorkeling/freediving in the Carlisle Bay Marine Park. Many of the children I taught years ago are now adult divers, passing down their love of ocean to their siblings and offspring – and going off to university to study marine science or ecology! I love that! It is second only to seeing the smile on the faces of kids and their parents after their first dive. How can that not change your life?"
Andre also uses his dive shop as a conduit for conservation activities. "When I opened my dive shop, I wanted it to stand for conservation. We take on interns from around the world, we learn from them. As a result, we have changed the types of suntan lotion and soap we use; all of our boats have less-polluting four-stroke engines and we recycle plastic. In fact, our employees bring plastic from home for us to recycle, and we often hear from parents that their children instituted recycling at their homes after they took a class with us."
"PADI has helped by giving us a platform for teaching ecology through Project AWARE. We were already doing beach cleanups, but not documenting them. Now, when people see us doing a beach clean-up wearing our Project AWARE t-shirts and marking our data sheets, kids, hotel guests and locals come out to find out what we're doing – and frequently join in!"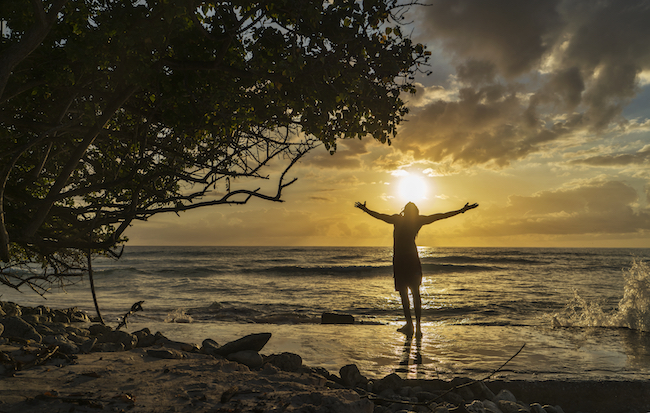 The Lion Fish Are Coming
Barbados Blue Water Sports is also the hub for the Save Barbados Coral Reefs, a volunteer project where the sale of the wrist bands funds Lionfish culling events. In fact, the store actually had spears and containers ready to roll before the first lionfish ever invaded Barbados waters!  "We knew they were coming and we were ready!" Now, all ten PADI Dive Shops on the island work together to cull the lionfish from established dive sites each week.
"I see every diver who leaves our dive center as an ambassador for change," says Andre. "Today, our kids understand that our planet – our island – can be hurt by our actions on land. And that our future is in their hands. Hopefully they will do a better job than we did."
*Dr. Leonard Nurse was a 2007 Nobel Prize winner for his contributions to research on global climate change.
Visit mypadi.padi.com to hear more My PADI stories from other PADI Divers.