Have you downloaded the PADI Adventures app yet? This all-new dive booking tool is revolutionizing the scuba diving industry. It's packed full of features that make finding and booking dives at home and on vacation easier than ever.
Below, we're going to run through nine of the coolest features of PADI Adventures, but you'll need to download the app yourself in order to discover just how amazing it is. This really is the app all scuba divers have been waiting for.
1. Book Dives
The absolute best feature of PADI Adventures is the ability to book dives with just a few clicks. You book weekend dives with your local dive center, or use the app to book your dives when you can travel again. There's no longer a need to spend your vacation walking from dive center to dive center to check prices and availability. All the information is available directly in the app.
When you find a dive you want to go on, whether it's in your own backyard or in your next vacation destination, simply click "Book Now," fill in the relevant information if it isn't already saved in your profile, and enter your credit card details.
The dive shop will then secure your spot on the trip, and you'll be in the water as soon as possible. It's really as easy as that!
2. Enroll in Your Next Course
In addition to fun dives, PADI Adventures also allows users to book courses, including the PADI Discover Scuba Diving Course, the PADI Open Water Diver Course, the PADI Advanced Open Water Diver Course, the PADI Enriched Air Specialty and many more.
When the time comes to continue your scuba diving education, open the app, find your local dive center and book your course.
Alternatively, use the app to research the dive centers you may want to get certified with on your next vacation. You can always book your next course in advance and start your e-learning at home.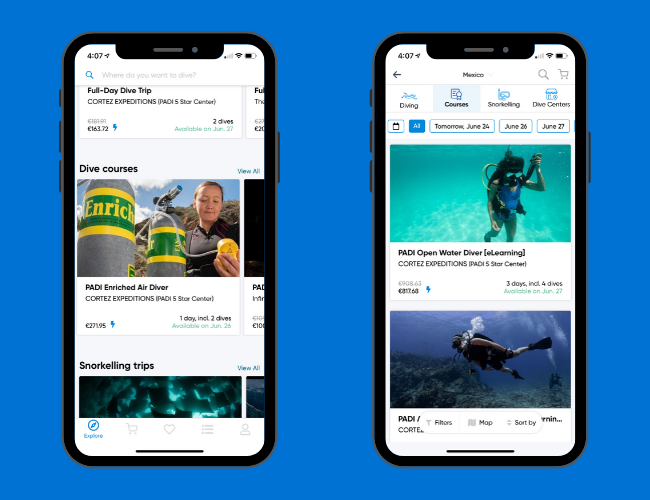 3. Find Non-Diving Trips
You can also find non-diving water-based trips on PADI Adventures. While the app was created with scuba divers in mind, we've also listed snorkeling trips.
So, if you have friends that don't dive, this app is still useful for them. Whether they want to explore marine life locally or take an exciting excursion abroad, they can book their day out directly on the PADI Adventures app.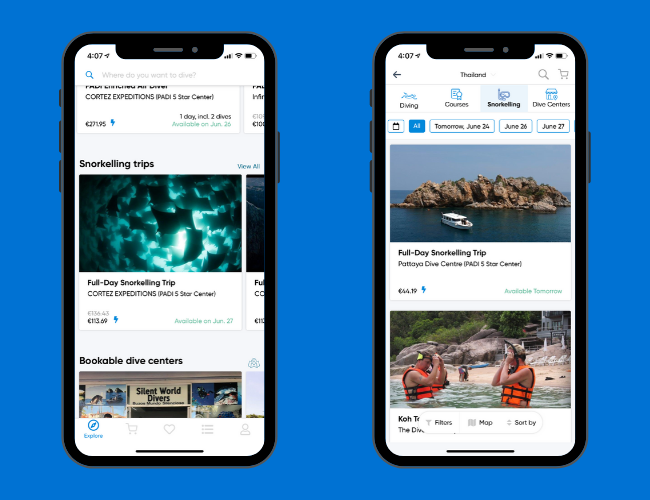 4. Use Geo-Location
For those looking for local adventures the moment they can dive back in the water, the PADI Adventures app makes it easier than ever thanks to its geo-location feature. When you open the app, you'll immediately see any snorkeling, fun diving and learn-to-dive activities available in your area. Book them with just a few clicks and enjoy diving locally.
And, when you are ready to travel again, PADI Adventures will travel alongside you. The geo-location feature can inform you about diving options and availability wherever you may be in the world. That way, you can make the most of their vacation time without worrying about where and when you're going to dive.
Please note that this feature is only available to users who allow the app to know their location. To turn geo-location on or off, please refer to the settings in your phone.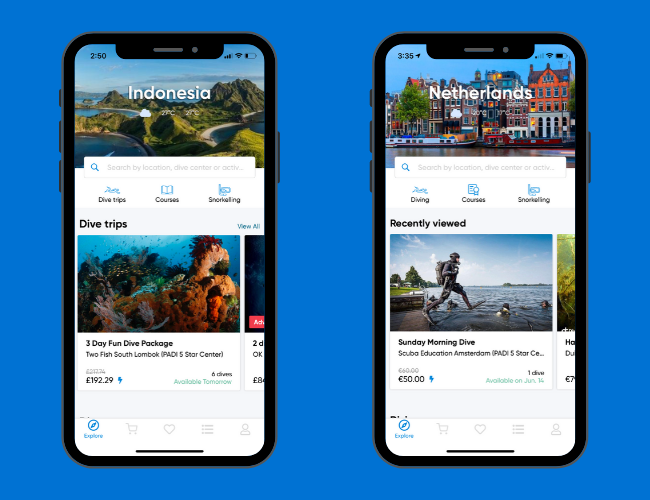 5. Explore Map View
Whether there aren't any diving activities in your area or you're looking for a new place to go diving, finding something further afield is easy with the PADI Adventures Map View.
Decide if you want a fun dive, to take a dive course, to go snorkeling or to find a dive center, and then flip onto the map at the bottom of the screen and scroll around to find the offerings all over the world.
This feature is especially useful at home to find new dive spots within driving distance or while you're travelling to find interesting diving locations in your destination of choice.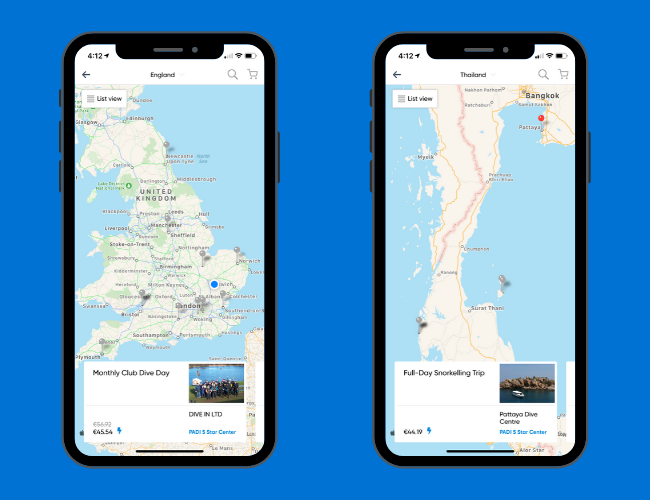 6. Get Push Notifications
When you enable notifications in the app, you'll receive information and recommendations about trips, activities or events with your favorite dive shop. You may also be notified about upcoming trips in your area. This is especially nice if you want to get wet, but you don't know where to go diving.
Not only do these push notifications keep you active in the diving community, they might help you discover new dive sites and activities near your hometown or while you're on vacation.
Download the app and enable notifications so you never miss an epic dive again!
7. Pay with One-Click Payment
The app makes booking online super simple – much easier than waiting to pay before or after your dives at the dive center. You'll pay directly through the app with your credit card in the currency of your choice.
You can even save your payment information in the app to use one-click checkout on future bookings. That way, when you find an adventure you want to partake in, all you have to do is click one time to book and pay for your dives. You'll receive a voucher within the app to show that you've paid.
There really isn't an easier way to pay for your dives.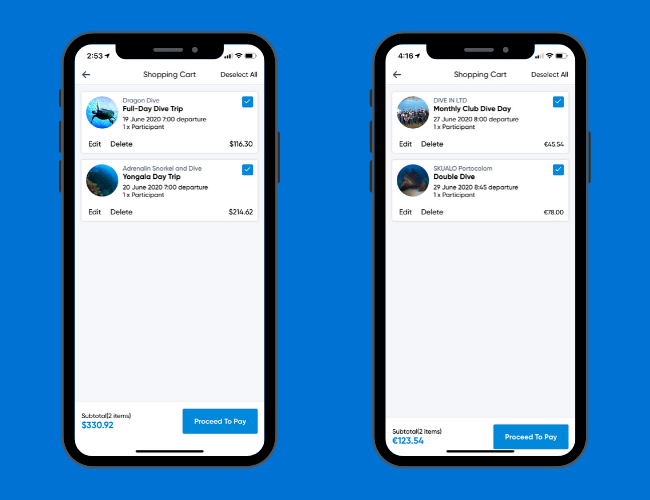 8. Save Your Certification & Rental Kit Preferences
In addition to saving your payment preferences, the PADI Adventures app can also save your certification, the number of dives you've logged, the date of your last dive and your rental kit preferences.
You can fill all this information in, including your gear sizes, using the "My Details" section of your profile. Then, each time you book a dive, the information will be automatically transmitted to your dive center of choice.
This makes it super easy for the dive center to welcome you on their adventures. When you show up, they will already know your experience level and have your rental gear ready to go, getting you in the water as soon as possible.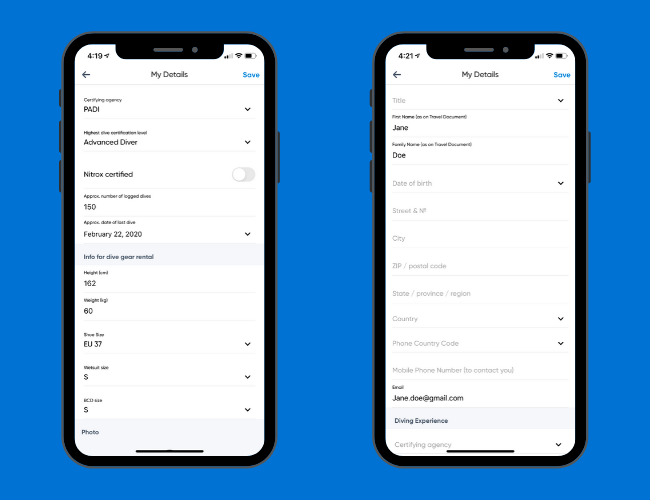 9. Save Dive Buddy Info
As a scuba diver, you know that you never dive alone (unless you're properly certified to do so). So, it only makes sense that you should be able to book dives for both you and your dive buddy on the PADI Adventures app.
If you always dive with your partner or best friend, save all their info, including their certification number, the number of dives they've logged, the date of their last dive and their rental gear preferences in your profile. Then, when you book your adventure, simply add them at checkout to pay for their dives and transmit their info to the dive center, too.
You can add multiple dive buddies in the app to make it as easy as possible for you and your friends to go diving.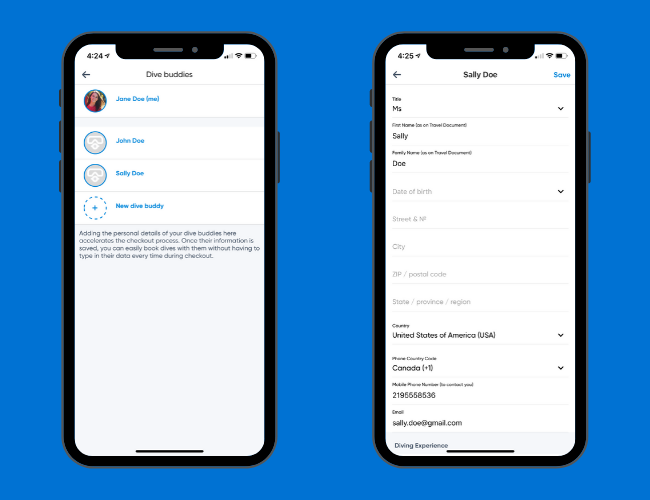 Are you ready to dive into PADI Adventures? Download the app on the Apple App Store or Google Play Store today!