PADI AmbassaDiver Manuel Bustelo, together with DAN Europe Ambassador Alana Alvarez, will soon depart on the DAN Europe Sustainable Tour 2021, an 11,500 km (7,000 mile) journey around Europe in an electric car. The mission? To promote a sustainable lifestyle and encourage individuals, businesses and governments to protect our water environments.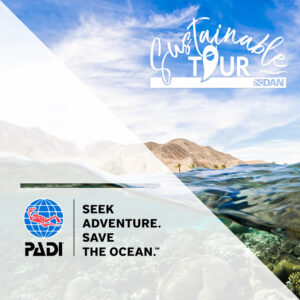 What You Need to Know
According to DAN Europe, "Recent global environmental changes suggest that Earth may have entered a new human-dominated geological epoch: the Anthropocene, which refers to the period during which humans have had a substantial impact on our planet (Simon L. Lewis & Mark A. Maslin, 2015). We now know that humans are influencing not only dramatically affecting Earth landscapes but also the health of our oceans, delicate ecosystems and the future of our own existence."
Out of this dire situation, the Sustainable Tour was born. Over the course of the next six months, Manuel and Alana will travel all over Europe, meeting with stakeholders (institutions, policy makers, like-minded corporations) and the diving community along the way, in order to address three major threats – increasing C02 levels, biodiversity loss and plastic and chemical pollution.
In addition to supporting the United Nations Agenda for Sustainable Development, the tour has three main objectives:
Social Objectives: Promote a sustainable lifestyle and mobility to European citizens, with a sensitive approach to the younger generations.
Business Objectives: Promote businesses already working on sustainable products or services.
Legislative Objectives: Visit public and private organizations leading European sustainable movements and policy making.
Keep reading for more information on the places Manuel and Alana will be visiting on the Sustainable Tour.
How to Get Involved
If you think the DAN Europe Sustainable Tour 2021 sounds awesome, you aren't alone. Luckily, Manuel and Alana will be making stops in 15 countries around Europe, so there may be an event you can attend. Here's a summary of the upcoming locations in which the tour will stop.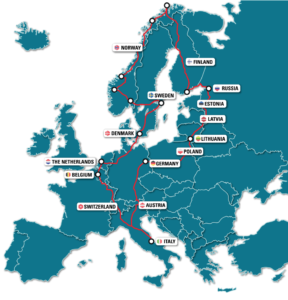 DAN Europe Sustainable Tour 2021 Itinerary (Subject to Change)
| | |
| --- | --- |
| DATES | LOCATION |
| June 8 | DAN Europe HQ – Tour Begins |
| June 10-11 | Genova, Italy |
| June 12-13 | Portofino, Italy |
| June 16 | Hyundai Italy HQ |
| June 17-19 | Lago Di Garda, Italy |
| June 23-24 | Lausanne, Switzerland |
| June 26 | Zurich, Switzerland |
| June 27-28 | Munich, Germany |
| June 29 | Augsburg, Germany |
| June 30-July 2 | Frankfurt, Germany |
| July 4 | Cologne, Germany |
| July 6-9 | Brussels, Belgium |
| July 12-14 | Oostende, Belgium |
| July 15-16 | Weignen, Netherlands |
| July 17-24 | Amsterdam, Netherlands |
Events taking place in August through November will be added at a later date.
For more detailed event information or to learn more about the DAN Europe Sustainable Tour 2021 and how you an live a more sustainable lifestyle, please visit sustainabletour.eu.