Written by AmbassaDiver Akim Ladhari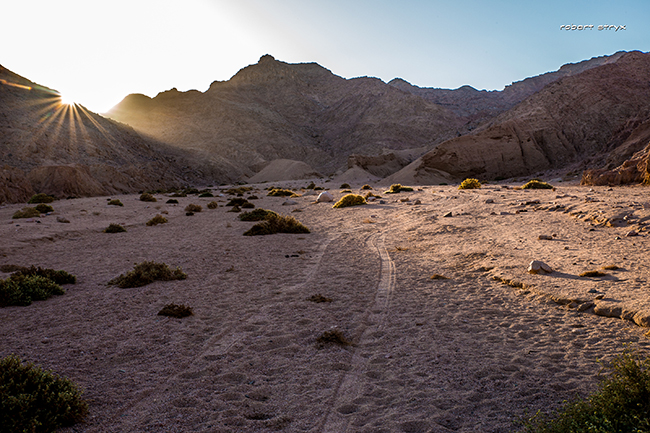 Most days I wake up at 6:30am and the sun is already strong, at the moment I'm living in Light House, one of the most popular areas of Dahab, Egypt. Somehow here in Dahab I don't find it hard to wake up – I'm excited to get the day started. It's a similar feeling to when I was sailing and waking up for a new day meant a new adventure.
I start my morning with relaxing stretches before ensuring all my gear is packed for the day ahead.
At 7:30am I'm picked up by Abou Abdallah and we pick up my training buddy Renee Bludon on the way to the famous Blue Hole. Renee is a PADI Freediving Instructor and I've been coaching her for the last two months, it's not always easy to find a buddy who you feel so comfortable with.
The journey to the Blue Hole lasts 20 minutes but it's worth the trip; on your right hand side the mythical Sinai chain of mountains tower above, reflecting the golden morning sunlight and to the left the deep blue water stretches out to the horizon, so clear you can see the reef even from the road.
As we drive up a small hill, for a few seconds during the ride you can even see our destination; the Blue hole. Seen from above it has two distinct colours; the dark blue of the ocean and the yellow-green of the reef seemingly separated by an invisible line.
The Blue Hole is a sinkhole and has been a hotspot for freediving since Lotta Ericsson, a famous Swedish Freediver, started organising training there. It's a great spot to train in due to the easy accessibility from shore, the lack of currents and waves, and the unique beauty and visibility that can be as much as 40m.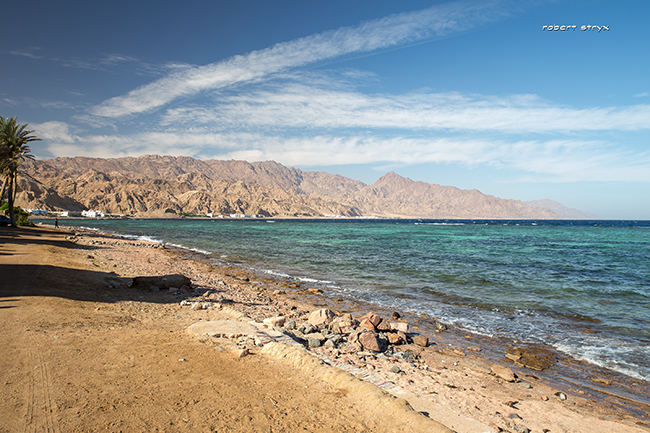 But back to our journey… Once we arrive at the Blue Hole we head to the Aqua Marina restaurant, run and owned by Ali and Mohamed, and the unofficial home of freedivers in Dahab. After arriving we spend half an hour preparing our equipment and doing some more stretching.
Slowly other freedivers start to make their way to the Blue Hole area. Freedivers from around the world come and settle in Dahab for long or short periods so they can, not only enjoy some of the best freediving spots in the world, but to learn and train surrounded by some of the world's top freedivers.
In the morning there is always a slow start as everyone is usually focused on their stretching, meditation, or with their students.
Renne and I are usually the first in the water, after suiting up we take the buoy and weight and attach them to a spot in front of the arch, which guarantees us a depth of at least 90m. At this time in the morning we are pretty much guaranteed a good hour alone in the Blue Hole. Without the distraction of snorkelers, divers, or other freedivers it really gives us an atmosphere of serenity and concentration for the deep dives.
When training, I usually have three warm up dives before the deep dives. Today I'm diving to 90m, a routine dive as my personal best was 107m last summer. I've often repeated this dive in my last two months at Dahab as it works to help me to really enjoy the decent and ascent, without being distracted by depth.
To start I will do a 10m hang that lasts about four minutes, then it's Renne's turn to take her warmup dive. We practice a one up one down system, which means when she is down I do her safety and when it's my turn to dive she is my safety. We keep swapping like this until the end of the session.
There's something about this sport where on the one hand it's a very individual activity, but on the other hand teamwork is essential and an important factor for your safety and success as a freediver. With a supportive, inspiring and chilled training buddy you will have an easier road to achieving your goals.
As I am getting into my deep dive I usually have a last visualization of the dive. During my breath-up I will go through every key part of the dive, such as the duck dive, the kicking, the freefall, mouthfill equalization, the turn, the way up and finally the recovery breathing on the surface.
I can hear Renee signalling the countdown that she is giving right by my side. It's in this last minute before the dive that I empty my mind and think about nothing else…
10, 9, 8, 7, 6, 5, 4, 3, 2, 1…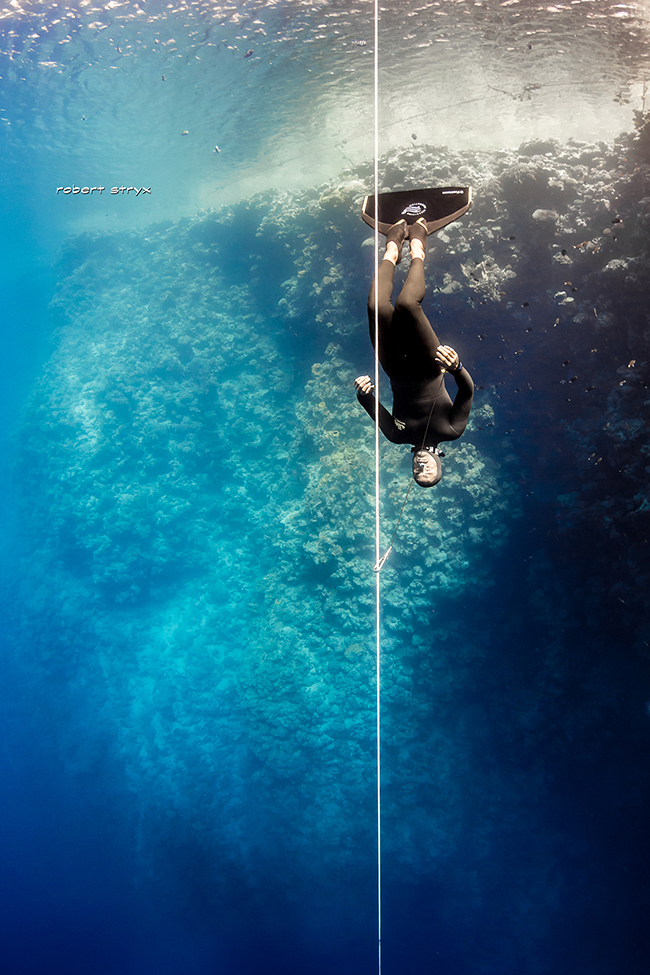 Read my post 'What Goes Through the Mind of a Freediver During a Deep Dive' to find out how I perform this dive, and what happens to my mind and body throughout it.
Now, is the time to be proud – the dive was successful and easy. When I do dives to this depth and below it reminds me what a friend of mine told me when we were both training to below 100m. That not many people in the world freedive to 100m, and that when you're at that depth in that moment you're probably the only person in the world that deep in the sea. This makes me conscious that what I do is indeed a privilege.
The session is not yet over; it is time for me, after the necessary rest, to do the safety for Renee's deep dive.
Back in Aqua Marina it's the best and most rewarding part of the day. Everyone usually comes back from their training at about the same time. Some will have succeeded and made new personal bests, so we will see friends hugging, some may not have been so lucky on their dive. But with so many experienced divers around there is always plenty of advice on hand to cheer and inspire them.
For the freedivers the early afternoon means being able to relax, now the pressure is off! Jokes, chatter and laughter invades the Aqua Marina, making it tough to leave, but tomorrow is another training day and I need to be ready.
In the afternoon I have a short nap after a healthy lunch and in the late afternoon I have a short session in the gym.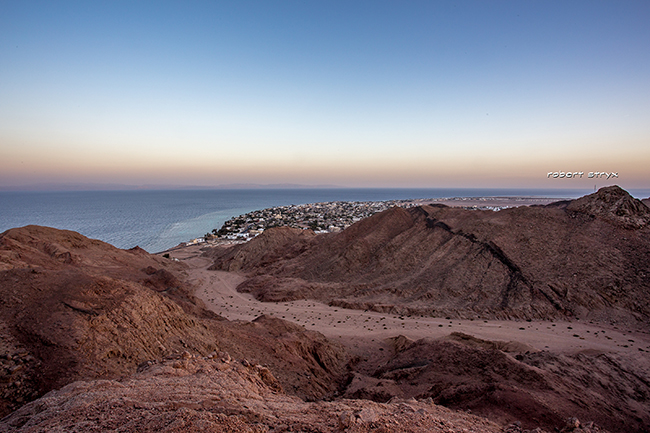 As the night settles down on Dahab and the sun setting behind the golden mountains changes the sky from yellow to purple I find myself sitting in Nirvana, the Indian restaurant on the beach, drinking the sweet and spicy Masala tea. Tonight I'm meeting with Renee and other friends from the Blue Hole. We head to another restaurant for dinner. Here there are different tables and groups full of different nationalities like Russian, Egyptian, French, British, Dutch… but we all know each other. We're all one small community and before sitting down to each I go round the tables to say hello, joke with friends and talk.
By the time we finish eating it's 8pm, though it feels later and I've started to feel tired. I'm looking forward to tomorrow's training. Training that inch by inch is getting me to my year's goal.