It's so easy to get swept away in the hectic nature of modern life. Our world runs 24/7 – packed with technological wonders that pervade every free moment of the day. And while technology like the Internet and smartphones have connected us, making our world feel smaller, it seems that in many ways this change has carried us farther away from nature.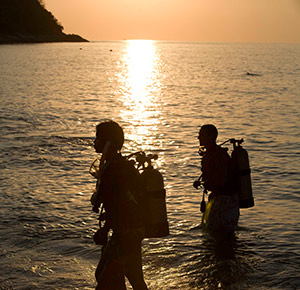 If you're looking to reconnect with Mother Earth and all the wonderful beings within the sea, there's no better option than scuba diving. When you head under the waves you'll be surrounded by a whole new reality. Below the waves is a place that allows you to think, focus and find your natural rhythm.
This feeling of escape is one of the reasons diving is such an addictive hobby. When you are underwater, life goes on above the surface as usual, but you don't have to worry about those day-to-day stressors.
No matter if you are a hardworking professional, busy parent, current student, or a combination of these, scuba diving can be the temporary retreat you desire. It's a wonderful release from the daily grind and helps even the busiest of people find balance – a therapeutic activity that helps each person gain a big-picture perspective.
Whether you've never dived before or you did it once on a vacation a few years back, now is a good time to learn more by taking a PADI class such as the PADI Open Water Diver course and you can even start online. You'll meet new friends, learn new things, and above all else, be able to find the peace you want within the water.
Check out the latest video about learning to dive.