PADI are thrilled to have teamed up with award-winning wildlife cinematographer and Emmy Award winner, Andy Casagrande to create the Andy Casagrande Signature Collection of PADI Gear. Featuring eco-friendly materials with a percentage of each sale going to PADI AWARE Foundation, this isn't one to miss!
Who is Andy Casagrande?
In short, Andy is an adventure filmmaker, shark specialist & wildlife conservationist! Andy wears many hats, and his skills have earned him two Emmy Awards for wildlife cinematography.
Not only is Andy highly skilled behind the camera, but he is also an on-camera presenter specializing in wildlife and adventure documentaries worldwide! Think killer whales, great white sharks, king cobras, and more.
Furthermore, Andy has over 150 wildlife film credits under his belt, having worked with top networks like National Geographic, the BBC, Disney, and Discovery. Additionally, he is renowned in the industry thanks to his unparalleled and unique camera techniques, aimed to change the way the world views and interprets wildlife.
Andy's life-long mission is to "inspire people to protect our fragile planet".
---
Standing Up For Sharks
As ocean enthusiasts, it's our job to stand up for species that can't do so themselves. To do this, the signature Andy Casagrande PADI Gear collection supports shark conservation with a donation to ocean conservation. 15% of the proceeds of this collection go to PADI AWARE Foundation to fund world marine conservation.
In purchasing from the signature collection, your donation will support PADI AWARE Foundation's recent shark campaign. In short, the aim of this campaign is to urge and support governments to protect over 50 vulnerable species of sharks from unsustainable trade at the Convention on International Trade of Endangered Species (CITES).
---
Discover the Collection
PADI and Andy have created a signature collection of tee's, towels, long sleeves, a cap, and more. Most pieces are available right now, and the clothing is made from eco-friendly materials. Each piece features the Andy Casagrande original Great White Shark photo!
---
Q&A with Andy
In conversation with PADI, Andy shared a few fast facts to help us get to know him better! Learn where his favourite place to dive is, as well as his key message to the PADI community.
Where's your favourite place to dive?
Everywhere!
How did you get into cinematography, specifically marine wildlife and sharks?
Childhood fascination turned into a lifelong career.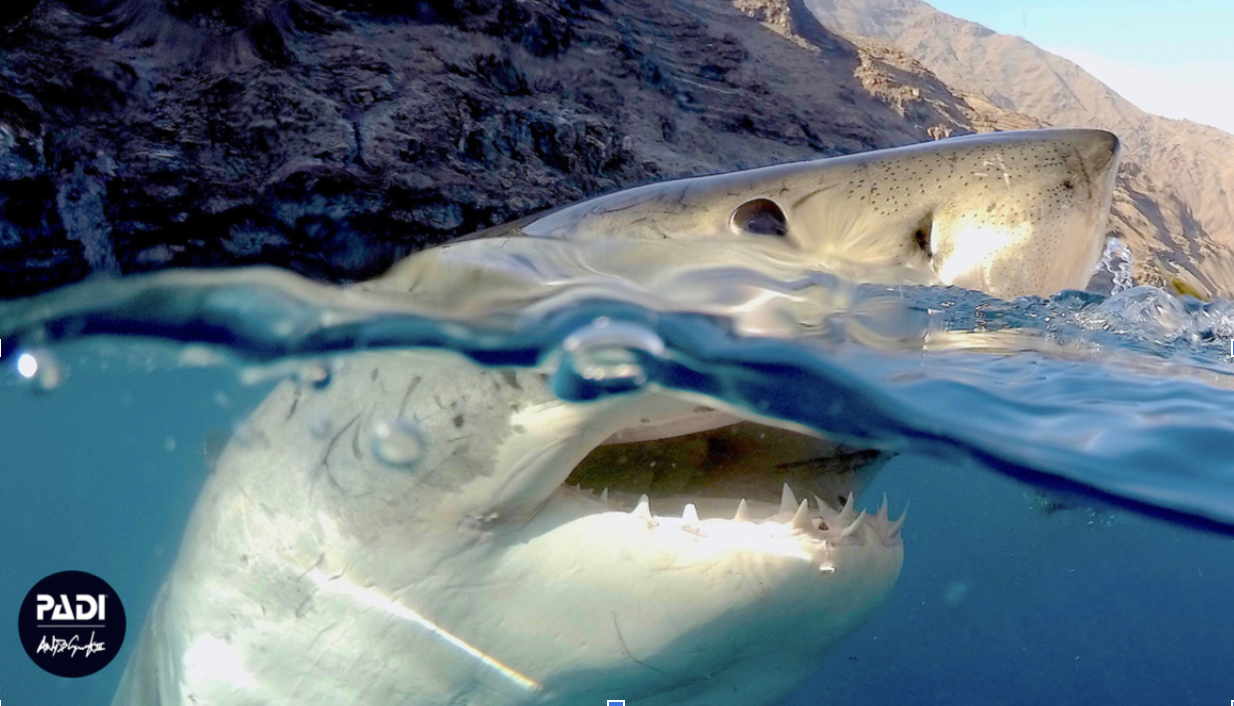 Where was this photo/shot taken (above)? Anything unique about it?
Guadalupe island, great white shark coming in to say hello, shot on a gopro off the deep ledge in front of twin canyons, very friendly shark!
Describe your relationship with the shark species.
I love sharks more than anything and I will never stop fighting to protect them and change people's perspectives about them.
There are many ways to go about advocating for the protection of sharks + the oceans. How did you choose your approach and why?
I just try my best to inspire people to care about the planet in the most organic and straight-forward way possible – essentially if you breathe oxygen, you should care about protecting sharks and our oceans, because more than ½ the oxygen we breathe comes from the oceans, they are literally our lifelines…
Our community is listening…what key message do you want to share?
Live the life you dream and be nice to the planet!
To learn more, see Andy's social channels on Instagram, Facebook and Twitter.
---
Get Connected to Sharks
There are more ways you can connect with PADI AWARE and support movements to help save the oceans and the animals within them: