Written by Guest Blogger, Alexandra Dimitriou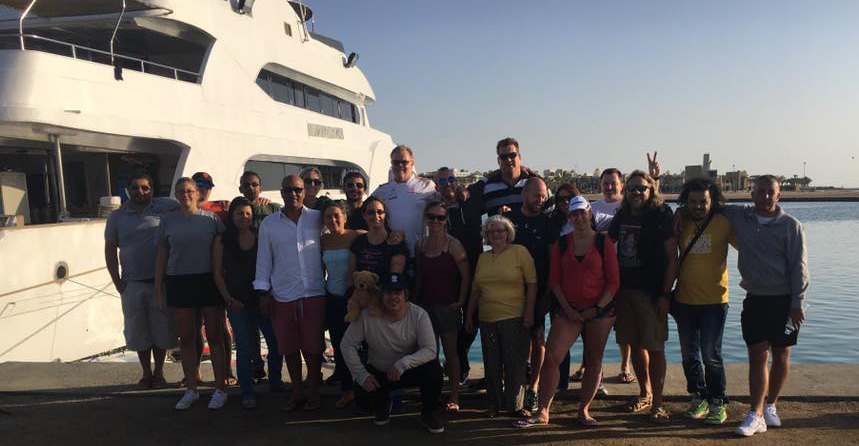 In November I was lucky enough to get a space on a diving Liveaboard (love-a-board) to the Brothers, Elphinstone and Daedalus Reefs in Egypt with Masters of the Red Sea. It was spectacular. Amazing. Extraordinary. They need a new word for how awesome this trip was!! It lived up to and went beyond every single one of my expectations. I love liveaboards, I love Egypt and I love scuba diving more than anything else on this planet! (Don't tell my husband!)
Wanna know why?
Egypt is the closest, most marine diverse dive destination to Europe and the Middle East (great if you get as bored as a toddler with a broken rattle in under an hour!)
Located between Africa and Asia, the Red Sea is an in water inlet for the Indian Ocean that boasts a maximum depth of over 2000 meters/6560 feet. It is the most northern tropical sea in the Northern Hemisphere, meaning flights from even the most westerly European destinations takes around 5 hours.
It is a Global 2000 Ecoregion
Designated by the WWF as one to actively conserve, the Red Sea is a site that offers a staggeringly diverse marine ecosystem. Ranging from vibrant, shallow coral gardens to very steep walls and drop offs, the Red Sea is home to thousands of dive sites in a super concentrated area, each with its own achievable objective for every single diver under the sun. Sounds fun doesn't it?
Something for everyone: The Egyptian menu of the Red Sea can be broken down for liveaboard wannabes into 3 delicacies: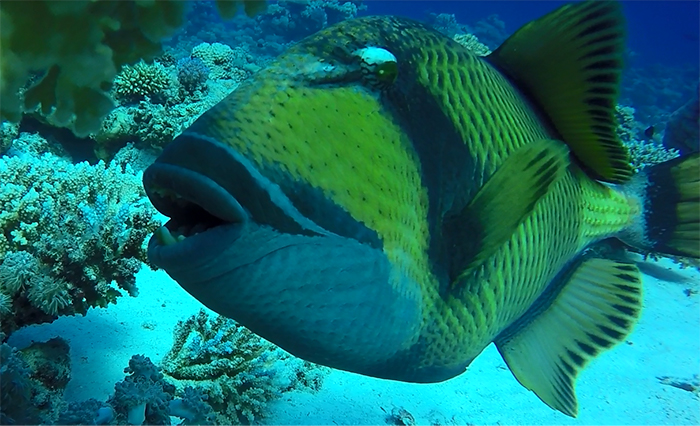 Menu 1: Northern Itinerary. For those who love the colour, coral and Jacques Cousteau.
Dahab to Sharm-el-Sheikh is probably the easiest route to choose, but don't let the difficulty level fool you, there are some very challenging dives for the tech-ey heads too – perhaps the most famous of these is the Blue Hole dive site in Dahab.
Other dive sites that are unmissable are Shark and Yolanda reef, the Million Hope wreck and the Thistlegorm wreck (discovered by Jacque Cousteau himself.)
You can even dive this historic wreck at night, but only if you're a guest on a liveaboard – a very special treat, believe me!
Menu 2: Brothers islands and Variations
The two brother islands are close to each other but far away from the mainland. Elphinstone and Daedalus are the most popular highlights to this region too. The dive sites are world class and are most enjoyed by the more advanced diver; cleaning stations, nutrient rich waters and depth all make these sites a joy to be immersed in. Sharks are almost guaranteed too, wonderful!
Menu 3: South
Starting from Saint Johns you can enjoy dive sites such as Babili Ali, GotaKebira, Zabargad and the Rocky islands. I have never been to these myself, but the shark encounters are famous for being well within recreational divers' depths in the summer months.
Dive sites that are all yours!!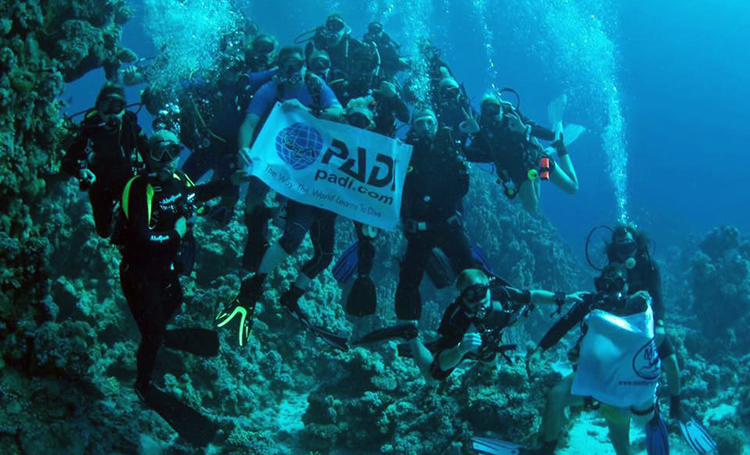 Day Boats can only go so far. There is also a limit as to how early a diver will set their alarm for (me anyways!). Although the Northern dive sites are accessible by day the offshore sites are only possible by liveaboard. You can even combine the two to really get a taste for all the red sea has to offer.
Liveaboard dive trips are the best way to visit hugely popular day dive sites too, as you can choose when to enter the water. Your captain knows when peak diver hours are and will plan your arrival around them. I don't know about you, but I hate to see boats and bubbles framing my field of vision at every turn. I want to see the beauty of the underwater world in all its glory – not the brightly coloured distraction of a fluorescent wetsuit that has been around since the neon 80's!
When you are lucky enough to be the only boat for miles in every direction it can only be described as magical. There is something special about being able to name every diver that you see for the next 60 minutes, and it makes you feel very, very small. You are just a tiny spec under there; a tiny insignificant human who has adapted itself to fit into a tiny crevice of observation.
Big stuff, small stuff and everything in-between!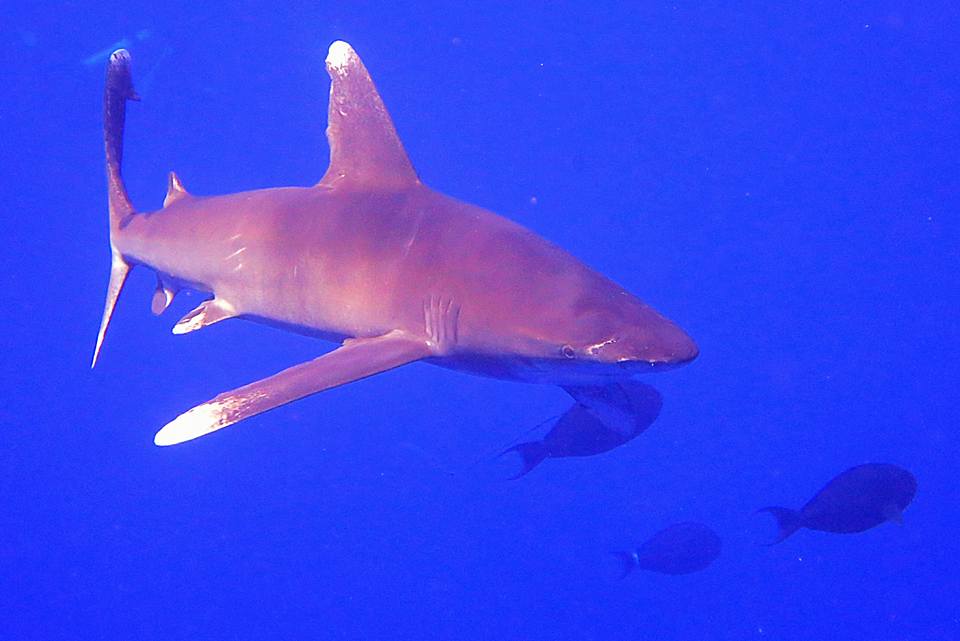 Egypt has it all. Coral gardens, bright nudibranchs, curious turtles, and moray eels the size of planets. Napoleon wrasse as big as houses, and if you choose the right time of year – mantas and whale sharks. Diving liveaboards deliver it all.
Sharks are an absolute favorite of mine and was my primary reason for booking my November liveaboard in Egypt. We saw sharks on every dive. EVERY DIVE! My favorite shark sites were:
[tab title="Big Brother"]The first shark I saw was a Thresher Shark. I easily identified it by its long foxlike tail, which also gives this shark its Latin name
Alopias vulpinus
(alopex is the Greek work for fox).  The long tail makes them appear more graceful than other sharks, but this tail is its weapon. It uses it in whip-like movements to stun unsuspecting mid water fish, transforming them into its favourite snack. Yum![/tab] [tab title="Little Brother"]Oceanic whitetips were everywhere, especially under our boat!  Our first dive on the smaller of the two islands that make up the Brothers was quite a challenging one. Lots of current and high waves made rib entries and exits rather exhausting but rewarding. We saw a couple of white tip Oceanics, but this was nothing compared to our second dive! We spent it simply hanging onto the mooring/drop lines connected to the island itself.  There we were, 20 divers, all dangling like wet grapes along a flag pole in total awe of the conveyor belt of the Oceanics around us. Oceanic whitetip sharks are super confident and extra curious, making them the most interactive of all the sharks in the Red Sea.  Humans are curiosities to Oceanics, allowing divers and sharks alike really up-close-and personal encounters. The current was so strong it was distressingly impossible to use a camera however. Both hands were clamped around the rope; and mask covered noses aren't particularly delicate enough to operate even the one button GoPro unfortunately![/tab] [tab title="Daedalus & Elphinstone"]Hammerheads, Hammerheads, Hammerheads!
This shark is my absolute favorite. Their strange, elongated flat heads gives this species its unsurprising name. Its head is truly an amazing piece of anatomy. With an eye on either side, the Hammerhead can scan the ocean faster than other sharks and find its favorite stingray meal quickly. It then uses its nose to pin it to the ocean floor before eating it.
They were everywhere at both Daedalus & Elphinstone. Top tip? Leave your nitrox behind because these guys like it deep. If you want a close encounter to these big nosed beasts then you are going to be approaching your air depth limit let alone your nitrox one. Techy – heads are the luckiest of all and an envy of everyone else at these two sites.
[/tab]
Check out part 2 of Alexandra's Egyptian liveaboard adventure!
Ready to book a trip? Find special deals and book today with PADI Travel.