Nouf Alosaimi – PADI Master Scuba Diver Trainer in Saudi Arabia
Rising to the challenge of being a female dive instructor in Saudi Arabia, Nouf Alosaimi continues to inspire and educate women across the country.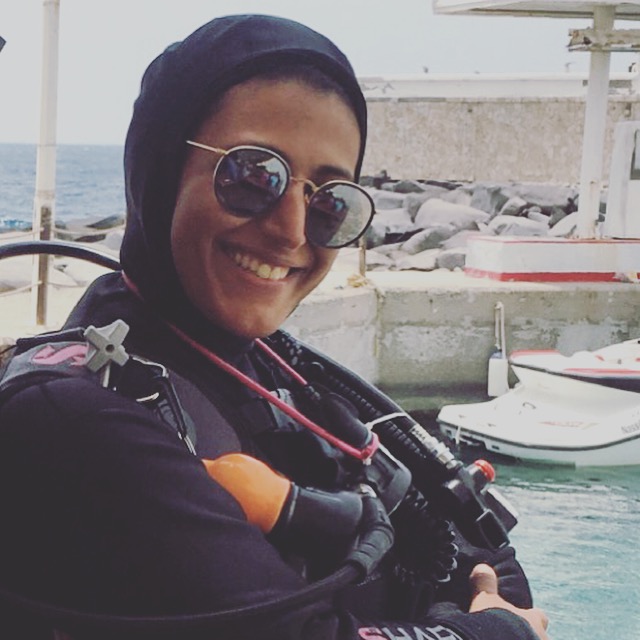 Nouf's PADI® story begins back in 2008 in Manchester City in the UK when she was completing her undergraduate degree in Tourism. Wanting a break to seek out the sun and sand, Nouf headed to Sharm El Sheikh in Egypt. It was here that Nouf first encountered the underwater world by way of a PADI Discover Scuba® Diving Experience, and "it was life changing." She went back in 2009 where she completed her PADI Open Water course and PADI Advanced Open Water course, followed by the PADI Rescue Diver course in 2010. Going on to complete her PADI Divemaster rating in Jeddah, Saudi Arabia in 2011 she then spent a full 12 months working as a Divemaster and underwater photographer back in Sharm, before becoming a PADI Instructor in 2013.
Nouf, now a PADI Master Scuba Diver Trainer, is focused on educating and teaching women to learn to dive within Saudi. So what are her thoughts on female divers in Saudi Arabia and Women's dive day?
"To me, being a female diver, means the world to me. Becoming a diver in a conservative society, where all sports are only dominated by men, was a huge challenge for me. Many females reject this incredible sport because it involves men teaching them how to dive."
This is one of the most important challenges Nouf faces. "I see that women are concerned about who is going to train them, how and where?"
Nouf's passion for the marine environment and for female participation in diving is clear, and this is the driving force behind her next endeavour. "Now, I am building a female training center specifically to train and educate women about the importance of the sea and the environment. When you dive you see how many different types of creatures are living together in a uniquely balanced system. We must not spoil it. Diving gives me confidence and empowers my sense of responsibility towards the environment in general. I have trained many female divers, and there are more on the waiting list. They are happy to see a female instructor that teaches them about the importance of the sea and why we should dive."
When asked about PADI Women's Dive Day, Nouf makes an important distinction, "it is not just about gathering females and heading right away underwater. Women's Dive Day is about how we can get more females to know what diving is about, through lectures and success stories. What diving can do for you as an individual, how it will impact your life, what you can gain from it. I believe Women's Dive Day is a great opportunity to have women sign up for a life changing course."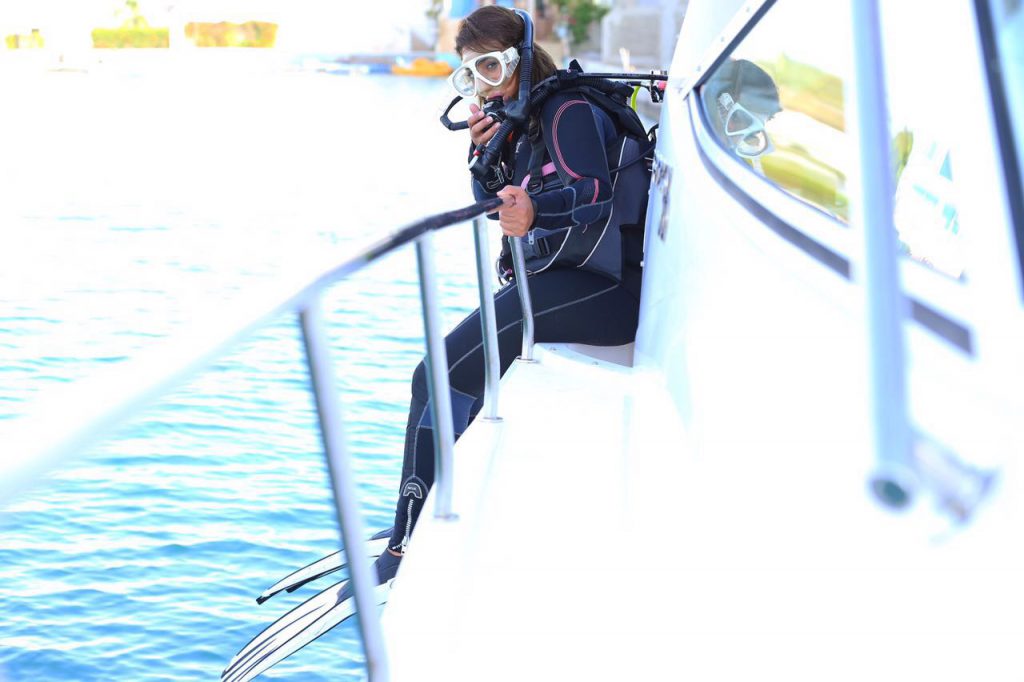 So what are Nouf's wise words to females wanting to take the leap to dive professional, and how can we get more women underwater and involved in the community?
"Choosing a diving career means that you do what you love and love what you do! The more dives you make with different instructors and the more skills and experiences you gain. Women's Dive Day is a good start to get more women signed up for something life changing. Sadly, many movies have shown the negative side of the sea, making sharks the ultimate enemy underwater. We must show the positive side of the sea to newbies so they can appreciate the underwater environment more."
Want to get involved? Find a PADI Women's Dive Day event near you or contact your local PADI Dive Centre.
Quick Facts:
Dream Dive: A dive full of sharks in the Galapagos
Favourite Marine Life: Sharks, Manta & Napoleon Fish
Favourite Dive Site: Shark & Yolnda Reef in Sharm El Sheikh, Egypt
Inspiration throughout Your Dive Career: The Ocean & the happiness I see on my student's faces after their first dive.
Next Scheduled Dive: Tomorrow!
Inspired by Nouf's Story?
Catch Nouf at the PADI Kite Beach Party event where she'll be giving a talk about her diving experiences and being a woman in diving. RSVP here now
Hear Nouf Alosaimi on PADI's Dive Stories Podcast: