As the owner of Underwater Criminal Investigators (UCI) and the full-time Operations Coordinator for the Virginia State Police Search and Recovery Team, Mike Berry is both a leader and pioneer in public safety diving. Mike was one of the first people interviewed for our scuba careers series, but there are so many facets to the job we had to learn more.
Is there a defining characteristic among public safety divers?
It shows in which way you run. When someone needs help, do you run towards the trouble or away from it?
I teach a lot of divers who don't plan on joining a dive team or becoming a paid professional. They want the training so they will know what to do if they are ever in the right place at the right time. That's amazing to me. Divers are so cool! I know if ever I called for their help, they would come running.
When you're working in zero visibility what does your internal self-talk sound like?
The conversation you have with yourself depends on the moment. It's all about staying focused and doing the right thing.
When I find that murder weapon that can break the case wide open, it might be more procedural like, "OK, you located it. Stay focused do what you were trained to do". And when I find the little girl who slipped off the boat dock when no one was looking, I say something more compassionate like, "I've got you now, and I'm going to take you home." Self-talk can keep you safe, focused, motivated and sane.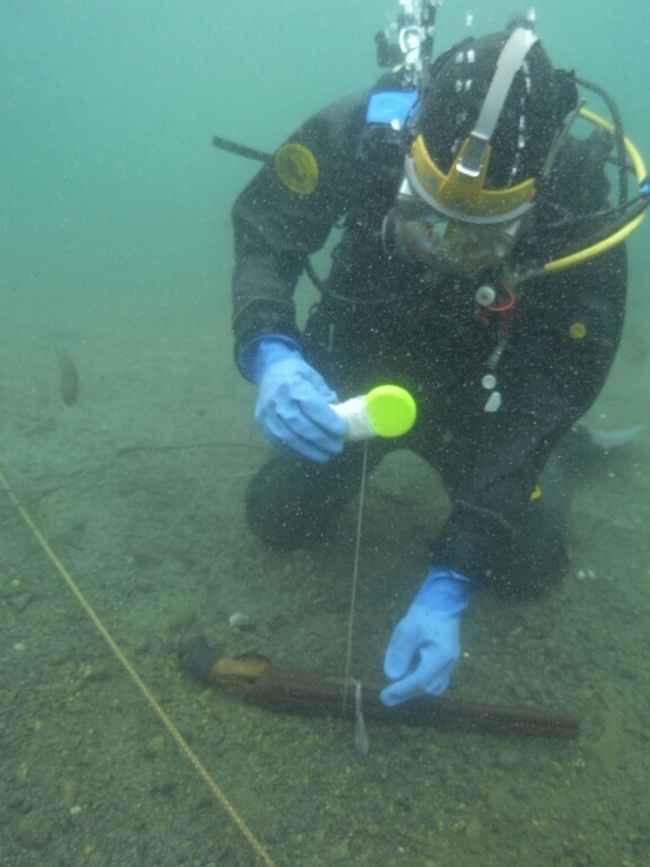 Can you describe the moment you realized this is what I want to do for my career?
While  waiting to attend the police academy, I was invited to assist with the recovery of a couple of stolen handguns. There I was underwater…searching with real police divers when my hand hit something hard. In the blackness, I felt its shape and realized I had found a handgun.
At that moment, I knew what I was supposed to do with my life. I was going to be a police diver. I was going to take my love for scuba diving and my love for police work and put them together as a career. That was 36 years ago.
How does your experience as a PADI Master Instructor help you as a public safety diver?
Becoming a PADI Instructor changed my life. Believe it or not, I was not always this charismatic, flamboyant, legend in my own mind kind of guy. I was (and still am) the guy that likes his privacy, the one that did not like to get up in front of people and talk. Becoming an instructor has a way of getting you out of your shell. It gave me essential skills I needed as a public safety diver such as: public speaking skills, dive skills, leadership skills and others.
Do you think working as a public safety diver causes you to see the world differently?
Public safety opens the curtains to show all the good and all the bad in the world. If you're not careful, you can get to where you don't want to be around people anymore because you're always stepping into someone else's bad situation. From drownings, to murder, to theft to robbery, bad things happening to good people.
You can see the effects on public safety personnel by the number of suicides, alcoholism, drug use and the divorce rate. To keep your head above the mess, you have to focus on the good that you are doing and on the people you are helping, whether that's helping to catch a bad guy by finding a vital piece of evidence, or bringing closure to a bad situation.
What are some major misconceptions about public safety diving?
A lot of people who visit my website or see one of my videos ask me about how they can make a living by being a public safety diver. A lot of these dives are just starting out in life and looking for direction. They love diving and UCI diving looks cool, but the truth is you are not going to get rich and it's hard to get called to help if you are not part of a team.
The most active public safety divers are on fire and rescue or police dive teams. To be a part of those teams, you need to be a policeman, fireman or on a rescue unit. You can get trained and advertise your services to the local police departments or insurance companies, but the phone does not ring everyday. It took 36 years to get where I am today. It did not happen overnight.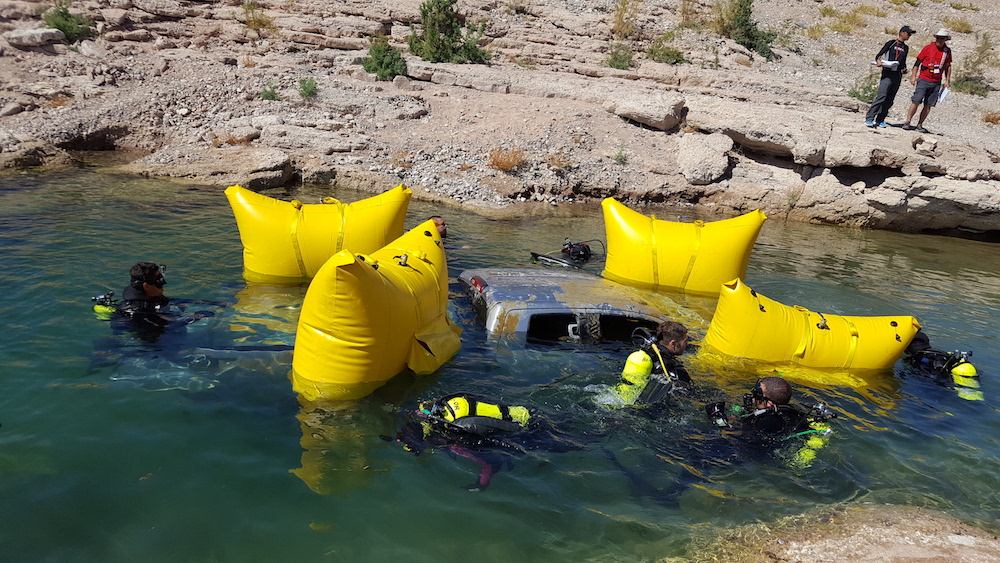 Do you have any upcoming projects you can tell us about?
I have lots of projects in the works! One advantage of doing something for a long time is you see areas that need improvement or where something is needed to get the job done. I'm constantly learning, teaching and trying to figure out how to accomplish the mission.
I just finished working with Jim Carter, owner of Carter Lift Bags, on my UCI Vehicle Lifting System (VLS). I created a vehicle lifting technique which is called the "UCI-Lift" and designed bags that would complement the lift. Now the system is available through Carter Bags. We are also working on an entire line of public safety diving lift bags specifically designed for what a public safety diver recovers and in the conditions they work in.
Other projects include evidence containers, figuring out a way to mass-produce the UCI Marker Buoy, which is a diver marker buoy I designed years ago and now give to UCI students. Other projects include creating UCI Training Centers and developing more UCI and Master UCI Instructors around the world.
Do you have any favorite books or movies about crime-solving?
My favorite books are my autographed copies of Robert Teather's books on police diving. Bob is a legend in public safety diving and was my friend. He was humble, funny and an all around nice guy.
What question did we not ask that we should have?
You did not ask me how old I am. I am 27 years old but for some reason I feel like I'm 60.
How to Become a Public Safety Diver
Mike partnered with PADI® to develop the PADI Public Safety Diver™ course. To enroll, you must be at least 18 years old and hold an Advanced Open Water Diver certification. A PADI Rescue Diver certification is required by the end of the course. The program covers the basic skills, knowledge, planning, procedures and techniques used in public safety diving including:
Public Safety Diver Readiness
Scene Size-Up
Medical Considerations
Body Movement In Water
Specialized Public Safety Diving Equipment
Communication Procedures
Public Safety diving Basic Search Technique
Witness Handling and Interviewing
Public Safety Diver Self-Rescue Techniques
Public Safety Diver Emergency Response
Attempting a Non-Diver Victim Rescue
Surface Support Diver Skills
Primary Diver Skills
Dive Supervisor Skills
To enroll in a PADI Public Safety Diver course, visit PADI's Dive Shop Locator and search for a PADI Dive Center or Resort near you that offers this training.