Divers are naturally adventurous people. It takes a certain type of person to want to strap on dive gear and swim alongside mysterious sea creatures in what is often uncharted territory. While there certainly is a tame side to recreational diving, there is plenty of room to expand on the natural curiosity that is triggered when divers first take the plunge.
From deeper wrecks to spotting new species, taking your diving deeper offers new sights and adventures. Many great diving experiences are beyond 18 meters in depth, so don't limit your dives – become a PADI Deep Diver. Chances are that wrecks which lay deeper are better preserved, as waves and surges won't harm the structure as much as near the surface. The Ex-HMAS Adelaide was recently scuttled off the East Coast of Australia and is an amazing destination that certified PADI Deep Divers are lucky to explore. If you want to further your experience, you can even consider the PADI Tec 40 course, where you transition from recreational scuba diving to technical diving.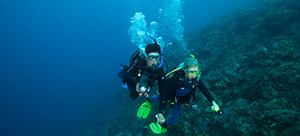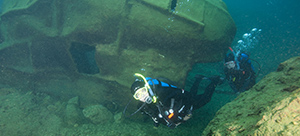 Do you find yourself wanting more from your dives? Maybe you have been recreationally diving for a few years and want to explore more of what the waters have to offer. As your urge to descend deeper into the vibrant oceans increases, you will need to gain the necessary skills before you can take the plunge.
In order to enroll in the PADI Deep Diver course, you will need to have earned a minimum of the Adventure Diver rating and be at least 15 years old. Through the program, the goal of this course is to bring to light the necessary equipment needed to support deep diving activities, to encourage the proper deep diver behaviour of following appropriate limits, and to teach student divers a systematic, methodical approach to enjoying deep diving.
Contact your local PADI Dive Shop to learn more and sign up to take your adventure to new depths.