Do you dream of diving with turtles? Below are five great scuba diving areas for turtle sightings. You can click the link to get more information about the travel destination and start planning your trip!
The Hawaiian Islands are some of the most remote islands in the word, and a haven for turtles or "honus" as they are known there.  Come for the turtles, and stay for the aloha spirit and great diving throughout this island chain.
2. Barbados
Book your next trip in paradise and experience diving with two out of the seven species of sea turtles. The beautiful island of Barbados is home to both the hawksbill and leatherback turtles. Although they were once endangered, community members and local fishermen have sought to protect, feed and care for these incredible animals so they can continue to thrive.
3. The Great Barrier Reef, Australia
The largest coral reef system in the world, The Great Barrier Reef is also a breeding ground for six out of the seven species of turtles. Take a trip any time of the year and enjoy warm waters, beautiful sites and, of course, swimming with sea turtles. If you time your trip just right, you may have the chance to watch a turtle laying her eggs.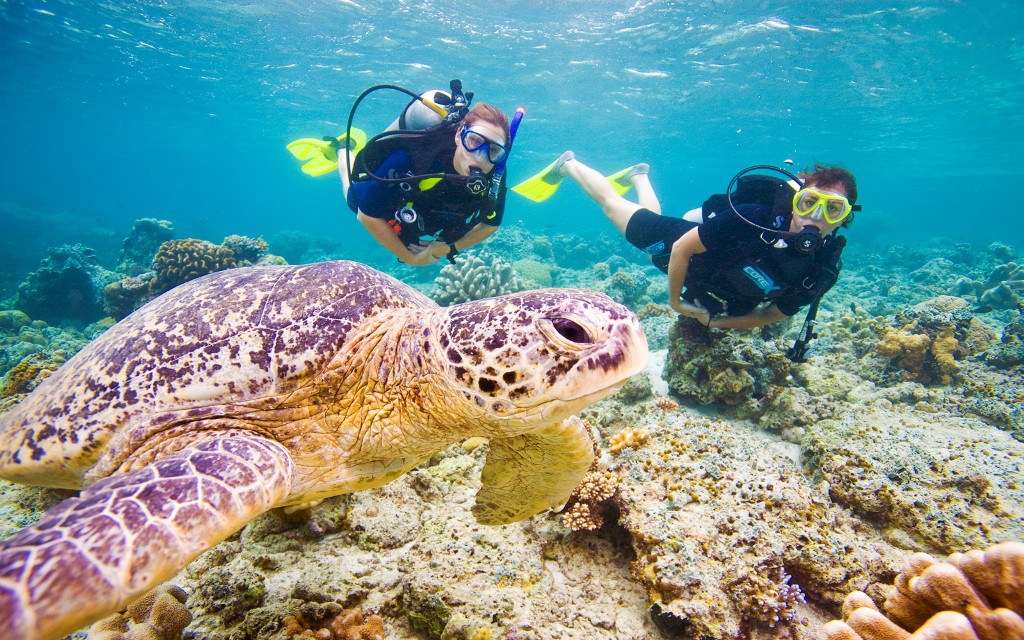 Often ranked as one of the top dive destinations in the world, the island of Sipadan is the perfect location for swimming with turtles. Sipadan is a protected turtle-nesting site and it is very likely that you could see up to 20 or 30 sea turtles on just one dive.
This tiny beach town is a beautiful hidden gem and heaven for those who like sea turtles. The name Akumal literally translates to the "place of the turtles" and is home to both the loggerhead and green sea turtles.
If you know which month you plan on traveling and want to see turtles, check out the PADI Travel Destination Wizard to see which location to visit!