Diving Rebreathers
Guest Blogger:Vikki Batten
I have been a recreational rebreather diver for three years now, but I have been a technical CCR diver since 1999!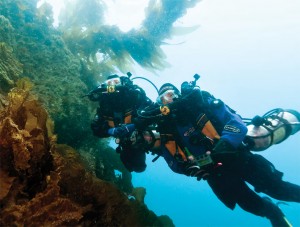 Like many of the "old guard" I started rebreather diving because I reached the limits of open circuit. The caves I wanted to explore were deep and long and it took a large team of open circuit divers several days to set up a cave so that one explorer could dive just a few hundred metres further penetration into a 100m+ deep cave. The advent of rebreathers meant that a buddy pair could do the same dive with minimal preparation and support, in just a day. With the addition of surface and diver support the sky was the limit and, in fact, we have not yet reached the limits of what CCR can offer exploration divers.
So why would someone qualified on several tec CCRs suddenly learn to dive a recreational rebreather?  Well, mostly curiosity I suppose. I wanted to see why someone may choose a recreational rebreather and what the differences were.  And it did feel very weird, almost too easy at first.
In 2010 I crossed over onto the Poseidon MkVI and  was immediately struck by how lightweight it was and how simple and quick it was to assemble in comparison to many technical rebreathers. Most of the checks are done by the rebreather and within 15 minutes I was ready to dive. Underwater the unit continues to do almost everything for you. The rest is no harder than open circuit; you monitor the system and enjoy your dive.
Although I continue to dive Tec CCRs such as the Ambient Pressure Diving Inspiration Vision for Tec diving, I also now have the option of taking a lightweight rebreather when I head to the Red Sea for a week. I took a Poseidon MkVI, all my equipment and the requisite bikinis, shorts and t-shirts within my luggage allowance!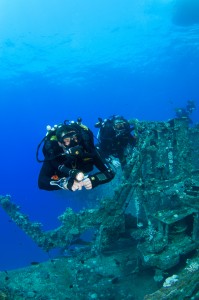 I dived totally different profiles on  dive sites I have dived many times before because I could stay at depth for longer and gas consumption didn't limit my dive. I saw areas of the reefs I had never dived before, not to mention the joy of swimming through schools of fish, without them even parting.
Now a few years later the Ambient Pressure Evolution Rec  offers a simple version of the most popular tec unit and the Hollis Explorer is set to launch shortly and offer us another super simple recreational rebreather. So why would YOU try rebreather diving?
Firstly, it isn't any harder than open circuit – it's just different so you need different training.
Almost silent diving allows incredible animal encounters and is great for photographers, videographers and their models.
Recirculated gas is warm and moist and there is no "demand valve" so the breathing feels completely natural.
Rebreathers mix your nitrox while you dive to give you the best gas at each depth so you get longer no decompression limits.
Recycling the gas means that it lasts LOADS longer. You can usually dive for 2-3 hours with even small cylinders (rebreathers typically have either two 2/3l cylinders or one 3/5l cylinder).
Finally, divers are usually adventure and fun seeking individuals and there is nothing more exciting than trying something new.
So, why not check out your local Discover Rebreather if you fancy a go or book onto a PADI Rebreather Diver Courses if you've already been bitten by the bug and want to get certified. Contact rebreather@padi.com for your nearest PADI Rebreather Instructor.
Vikki Batten works at PADI and is Director, Rebreather Technologies, Technical Diving Division.
Rebreather Advisory Team, Trimix CCR I.T, Trimix IT, Rebreather I.T, Course Director and was part of the team which wrote, developed and launched the rebreather and Tec CCR programs.