Is diving or snorkeling with whale sharks on your diving bucket list? Then, you'll want to know when and where to find these gentle giants. Fortunately, the worldwide whale shark snorkeling and diving season runs across all 12 months, meaning there's always a destination where it's a possible. To help you plan your dream underwater encounter, we've put together this list of the best places to find, snorkel and dive with whale sharks during each month of the year.
No matter how many times you do or have done it, swimming or diving with whale sharks is a memorable experience. As the ocean's largest fish, with some of the biggest whale sharks measuring more than 18 meters (60 feet) long, these pelagic filter-feeders easily dwarf any nearby human observers. If you do dive or snorkel with whale sharks, be aware of the best practices for diving with whale sharks to make the most of your time together.
Check out our top picks for the best place to see whale sharks. We've included whale shark locations from across the globe.
---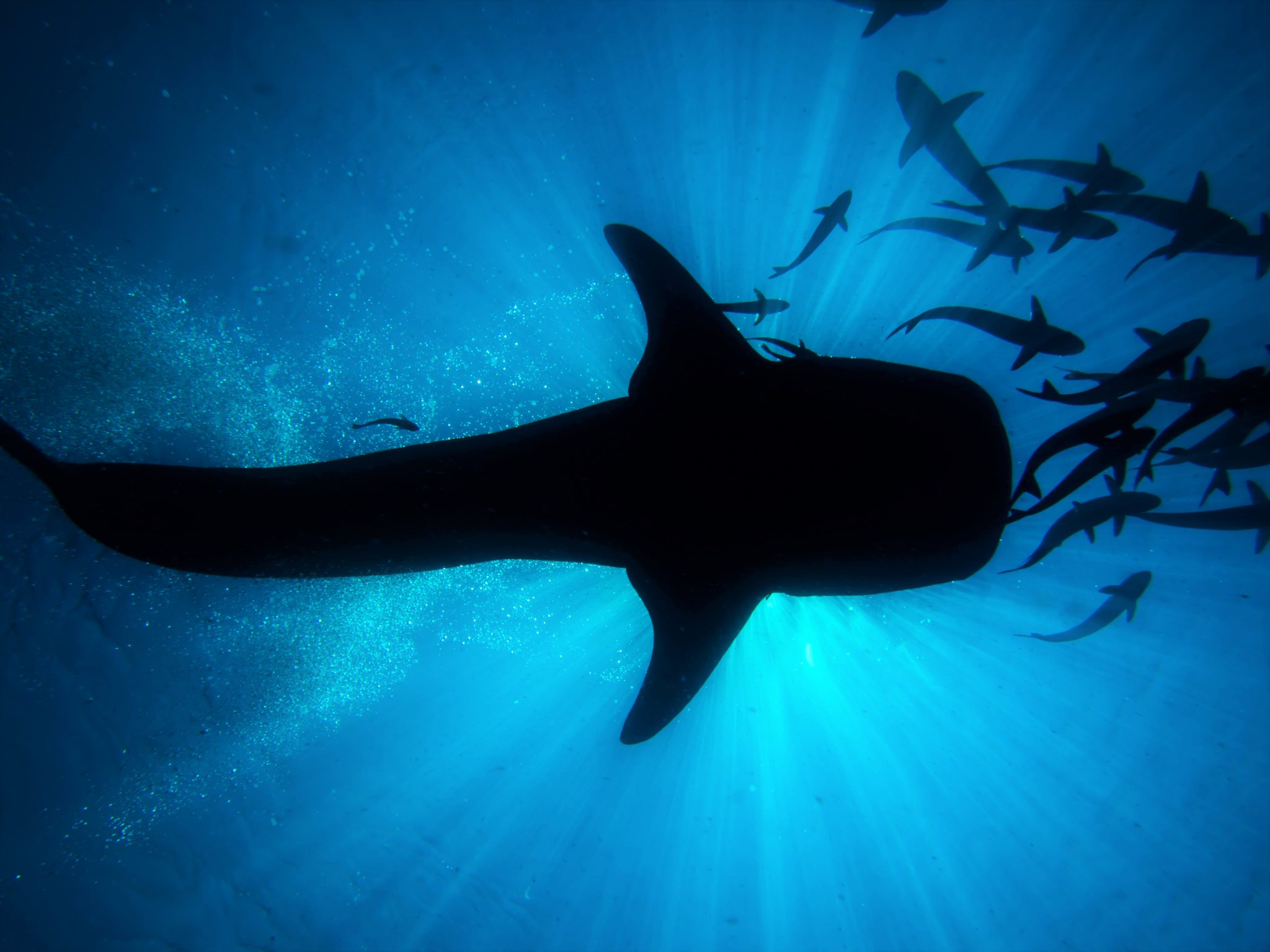 January
January offers plenty of opportunities to swim alongside whale sharks in destinations found across the globe. The nutrient-filled waters of Baja California, Mexico are enjoying their peak time, while Tofo Beach in Mozambique is beginning to quiet down. January also marks the start of the Panama whale shark season.
It's worth noting that Cenderawasih Bay in Indonesia is a reliable year-round destination for whale shark diving and snorkeling.
---
February
Wondering where to see whale sharks in February? Then wonder no more. The second month of the year is a great time to make whale sharks snorkeling happen, as many of top destinations are hitting the midpoint of their respective whale shark seasons.
---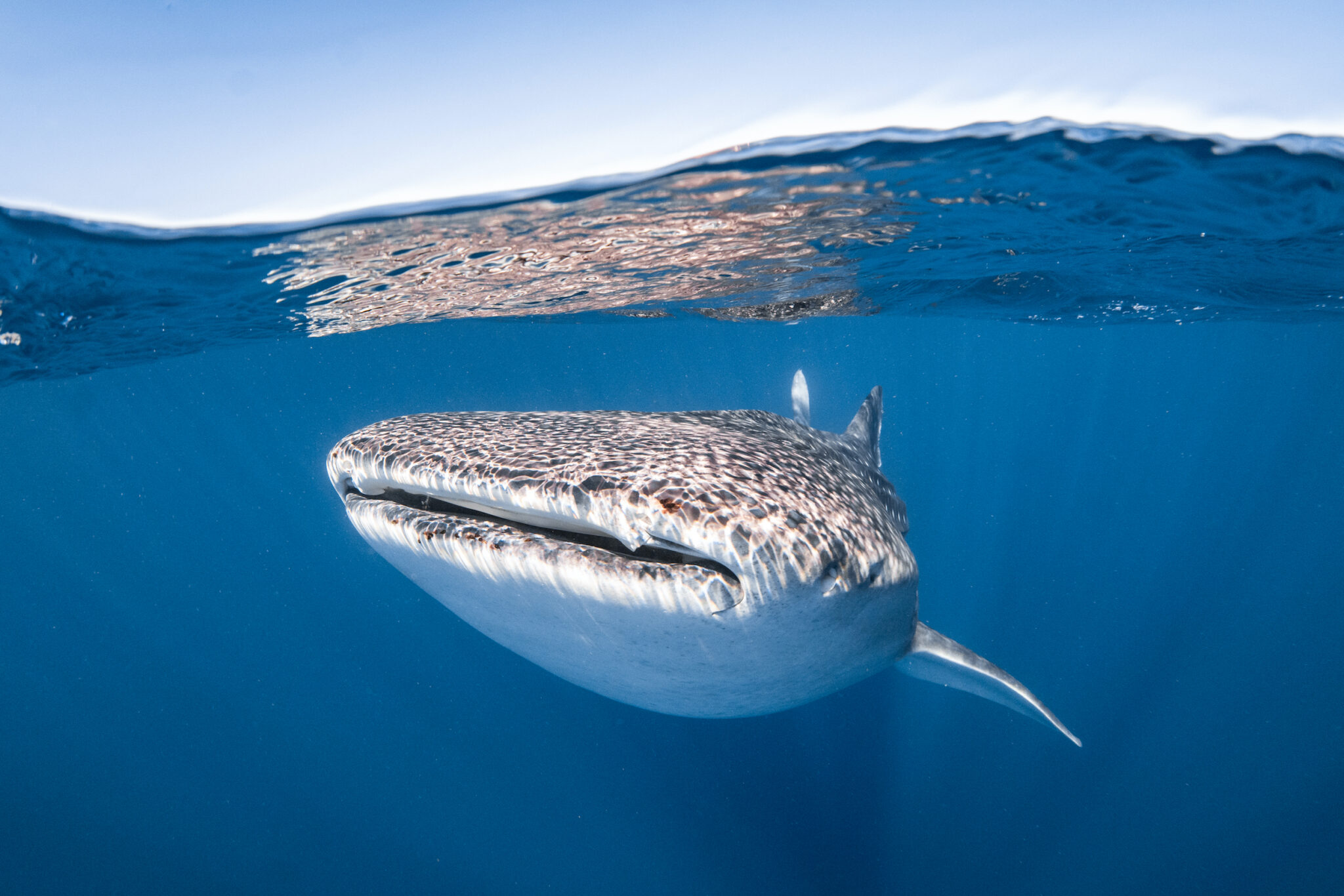 March
March welcomes the start of the whale shark snorkeling and diving season in Gladden Spit, Belize. This yearly congregation occurs just off the Caribbean coast and is accessible via a short boat ride. March is also when the whale shark season in Ningaloo Reef and Koh Tao begins.
---
April
As the whale sharks in Gladden Spit begin to reach their peak, the season in Coiba National Park in Panama is coming to an end. During April, Donsol Bay, South Ari Atoll, Cenderawasih Bay and the Baja Peninsula remain reliable for spotting your favorite filter-feeding fish.
---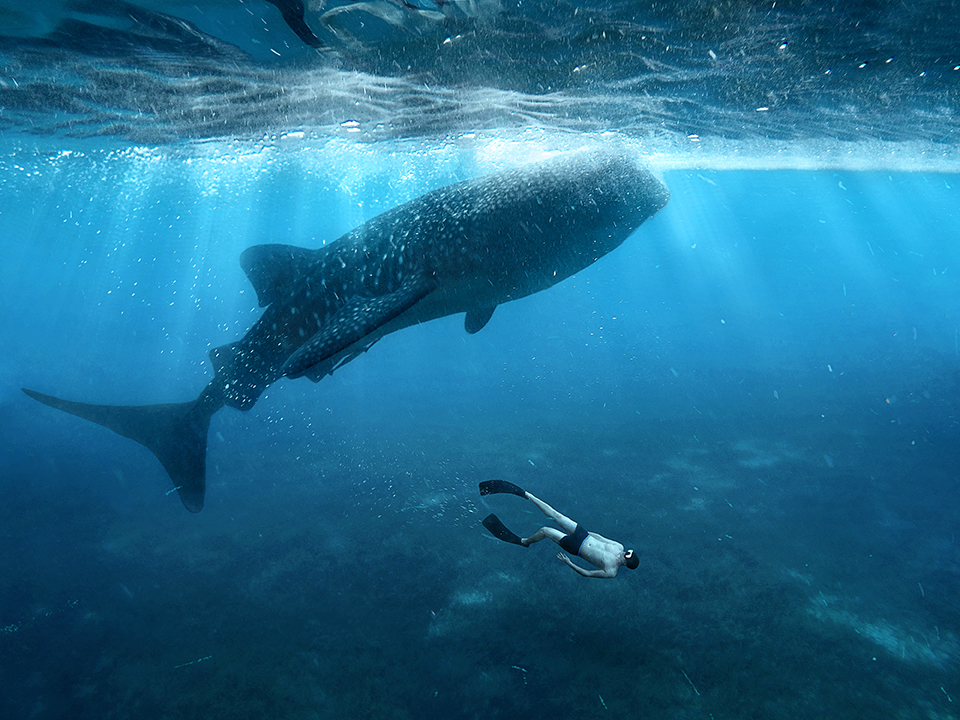 May
This is your last chance of the year to snorkel with whale sharks in Donsol Bay. May is also the month when Cabo San Lucas and La Paz in Mexico and Koh Tao, Thailand begin to wind down.
---
June
While May closed a season on Mexico's Pacific coast, June opens a different one on Mexico's Caribbean side. Isla Holbox, Isla Contoy, Isla Mujeres, Cancun and Cozumel all offer access to one of the world's best answers to the question of where to swim with whale sharks. June also marks the beginning of the Galapagos Islands' whale shark season and the tail end of the season in Gladden Spit.
---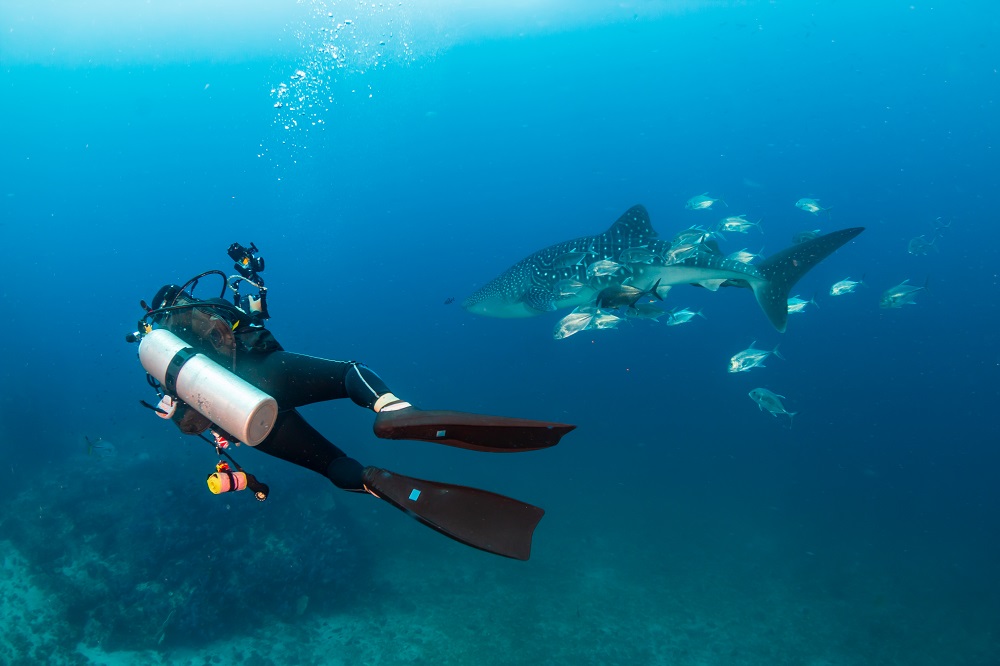 July
In July, swimming with whale sharks in Holbox and Isla Mujeres in Mexico is hitting peak season.
---
August
August marks the start of the peak whale shark season in the Galapagos.
---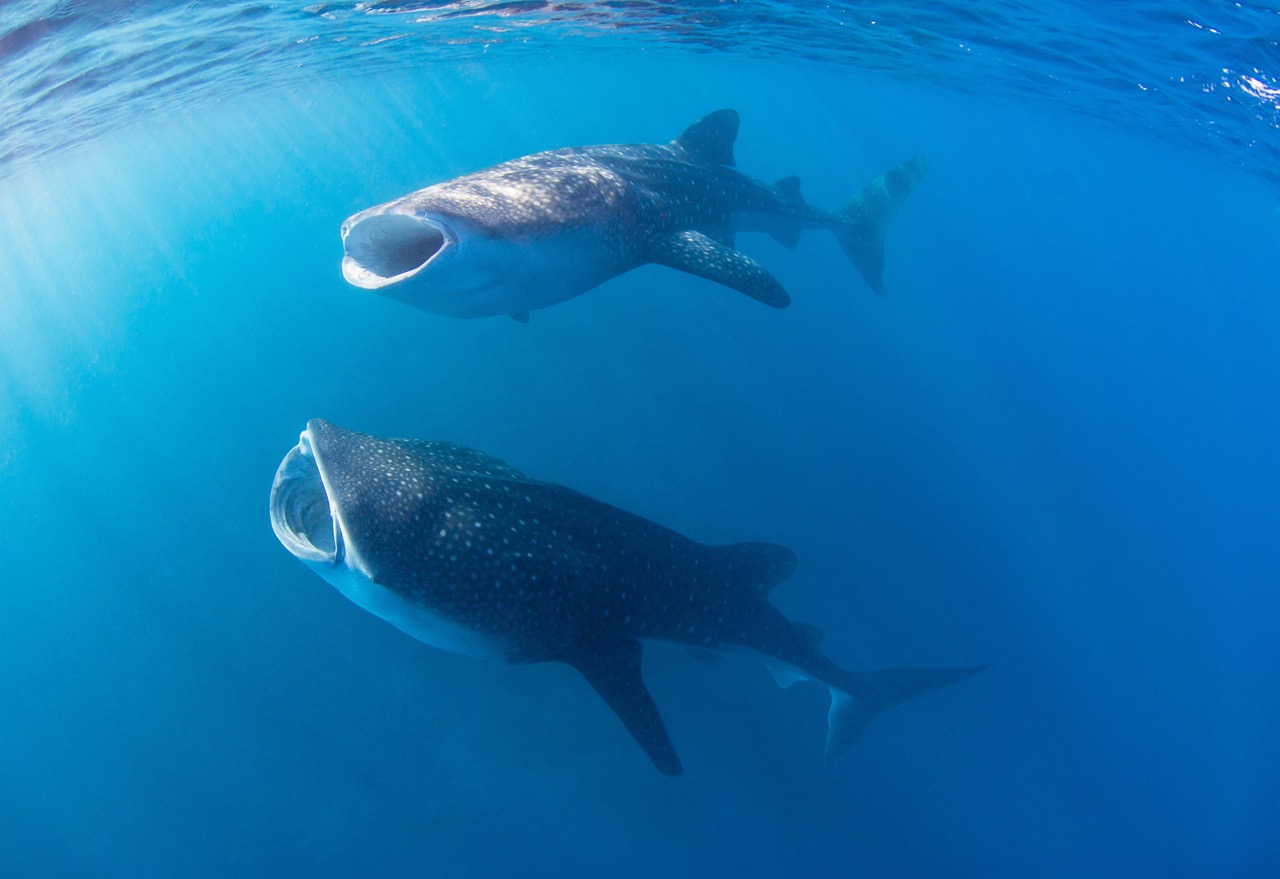 September
Like August, September is one of the best times of the year to encounter whale sharks in the Galapagos Islands.
---
October
Asking yourself the question, "Where can I swim with whale sharks in October?" Well, there is no shortage of options for finding whale sharks in the tenth month of the year. While whale sharks are present throughout the year, October is actually one of the best times to encounter them around Mafia Island in Tanzania.
---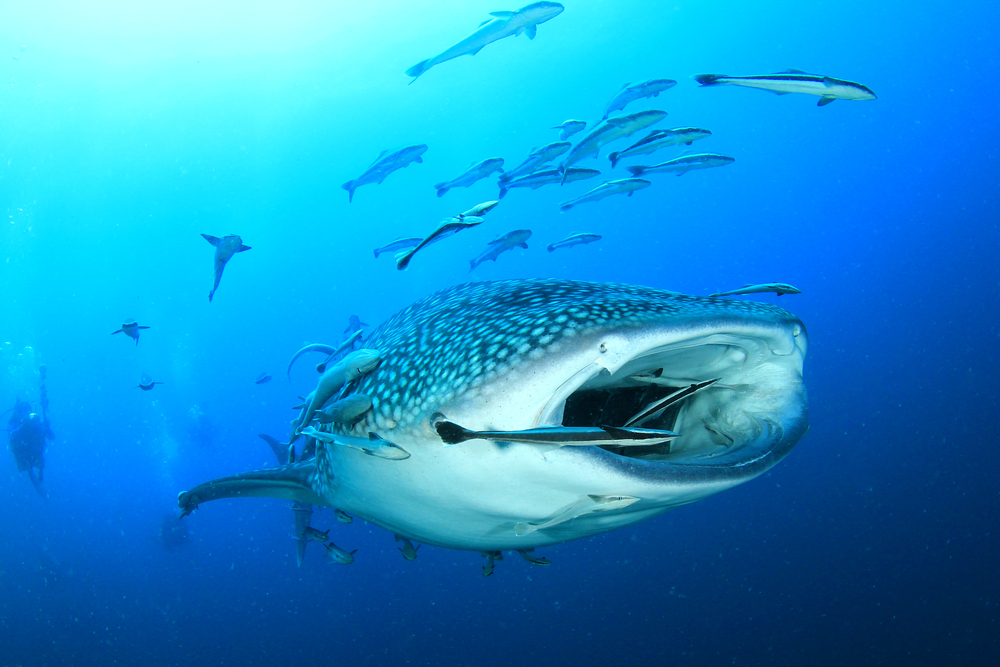 November
During November, the whale sharks of the Baja Peninsula start to appear again. This is also the most reliable time to swim with whale sharks around Mafia Island in Tanzania.
---
December
In December, the question really becomes, "Where can you swim with whale sharks over the holidays?" After all, we can't think of many better ways to bring in the new year than with your first whale shark experience. The whale sharks in Cabo and La Paz on the Baja Peninsula make this an achievable goal. Mafia Island in Tanzania is also a reliable destination during the last month of the year.
---
Have you decided where to dive with whale sharks? Then, it's time to make your dreams a reality and book your vacation with PADI Travel. Alternatively, if you've already met a whale shark in the water, check out these other bucket list-worthy marine animals — in addition to where to find them!
---