Whale sharks are the biggest fish in the ocean and one of the most gentle and majestic creatures to see underwater. In this article, you'll find the top whale shark diving locations around the world, when to visit for the best chances of an encounter, and how to experience diving and swimming with whale sharks.
---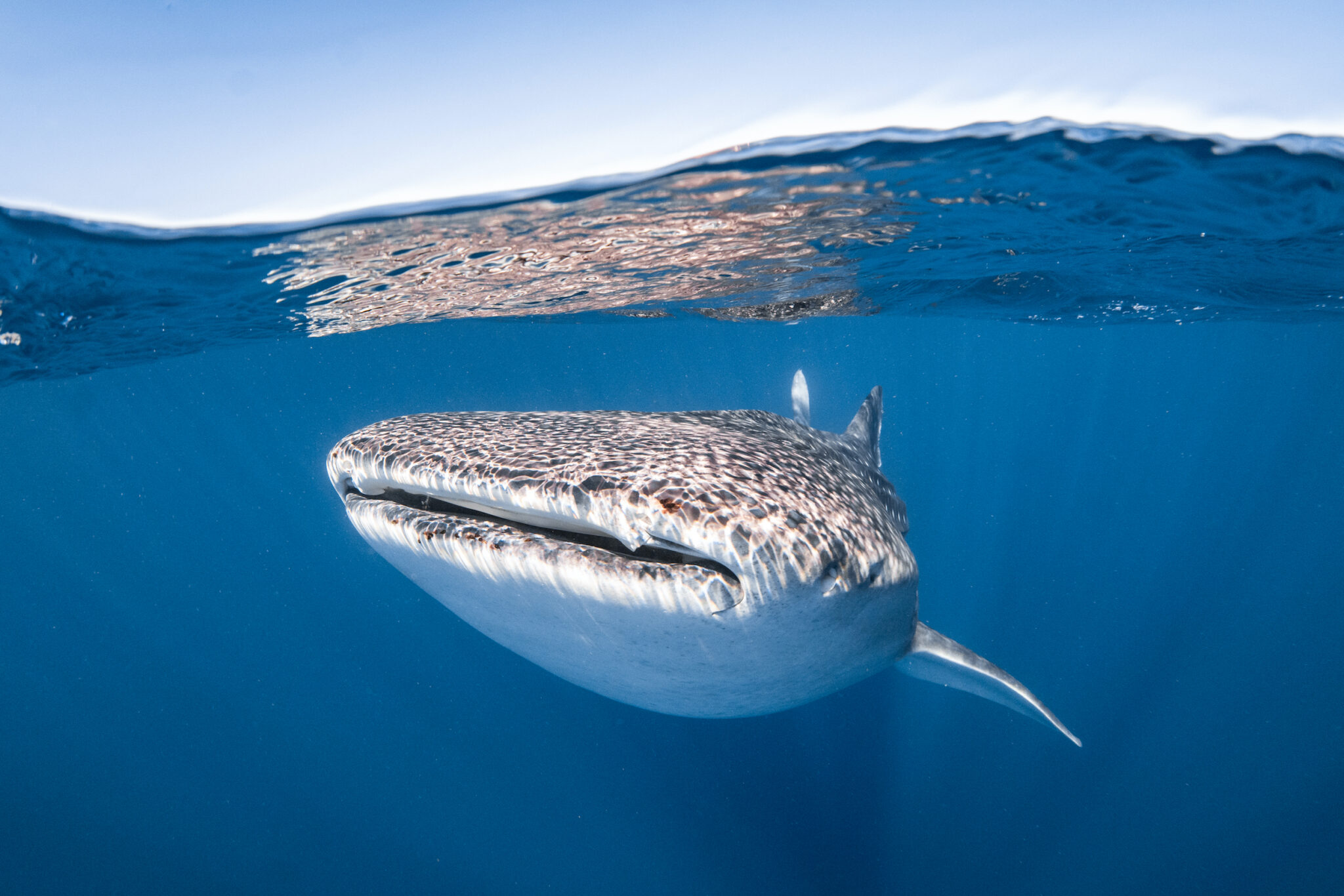 Table of Contents
---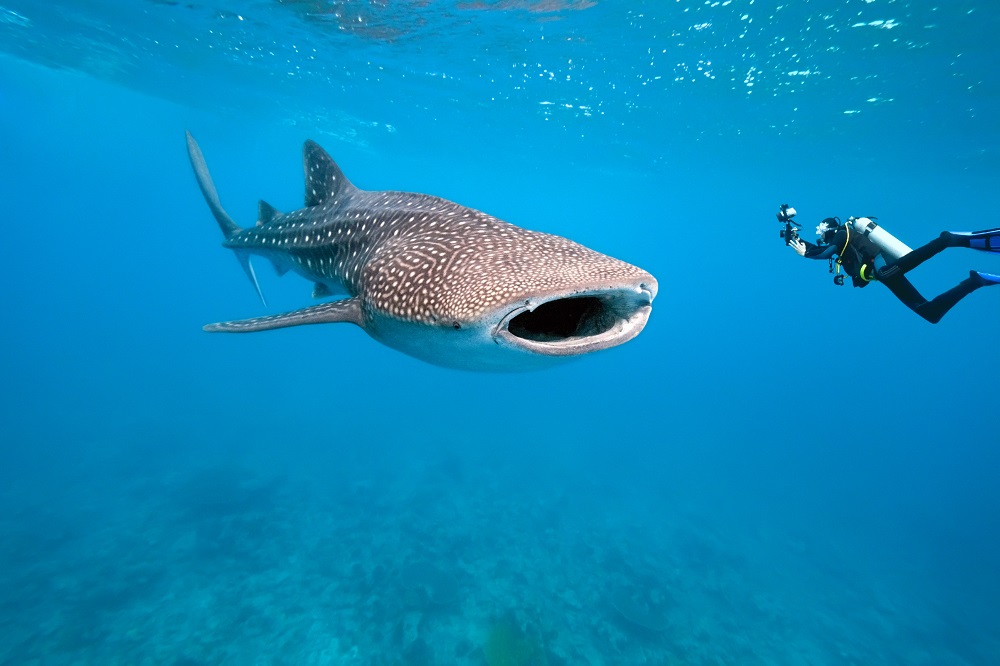 1. Mexico
Easily accessible from both the United States and Europe, Mexico is one of the lucky locations to be graced by whale sharks. Many claim that Mexico sees more whale sharks at a given time than any other country in the world. In fact, some operators offer a "money-back guarantee" because they are so confident you will see a whale shark during your tour.
So, where can you swim with whale sharks in Mexico? Head to Cancun, Cozumel, or Baja California.
Whale Shark Season in Mexico
When to swim with whale sharks in Mexico depends on what part of the country you intend to visit. Near the Yucatan Peninsula, whale shark season ranges from June to September, while the whale shark season in Mexico's Baja Peninsula occurs from winter to early spring.
Cancun & Cozumel
Isla Holbox, Isla Contoy, and Isla Mujeres – these three beautiful islands lie in the eastern part of Mexico, not far from Cancun in the Caribbean Sea. Here you'll find beautiful landscapes, the charm of Latin culture, and the hospitality of the people, as well as the possibility of excellent snorkeling with whale sharks. In the past, the majority of the whale shark sightings were near Holbox, but in recent years the whale sharks seem to have moved mainly between Contoy and Isla Mujeres. Thinking about swimming with dolphins in Cancun? Skip that excursion to swim with whale sharks instead!
Whale Shark Season in Cancun & Cozumel
The official Cancun & Cozumel whale shark season is from mid-May to mid-September. Outside of this period, whale shark trips are illegal. The peak of the season is during July and August. During this great time to swim with whale sharks in Cancun, you can see 30 to 40 specimens in one excursion near Isla Mujeres or Isla Holbox.
Baja California Sur
As well as great scuba diving, Baja California Sur offers fantastic opportunities for swimming or diving with whale sharks. Unlike Cancun, where whale shark encounters are highly regulated, and scuba diving is usually not allowed, scuba divers have a good chance of blowing bubbles with a whale shark in the Sea of Cortez and the Pacific Ocean. So, where can you scuba dive with whale sharks in Baja California Sur? The Socorro Islands, La Paz, Cabo San Lucas, and Cabo Pulmo National Park all offer sites where you'll have an elevated chance at diving with a whale shark. La Paz also offers amazing opportunities to snorkel with whale sharks during the regulated season, and Bahía de los Ángeles is another up-and-coming scuba diving destination where you can see whale sharks.
Whale Shark Season in Baja California Sur
Divers may happen across one of these graceful creatures during the winter and early spring months in Baja California Sur. To give a rough timeline, November to May are generally the best months to see whale sharks off Baja California. The whale shark snorkeling season in La Paz varies every year, depending on the number of whale sharks present in the whale shark viewing area. In general, it opens in November and closes in March or April.
---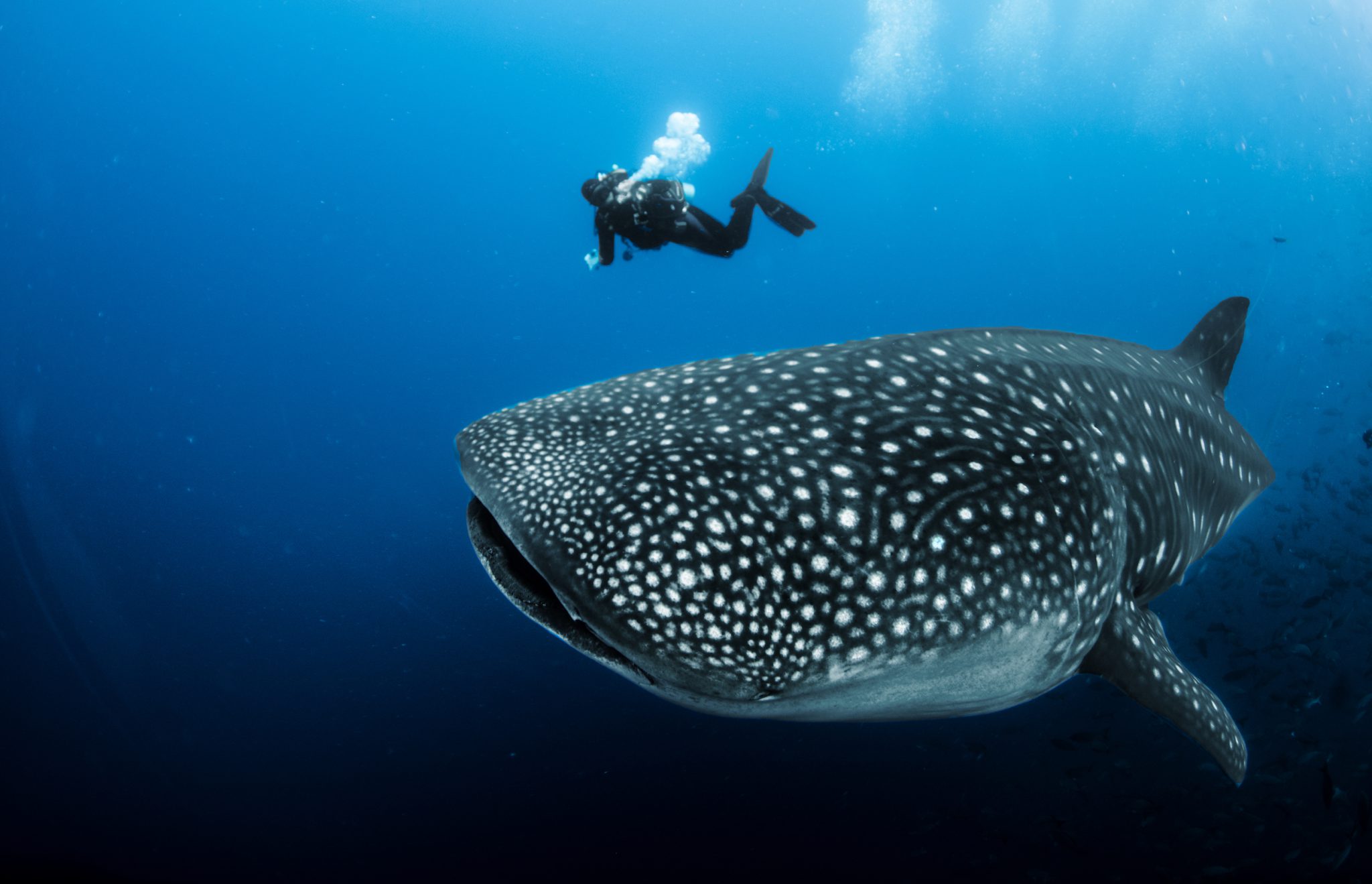 2. The Galapagos Islands, Ecuador
The Galapagos Islands are a volcanic archipelago in the Pacific Ocean, not far from mainland Ecuador. Made famous by Charles Darwin, these islands boast the presence of numerous endemic species, such as penguins, Galapagos tortoises, and marine iguanas, which you can see while scuba diving in the area. There's also a wide variety of corals and sharks. Wolf Island offers unforgettable dive spots, such as Shark Bay, The Landslide, The Pinnacle, The Caves, North Islet, The Elephant, and The Anchorage. Darwin Island offers only two dive sites (one being the recently renamed Pillars of Evolution), but they are among the most beautiful in the world! Because of the sheer biodiversity of the area, whale sharks are among the wealth of species you might encounter while scuba diving.
Whale Shark Season in the Galapagos Islands
The best time to swim with whale sharks in the Galapagos is during the dry season, which takes place between June and December.
---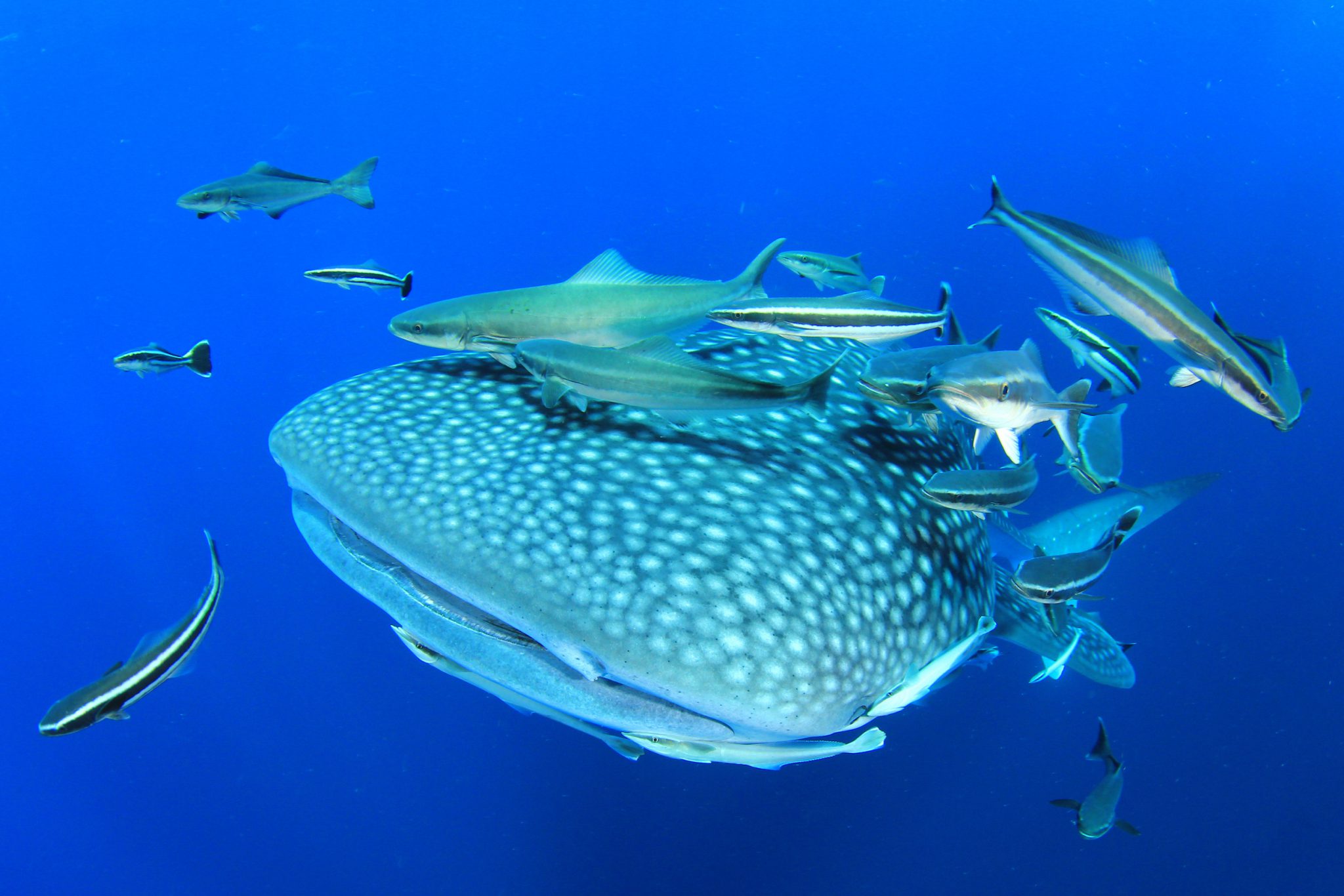 3. Australia
Ningaloo Reef extends for 160 miles (260km) along the west coast of Australia. This stunning reef is home to a plethora of fish (500 species), corals (300 species), mollusks (600 species), and many other marine invertebrates. During the winter, you may encounter migratory animals, such as dolphins, manta rays, and humpback whales. Along the beaches, different species of sea turtles lay their eggs. In addition to this wonderful variety of marine life, scuba divers often encounter whale sharks in the region. Where is the best place to dive with whale sharks in Australia? Head to Ningaloo Reef.
Whale Shark Season in Australia
The best time for scuba diving with whale sharks in Australia is during the Australian fall months, from March to June each year.
---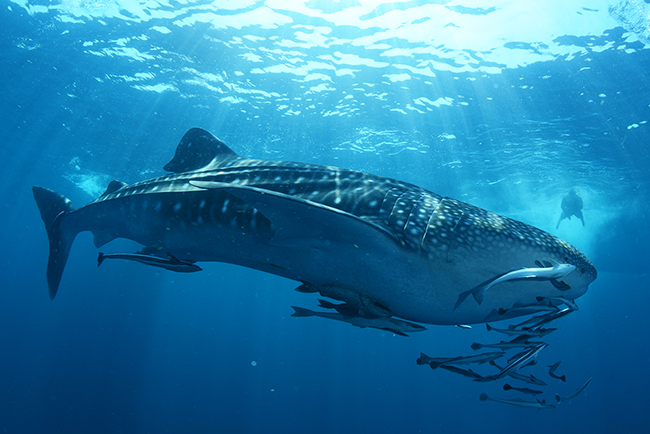 4. The Maldives
Imagine you're lost in the middle of the Indian Ocean and on a desert island that you can explore by foot in just a few minutes. Inside there is a tropical forest along with palm trees that provide you with shade. White coral sand and turquoise seas stretch out before your eyes. Underwater there's a marine paradise rich in everything imaginable, such as turtles, colorful schools of fish, manta rays, dolphins, and whale sharks. These are the Maldives; 1,192 coral islands divided into 26 atolls.
Along the southern edge of the South Ari Atoll, "small" whale sharks (from 3-8m/10-26ft) come to feed and grow, staying about two months on average. These warm tropical waters allow them to find lots of food and an environment without predators. In the decade up to January 2022, the team of researchers on the Maldives Whale Shark Research Programme discovered and identified 571 whale sharks and recorded at least 8,000 different encounters.
Whale Shark Season in the Maldives
Whale sharks are present in equal numbers all year round. From early May until late September is the wet season, a period of sustained southwesterly winds which may sometimes lead to periods of poor weather. The proximity to the equator means temperatures rarely venture below 82°F (28°C).
---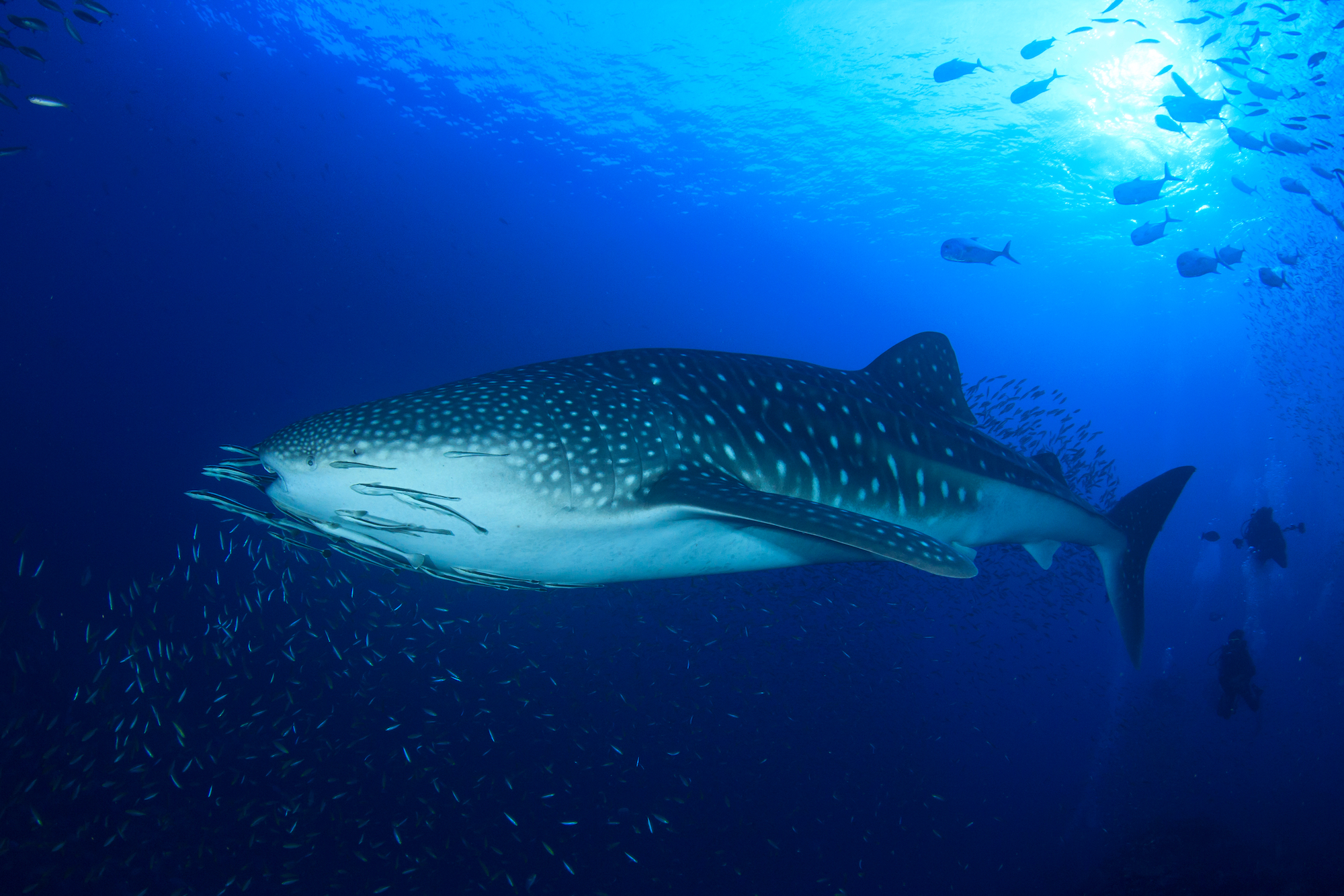 5. The Bahamas
When it comes to picture-perfect paradise islands, the Bahamas is hard to beat. Dreamy white sand beaches and turquoise waters are the hallmarks of this archipelago, easily accessible from Florida's east coast.
But more than just a playground for holidaymakers, the Bahamas is home to some of the most spectacular dive sites in the Caribbean. The islands host a wide variety of marine ecosystems, from coral gardens to mangroves, deep walls to iconic wrecks, so there's something for every diver. And there are plenty of sharks!
Look out for them near Eleuthera, Andros, and Bimini, where the Great Bahama Bank meets the deep waters of the gulf stream, attracting a large variety of large pelagic species, including whale sharks.
Whale Shark Season in the Bahamas
Whale sharks are seen seasonally in the Bahamas, generally from December to early March. Diving conditions and temperature are pretty consistent in the islands for most of the year, but this is the dry season when visibility can be particularly good. It's also high season for shark diving, where species like the great hammerhead come to visit.
---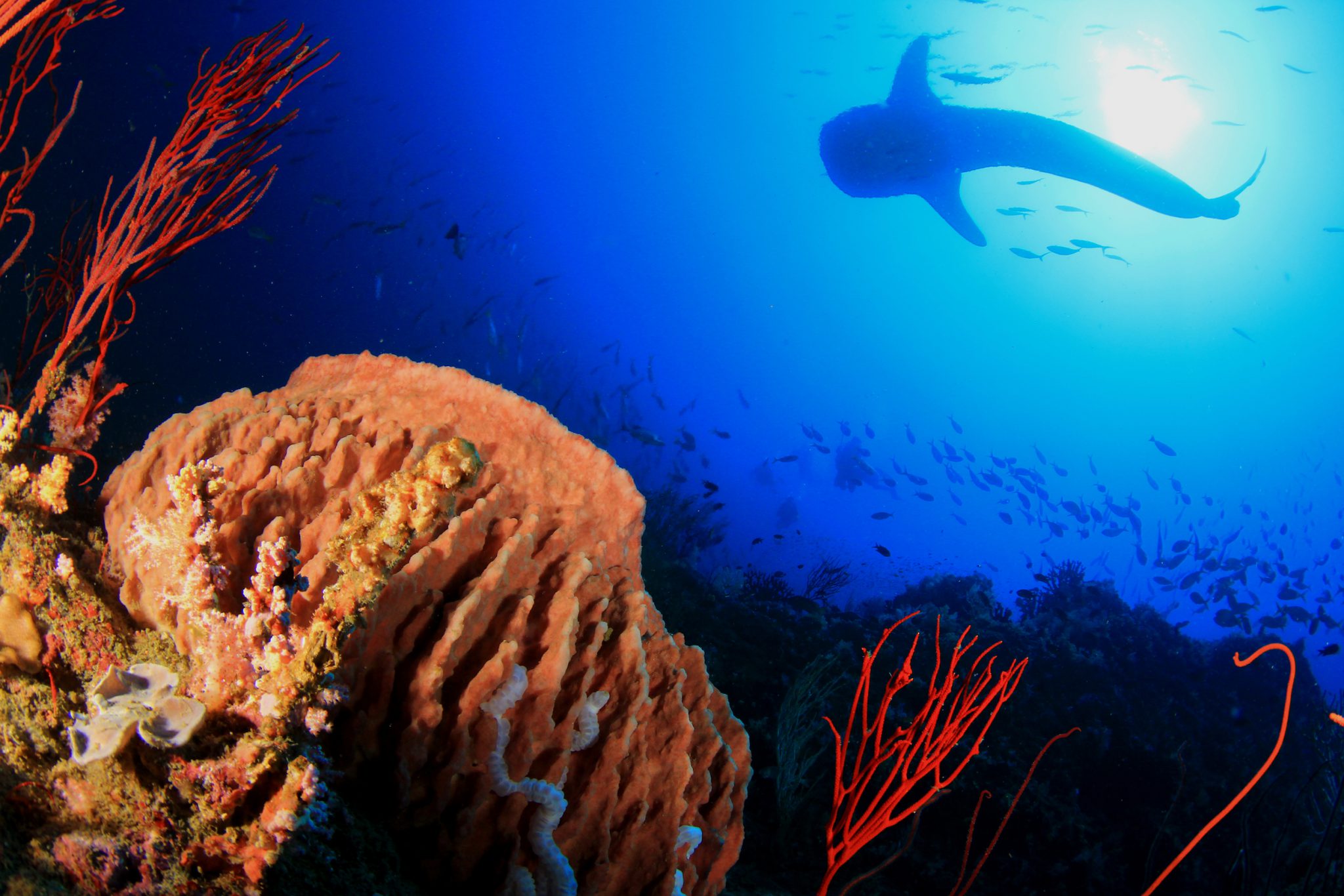 6. Thailand
Thailand offers a lot to tourists, including gorgeous landscapes and temples, the bustling capital of Bangkok, and the southern islands. Among these, Koh Tao is undeniably one of the most beautiful and is famous for diving. In addition to all the marine beauties you will meet along this tropical coral reef, you can also swim with whale sharks. The best places to see these graceful creatures are Southwest Pinnacle and Chumphon Pinnacle, located approximately 45 minutes away from Koh Tao. Two other popular points are Shark Island and Hin Wong Pinnacle. Even if you don't see a whale shark, you are likely to see one of the many sea turtles dwelling at these sites.
Whale Shark Season in Thailand
Scuba divers have the best chance of swimming with whale sharks in Koh Tao during the months of March, April, May, September, and October.
---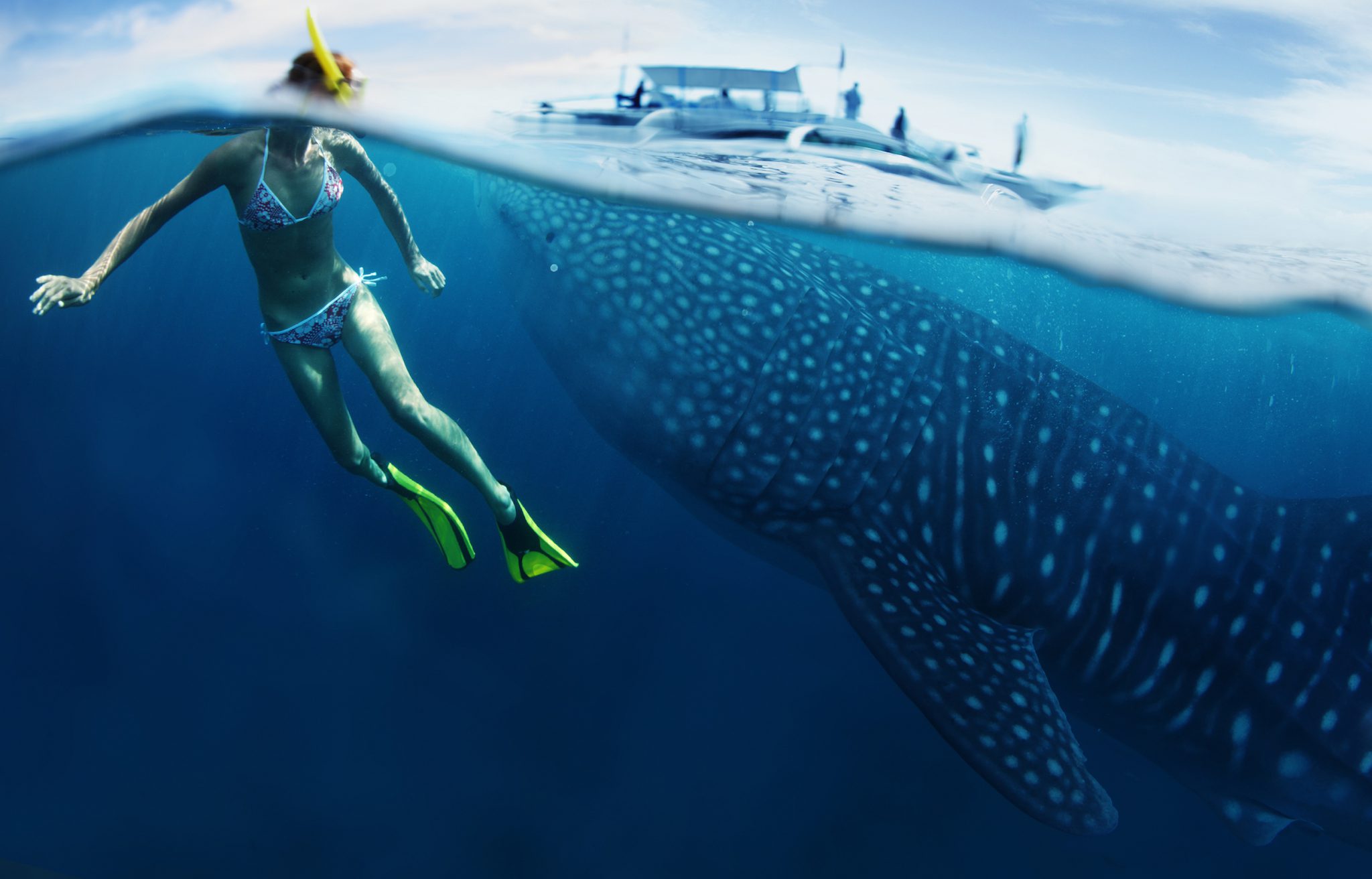 7. The Philippines
Long famous for its scuba diving, the Philippines also pleases with whale shark encounters. If you want a more natural experience, then visit Donsol Bay, where whale shark tours are highly regulated. Noteworthy are also Sogod Bay, Southern Leyte, Puerto Princesa, Palawan, and Tubbataha Reefs Natural Park. The latest research has identified over 1,600 individual whale sharks in Philippine waters – making it the world's second-largest population after Mexico.
Donsol Bay
There are over 7,500 islands in the Philippines. Donsol is a small town in the Province of Sorsogon on Luzon Island, which has become very famous for its whale shark encounters. In Donsol Bay, it's forbidden to dive with these animals, but whale shark snorkeling is allowed. For diving with these sharks, it is possible to move to a nearby location instead. Overall, Donsol Bay is one of the best places for swimming with whale sharks in the Philippines.
Whale Shark Season in the Philippines
The best time to see whale sharks in the Philippines' calendar is from December to May. During these months, you can swim with whale sharks on their natural migration routes in the Philippines. February to April is peak season and locally called butanding.
---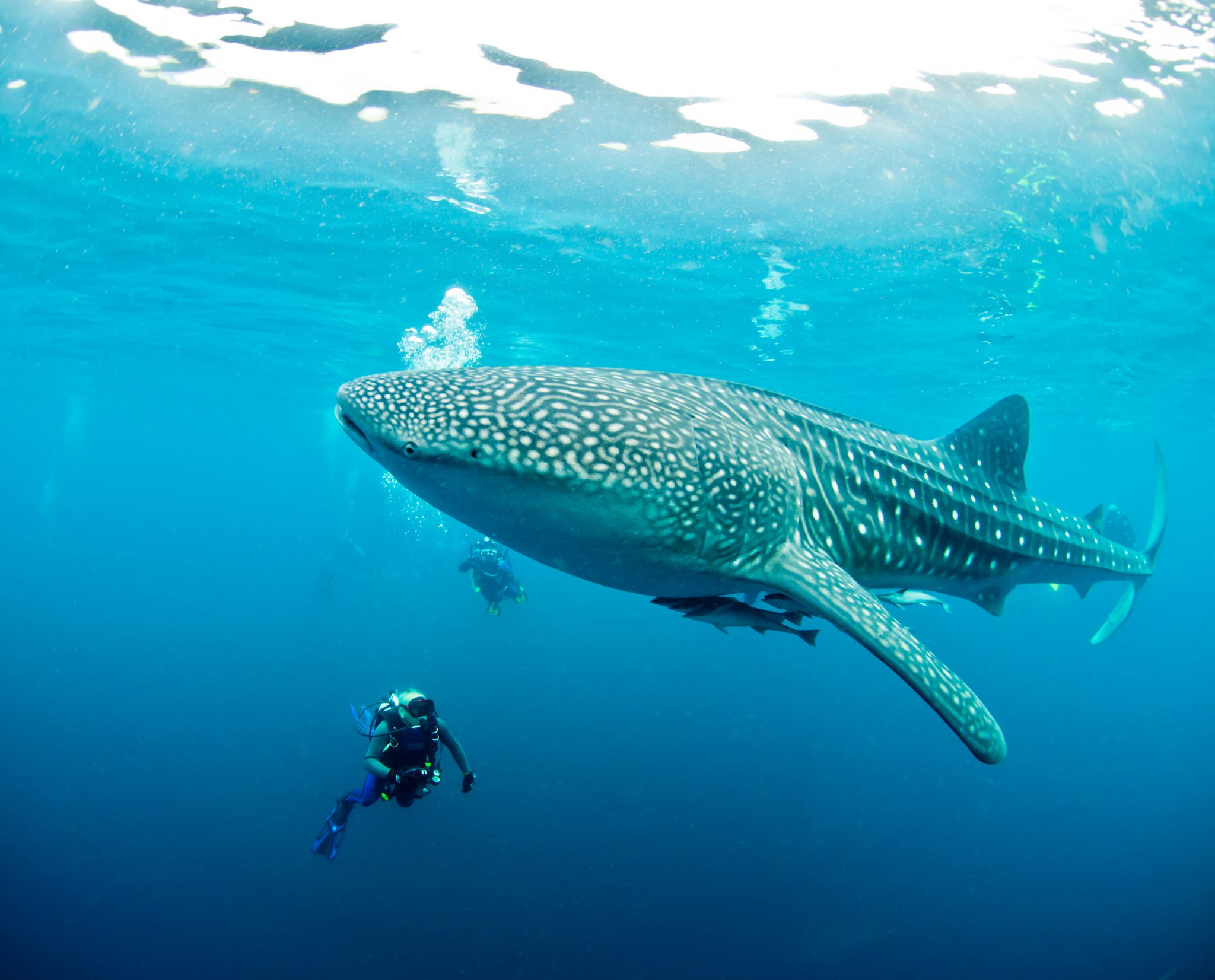 8. Indonesia
Cenderawasih Bay is a large, sheltered bay in West Papua, which belongs to Indonesia. Gorgeous reefs and shipwrecks from World War II lie in these warm, tropical waters. Moreover, this tourist destination is still being explored by scuba divers, meaning you may be one of the first people to dive at any given site. To make a trip to Cenderawasih Bay even more memorable, scuba divers should ensure at least one whale shark dive. These graceful giants exhibit a rare feeding pattern in this part of Indonesia. They suck on the bottom of fishing nets, extracting the delicious small fish. Because this pattern is known, seeing whale sharks in Cenderawasih Bay is nearly guaranteed.
Whale Shark Season in Indonesia
You can see whale sharks in Cenderawasih Bay year-round. However, most liveaboards visit the area from August to October, making this peak season for swimming with whale sharks.
---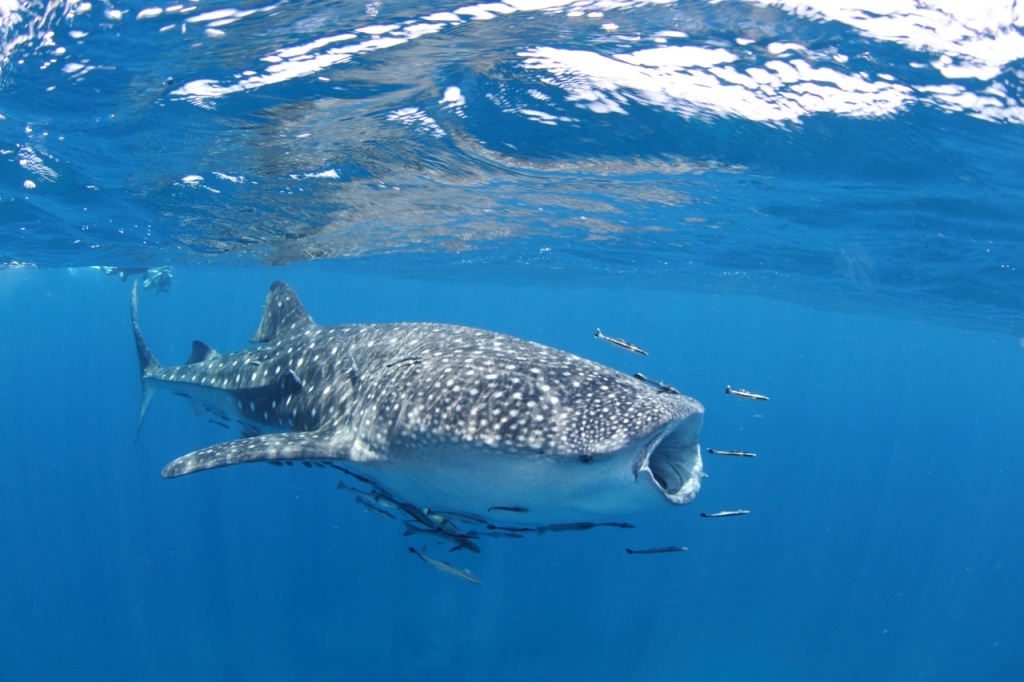 9. Costa Rica
Translating to 'Rich Coast', this Central American wonderland has something for everyone. Costa Rica's Caribbean coastline offers sheltered encounters with colorful reef inhabitants and is ideal for mixing sunbathing with easy diving.
Meanwhile, on the Pacific side, you'll step into a world full of mighty pelagics. At Guanacaste, volcanic topography is dotted with offshore islands, like Catalina and the Bat Islands, with seasonal sightings of bull sharks, devil rays, dolphins, turtles, and the giant whale shark.
For experienced divers, the 36-hour liveaboard journey to remote Cocos Island is worth the wait. These nutrient-rich waters and strong currents are particularly famed for their hundreds of schooling hammerheads — as well as marlin, sailfish, rays, whale sharks, and much more.
Whale Shark Season in Costa Rica
Costa Rica is a year-round destination, but it's during the wet season that plankton blooms attract pelagic species. So, visit between June and November for the best whale shark diving.
---
10. Egypt
From dream liveaboard trips to relaxed shore diving, the Red Sea indulges beginners through to technical divers. Egypt's clear and calm waters are brimming with stunning corals, teems of tropical fish, and world-class shipwrecks.
Whale sharks can be found throughout the Red Sea — and increasingly so in recent years. In fact, these gentle giants have even been spotted close to beaches at tourist hotspots like Hurghada, Sharm-el-Sheikh, and Marsa Alam. If you're diving offshore sites such as The Brothers, Daedalus, and Elphinstone or southern reefs from Fury Shoal to St. John's, remember to keep your eyes on the blue for lucky encounters.
Whale Shark Season in Egypt
Although whale shark sightings are possible throughout the year in Egypt, the main season falls between May and August.
---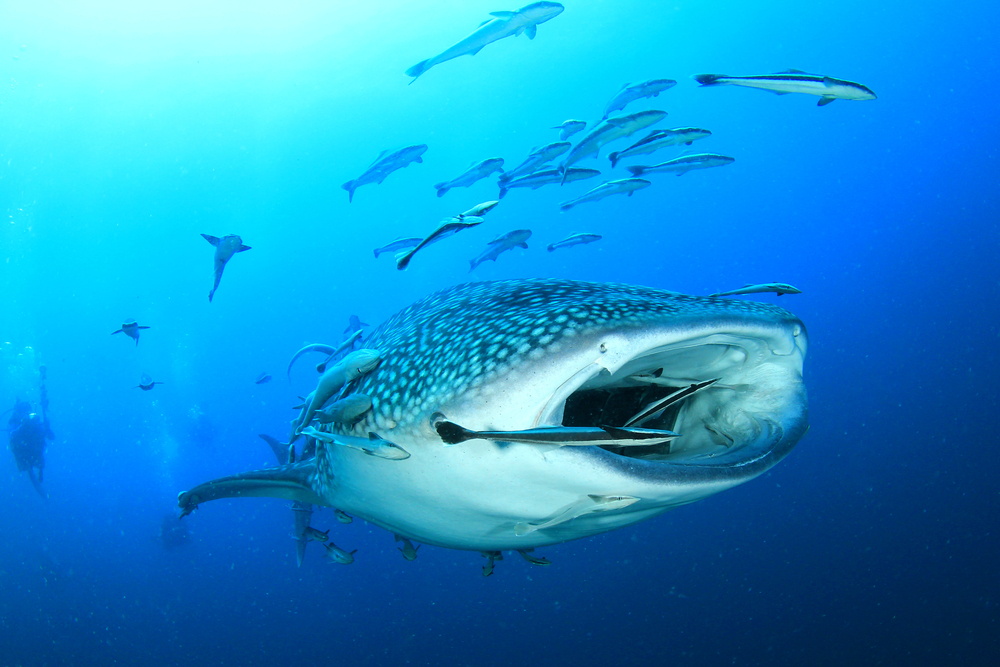 11. Honduras
Not too far off the coast of this Central American paradise lies Isla de Utila, the smallest of Honduras' three major Bay Islands and part of the Mesoamerican Barrier Reef. Blending colorful culture with charming beaches, Utila is nicknamed the Whale Shark Capital of the Caribbean, and with good reason. Whale shark diving encounters are common along the north side of the island, where shallow reefs extend into open seas. Here, there are plenty of dedicated excursions to choose from. Utila is also home to the Whale Shark and Oceanic Research Center, whose whale shark guidelines were even adopted into Honduran law.
Whale Shark Season in Honduras
While there are year-round whale shark sightings, the best time to visit is March to April, when the highest concentrations of these magnificent pelagics come to visit.
---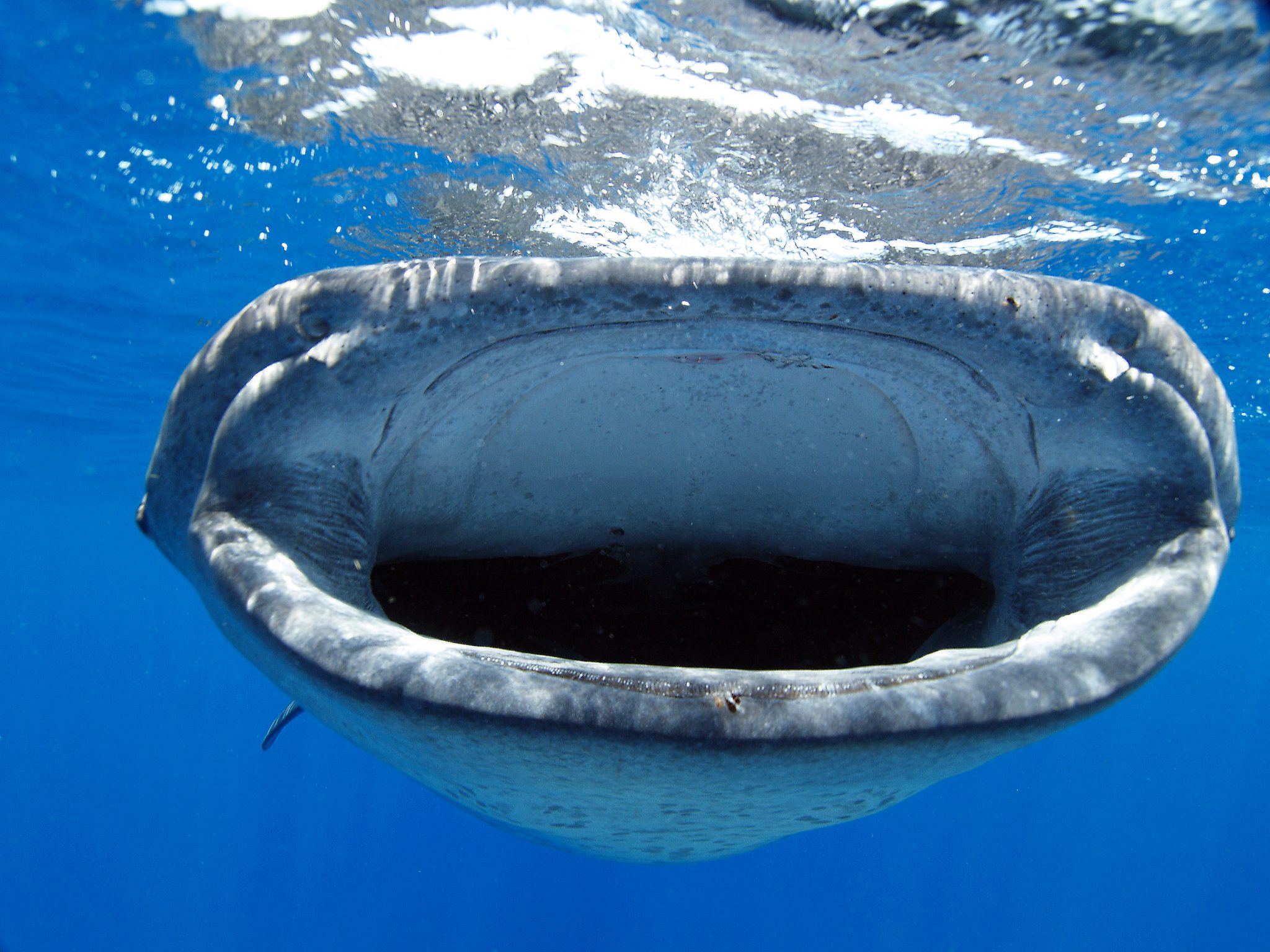 12. Belize
Gladden Spit in Belize is another of the best places to dive with whale sharks. With about 26,000 acres (10,510ha) and 22 miles (36km) of coastline, Gladden Spit and Silk Cayes are part of a protected marine area (GSSCMR) in Belize. Being a protected area, Gladden Spit is rich in marine life, such as sea turtles, coral reefs, and colorful fish. Because of its natural biodiversity, this part of Belize offers excellent sightings of whale sharks. So, if you are ready for the best whale shark diving adventure in Belize, head to Gladden Spit.
Whale Shark Season in Belize
The best time for diving and swimming with whale sharks in Belize and Gladden Spit falls from March to June. In fact, this corresponds with the reproduction of two fish, namely the mutton snapper and grouper, whose eggs are a delight for the whale sharks.
---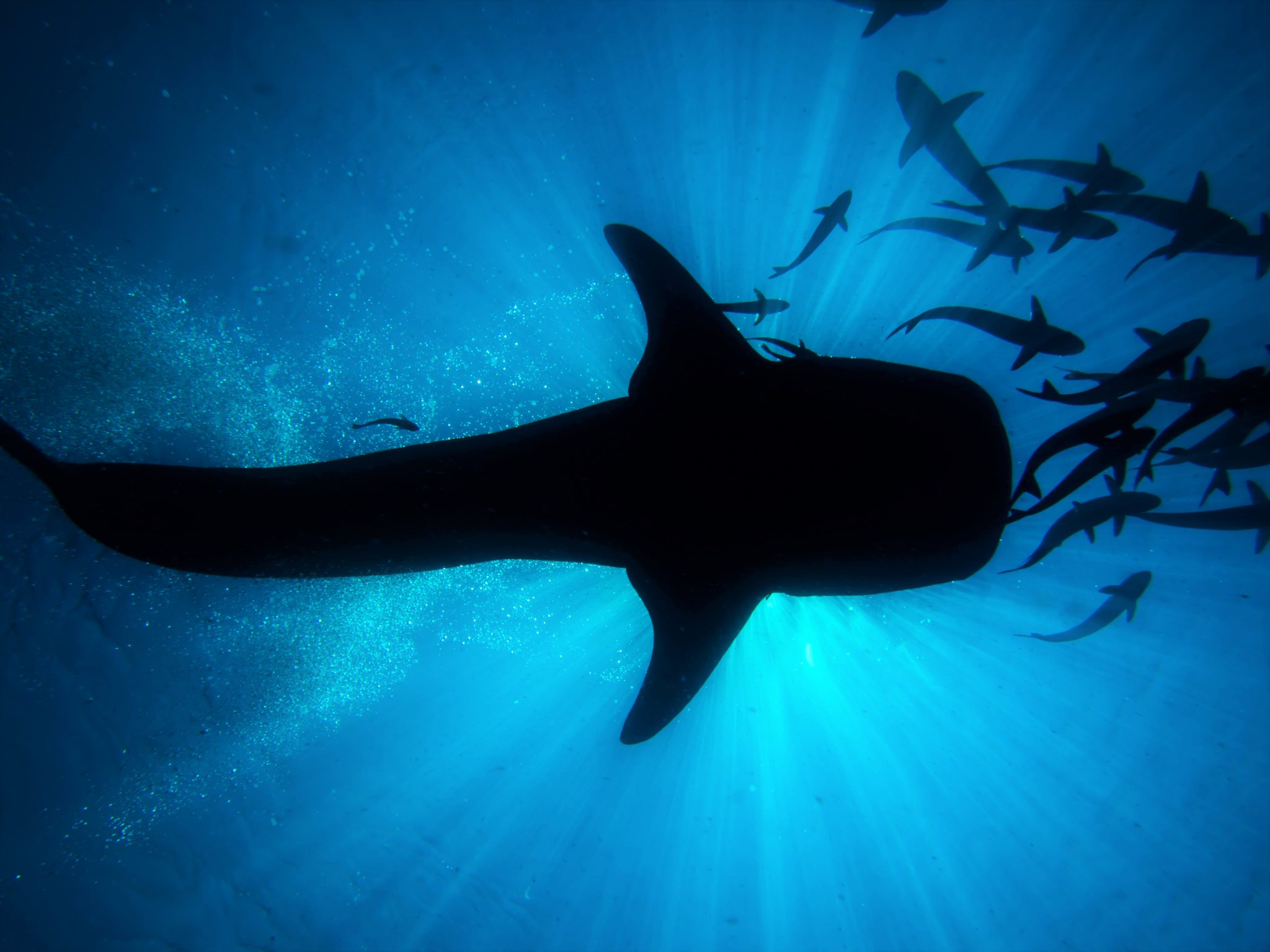 13. Turks & Caicos
Just southeast of the Bahamas, we find Turks and Caicos. This British Overseas Territory consists of about 40 islands and cays. Contrary to popular belief, these remote islands are not actually located in the Caribbean Sea but rather on the Atlantic Ocean side of the region. They're surrounded by deep blue waters, which bring in big fish and large pelagic species.
The diving combines vast coral gardens with walls that drop into the depths, allowing you to observe migrating species of rays, turtles, whales, and fish, like the majestic whale shark.
Whale Shark Season in Turks & Caicos
You can dive in the Turks and Caicos islands all year round. However, the end of summer is hurricane season, so many divers avoid these months. Whale shark sightings tend to happen in two periods. The first, from January to February, coincides with the humpback whale migration. This gives you an excellent opportunity to interact with these two giants on one trip. And the second period, from June to July, also lets you spot manta rays.
---
14. Tanzania
Mafia (aka Chole Shamba) is an island in the Indian Ocean that belongs to Tanzania. The warm waters and typical tropical surroundings create pleasant moments. Moreover, this African tourist destination is still relatively unknown to the average traveler, making it more attractive. To make a trip to Mafia even more unforgettable, marine life lovers should sign up for a whale shark excursion. These graceful giants can be regularly spotted and approached close to shore.
Whale Shark Season in Tanzania
You can see whale sharks near Mafia Island between October and March.
---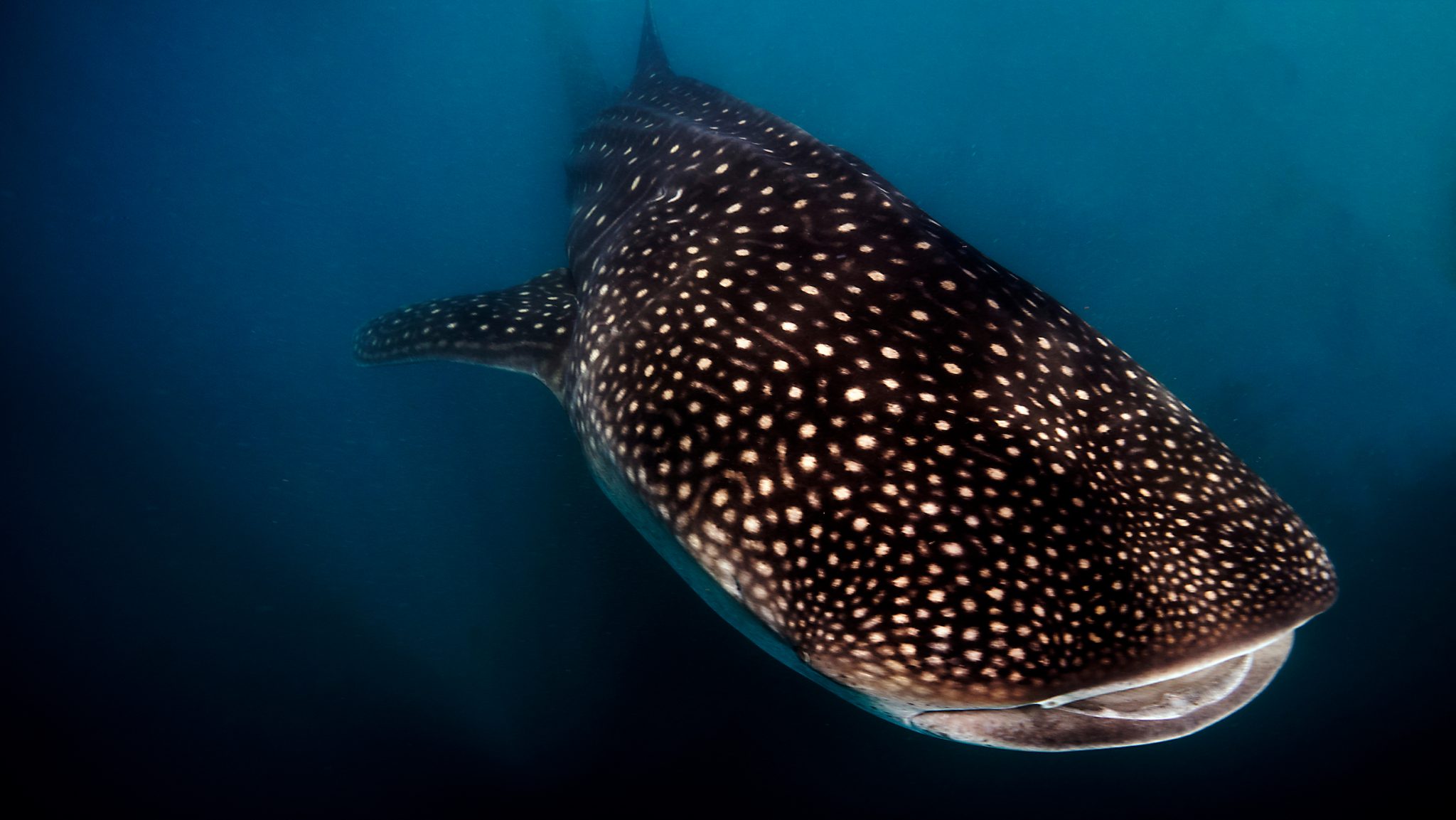 15. Mozambique
Are you looking for a location filled with marine megafauna but less crowded and still to be discovered? Then Mozambique might be the perfect destination for you.
The country has a long coastline renowned for its coral reefs, beautiful beaches, and crystal-clear water. The deep channel that runs between Mozambique and Madagascar has warm, nutrient-rich waters, making it an ideal spot for large marine life encounters. This includes manta rays, dolphins, sea turtles, humpback whales, and, of course, whale sharks.
The most popular spot to see these majestic creatures is in Tofo Beach, in the Barra Beach peninsula in the south of the country. Because of its uncontaminated nature and steep walls, Tofo Beach is an exciting place to dive, with deep dive sites where the sightings of whale sharks are regular.
Whale sharks can also be spotted in Ponta D'Ouro, just south of the capital and not too far from the border with South Africa. Although sightings here are less frequent than in Tofo Beach, divers visit this area for the abundance of other shark species, such as tiger sharks, oceanic whitetips, bull sharks, and hammerheads.
If you're ready to venture off the beaten path, be sure to plan your whale shark adventure in Mozambique.
Whale Shark Season in Mozambique
Although whale sharks can be spotted around the coast for most of the year, if you want to increase your chances to see them, visit Tofo Beach between October and March.
---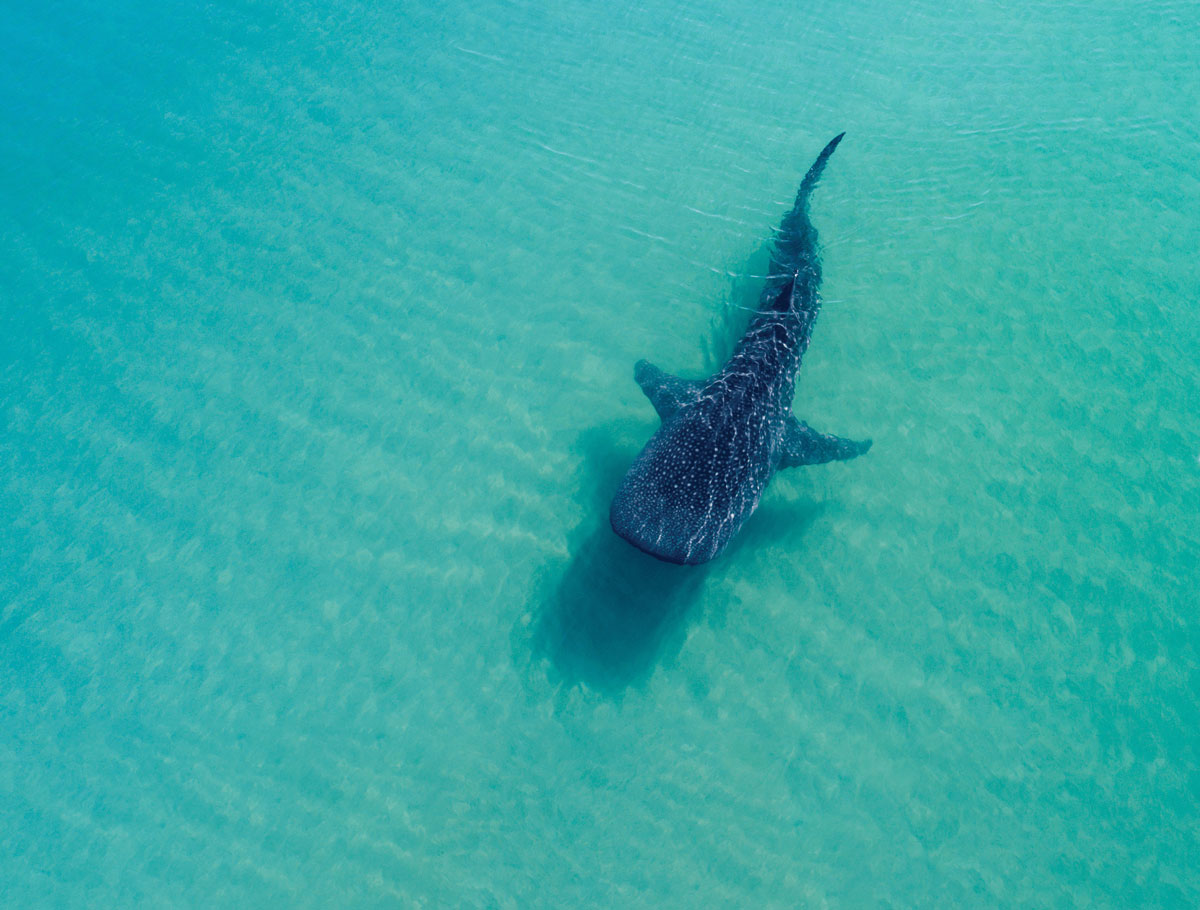 16. The Seychelles
The remote location of this 115-island archipelago – 500 miles (800km) from Madagascar, in the middle of the Indian Ocean – promises a peaceful retreat for honeymooners and ocean explorers alike. In the Seychelles, unspoiled vistas are brimming with lush forests, giant mountains, pristine beaches, impressive granite topography, and buzzing coral reefs. The waters around the islands protect around 1,000 fish species, manta rays, turtles, and, of course, whale sharks. Mahé, the largest island and home to the nation's capital, Victoria, is the best destination for diving with whale sharks.
Whale Shark Season in the Seychelles
Whale sharks migrate through the islands from August to November; head to Mahé island in October for the best chances of seeing them.
---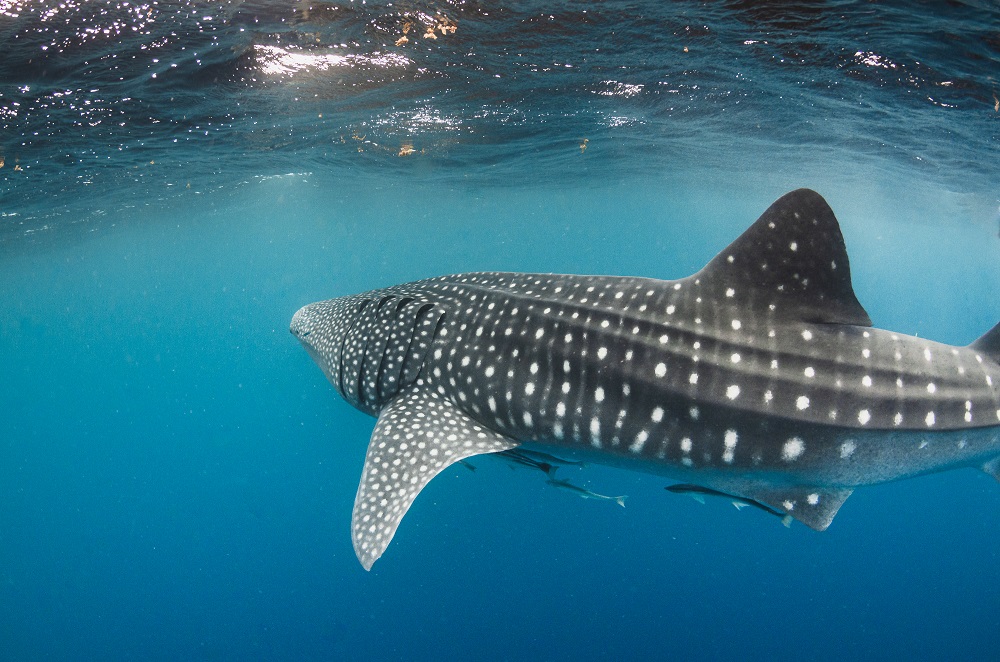 17. Djibouti
Tourism is only just emerging in this East African secret between Ethiopia, Somalia, and Eritrea. African, Arabic, and French influences, and intense-yet-isolated landscapes shaped by volcanoes and salt lakes, provide an experience like no other. Underwater, at The Crack, earthquakes and shifting topography literally mean no two dives are the same. The reefs are some of the planet's healthiest, with over 200 coral species, while strong Indian Ocean currents attract excellent visibility, along with dolphins, manta rays, and whales. When it comes to whale sharks, Djibouti is like a kindergarten, with congregations of juveniles in the Gulf of Tadjoura that measure as little as 2 meters (6 feet) long.
Whale Shark Season in Djibouti
November through February is the peak season for swimming with whale sharks in Djibouti when seasonal plankton blooms attract younger individuals.
---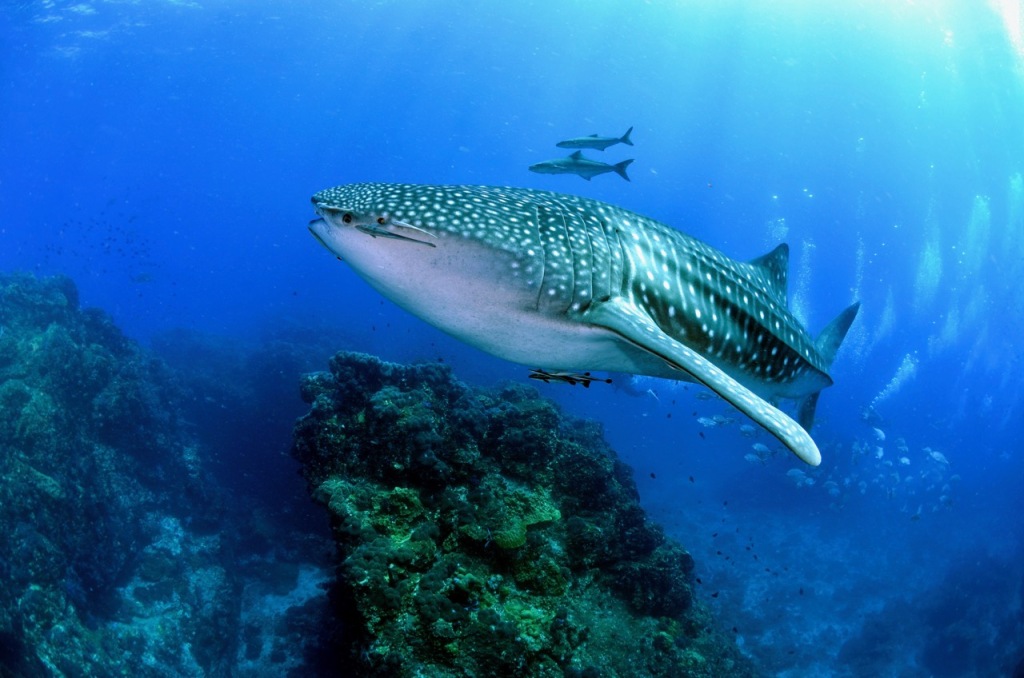 18. Sodwana Bay, South Africa
South Africa is celebrated for topside safaris and 'The Big 5' — but it's just as captivating underwater with an abundance of vibrant corals and creatures living along its coastline.
While nearby Mozambique is better known for swimming with whale sharks, Sodwana Bay still offers a high chance of sightings during warmer months. It's also easier to access, with a busier, more modern vibe. As one of the world's best shark diving destinations, you can also expect to meet several other species, including thresher, bull, hammerhead, and hundreds of ragged-tooth sharks.
Heading to South Africa's east coast also provides access to southern reefs, such as Aliwal Shoal and Protea Banks, where challenging conditions are matched by equally impressive marine life and thrills.
Whale Shark Season in Sodwana Bay
Whale sharks can generally be found between November and April at Sodwana Bay. But for the highest chance of sightings, visit between December and February.
---
Protecting Future Whale Shark Sightings
Whale sharks are some of the most beautiful and captivating creatures in our oceans. Despite their enormous size, these gentle giants are harmless filter feeders that play an essential role in marine ecosystems. However, like many other species of shark, whale sharks face numerous threats from both human action and environmental pressure. They are fished for their fins, oil, and meat, and they can become entangled in fishing nets, ending up as unintentional bycatch. As they feed close to the surface, they suffer from boat strikes and are vulnerable to declining food sources, as well as pollution, plastic, and other forms of habitat destruction.
That's why the whale shark is listed in the IUCN Red List as endangered throughout the world.
If we want to continue enjoying whale shark sightings for generations to come, we must work together to protect their future. This means supporting conservation efforts worldwide, from reducing plastic waste and pollution to responsibly fishing our oceans and protecting important habitats where whale sharks live.
Divers should also make sure they follow good diving etiquette when encountering whale sharks or any other marine life in their natural habitats.
Boat operators should always follow responsible tourism practices when they encounter a whale shark in the wild. It's essential to adhere to guidelines such as maintaining a safe distance and never touching them or disturbing them while feeding.
If you'd like to learn more about these obstacles or find out how you can help, check out our article on tips for whale shark conservation.
---
Swimming with Whale Sharks – Start Your Adventure
Are you ready to book the whale shark adventure of your dreams? Contact PADI Travel to organize your whale shark diving trip.
---
Credit
This article and the opinions expressed within were written by Mario Passoni. Mario is a marine biologist involved in several projects concerning ocean conservation and education. Special thanks to Richard Rees from Maldives Whale Shark Research Programme, Alex Watts / Dr. Simon Pierce at the Marine Megafauna Foundation for their local scientific knowledge in Mozambique and Tanzania, Arnel "AA" Yaptinchay from Marine Wildlife Watch of the Philippines, and Luca Saponari.