Perched in a Bedouin seating area in a beachfront cafe in Eel Garden, one of Dahab's famous dive sites, I can see a group of divers heading into the turquoise Red Sea, no reminder of COVID in sight.
The conditions are ideal for this sandy-bottom dive site today – low winds and water temperature of around 24 degrees Celsius (75 degrees Fahrenheit). The group are heading into the coral ridge entrance, customers in 3-millimetres and 5-millimetre suits, and the instructor in a semi-dry suit.
Sinai has remained almost hysteria-free during the pandemic, providing a little asylum for locals and expats-turned-locals, myself included, for the last year and a half.
Tourism began to pick up again in both Sharm and Dahab in 2022, and the summer appeared almost back to normal, with full capacity flights arriving from Europe and beyond.
---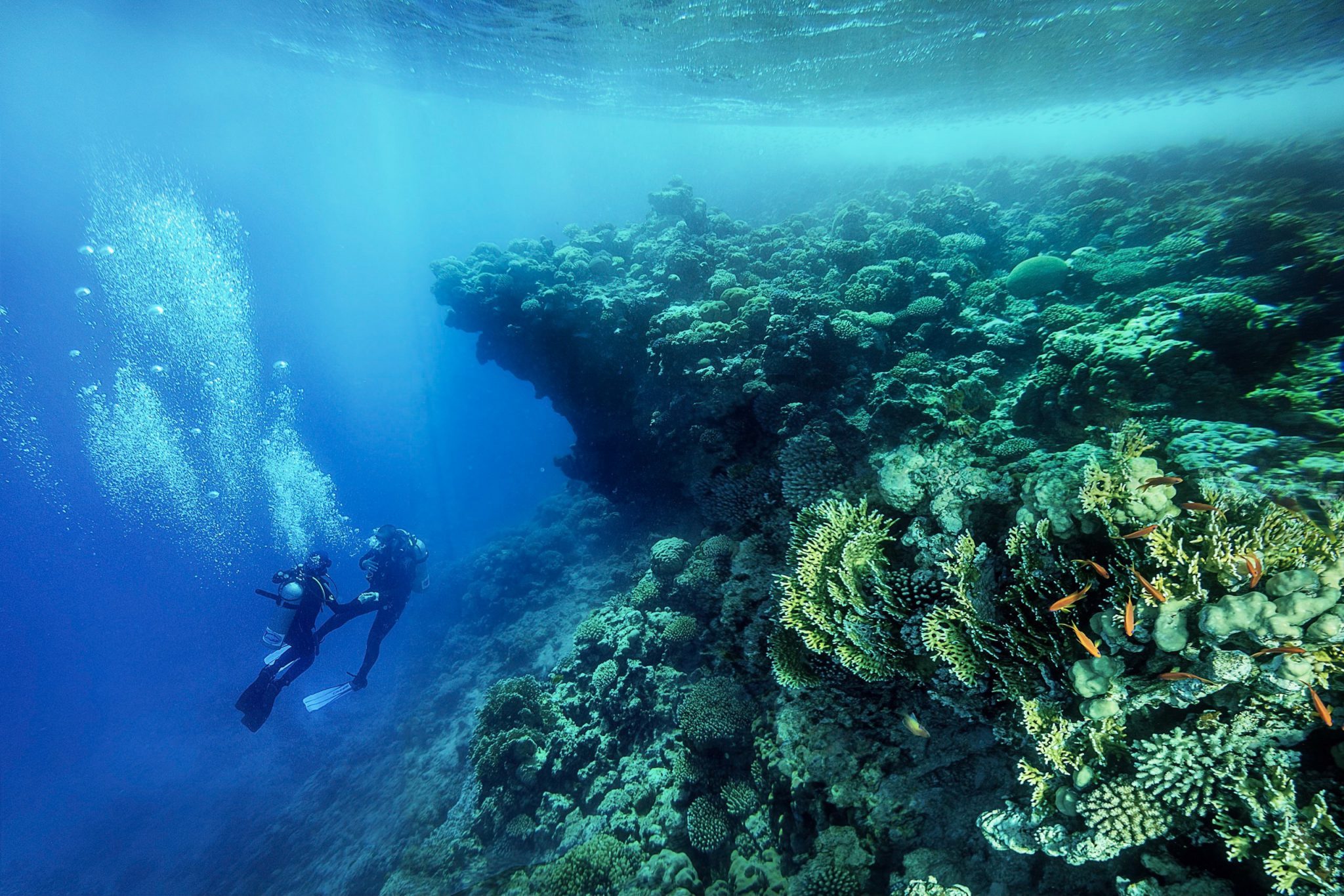 Dahab
Dahab, the place I call home, is a small coastal town located a 1-hour drive north of Sharm el-Sheikh. Its name translates to "gold" in Arabic; Dahab was once a small fishing village populated with Bedouins. Today, it's classed as one of Egypt's meccas of diving.
Compared to Sharm, Dahab is the common choice for groups of mixed divers and non-divers, plus solo travellers.
If you ask a foreigner how they ended up living here, more often than not, they'll respond with something along the lines of "I came here for a few months…. that was 3 years ago!". Dahab has a magical charm to it that's hard not to fall in love with.
It has a chilled-out, water-lovers vibe, with easy-entry shore dives often in front of beachfront casual restaurants where you'll spend your surface intervals.
Lighthouse Reef
Typically, your first dive in Dahab will be Lighthouse reef. After kitting up at one of the Lighthouse dive centres, you'll walk just a few metres until you enter the water.
This is an easy shore entry house reef with a sandy entrance just before a seagrass drop-off. Locals call this seagrass drop off the buoyancy park and the underwater museum, thanks to the array of metal shapes to practice buoyancy and the huge elephant statue at just under 30 metres (100 feet).
To the left, a reef wall of towering pinnacles, before reaching the saddle. The current strengthens here, so it's usually AOW and above divers that will pass the saddle to reach the gorgonian-fan filled "playground".
Year-round, you're likely to spot unicornfish, clownfish, boxfish and, if you're lucky, stonefish. This winter in particular we've lucked out with unusual nudibranchs (one of my favourite sightings) alongside numbers of octopuses.
Almost every dive at this shore-entry site includes an encounter with the resident turtle and seahorses on the acres of lush seagrass.
Canyon and Blue Hole
Heading about 6 miles (10 kilometres) north in a pickup truck from Lighthouse, you'll reach Dahab's famous Canyon (where I cried from the shock of its beauty when I first dived there!), and just after that, Blue Hole, both conveniently shore entry dives.
Although the water may not be as crystal clear as the summer months, the Red Sea certainly makes up for it with a cornucopia of glassfish and barracuda parading the colourful reef from Bells, an enclosed chimney within the reef extending down to 25 metres (82 feet), to Blue Hole.
After descending the bells, the gentle current makes this a drift dive along the right-hand-side reef wall paired with endless deep blue on your left. A group of friends diving the Blue Hole at the end of November beamed of the 30-metre (100 feet) visibility and school life coming back in abundance to populate the wall of coral reef.
Upon reaching the Blue Hole itself and beginning to ascend, you'll come across the 7-metre (22 feet) saddle populated with brightly coloured corals and smaller schools of fish.
After entering this sinkhole, you may spot the infamous arch laying at 65 metres (213 feet) that tech divers and freedivers venture down to. To finish, it's a short journey directly across the sinkhole. It's breathtaking to be surrounded by endless circular deep blue.
---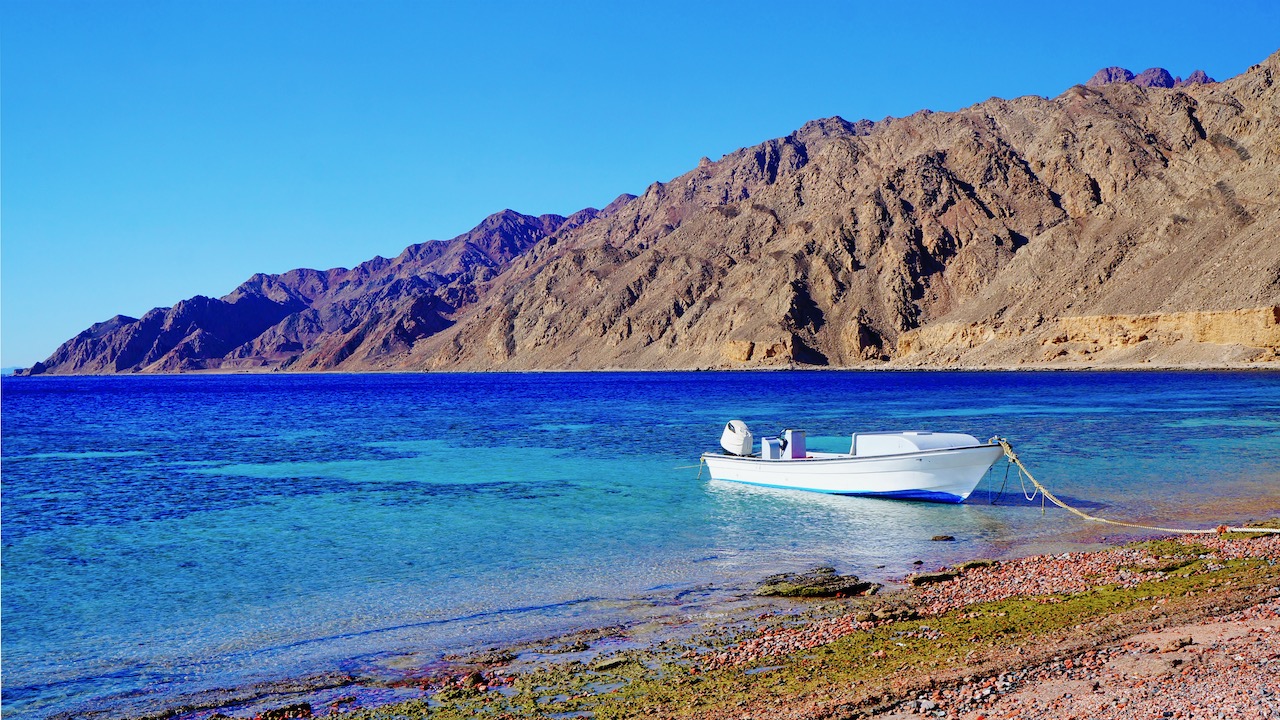 Ras Abu Galum
A short boat ride, or journey by camel if you want a real "Dahabian" experience, 9 miles (15km) north of Dahab and you'll arrive at Ras Abu Galum. The beauty of Abu Galum is its secludedness from large groups of tourists in central Dahab. The beach holds a very simple life, where divers flock to see the juvenile triggerfish and schools of needlefish in the cooler winter months.
Due to the lower tourism levels at Abu Galum, the group I spoke to said that it "hasn't changed in 20 years" with dive sites appearing untouched by humanity, apart from the new development of camps and actual huts to sleep in on overnight – as long as you bring a warm blanket for the nighttime winds!
This is the epitome of diving in South Sinai at the moment – the locals might find the water a little chilly, while those escaping the cold European winters find Dahab to be the perfect safe haven this time of year.
---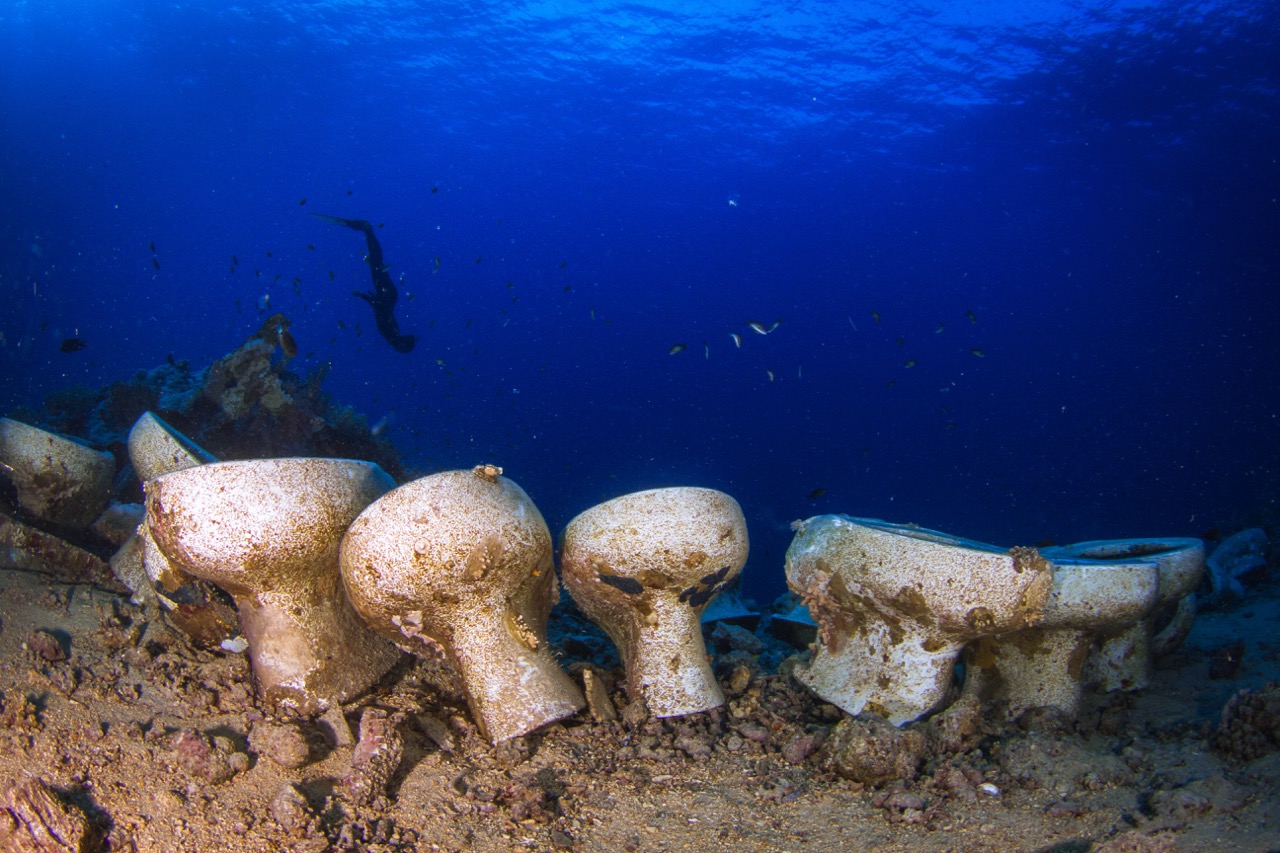 Sharm el-Sheikh
Heading back down to the south, you'll land in Sharm el-Sheikh (where you'll likely fly into), one of Egypt's ideal locations for boat diving and certainly levelling up from Dahab in its topography.
With an impressive collection of famous wrecks and reefs, diving in Sharm truly relieves the current stress of a global pandemic. A friend of mine dived there a few weeks ago and said it simply feels like life as normal (apart from the vaccination certificates and heavily sanitized kits and boats).
The water temperatures in Sharm el-Sheikh can be a little warmer than Dahab, particularly in December through to March, sticking around 24 to 26 Celsius (75 to 78 degrees Fahrenheit).
Straits of Tiran
Stretching 18 miles, the straits of Tiran are the passageways that separate the Gulf of Aqaba from the Red Sea, inclusive of some of Egypt's best dives reachable by day yachts from dive resorts or liveaboard trips.
Starting from the north, the four famous pinnacles bob out of the water, each named after British cartographers; Gordon, Woodhouse, Thomas and Jackson.
My personal favourite is Thomas reef as a drift dive (due to the strong northern and southern-end currents). One of my highlights of this dive is the array of Gorgonian-fans on the seabed and common sightings of sharks on the sandy banks.
Plus, Thomas Canyon, laying around 35 metres (114 feet) and extending to 90 metres (295 feet) – surpassing the size of Dahab's canyon dive site and a better choice for thrill-seeking divers. Tech-divers are engrossed with this narrow arch-entry crafted from fallen boulders.
It's beyond exciting that both direct flights and short-layover in Istanbul flights can get you to dive sites as breathtaking as Tiran during COVID.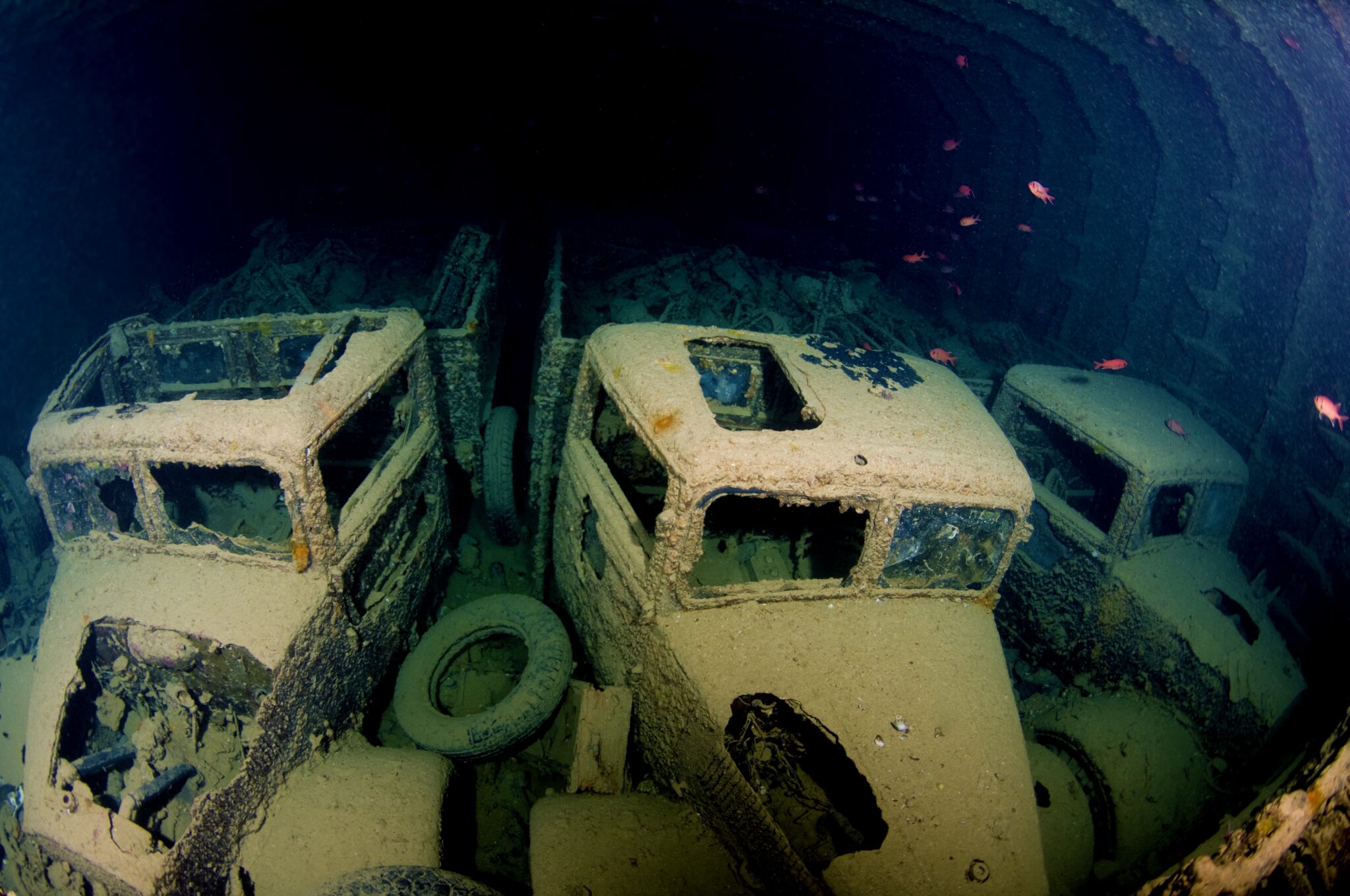 Thistlegorm
As the largest wreck in the Red Sea, the Thistlegorm is an unmissable dive in Egypt. Since many countries have opened up to Egypt in the last few months, liveaboards here are generally filling up with diving tourists headed to this wreck.
The WWII wreck can be reached from Sharm or Hurghada, but the 4 to 5-hour boat journey pushes most divers to take this dive from a liveaboard trip for ease. This also ensures you'll be there early as one of the first groups in the water and stick around for at least a day to dive into the different areas.
After a rope descent is used to reach the wreck at around 30 meters (100 feet), you'll see the split hull of the cargo ship, with each part usually carried over 2 or 3 immersions.
Arguably one of the best wrecks in the world, the Thistlegorm is particularly exciting due to automobiles preserved underwater. Expect to encounter army trucks, jeeps, tanks, and motorbikes. You can enter the cargo hold of this ship, where divers encounter snoozing turtles and pass through mysterious dimmed passageways.
This is an advanced-level dive that only experienced current-confident divers will be suited to. It's a true "I can't believe I'm here" riveting moment that you must see in the Red Sea.
---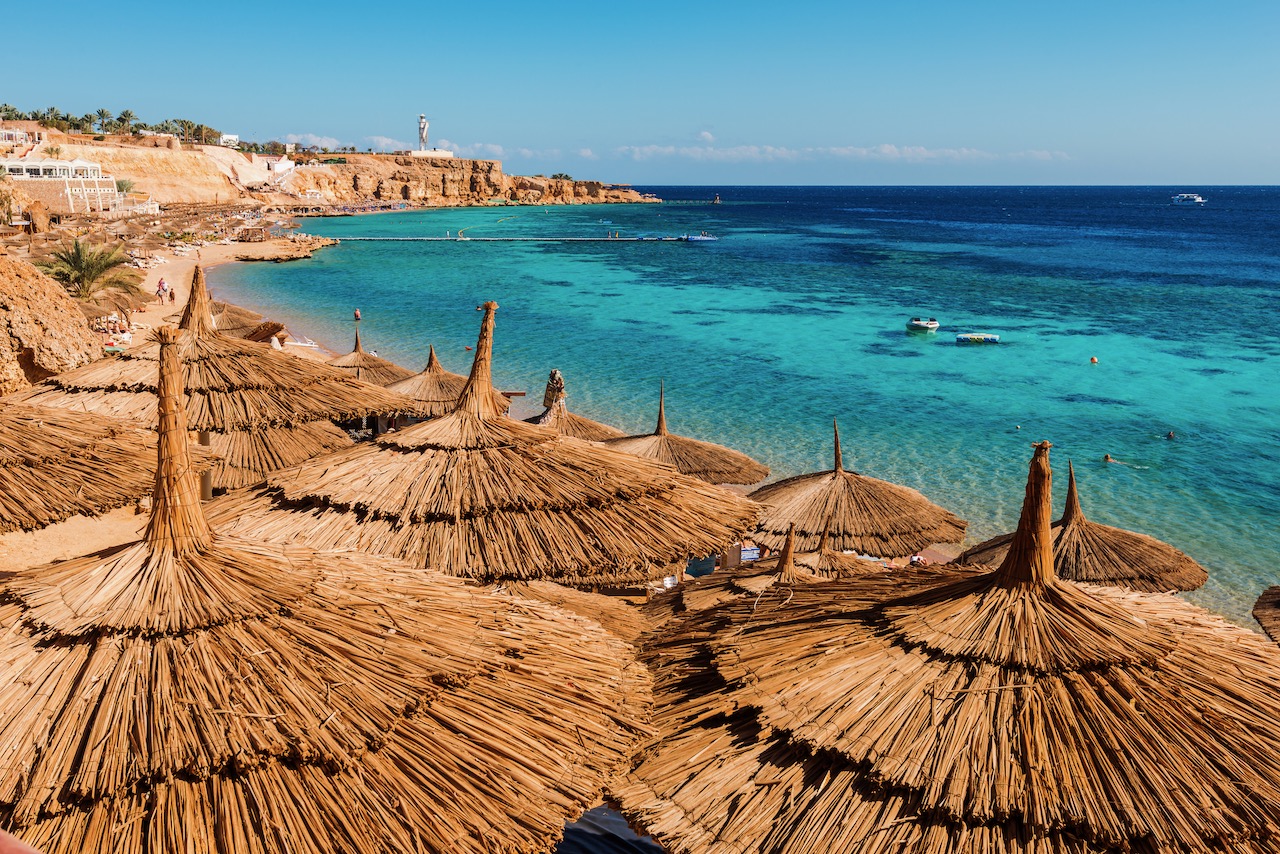 Entry to Egypt
With easy entry for the vaxxed or those with negative PCR tests, the tourism levels in Sinai have increased over the last few months to much appreciation of the locals and the tourism industry. Although tourism didn't completely disappear, I did begin to wonder if levels would ever get back up to "normal".
Thankfully, you'll find Dahab and Sharm now flocked with Russians, Brits, Americans, and others facing declining temperatures at home. Although the winter months are always quieter, it still does feel a little emptier than usual.
---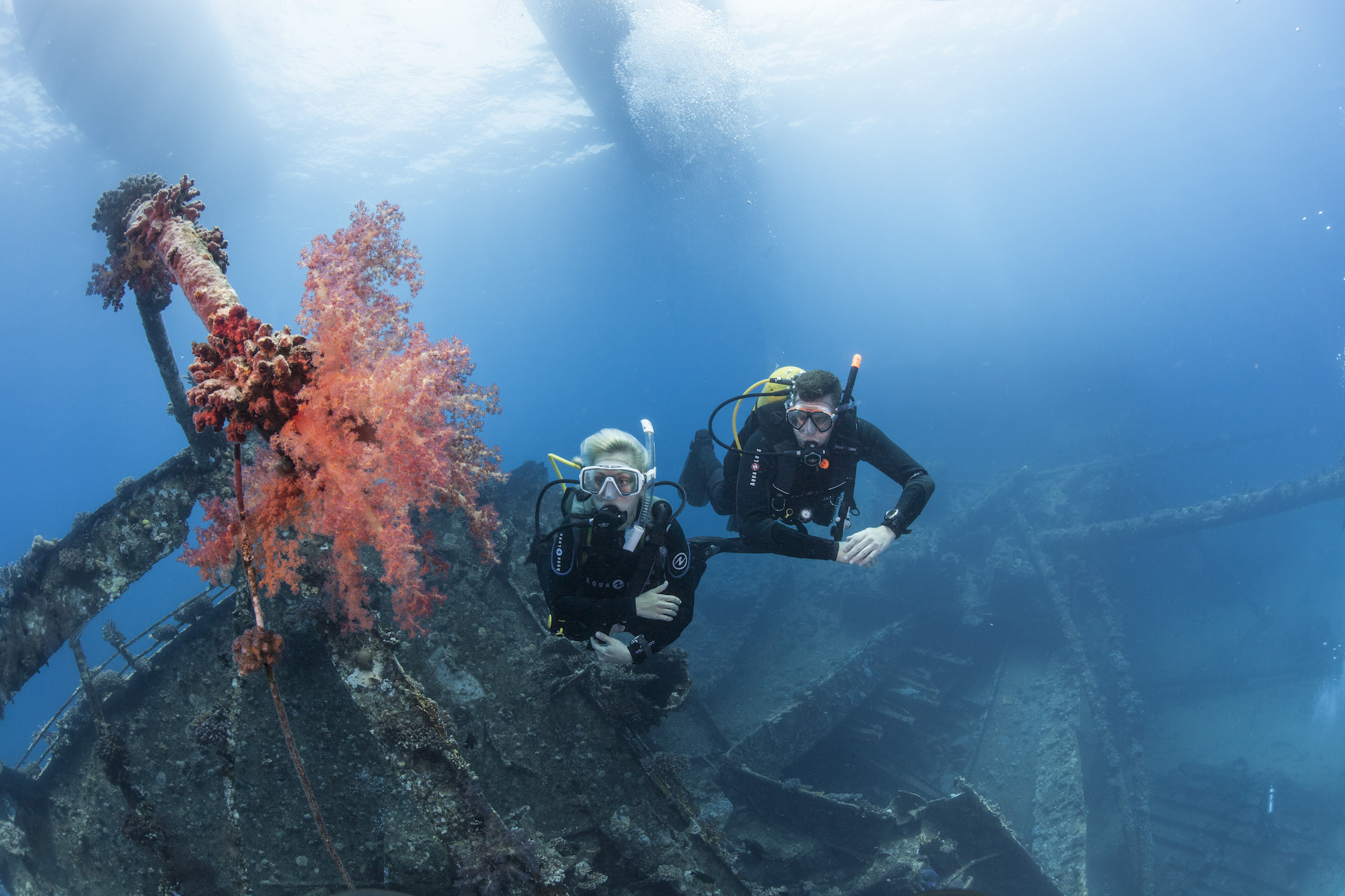 Why Here?
The reasons for catching a flight to Sinai are pretty much endless at this time of year. The intense 40 degrees-plus summer has ended, the cool breeze is coming in from the mountains and the water temperature remains around 23 to 24 Celsius (73 to 75 degrees Fahrenheit). Plus, it's not too busy, so dive sites are generally less packed.
While Sinai may not be the most tropical escape right now, the humidity is low, the sun is high and the water is just right for beginners and hardcore divers alike. Living somewhere like this has undoubtedly helped me keep sane over the last 18 months of the global pandemic!
I may be biassed after calling Sinai home for the last 3 years, but it has everything: beginner shore dives, lively reef walls, deep adventures, unbelievable wrecks, and plummeting canyons. It's certainly my top choice for an easy-to-get-to escape from Europe.
---
Tempted to jump into the Red Sea? Contact PADI Travel to book your trip.
---
This article was written by Cecily Russell, a British expat living in Dahab, Egypt.