Humpback whales (Megaptera novaeangliae) are among the most beautiful and most friendly whales on the planet. There are many places to encounter these gentle giants, and the opportunity to go swimming with humpback whales is surprisingly quite common. Their scientific name, 'Megaptera,' comes from the Greek for "big wings" and refers to their large pectoral fins, which are, in fact, the largest limbs of any creature in nature. They were first given the second part of their scientific name in New England. And their common name comes from the distinctive hump on their backs just before their dorsal fin. It's no surprise that these fascinating creatures are at the top of many divers' bucket lists, so let's explore some of the best places to go swimming with humpback whales.
---
---
Where Do Humpback Whales Live? 
You can find humpback whales in every major ocean all around the world. Take a look at their distribution on the Home Range Map.They are migratory animals, traveling long distances in search of food and warmer climates. They stay in polar waters during the summer to feed on plankton and small fish. In the winter months, when the cold waters become too frigid, they migrate from both poles to tropical and sub-tropical areas for mating and to give birth.During their migration, humpback whales can travel up to 5,000 miles (8,000 kilometers), making impressive journeys, such as from Central America to Alaska, from the west coast of Africa to Iceland or Svalbard in the Arctic Ocean, or from Brazil and Argentina to Antarctica.
---
Spotting Humpback Whales
Humpback whales are the only baleen whales that jump completely out of the water, which is known as breaching. They also show a repertoire of at least 15 different surface behaviors, giving them the title of the most acrobatic whale. This means that we can easily see them from the shore or from a boat by simply looking out to sea to spot their flukes in the air, their backs breaking the surface as they descend, watching them breach, or looking out for the mist of their breath when they surface.One of the most impressive features of humpback whales is that they "sing" underwater. They emit sounds that likely serve as communication with other individuals. Current research suggests that by making these noises, the whales are trying to find a mate for reproduction or mark their territory.When scuba diving in areas with humpback whales, divers can sometimes hear the whales singing underwater from miles away.
---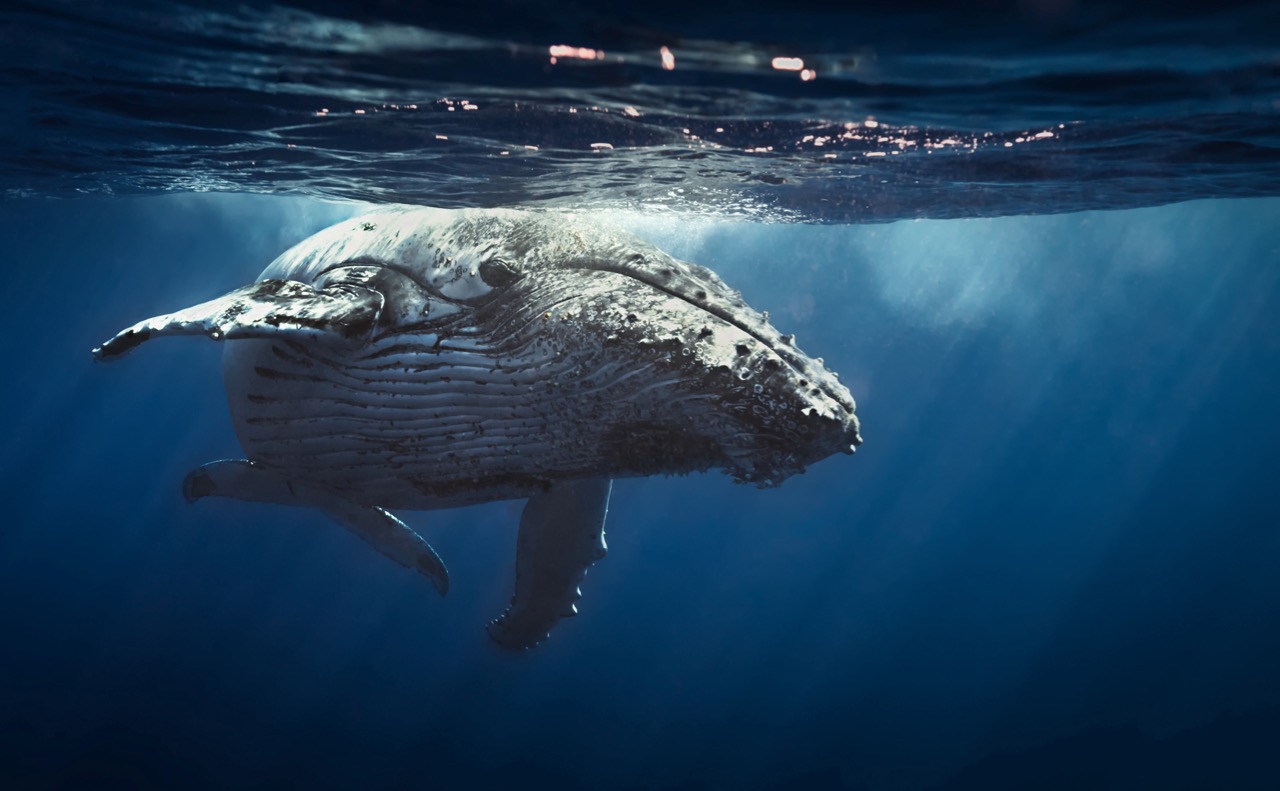 The Best Places for Humpback Whale Whale Watching
Because humpback whales travel long distances across every continent, there are many places around the world to see them in their natural habitat. Here are the best destinations.
---
Saguenay – St. Lawrence Marine Park, Québec
This marine park was created to protect and support the more than 1,600 marine species living there, including a resident population of beluga whales. There are 13 species of whales that visit the Marine Park in order to feed and build their energy reserves for the long migrations ahead. Excursions can be made using big vessels, small rubber boats or even kayaks. As always, it's important to maintain the required distance (650 feet [200 meters]) while watching humpback whales in order to avoid disturbing them.
Best Time to Visit: June to September
---
Reykjavík and Húsavík, Iceland
Whale watching tours start every day (weather permitting) at 9:00, 13:00 and 17:00. The excursions take approximately 3 to 3.5 hours. During this time operators look for a variety of whales, from minke and humpback whales to white-beaked dolphins, orcas and harbor porpoises. Tours run all year round, but the high season is between May and August.
Best Time to Visit: May to August
---
Baja California Sur, Mexico
The Sea of Cortez is one of the most beautiful seas in the world. In fact, it's known as the aquarium of Mexico because of the large biodiversity found within its confines. Cousteau called it "The World's Aquarium" and Steinbeck dedicated a whole journal to it, sparking a curiosity in divers to explore its treasures. At 25 million years old, this deep gulf brims with critters and is thought to be one of the most diverse seas on the planet.
Between December and April, whales gather here to give birth and breed. Local guides will accompany you on small boats, but you only need to travel a few hundred meters from the coast to be joined by many whales. This creates an unforgettable, half-day whale tour.
Best Time to Visit: January to March
---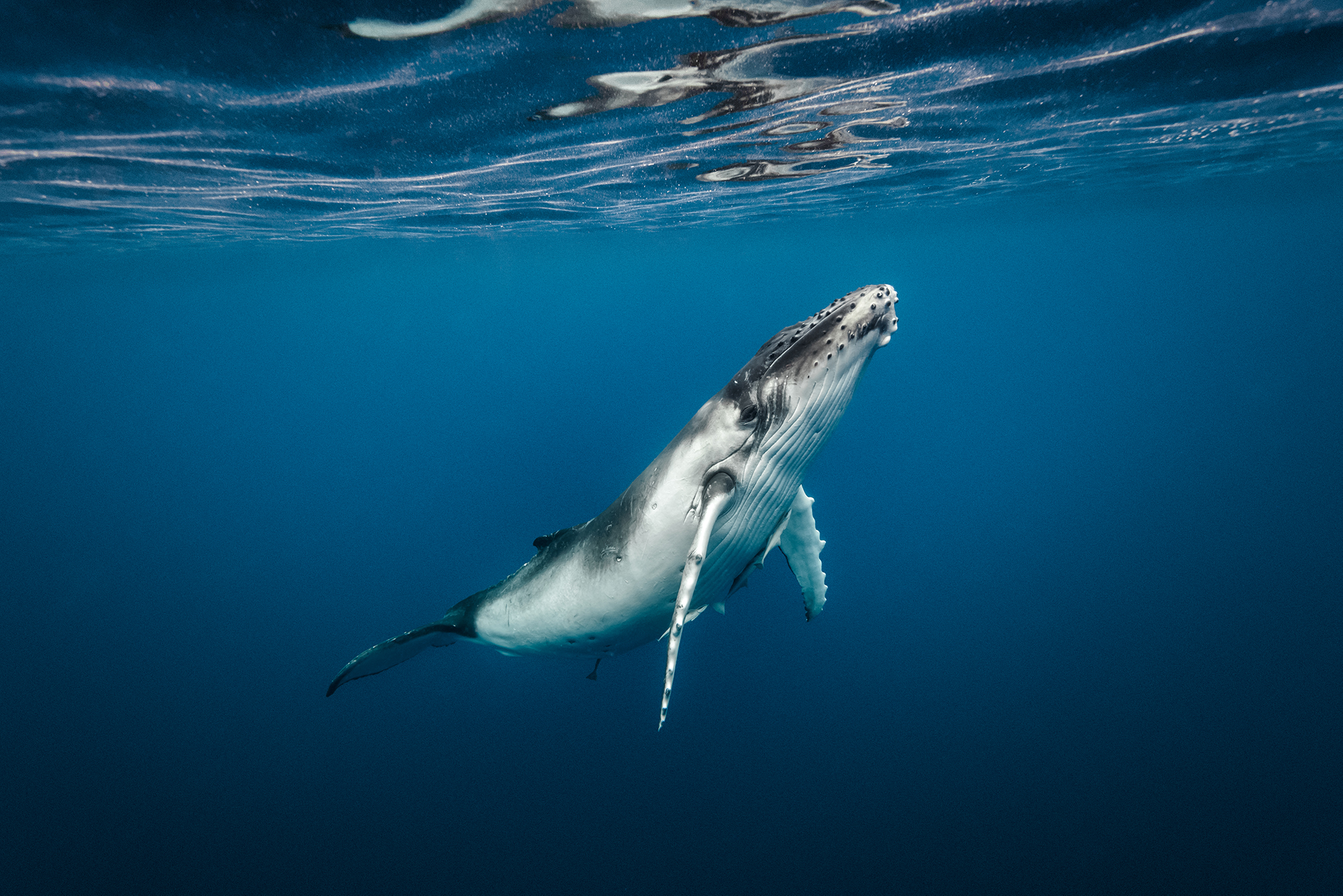 Bahia De Banderas, Mexico
The third largest bay in Mexico, Bahia de Banderas is surrounded by beautiful mountains known as the Sierra Madre del Sur. It provides the perfect habitat for different marine mammals, and humpback whales use these tropical waters from December to April to mate and breed.
Whales can be seen breaching from shore, but to have the best experience, just hop on a small boat with a marine biologist on board. You'll be able to get a lot closer to the whales, an experience you'll never forget.
Whale watching is just the tip of the iceberg for water adventures in Mexico. There is so much to see and explore, you can never get bored.
Best Time to Visit: January to March
---
Pacific Coast, Colombia
The Pacific coast of Colombia is an ideal place to spot humpback whales, because both the southern and northern population visit these tropical waters where they give birth and breed. Whales can be seen right from the beach or local guides will bring you closer using small boats. We suggest looking for them in Nuquí, Bahia Malaga, Buenaventura, Tumaco and Gorgona National Natural Park.
Best Time to Visit: June to October
---
Hermanus, Western Cape, South Africa
If you've ever been interested in diving with large creatures in epic seascapes, you've come to the right place.
Although there is not a best time of day for whale watching, tours start here in the morning and last two hours on average. In South Africa, boats are allowed to approach the whales up to 165 feet (50 meters). Then, the cetacean can decide to get close to the boat or disappear into the deep sea. A local expert guide will explain the various behaviors displayed by the whales in order to help you appreciate every movement of these marine giants.
Best Time to Visit: August to November
---
Kaikoura, South Island, New Zealand
Kaikoura is a town on the east coast of the South Island of New Zealand, a fascinating land where the mountains meet the sea. Tours last about 3 hours and use modern catamarans equipped with engines that minimize underwater noise. The most common species found near Kaikoura is the sperm whale as well as groups of dolphins, but humpback whales can be seen during their migration.
New Zealand is a land of stories where Maori culture runs deep. In between underwater exploration, we recommend you dip a toe into the local traditions and heritage. The culture is as much a part of the experience as the scuba diving in New Zealand.
Best Time to Visit: June to July
---
Disko Bay, Greenland
The cold waters of Greenland are home to 15 species of whales, including narwhals, beluga and bowhead whales. You can spot these during the winter, but in the summer, humpback whales, minke whales and fin whales are most commonly seen. Whale watching trips generally last four hours, and the captains of the boats are always in touch with local fishermen who help them to find the whales.
Best Time to Visit: June to August
---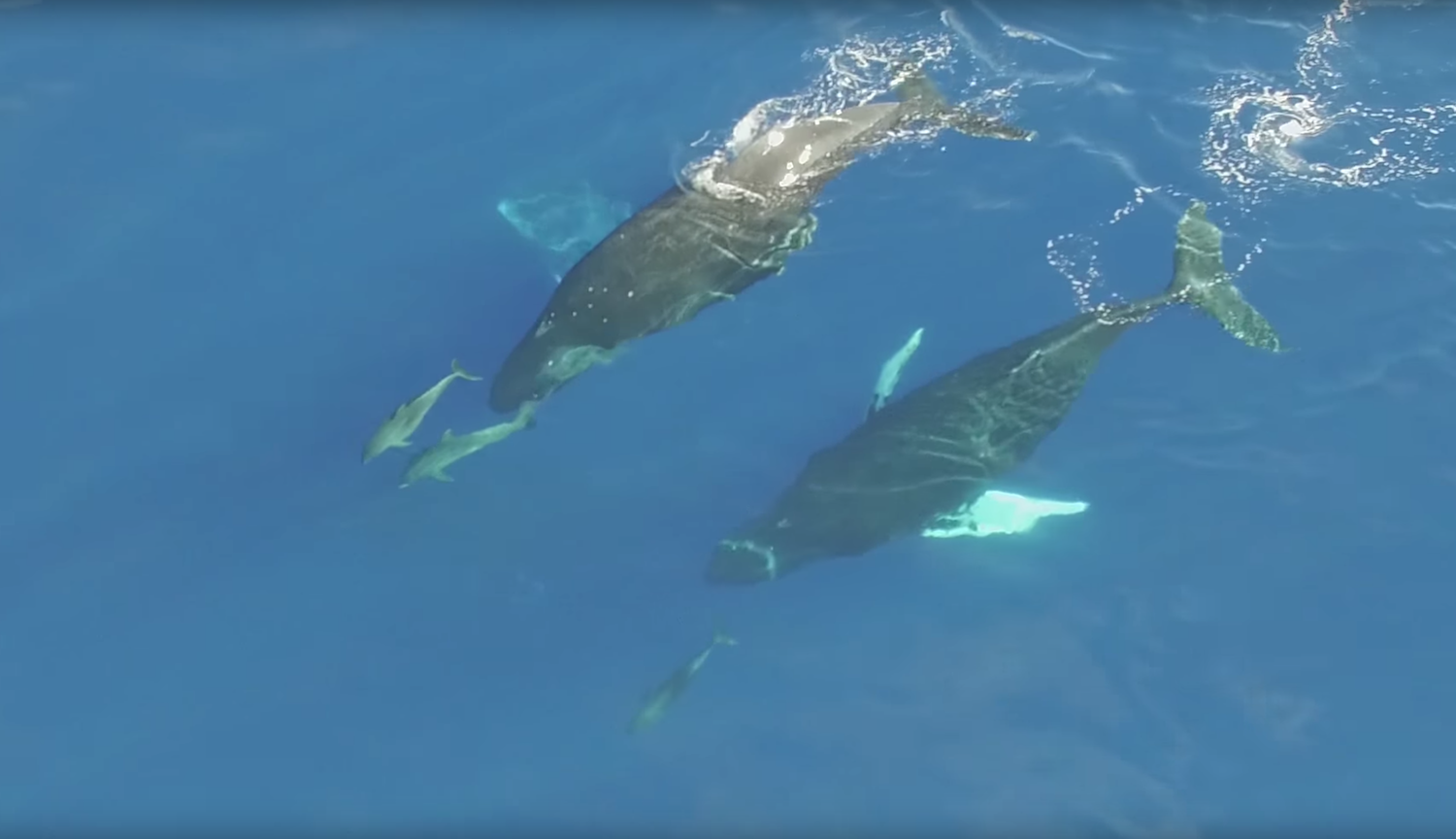 Maui, Hawaii
Humpback whales start to arrive in these crystal clear waters in December, but peak numbers occur in mid-January. You can see them right from the beach, a few miles away, but, of course, we recommend participating in an excursion with experts. In the span of a couple of hours, you'll be able to approach these whales as close as 100 yards (90 meters) legally. Preferred tours depart in the morning, because at this time, it is less windy. In Maui, it's possible to go whale watching by boat, kayak, outrigger canoe or stand-up paddleboard.
Best Time to Visit: Mid-January to Early April
---
Marino Ballena National Park, Costa Rica
We can see humpback whales here in two seasons: whales from the Northern Hemisphere from December to March, and those from the Southern Hemisphere from early July to late October. Tours in the area take approximately 4 hours. It's also worth visiting the Marino Ballena National Park, Isla Ballena (Whale Island), Las Rocas Tres Hermanas (Three Sisters Rocks), Cavernas Ventanas (Windows Caves), and the Tómbolo of Punta Uvita, giving you the opportunity to see dolphins and a seabird sanctuary.
Best Time to Visit: August to October
---
Glacier Bay National Park, Alaska
The marine life is well protected here, so you can always expect it in abundance.
Tours from Glacier Bay are organized twice a day, in the morning and early afternoon. They last about 3 to 4 hours. Humpback whales arrive from the warmer waters of Hawaii, where they spent several months without eating. However, Alaska's cold waters are rich in food, and these whales spend their time here accumulating fat for their next migration.
Best Time to Visit: June to Early September
---
Hervey Bay, Australia
Scuba adventures are endless when diving in Australia. This beautiful part of the world not only holds the Great Barrier Reef, but offers giant kelp forests, shipwrecks and a stunning diversity of marine life.
Humpback whales stop annually in these Australian waters, because Hervey Bay is along their migration route to Antarctica. Here they can grow their young in the absence of predators. There are many boats offering whale watching tours, which last an average of four hours. As a special treat, the vessels are often equipped with a hydrophone for listening to the songs of whales.
Best Time to Visit: Mid-July to October
---
Wilhelmina Bay, Antarctic Peninsula
Wilhelmina Bay is 15 miles (24 kilometers) long. Its very cold waters are rich in krill, the microscopic crustacean highly appreciated by the whales, who come here a few months each year to accumulate fat. Whale watching tours utilize rubber boats. It's possible to spot humpback whales, minke whales, killer whales, leopard seals and other marine animals.
Best Time to Visit: Mid-February to March
---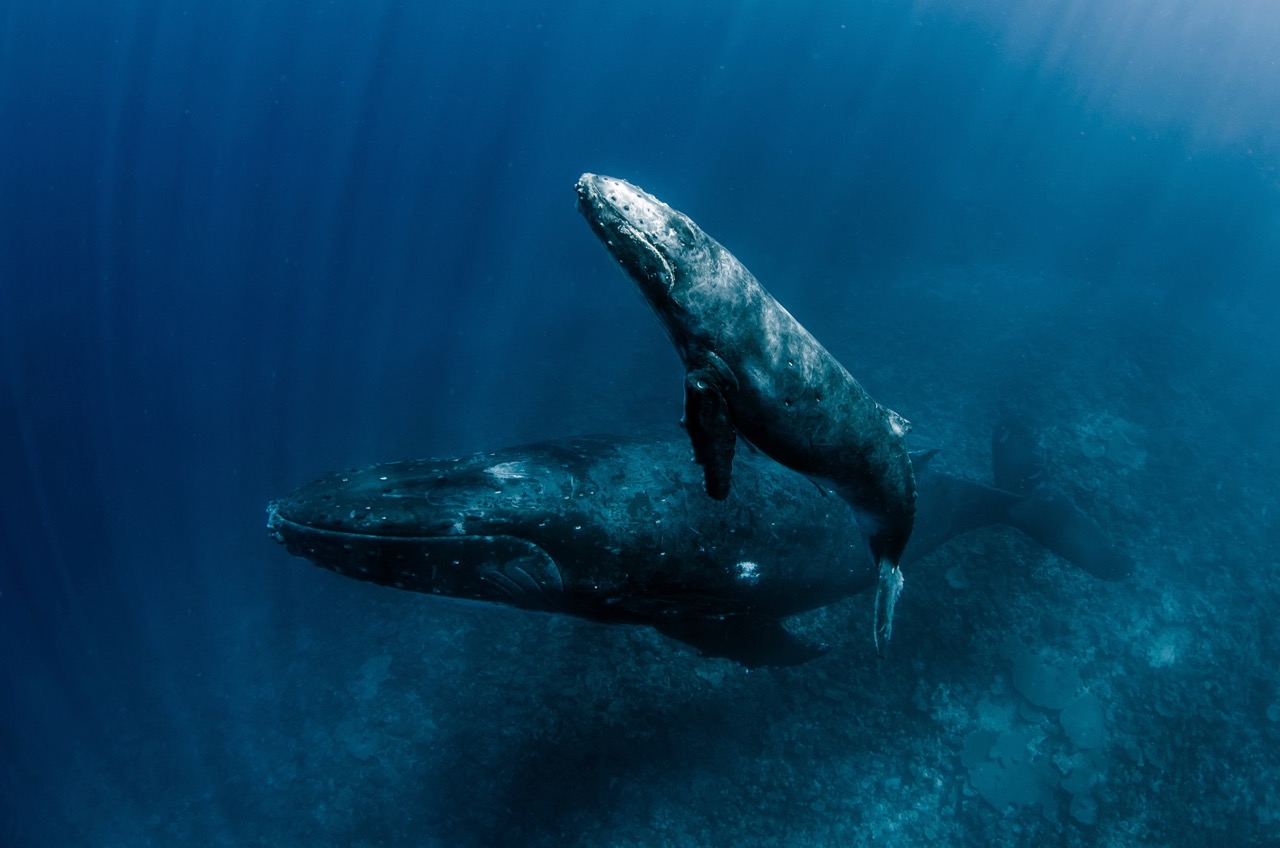 The Best Places for Swimming with Humpback Whales
One of the most magical and unique wildlife encounters any diver can experience is swimming with humpback whales. The places where you can swim with these majestic creatures are mostly in the tropics, where the whales go for breeding and calving, which makes for an unforgettable experience in warmer waters and with better visibility.
The following are the best places to go swimming with humpback whales in their natural habitat.
---
Tonga
Tonga has become an increasingly popular destination for swimming with humpback whales in the past few years. In the small, Polynesian country, you can join a multi-day tour for getting in the water with these cetaceans. Alternatively, day trips are available. The tours start in the morning around 9am, looking for humpback whales in their breeding and nursery areas. A naturalist joins the tours in order to assess whether you can swim with these amazing cetaceans, and to avoid disturbing them, a maximum of 4 guests plus a local guide are allowed in the water at one time. The boats return to Tonga in the early afternoon.
Best Time to Visit: End of August to Early October
---
Silver Bank, Dominican Republic
Silver Bank is a submerged bank in the Atlantic Ocean which attracts a very large number of humpback whales. It is estimated that between 5,000 and 7,000 whales visit the area to give birth and breed. The only way to enjoy the place and these cetaceans is to spend a week on a liveaboard vessel and to use small rubber boats to get close to the whales. Silver Bank is one of the few places in the world where it is possible to snorkel with these whales. This is guaranteed to be an unforgettable experience.
Best Time to Visit: January to April
---
Réunion Island
Humpback whales migrate to these waters to give birth and reproduce, then return to Antarctica. In addition to observing them from the boat, you can go swimming with the humpback whales, where you can take amazing photos and videos. The code of conduct states that the maximum number of tourists that can enter the water at one time is four in order to avoid disturbing the whales. Furthermore, the excursion must be guided by experts.
Best Time to Visit: Mid-August to Mid-September
---
French Polynesia
The beautiful islands of French Polynesia are another winter breeding ground where it's possible to swim with humpback whales. With warm waters and excellent visibility, this is a perfect travel destination for scuba divers and snorkelers alike. The whales are protected thanks to the establishment of a marine sanctuary, and there are guidelines in place so that tourists can observe the whales without disturbing them. The islands of Tahiti, Moorea, and Bora Bora offer many whale-watching trips and swimming excursions in their surrounding waters. And when you're not in the water, you can enjoy the stunning landscapes and beaches of this tropical paradise.
Best Time to Visit: August to October
---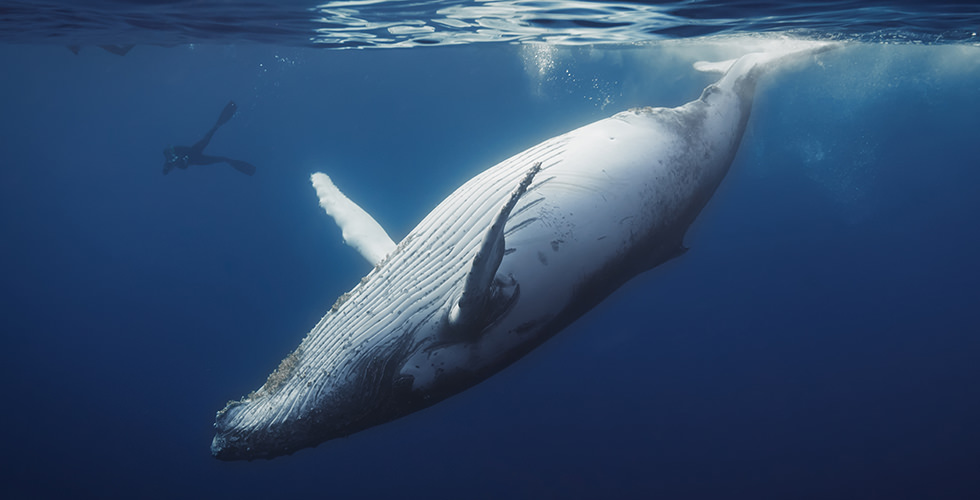 The Best Places for Scuba Diving with Whales
Scuba diving is generally not allowed with whales, as the bubbles produced can be interpreted by these cetaceans as a sign of aggression or danger. This is because they can emit bubbles from their blowhole as well. This regulation also serves to limit the disturbance of the whales in their nursing areas.However, because sound travels extremely well underwater, scuba divers can sometimes hear humpback whales singing underwater while scuba diving in places close to their breeding areas or on their migration path, like in Socorro Island.
---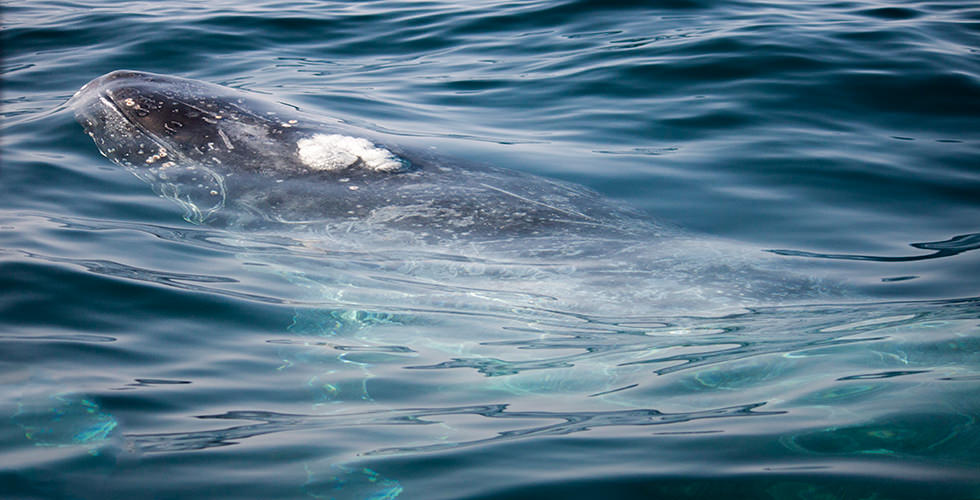 Code of Conduct
We always recommend following the code of conduct while enjoying humpback whale encounters. It's the best way to respect these gentle giants.Humpback whales are especially vulnerable to boat traffic and can be easily disturbed or injured by too many boats or approaching too closely. That's why it's important to maintain a good distance from the whales and keep boat speed low in the areas where whales are present.When swimming with whales in their breeding grounds, it's also important to remember that humpback mothers are nursing newborn calves during this time. It's vital that we don't disturb their nursing because the calves must gain significant amounts of weight in a short space of time so they can survive the long migration back to their feeding ground in the summer.We suggest verifying the company that provides the whale tours is registered and has a permit to do so. It's best to use eco-friendly companies that comply with safe boating practices. This will ensure you have the best possible experience knowing that the whales and environment are respected.
---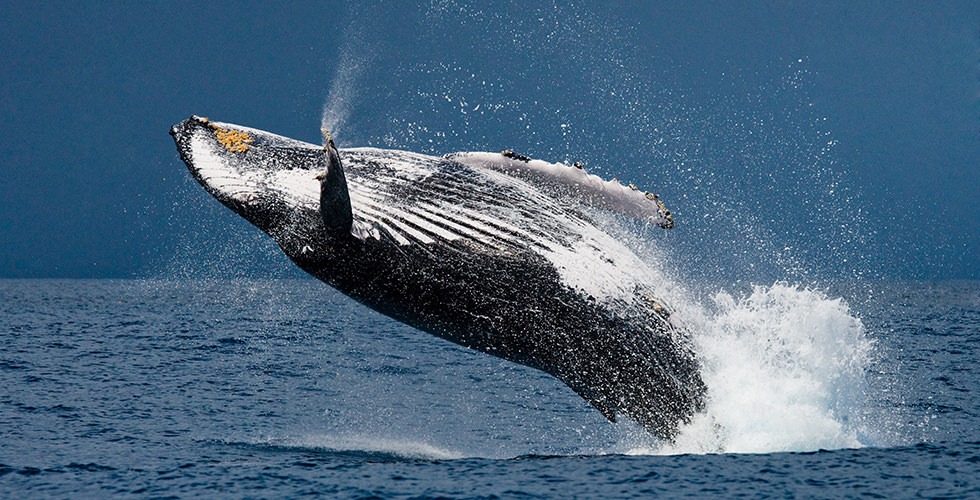 Common Questions About Humpback Whales
Curious to learn more about humpback whales? Here are the answers to the most commonly asked questions about these gentle giants.
---
How Big is a Humpback Whale?
Humpback whales have a variable body length between 48 and 62.5 feet (14.6 and 19 meters). Despite their impressive size, they're only about half the length of the biggest animal to have ever existed on the planet: the blue whale. 
---
How Much do Humpback Whales Weigh?
They can reach a maximum weight of 40 tons (36,000kg). The females are usually heavier than the males.
---
How Long is the Gestation Period (Pregnancy) of Humpback Whales?
It lasts between 10 and 12 months. A female humpback will give birth to a calf every 2 to 3 years, and the calves stay close to the mother for one year, feeding on her milk. 
---
How Much Does a Baby Humpback Whale Weigh at Birth?
At birth, calves are between 10 and 15 feet (3 and 4.5 meters) long and weigh about 1.5 tons (1,360kg). This is one third of the length of the mother's body or the same length as one of her flippers. A newborn calf can gain 100 pounds (45 kilograms) a day while nursing from the mother's very rich milk, as it contains around 50% fat. 
---
How Long Do Humpback Whales Live?
Their lifespan is around 50 to 80 years.
---
What Do Humpback Whales Eat?
These whales can eat up to 2 tons (1800kg) of plankton and small fish (such as herring) per day. Like all baleen whales, they engulf huge amounts of water and then push it out through their bristly baleen plates, like a sieve, to trap all their food inside their mouth.
---
How Often Do Humpback Whales Need to Eat?
Normally, whales feed in abundance in the cold waters near the poles. One of their feeding methods is very impressive; it's called "net bubbling." Using this technique, different whales create a bubble net to trap fish inside and then come up with their mouths wide open. During winter, when they reach warm, tropical waters for the mating period, humpback whales generally do not feed. They survive thanks to the fat accumulated during their stay in cold waters.
---
How Many Humpback Whales are Left in the World Today?
Currently, there are more than 84,000 humpback whales living in our oceans. They all migrate, except for a small population of resident whales in the Arabian Sea that stay in the same waters all year round. 
---
Are Humpback Whales an Endangered Species?
No, their status is 'LC' (Least Concern) via the IUCN, and their population is increasing. In 1970, humpback whales were declared an endangered species, and commercial whaling was limited. Since 1985, they have been protected by the International Whaling Commission's moratorium on commercial whaling. This has helped global populations of humpbacks and other whale species to bounce back. 
However, they still face danger from ship strikes, especially when they cross busy shipping lanes. They're also vulnerable to accidental entanglement in fishing nets, ocean pollution, and increased ocean noise from oil and gas drilling and other activities.
---
How Fast Can Humpback Whales Swim?
Usually, humpback whales swim 3 to 9 miles per hour (4.8 to 14 kilometers per hour), but if danger is present, they can swim up to 16.5 miles per hour (26.5 kilometers per hour).
---
What Sounds Do Humpback Whales Produce?
Listen to the humpback whale song here. Only males sing; however, females can also communicate by sound. For example, communication between a mother and her calf is very strong. They can recognize each other by sound.
Whale songs can last between 20-40 minutes and are extremely complex. Researchers in Hawaii found that every male humpback sings exactly the same song throughout their stay around the island waters for the season. And what's even more surprising, the following season, the whales pick up last year's song where they left off. Humpbacks sing during mating season in their breeding grounds, but you can also hear their songs during migrations and while they are in the poles feeding.
It's clear that there's still a lot we don't know about these musical wonders.
---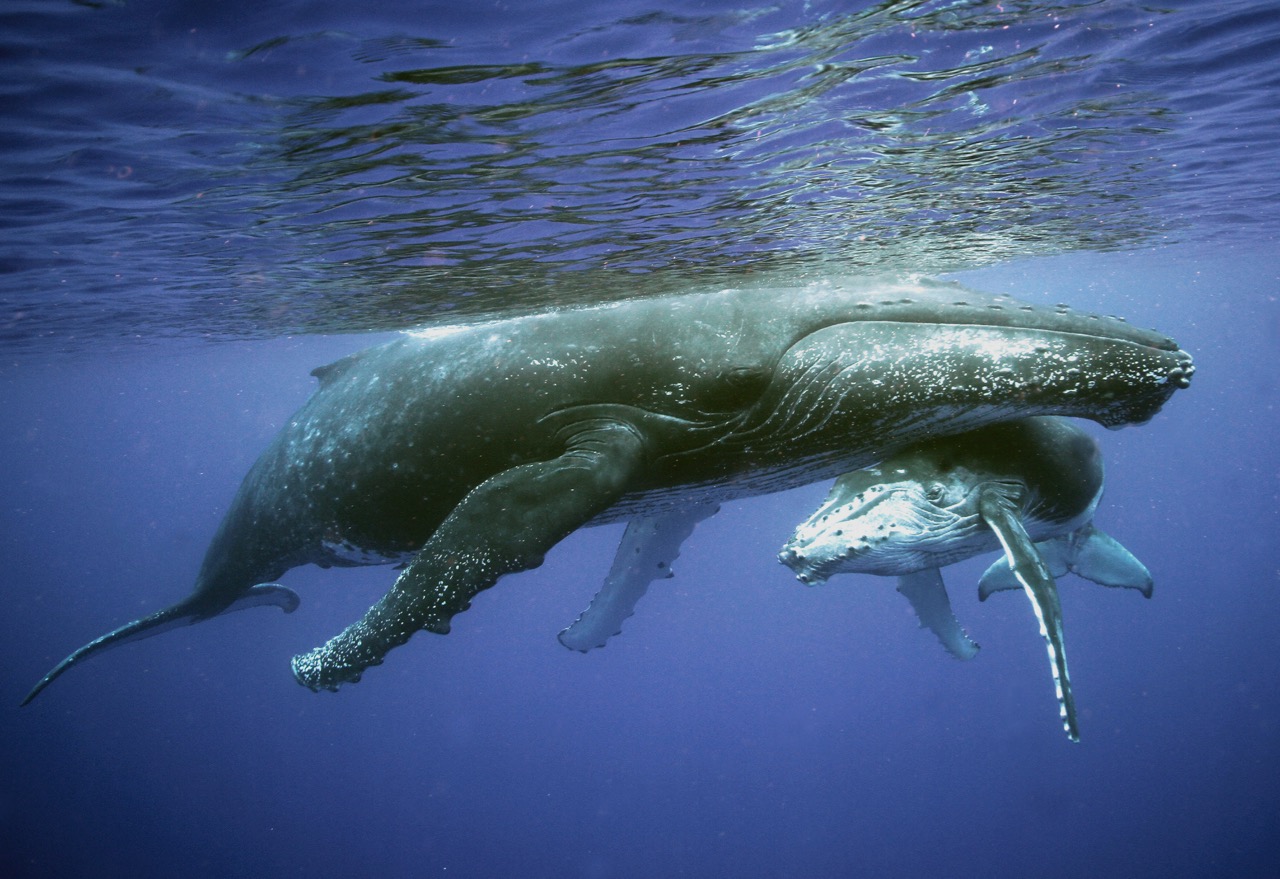 Credit
This article was written by Mario Passoni, a marine biologist involved in several projects concerning ocean conservation and education. Special thanks to Wayne Sentman from the Oceanic Society and Thalia Martinez.
---
Related Reading