Cocos Island in Costa Rica is famous for encounters with scalloped hammerhead sharks. Divers flock to the island, one of the best shark diving destinations in the world. But, on a good trip, you might also see manta rays, eagle rays, whale sharks, sailfish, black and white tipped sharks, silkies, and tiger sharks.
While diving around Cocos Island, don't expect to see healthy coral reefs. The underwater landscape is made up of dramatic pinnacles with built-in arches and drop-offs that seem to descend to infinity, a reminder that you're diving on a submerged mountain range.
Because Cocos Island is located 342 miles (550km) from the coast of Costa Rica with only 10 square miles of land surface, diving at Cocos Island is only possible from a liveaboard. It takes about 36 hours to reach the island, so this trip may not be suitable for those who suffer from seasickness.
Liveaboards headed for Cocos Island usually depart from Puntarenas, a 2-hour drive from San Jose. The typical length of liveaboard itineraries is 8 to 10 nights.
The best time to dive at Cocos Island is from June to December. Within these months, plankton blooms attract large numbers of scalloped hammerheads and manta rays. On the other hand, the off-season (December to May) features calmer conditions and better visibility.
Keep in mind, the underwater conditions at Cocos Island can be challenging with occasional surge and currents; therefore it is recommended that only experienced divers travel to this diving destination. Additionally, Nitrox certification is required by most operators in the region.
---
Best Luxury Liveaboard: Argo
The Argo is the most luxurious vessel traveling to Cocos Island and even comes complete with its own deep sea submersible.
At 129 feet (39m), the roomy Argo was totally refurbished in 2008 to provide the best amenities available to scuba divers. On most itineraries, you'll enjoy 4 dives per day, including 3 night dives over the course of the week. This liveaboard also features a ratio of 2 dive pros and 14 crew members for 18 guests.
While you're traveling with the Argo, you can also choose an optional upgrade dive on board the DeepSee submersible. This small submarine dives to extreme depths to spot rare marine life.
You'll experience all of this under the water while enjoying luxury on the yacht. The Argo boasts 9 of the roomiest cabins found on any liveaboard at Cocos Island. The owner's cabin, in particular, is worth the upgrade. With a queen-sized bed, TVs and ensuite bathrooms, you'll want for nothing on the Argo.
**Please note that the MV Argo and the DeepSee submarine are currently away on a long-term project. Recreational dive trips will resume in 2025.**
---
Best Mid-Range Liveaboard: Okeanos Aggressor II
Part of the Aggressor Fleet, the Okeanos Aggressor II is designed for safety and adventure. Newly built in 2010, this vessel includes everything divers need for a memorable scuba vacation.
Every guest aboard the Okeanos Aggressor II is provided with personal EPIRBs while diving. This advanced technology ensures all divers are accounted for. In addition, the boat features air conditioning and internet for everyone's comfort.
In addition, you'll enjoy 3 to 4 dives per day and a complete photo center for underwater photographers. There are camera tables, extra charging stations and a computer for viewing your images.
The ratio of divers to dive pros is 22 to 2, but there are 9 crew members to assist with gearing up and your return to the main vessel. The boat boasts 11 cabins to easily accommodate every guest.
For a well-priced liveaboard trip with extra safety measures and the trusted Aggressor name, the Okeanos Aggressor II is a great choice.
---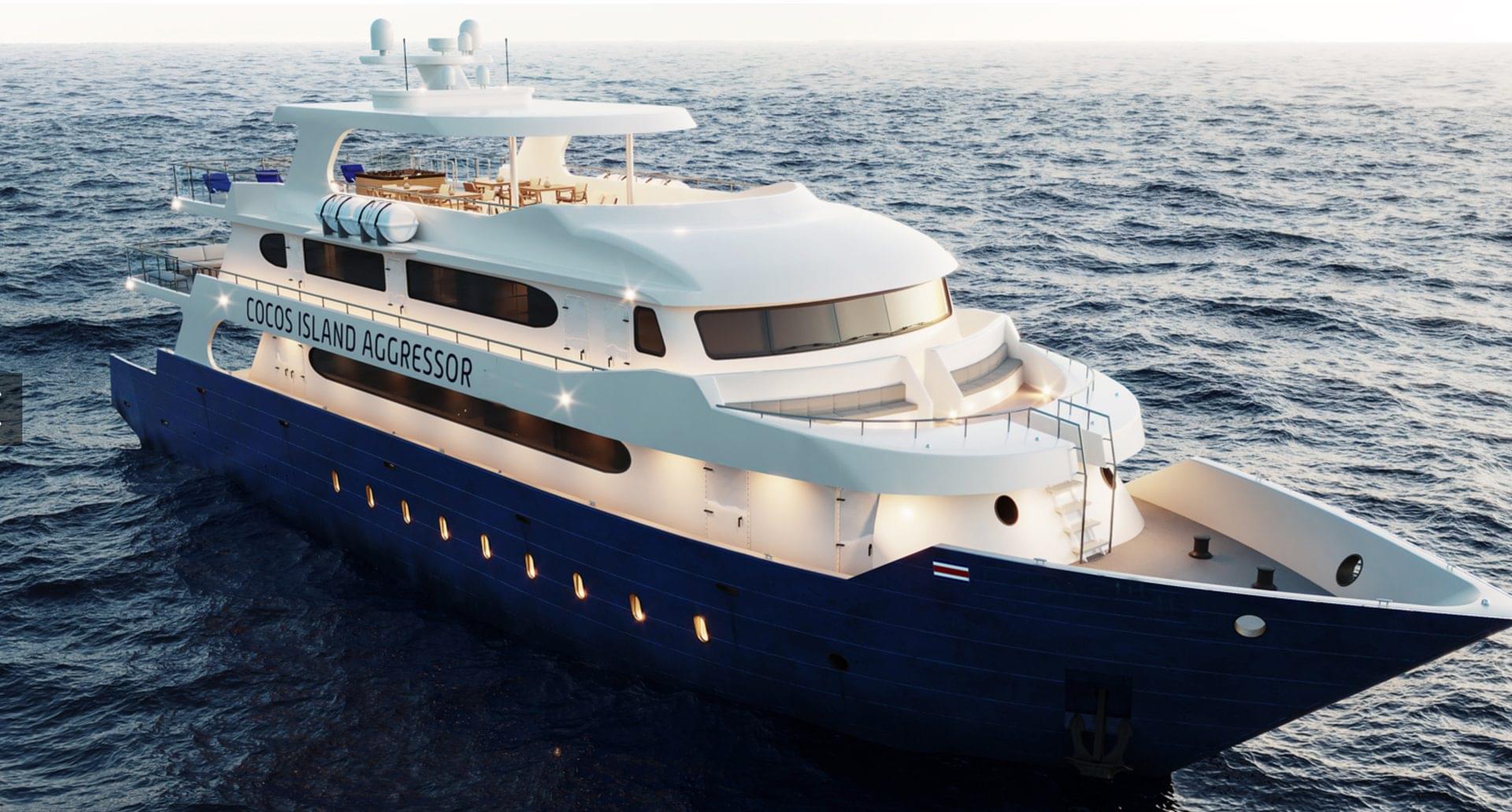 Best Liveaboard for Groups: Cocos Island Aggressor
This modern liveaboard is one of the newest vessels touring Cocos Island. Built in 2020, the Cocos Island Aggressor is 38 meters/125 feet long and 8 meters/26 feet wide. This spacious vessel is an excellent option for groups with a range of cabin types and plenty of common areas for group dining, chilling out and watching the watery horizon pass by.
This luxury vessel accommodates up to 22 passengers in 11 spacious staterooms, including 4 master staterooms on the upper deck and 7 deluxe suites with twin beds on the lower deck. Each stateroom features a private bathroom and shower, individual climate control, and a monitor with a media player.
The Cocos Island Aggressor has a spacious saloon where divers and groups can enjoy a variety of nightly entertainment or watch movies on a large screen; there is a spacious sundeck with sun loungers, deck chairs, and a well-stocked bar and grill area for sundowners and barbecue nights.
The roomy dive deck is equipped with individual dive lockers, rinse tanks for washing dive equipment and cameras and two hot fresh water showers.
Lunch is served buffet style, whereas at dinner, there is an a la carte table service menu. Onboard the Cocos Island Aggressor, you will enjoy a mouthwatering menu, including American fare and local specialties, such as salads, vegetarian dishes, seafood, beef and chicken dishes, and delicious freshly made desserts. Certain dietary and beverage requests may not be available due to the remote location, so it is always best to let the team know in advance (when booking) and to speak to the Chef once onboard. A limited selection of local beer and wine is included in the Aggressor's beverage menu, in addition to fruit juices, soft drinks, iced water, iced tea, and coffee. All drinks are complimentary.
The Cocos Island Aggressor offers up to 4 dives per day with an average itinerary of 10 nights.
---
Best Liveaboard for Nervous Divers: Sea Hunter
A former diver support vessel for professional research excursions, the Sea Hunter was refitted for recreational diving in 1994. Not only does the vessel still host professional filmmakers, it also offers a range of features for the nervous diver and itineraries that are 11 days (1 day longer than most boats).
First and foremost, all dives from the Sea Hunter are guided dives. 24 dives total are executed over 6 days of diving. And with 14 members of the crew for 20 guests, all divers get a lot of personal attention.
Secondly, you can rest easy in the knowledge that the Sea Hunter is designed to minimize noise and uncomfortable movements thanks to zero-speed stabilizers. And all guests can be accommodated in 10 cabins which are as isolated as possible from the powerful engines.
The Sea Hunter is also well-equipped for down time. There's an air conditioned lounge as well as a sun deck for catching some rays. An extra perk is the free laundry service provided for all guests.
If you want to visit Cocos Island but are nervous about diving conditions and the long journey to the island, the Sea Hunter is the boat for you.
---
The liveaboards you've read about above were hand-picked by our Scuba Travel Experts, but there are a more boats available. To see the full list of liveaboards in Cocos Island, click the button below.