Have you ever dreamed of coming face to face with the massive toothy grin of a hammerhead shark? These seemingly prehistoric creatures are intelligent and aggressive hunters but are rarely any danger to humans. There are places all over the world where you can go diving with hammerhead sharks, some of the most fascinating sharks alive. Let's take a look at the best spots for diving with hammerhead sharks!
---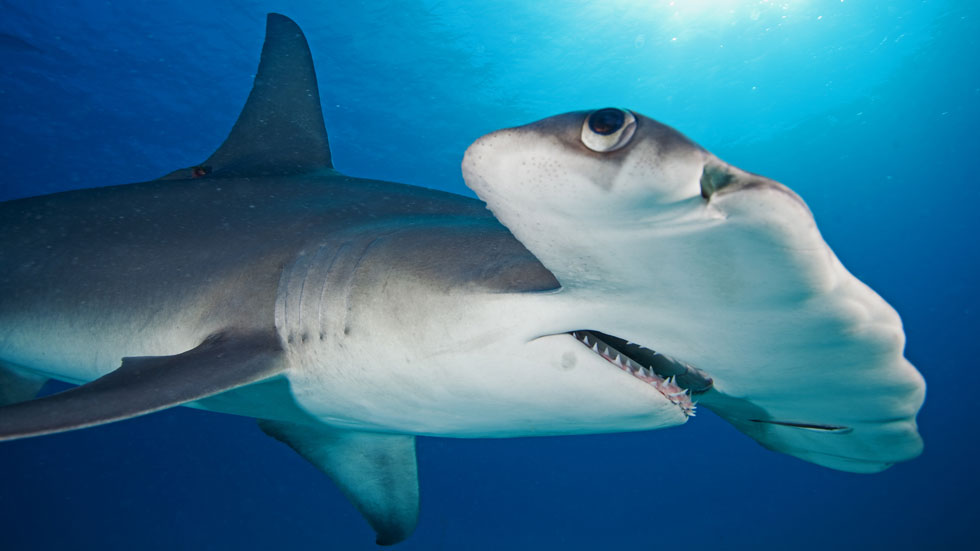 7. Socorro Island, Mexico
Just getting to Socorro Island is an adventure in and of itself, so you know the diving will be off the charts. Located about 250 miles (400 km) southwest of the Baja peninsula in Mexico, Socorro is part of the Revillagigedo Islands archipelago.
The islands are perfect for large marine encounters, and currents here can be quite strong, so this is a spot best suited for experienced divers.
Hammerhead sharks are a common sight, as well as whale sharks and whitetip reef sharks. You can even see humpback whales visiting the area in the winter months. And the manta rays and dolphins in Socorro tend to be quite curious. Don't be surprised if they join you for a dive or two.
The archipelago is only reachable via liveaboards that depart from Cabo San Lucas from November to the end of May when the sea conditions are calmest. And although hammerheads can be seen year-round, the best months to spot them are from April to May.
---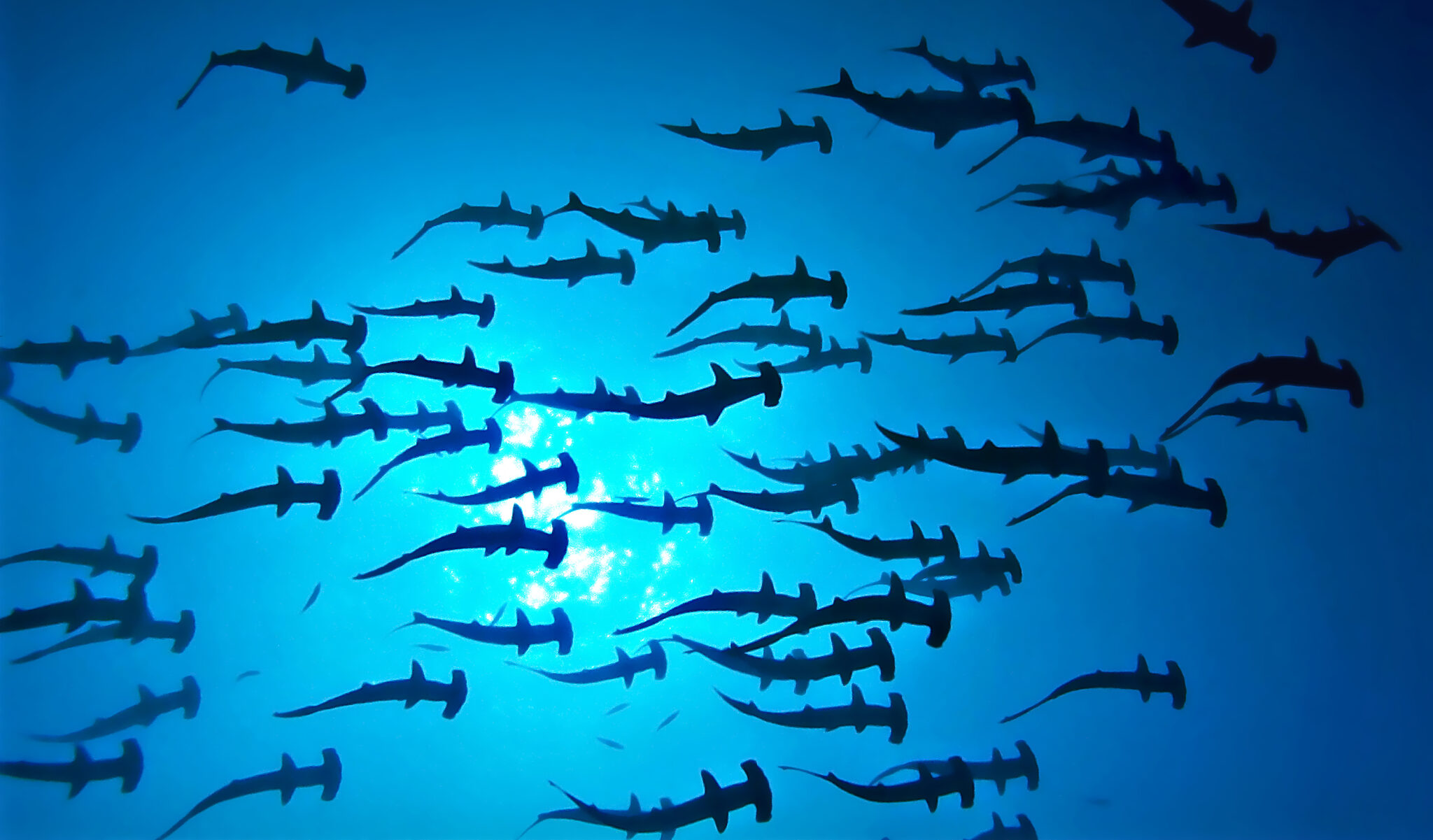 6. Malpelo Island, Colombia
Another liveaboard destination that is perfect for shark lovers is Malpelo Island. This remote island is located about 300 miles (500 km) off Colombia's Pacific coast and is one of the best places to view schooling scalloped hammerhead sharks. The waters here are cold and deep, making it an ideal spot for large fish encounters.
What makes Malpelo Island so special is that it's a UNESCO World Heritage Site protected by the Colombian government. This means that diving is regulated, and liveaboard trips are limited to one boat at a time to ensure the waters stay pristine and the endangered species are protected.
It's not just hammerheads that you'll find in these waters. You can also spot mantas, whale sharks, and other species of shark, such as schools of silkies. You can dive Malpelo all through the year, but January to May is considered the dry season and the best time to see the hammerheads.
---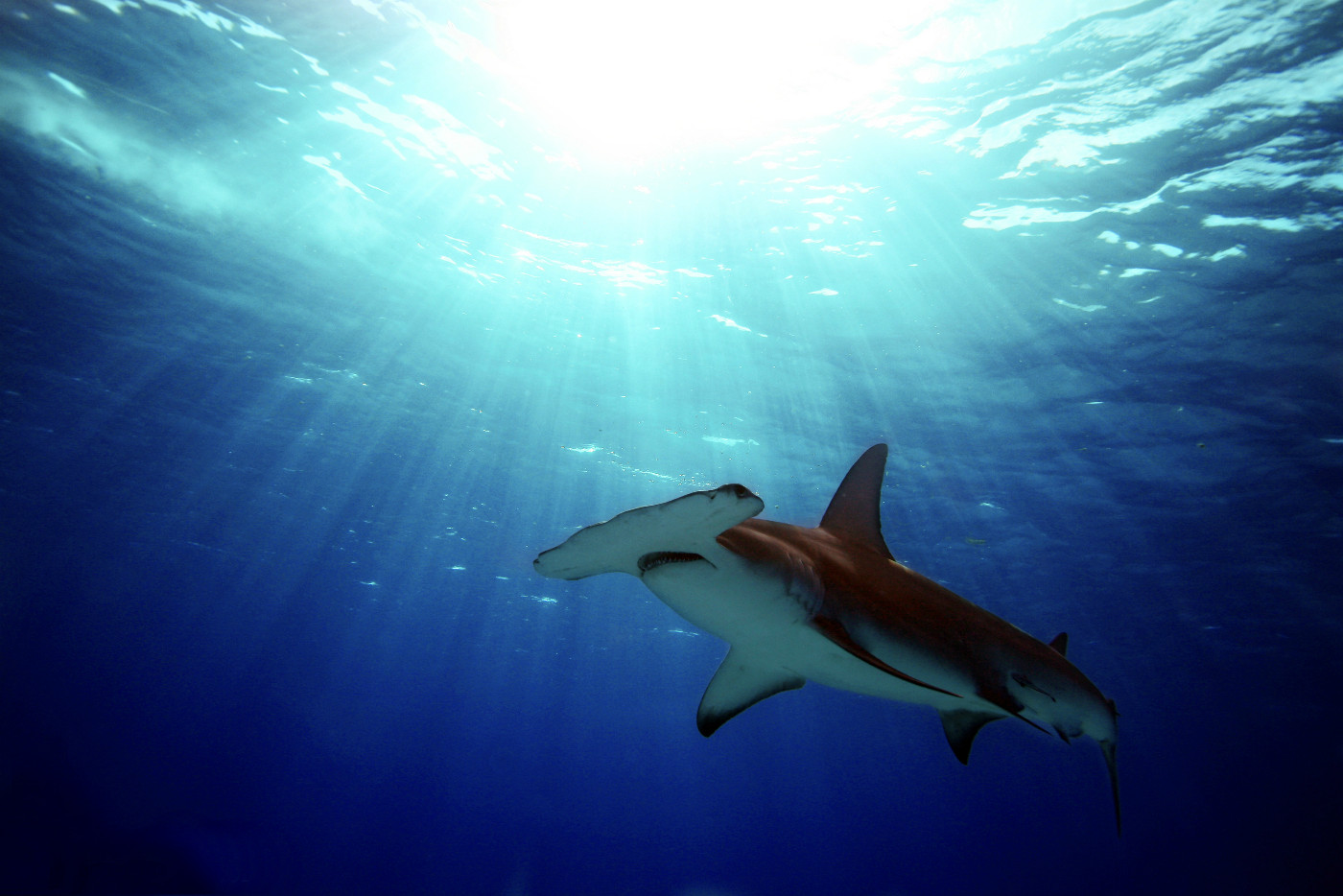 5. Florida Keys, Florida
Accessible and world-renowned, the Florida Keys are an excellent jumping-off point for diving with hammerhead sharks. There are several species of hammerheads in the warm waters that surround the keys, some of which can reach 1,000 pounds (450 kg). In addition to the many hammerheads that patrol the shallows, there are bull sharks, tiger sharks, lemon sharks, mako sharks, black tip sharks, and reef sharks.
The hammerheads often feed on stingrays and fish, and you may even get lucky enough to watch them stalking their prey. Occasionally, these fantastic sharks throng in the hundreds, making for an unforgettable and impressive display.
Did we mention that the Florida Keys are home to the third-largest barrier coral reef in the entire world? This area boasts 40 living coral species and 650 varieties of fish. Beyond sharks, you'll also find spur-and-groove coral formations, boulder corals, caves, lobsters, turtles, and rays.
---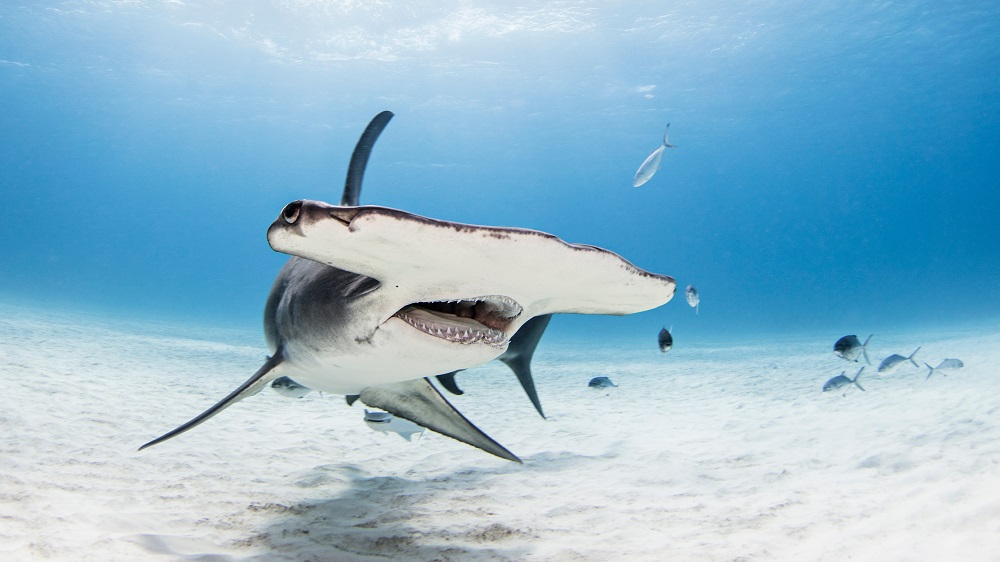 4. Lahaina, Hawaii
Scalloped hammerheads prowl the waters around Lahaina, a town on the shores of Maui. The channels that run between the islands of Maui, Lanai, and Moloka'i are ideal feeding grounds for hammerheads and other large marine life.
The two dive sites that are particularly popular are Fish Rain and Fish Bowl. Fish Rain is a drift dive with a moderately strong current and ranges in depth from 70-130 ft (20-40m). While idling through the water, you have a great chance of seeing dolphins, ahi tuna, and other large sharks.
Fish Bowl is slightly shallower, ranging from 50-90 ft (15-27m). Though it is also a drift dive, your dive operators may choose to drop anchor alongside the bowl. Looking out over the edge, you can spot plenty of reef sharks, octopuses, and hammerheads galore.
It's important to note that Hawaii's volcanic origins and isolated geographical location make for a whirlwind of scuba diving options beyond just shark diving. Hawaii really does have it all. The marine life is well protected here, so you can always expect it in abundance.
---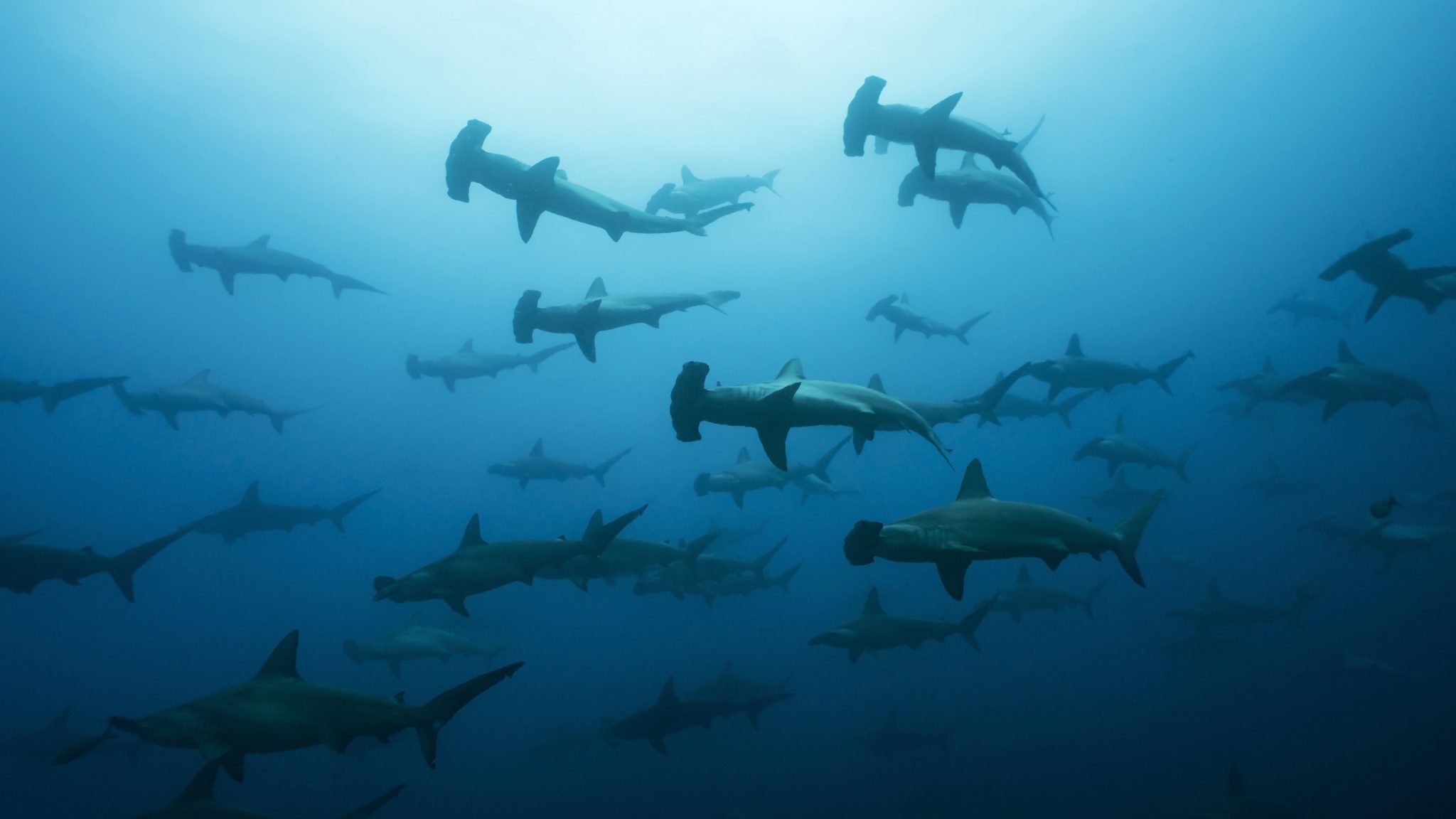 3. Darwin Island, Galapagos
Paired with the splendid array of marine life, the excellent visibility makes diving in the Galapagos exceptional. There are dives on many of the islands, though several islands stand out as particularly excellent places to take the plunge, one of which is Darwin Island.
As if floating through a dream world, Darwin Island is a unique dive site where you can go diving with hammerhead sharks. Found in the northwest corner of the Galapagos archipelago, Darwin Island is the remnants of an ancient volcano and is located 563 mi (906 km) off the western shore of Ecuador. Although hammerheads may travel solo near the surface, you're more likely to see massive schools in deeper water.
Visit from January to May for your best chance to see both hammerheads and massive manta rays. June to November gives you the greatest opportunity to swim with whale sharks, so it may be in your best interest to enjoy an extended vacation on these magical islands.
Although there are dive resorts on the islands, there's a lot to see and dive offshore. That's why many divers prefer a liveaboard here, and you'll only be able to reach Darwin Island on one of these boats.
---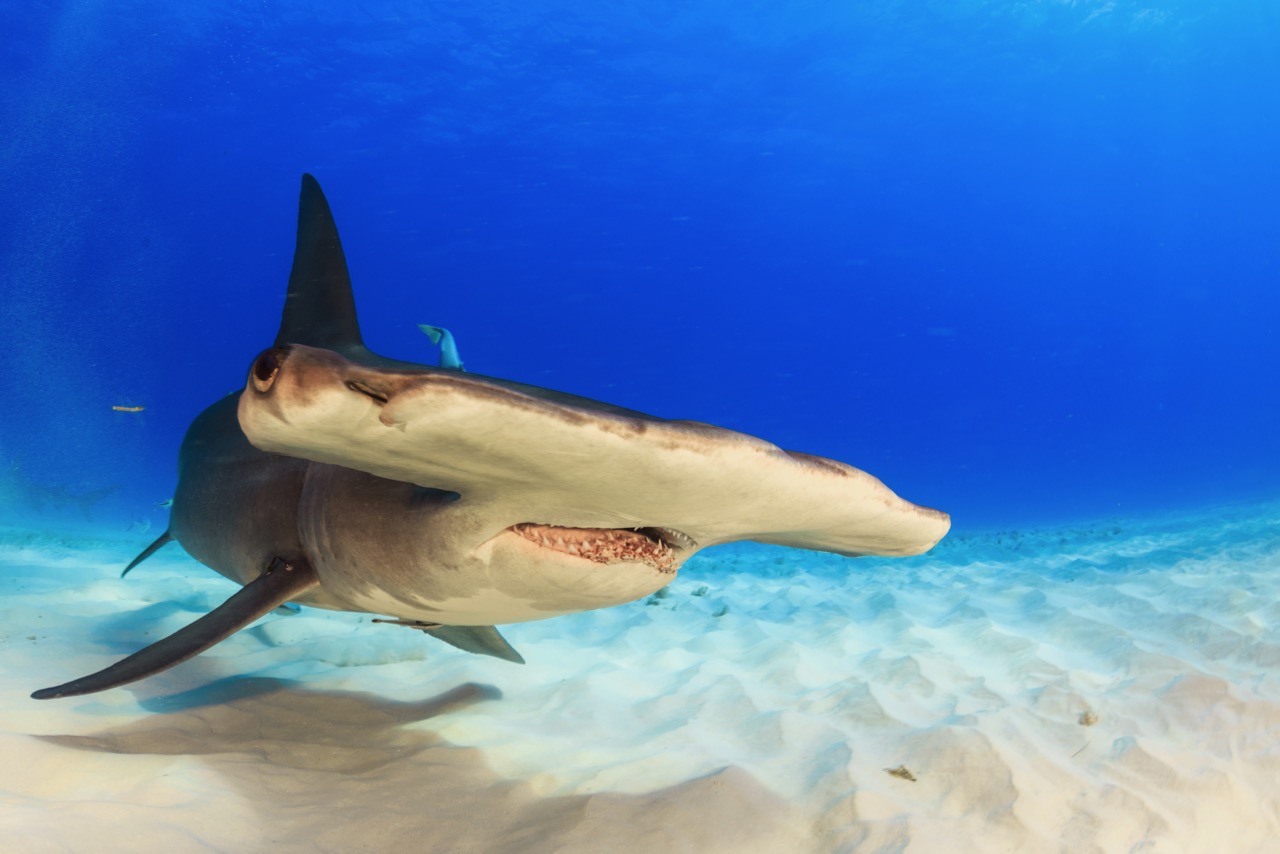 2. Bimini, Bahamas
Not far off the eastern shore of Miami, Florida, the Bahamian island of Bimini is home to one of the best hammerhead shark dives in the world. Colorful coral reefs, sheer walls, shallow wrecks, and caverns produce a variety of dive types. You can go on night dives, drift dives, easy reef dives, and tec dives. But this area is most famous for its shark encounters.
Certain dive shops offer expeditions to dive with hammerheads, who swim by the islands every February. Massive sharks arrive by the dozens, and although these fish are usually shy and apprehensive, many individuals in the area are content around divers.
Although sharks are given a bad reputation, your experience in the Bahamas will turn around any anxieties you may have about getting in the water with these fascinating animals. Tiger sharks, bull sharks, reef sharks, and black-nose sharks may also make an appearance on your dive.
---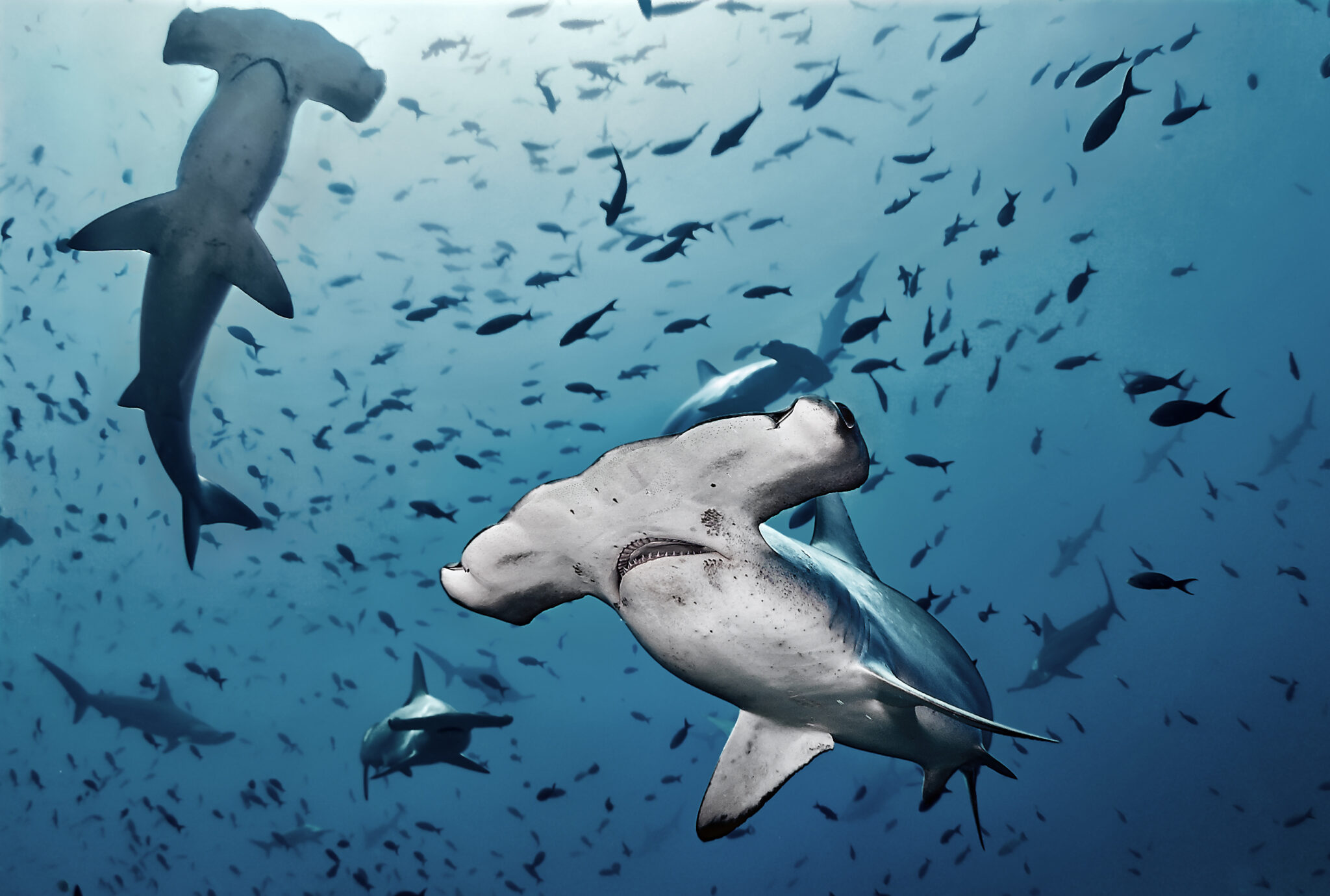 1. Cocos Island, Costa Rica
Cocos Island is widely appreciated as the best place to dive with the mighty hammerhead. Found 342 mi (550 km) from the mainland of Costa Rica, Cocos Island is completely uninhabited, except for a national park ranger station. Diving is the activity of choice on this primordial island, whose rocks jut high out of the Pacific, the waves crashing on its stony shores. The best sites for hammerhead sightings are Bajo Alcyone and Punta Maria.
Schools of sharks swarm around the island, whose perimeter is surrounded by deep crevasses and outcroppings. Be aware strong currents flow past the rocky formation, making for difficult yet rewarding diving. Because of the cold currents, only highly experienced divers are recommended to take the plunge.
The only way to see Cocos Island is on a diving liveaboard vessel. These depart from the port city of Puntarenas in Costa Rica. Liveaboard trips usually last for at least 8 to 10 days, taking up to 36 hours to reach Cocos Island.
---
What are you waiting for? Let's go diving with hammerhead sharks!
Put your trepidation behind you. Hammerhead sharks are gentle, curious creatures, and diving with them will be the trip of a lifetime. Get a glimpse of these gigantic fish and watch them in their natural habitat, hunting and exploring. Head to one of these exciting destinations to get up close and personal with hammerhead sharks, creatures that have been patrolling the deep for thousands of years.
Book your trip to go diving with hammerheads on PADI Travel today.
---
Related Reading