Sharks can be intimidating creatures, but diving with them will shed a new light on your view of these big animals. In fact, they are amazing fish to see in their natural habitat. So, what are the best places to dive with sharks? You can find sharks all over the world, but below we've selected the 15 most exciting and renowned destinations where you can dive with plenty of sharks.
Table of Contents
Best places to dive with sharks
---
The Best Places to Dive with Sharks
Keep reading to learn more about the 14 best countries for diving with sharks (in no particular order) as well as the best regions within those countries to target for your shark diving adventure.
---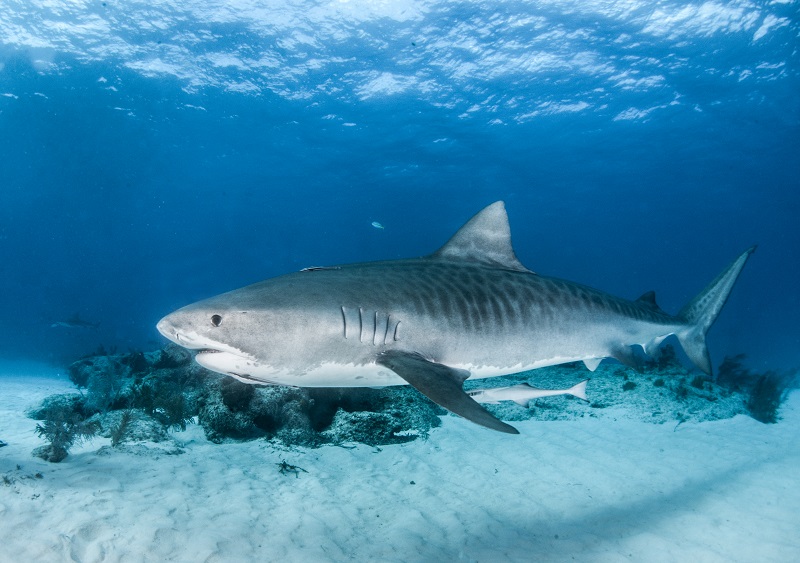 1. Bahamas
Shark lovers have long been visiting the Bahamas to get their adrenalin fix. With guaranteed sightings of a variety of shark species and easy access from North America, South America and Europe, it's obvious why divers are attracted to the country. Three areas in particular stand out for shark encounters. Head to Bimini for hammerheads. Cat Island boasts amazing oceanic whitetip sightings, and Tiger Beach is, you guessed it, known for its tiger sharks.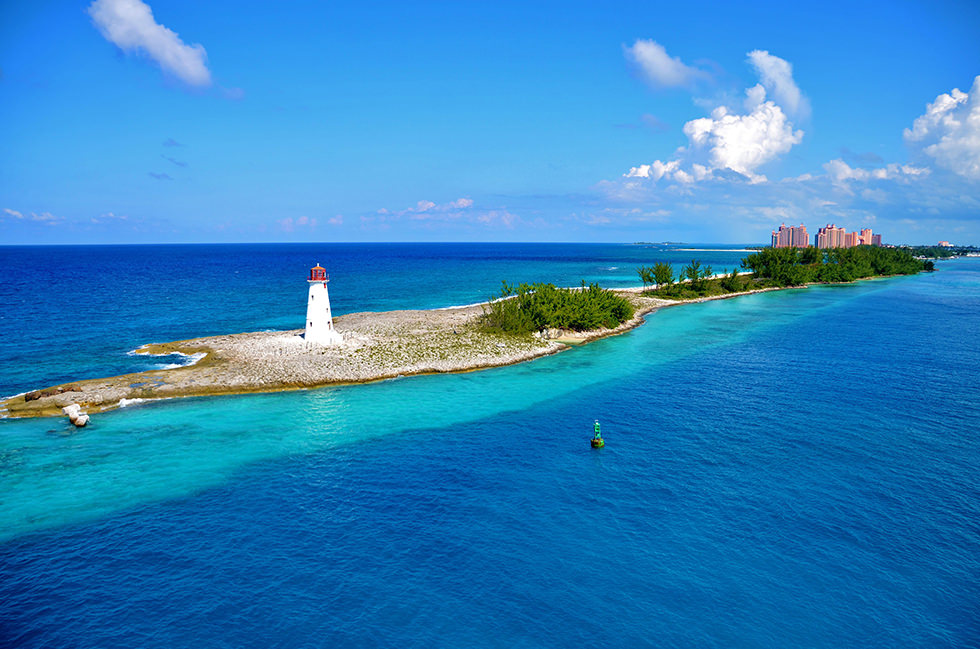 Bimini
Every winter from December to March, great hammerhead Sharks gather around the Bimini Islands in large numbers. Naturally shy and reserved, these huge sharks with their odd faces become curious in this location, closely approaching divers. Shark feeding is closely controlled due to the area's marine park status. Those visiting the region might also encounter bull sharks, nurse sharks or Caribbean reef sharks. Although Bimini Island is a part of the Bahamas, it is located just 50 miles from Miami in the United States, making it possible to visit by boat in just three hours from the American city.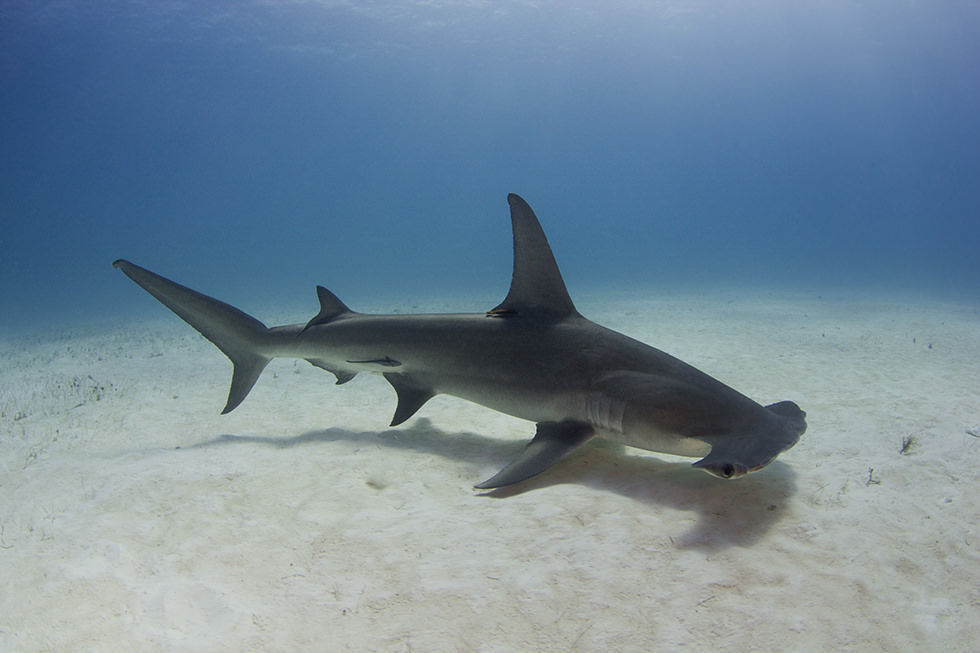 Cat Island
Although oceanic whitetip sharks are in decline throughout much of their range, the population surrounding Cat Island is still thriving. From April to June, these large sharks follow the tuna migration to the area. You'll come face-to-face with this fierce open-ocean predator during your dives on pristine Cat Island. You might also find silky sharks, dusky sharks, bull sharks, tiger sharks, Caribbean reef sharks, nurse sharks and lemon sharks. While Cat Island is not yet as popular as its neighbors for shark diving, it won't be long before the crowds arrive. Grab your gear and get to this shark wonderland before everyone else does!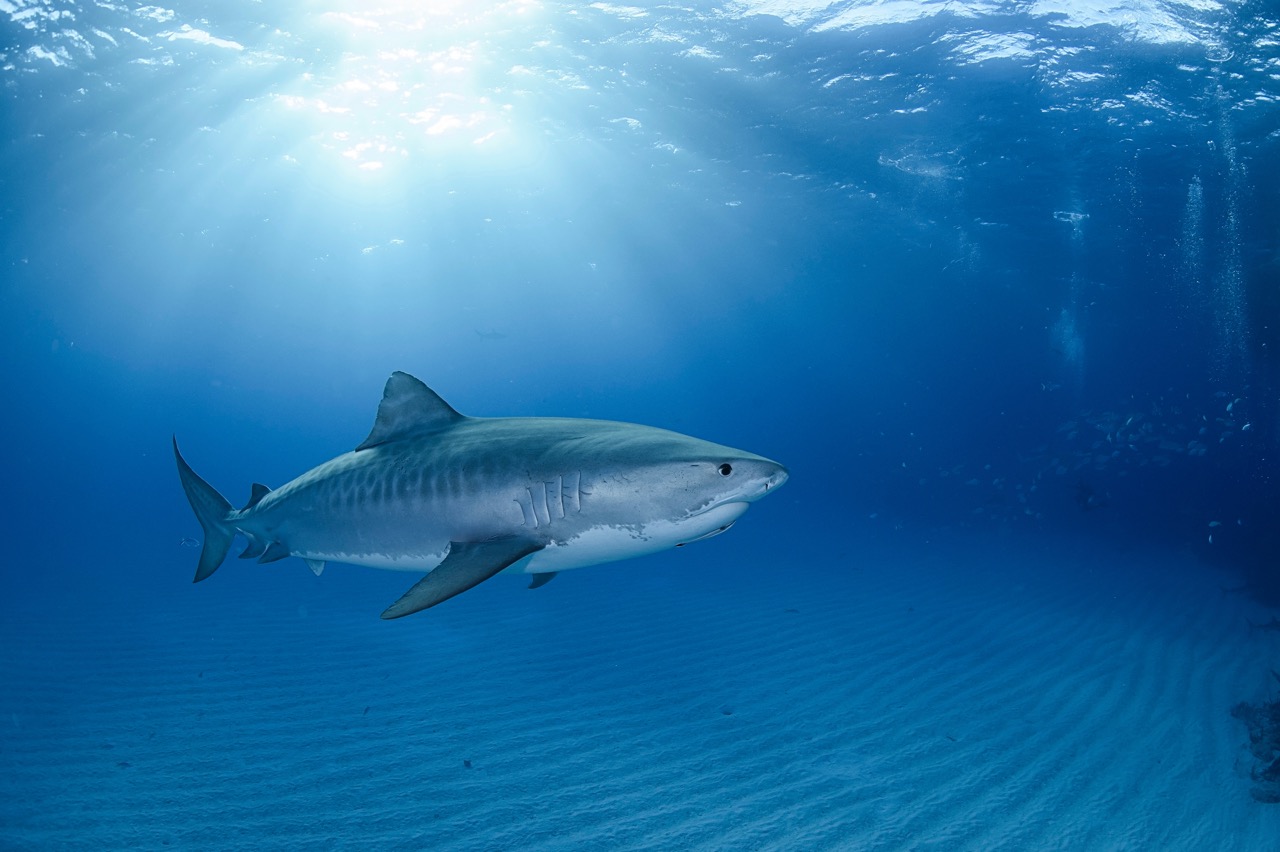 Tiger Beach
About an hour by boat from the West End of Grand Bahama, Tiger Beach is famous and aptly named for its resident tiger sharks. Two to seventeen of these gorgeous animals appear nearly every day of the year. However, the best time to dive Tiger Beach is between October and January when the sharks use the area as a breeding ground. For photographers, this is the place for tiger sharks. The 20-foot (7-meter) depth gives plenty of light, and the sandy bottom is an excellent backdrop. Your friends are sure to be jealous of your underwater captures after a trip to Tiger Beach.
---
2. South Africa
South Africa is a prime destination in terms of diving with sharks and big creatures. I would even dare to say it is the best shark destination out there. The two areas where you should head to see sharks are around Durban and around Cape Town.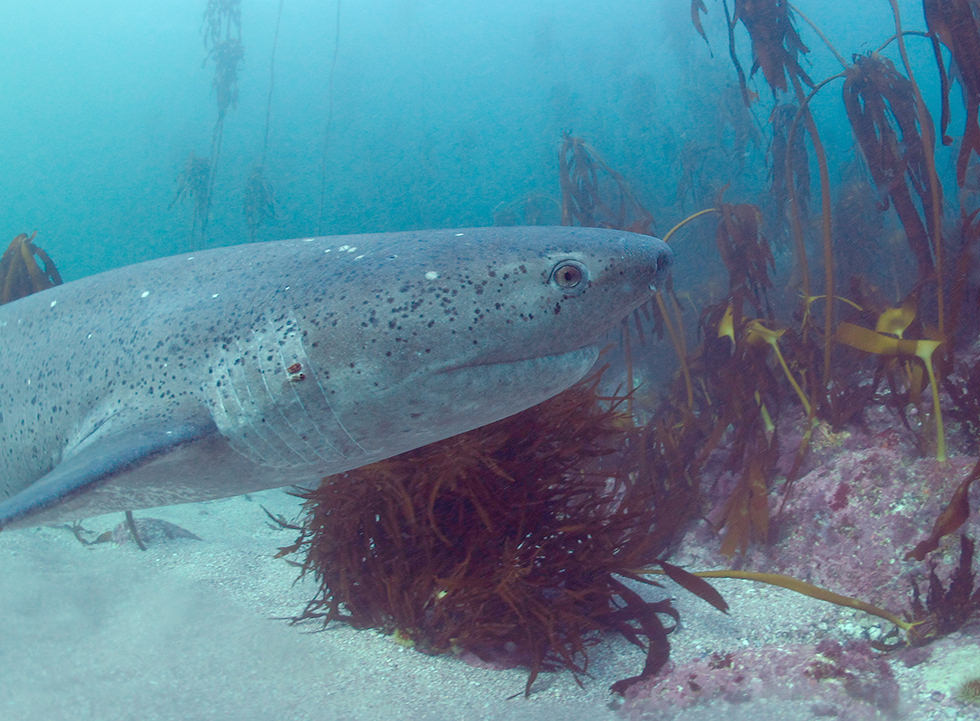 Aliwal Shoal and Protea Banks
Aliwal Shoal and Protea Banks, two reef formations in front of Umkomaas and Shelly Beach, respectively, are the most famous destinations in South Africa for shark diving. Dive centers have been diving with sharks here for many years now. You can encounter up to 30 oceanic blacktip, bull, silky, tiger and sometimes hammerhead sharks. It's also easy to spot sand tiger sharks (ragged-tooth sharks) swimming slowly and relaxed in fixed patterns. Although diving with sharks in KwaZulu-Natal is possible year-round, the best conditions occur between March and July.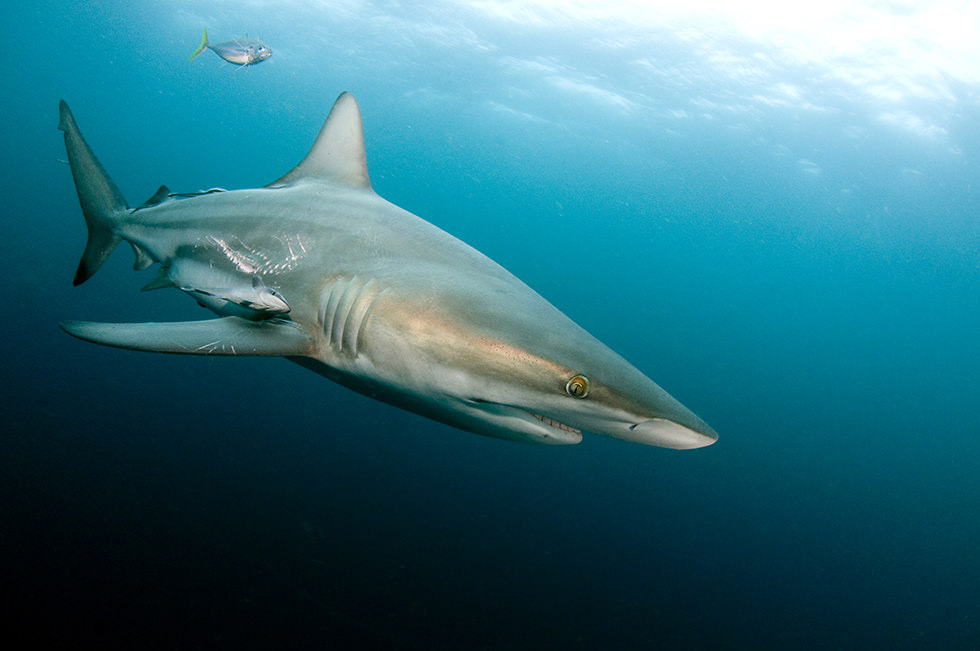 False Bay and Gansbaai
These two locations are some of the best places in the world for diving with great white sharks. Seal Island, in the middle of False Bay, is an island home to more than 60,000 seals and a hunting ground for great white sharks. From February until the end of September, daily dive charters depart from Simon's Town in the early early morning.
Gansbaai has often been called the Great White Shark Capital of the World. Just two hours from Cape Town, the area hosts up to 60,000 resident cape fur seals which attract hungry sharks. Trips are run from April to September to Shark Alley alongside Dyer Island and from September to March to Shark Bay.
---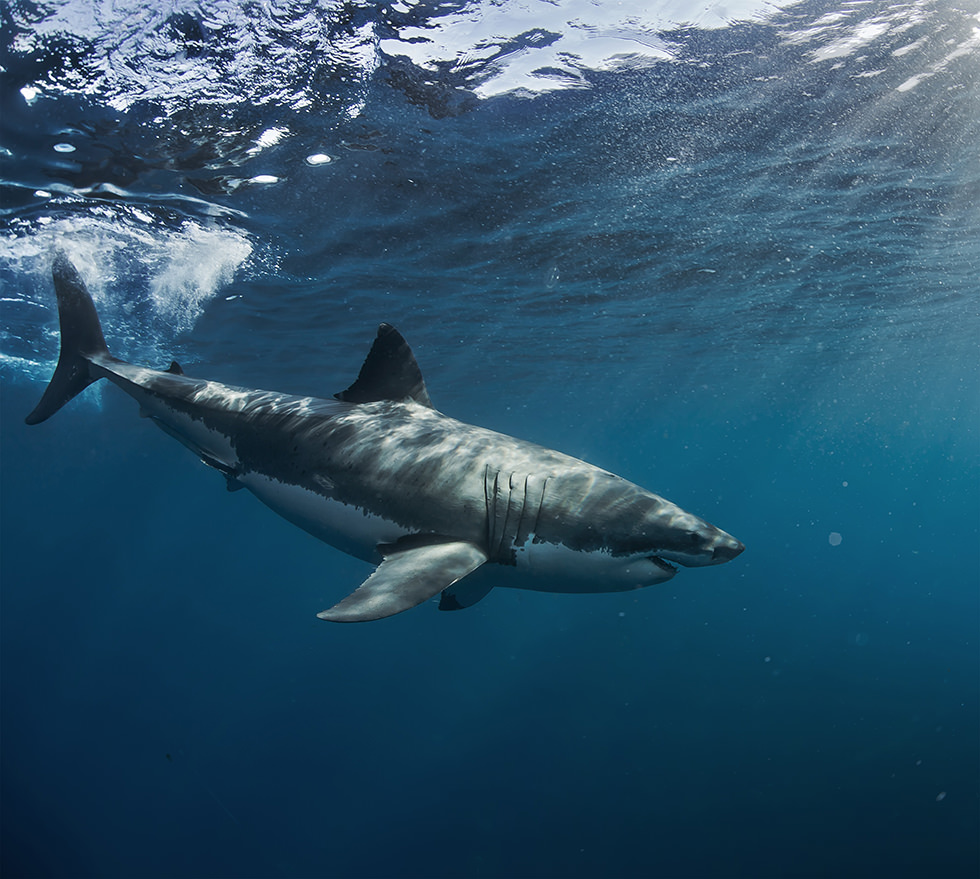 3. Mozambique
Mozambique's position on the Indian Ocean, just north of South Africa, makes it a great addition to this list. Although it is not commonly thought of as a popular shark destination, the encounters along its southern coast are as exciting as its southerly neighbor offers. Ponta do Ouro holds your best chance for seeing these toothy creatures. Although not discussed in depth here, Tofo Beach is also a great place for those interested in swimming with Whale Sharks.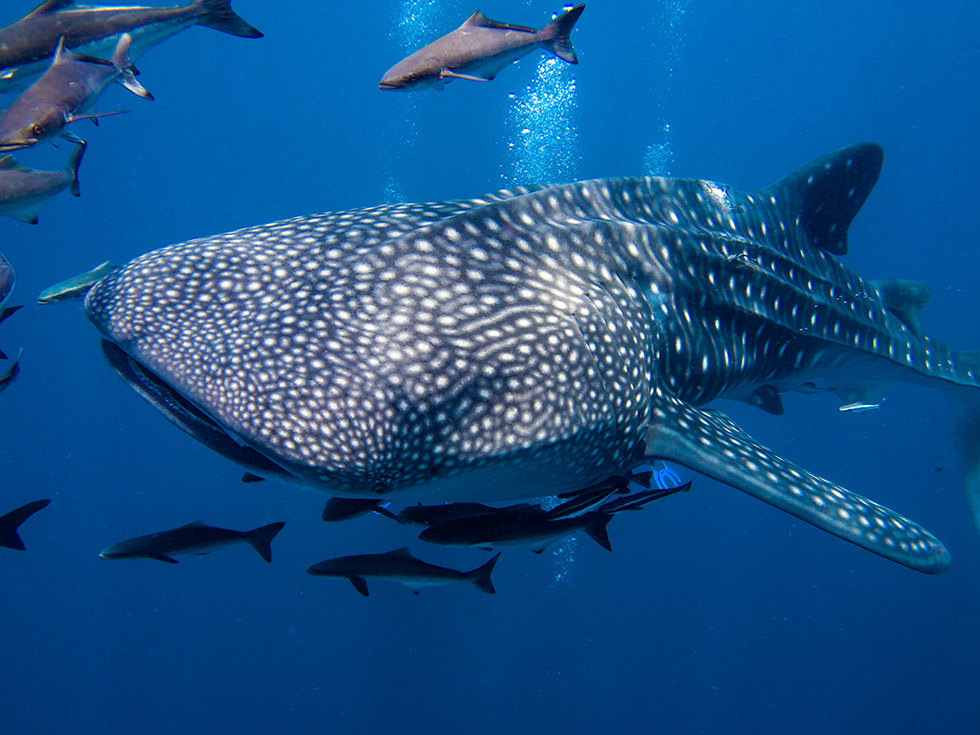 Ponta do Ouro
Just to the north of Mozambique's border with South Africa, Ponta do Ouro is an easily reached shark diving destination. Here divers can swim among 11 species of sharks. Operators in the area don't bait the sharks, so migrational patterns are still observed. From May until early October, tiger sharks, bull sharks and hammerhead sharks are almost guaranteed. Outside of these months, you'll still have a good chance of getting in the water with bull and whale sharks.
---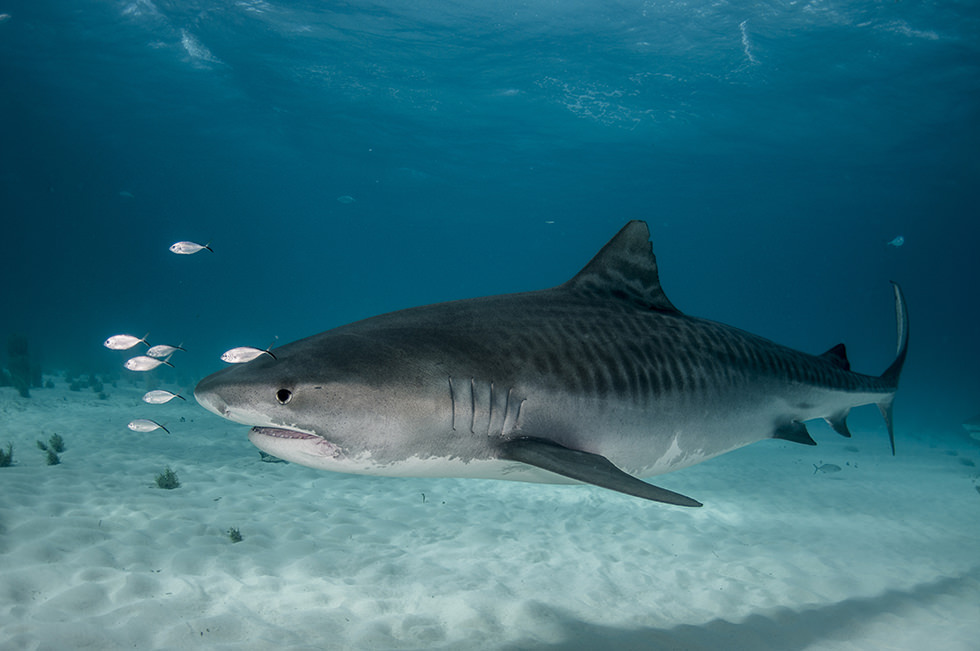 4. Maldives
The Maldives are a scuba diver's dream. Emerald islands set among crystal clear waters invite adventure-seekers below the surface. Of course, their open ocean conditions are also a prime attraction for pelagic species. The Maldives is one of the best countries in the world for swimming with whale sharks, but diving in the area can also yield plenty of nurse shark and reef shark encounters. If you're looking to swim with one of the largest species of shark, head to the South Ari Atoll.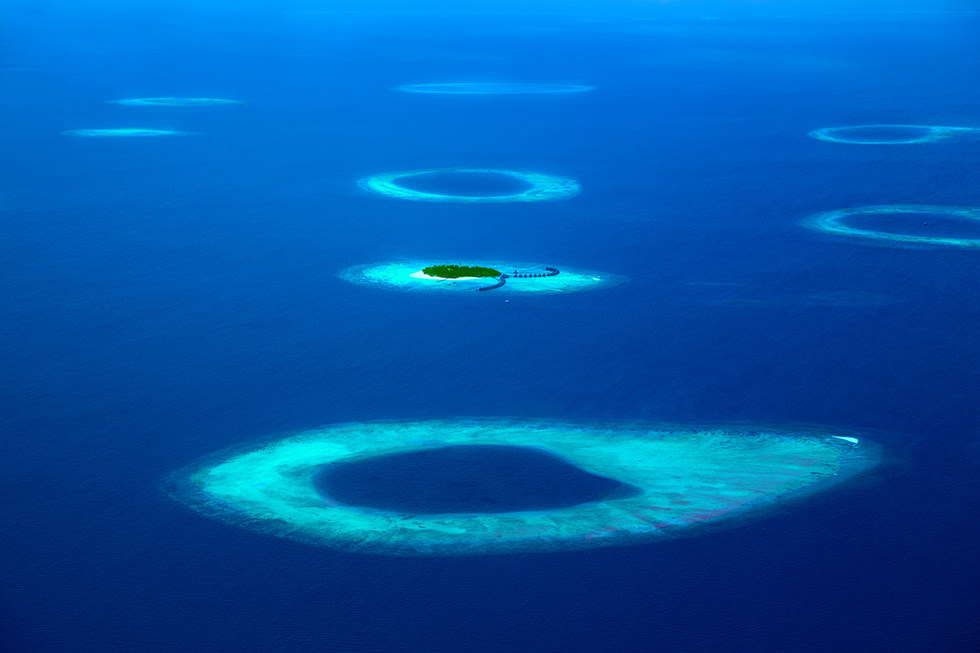 South Ari Atoll
The South Ari Atoll is famous for its varied underwater topography and the rich variety of marine megafauna that can be found there. Inner atoll reefs and pinnacles as well as the channels leading to the open ocean are a great place for nurse and reef shark encounters, but what makes the area extremely special is the whale sharks found on the reefs facing the wild open ocean. If you sail through the atoll by liveaboard, you are more than likely to spot a whale shark during your week at sea. We now know that these encounters occur throughout the year with no predictable pattern other than local conditions. Looking to get in the water with whale sharks? Book your next holiday in the South Ari Atoll.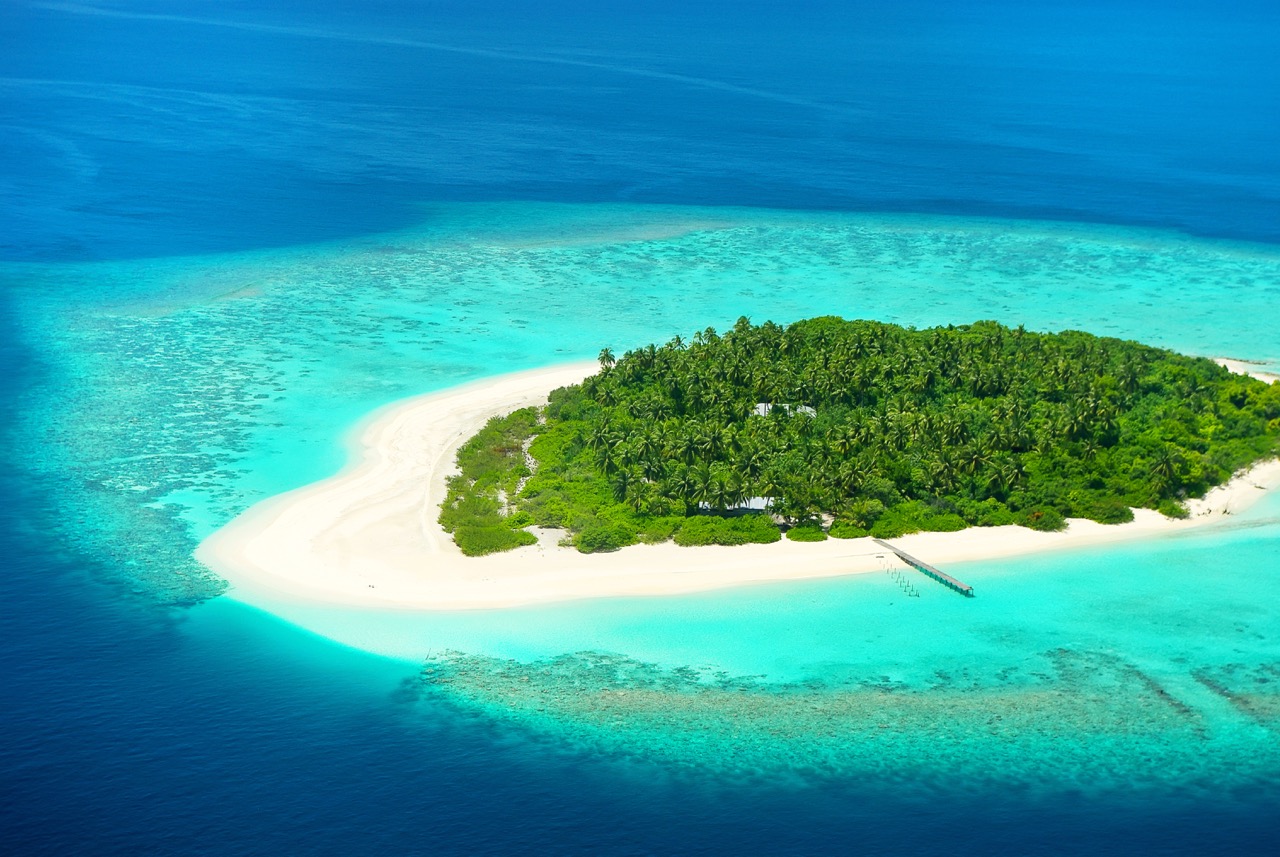 Fuvahmulah
A relative newcomer to the shark diving scene, Fuvahmulah, which is located near the Equator, is one of the best destinations in the world for diving with tiger sharks. In addition, divers can expect to spot thresher sharks in the shallow cleaning stations all day long, as well as abundant black oceanic mantas and mobula. Whale sharks and schools of hammerheads also appear from time to time. Plus, the island itself is amazingly beautiful, so you can enjoy a relaxing topside vacation between your dives.
---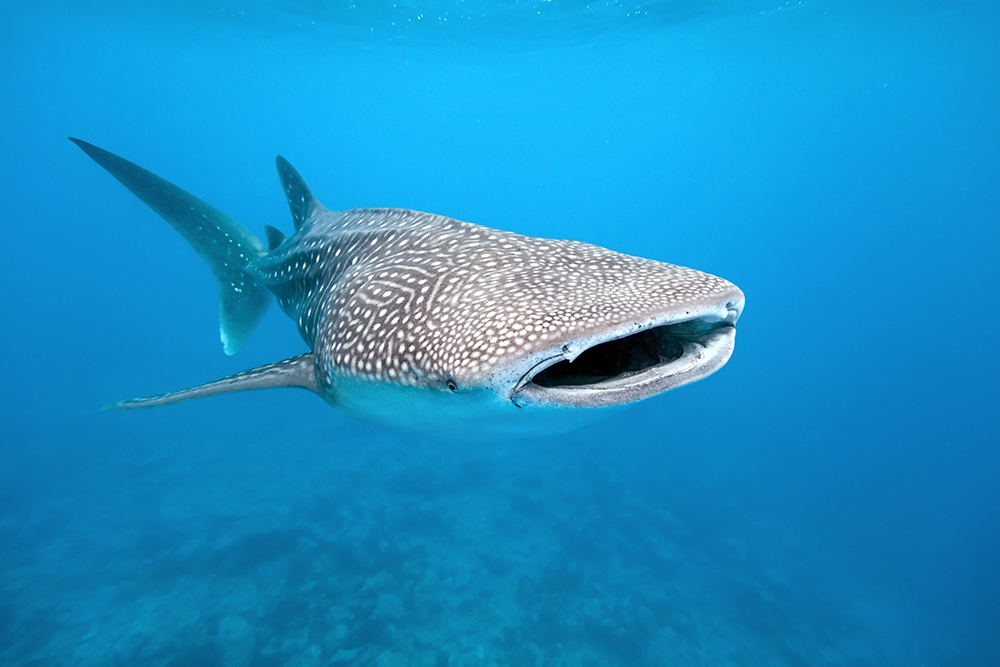 5. Australia
Famed for deadly encounters of both the terrestrial and marine kind, Australia graces our list for the best places to dive with sharks. Don't believe everything you read or see on TV, sharks and humans coexist peacefully with curiosity in this habitat. In fact, it is the birthplace of diving with great whites. Ready for a shark adventure? Head to the Neptune Islands in South Australia.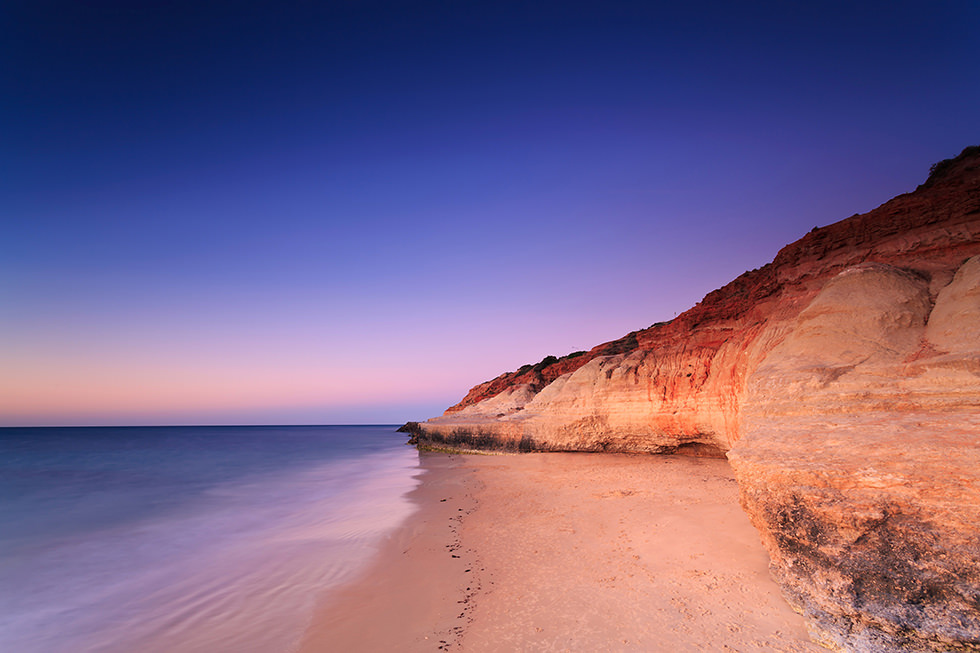 South Australia
The Neptune Islands are located approximately 20 miles south of the Australian coast. Today they form a marine reserve where divers enjoy unique shark encounters. From November until late February, bull sharks arrive to birth their pups and breed again. From May until the end of October, enormous female great whites dine on Australia's largest colony of New Zealand fur seals. Whichever sharks you encounter, the Neptune Islands are surely one of the top four shark diving locations in the world.
---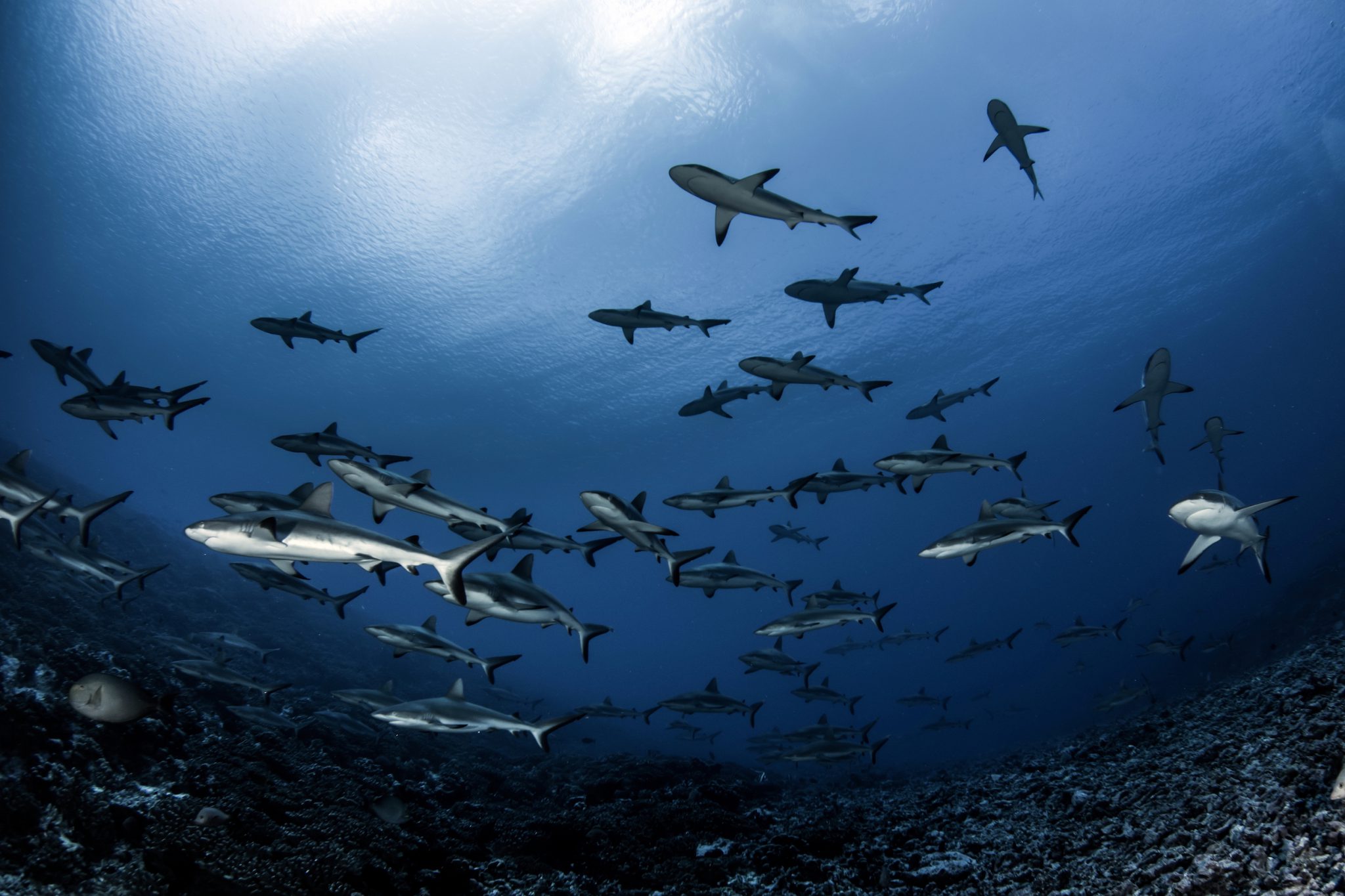 6. French Polynesia
Heading into the South Pacific, French Polynesia is already a world-class diving destination. Combined with its ability to produce amazing shark encounters, the island nation becomes one of our favorite recommendations for adrenalin-junkie divers. If you fit this description, head to Rangiroa or Manihi and Moorea for great shark diving. Did you know the country's shark population outnumbers its human population?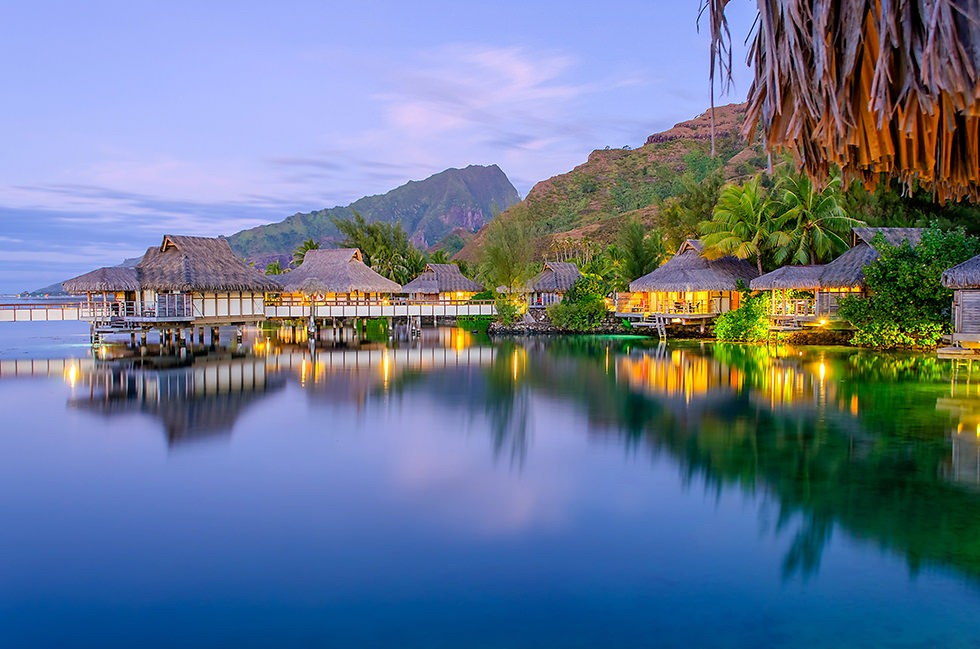 Rangiroa
Rangiroa is the second largest atoll in French Polynesia and home to a spectacular reef. This reef opens at two passes (including the Tiputa Pass) where twice a day the tide carries in water and nutrients, attracting a plethora of pelagic species. It's not uncommon to find yourself surrounded by more than 100 sharks during a single dive in the Tiputa Pass. This is partly due to the outstanding visibility which often tops 200 feet (60 meters). Divers can expect to see up to 16 species of shark, but gray, whitetip, blacktip and silvertip sharks are the most commonly sighted year-round. From December to March, giant hammerheads also make an appearance. Currents can top 7 knots, making the Tiputa Pass best for advanced divers.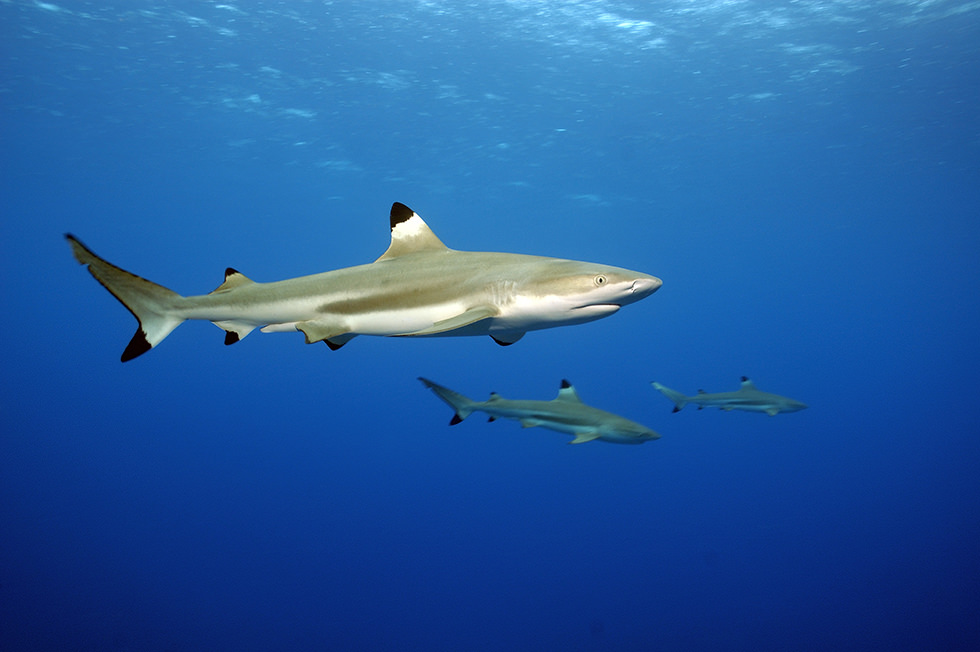 Manihi and Moorea
While Rangiroa may take top honors for shark diving in French Polynesia, Manihi and Moorea easily come in second and third. Blacktips, whitetips and lemon sharks in the dozens swarm around divers who visit these atolls. There is really never a bad time to dive these islands. You'll be surprised by the number of sharks residing here year-round.
---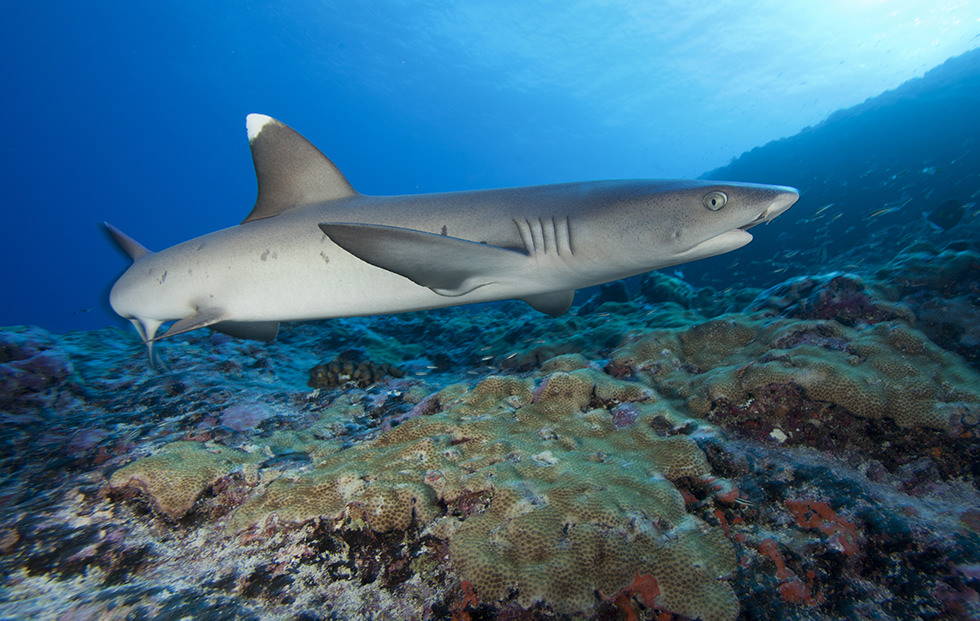 7. Fiji
Fiji, the world's friendliest country, is one of the most sought-after vacation destinations. While you are on vacation and enjoying the majestic above-the-water scenery, take a day to dive under the surface and discover that ten-foot sharks lazily circling in the blue can be just as beautiful as anything you'll find on land.
Beqa Lagoon
With the establishment of the Shark Reef Marine Reserve, Beqa Lagoon has become a premier shark diving area the world over. Bull sharks are the stars of the show here, but divers can encounter up to 7 other species as well. These include sickle lemons, gray reefs, nurse, blacktip reefs, whitetip reefs, silvertips and tiger sharks. With more than 20 dive sites in the lagoon, divers can fill a week or more with fantastic shark sightings. Although you will see sharks during any month of the year, July to September offer the best diving conditions in terms of visibility, water temperature and other large marine life. As an added bonus, any diving done in the Shark Reef Marine Reserve finances shark research and compensates local fishermen for lost income due to the creation of no-take zones. It's a win-win-win for sharks, divers and the local population!
---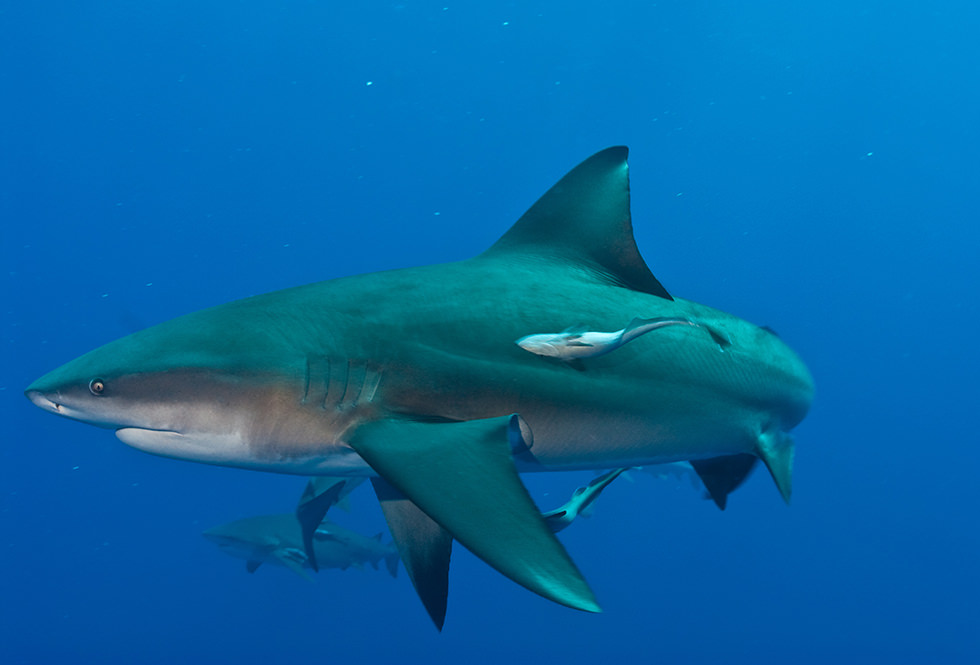 8. Philippines
A favorite among divers, the 7,107 islands in the Philippines deliver just about every tropical diving experience available. Among those are fantastic shark dives. To be one of the only among your diving peers to have seen a thresher shark, head for the Monad Shoal off of Malapascua.
Malapascua
As one tiny island in the more than 7,000 islands of the Philippines, it's rather unbelievable that this one place has become a thresher shark diving mecca. Throughout the year, thresher sharks can be seen with regularity at 30 meters on Malapascua's Monad Shoal. Some say it's the only reliable spot in the world for observing these sharks, and it's certainly the only place a thresher shark has been photographed giving birth. With two days of diving during any month of the year, you're nearly guaranteed at least one observation of this wild-tailed shark. So grab your gear and head to this white-sand paradise.
---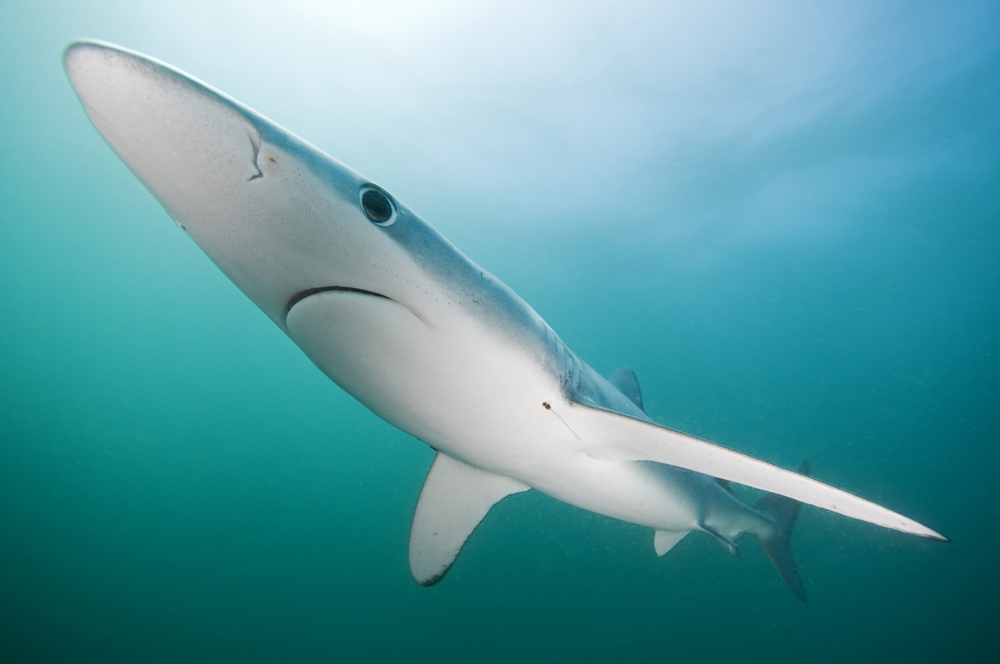 9. USA
Although not thought of as a traditional scuba destination, the United States touches three oceans, two seas and the Gulf of Mexico. This wide geographical area ensures excellent diving with sharks. In fact, the Farallon Islands off the west coast are consistently ranked as one of the best shark diving locations in the world. For divers who find themselves on the other side of the country, both Rhode Island and North Carolina on the East Coast offer up fantastic shark diving.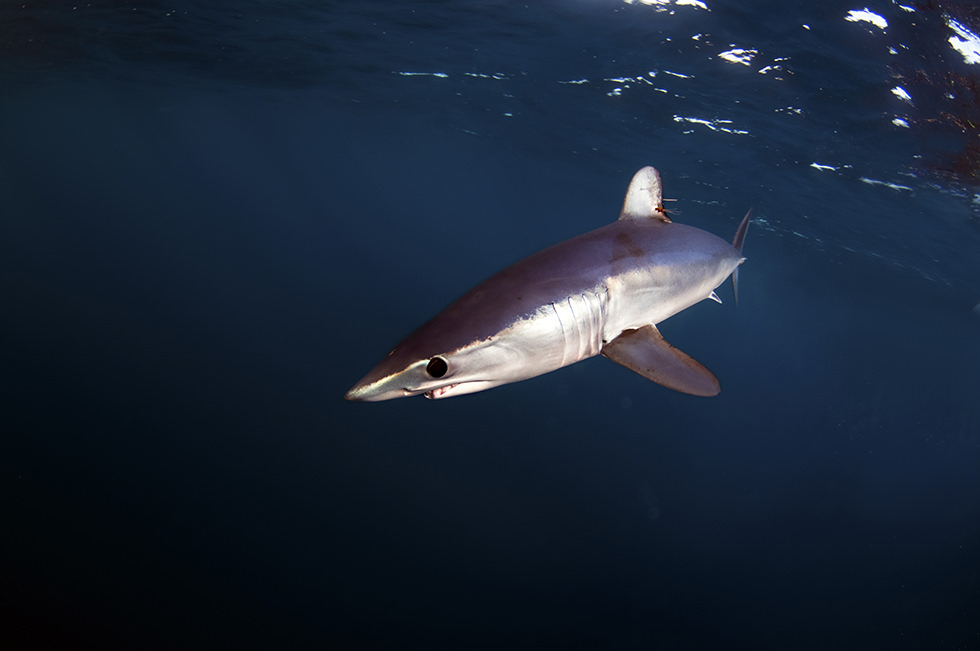 The East Coast
Although sharks can be found up and down the eastern seaboard, Rhode Island and North Carolina are two of the best states for diving with sharks. However, each state varies in terms of type of encounter and species encountered. From June through August, visitors can view migrating blue and mako sharks off the coast of Rhode Island. Expeditions in the area vary from snorkeling to open water scuba diving. The beauty of these sharks is astounding and encounters often lead to amazing photographs, so don't forget your camera!
Shark diving in North Carolina, on the other hand, leads to some of the best sand tiger shark encounters worldwide. Long known for wreck diving, the area is gaining a reputation as the East Coast's best all-around shark destination. In addition to dozens of sand tiger sharks stalking plentiful wrecks, divers can also happen upon nurse sharks, thresher sharks, hammerheads, bull sharks and dusky sharks. May to October is peak shark season in these waters.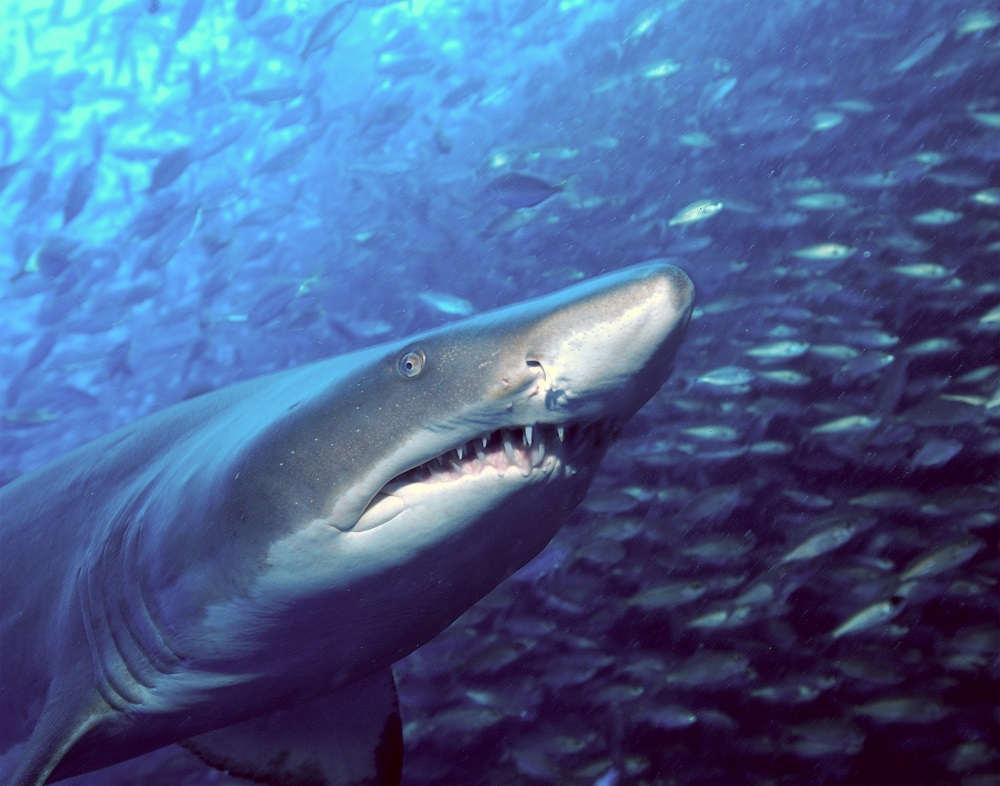 California and the Farallon Islands
Every bit as exciting as the East Coast, California and the offshore Farallon Islands on the Pacific Coast of the United States host excellent opportunities for great white shark diving. Some scientists believe that the Farallon Islands are home to the largest great white shark population during the months the sharks call the area home. From September until November, trips depart daily from San Francisco. You're practically guaranteed a hefty dose of adrenalin around these car-sized predators.
---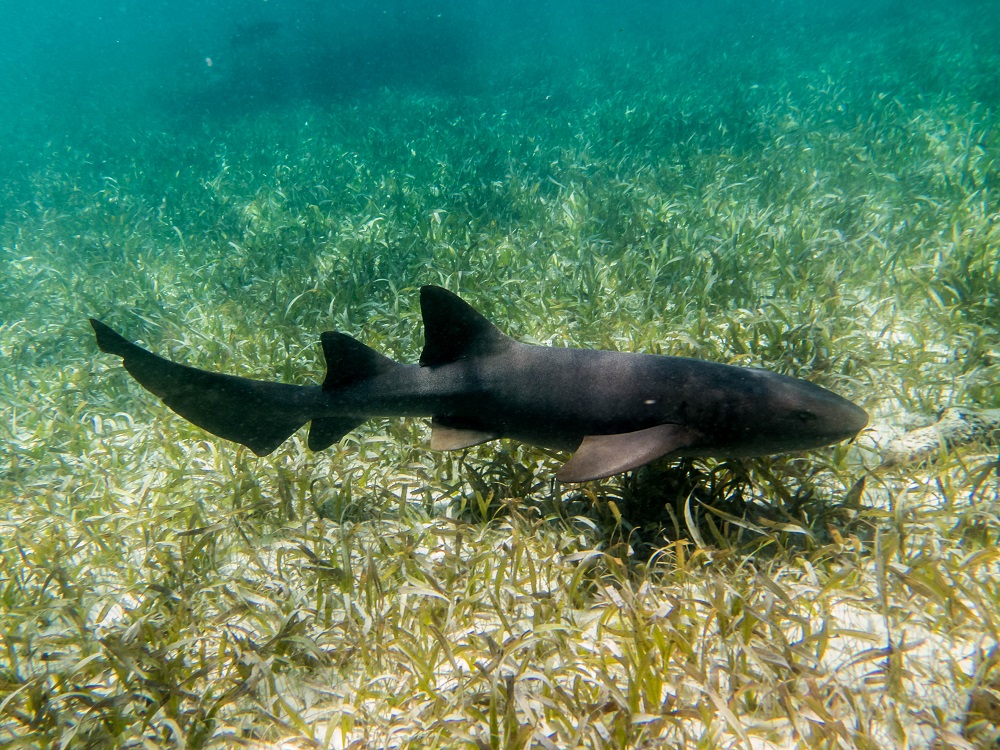 10. Palau
With its intriguing blue holes, spectacular drop-offs, caverns, caves and channels, it's no wonder Palau is consistently ranked as one of the world's most thrilling dive destinations. While this Micronesian archipelago is home to more than 1400 species of fish and 500 species of healthy coral, the sharks that inhabit these waters make it so that diving in Palau should be at the very top of everyone's list. In 2009, Palau became the world's first national shark sanctuary, ending all commercial shark fishing and giving a sanctuary for sharks to live and reproduce in over 200,000 square miles (600,000 square kilometers) of ocean.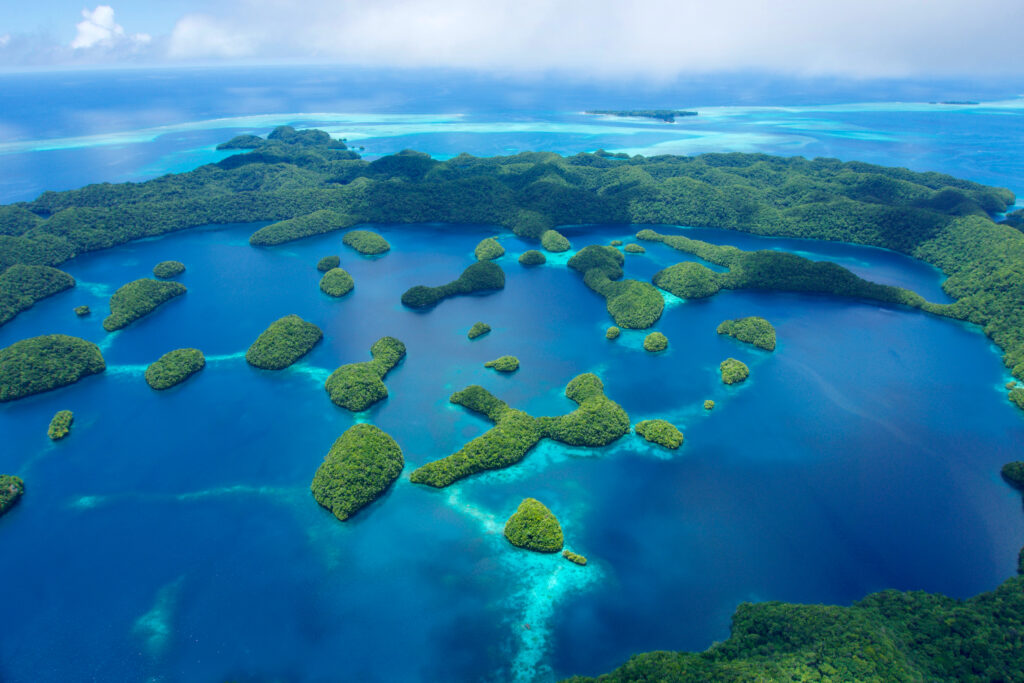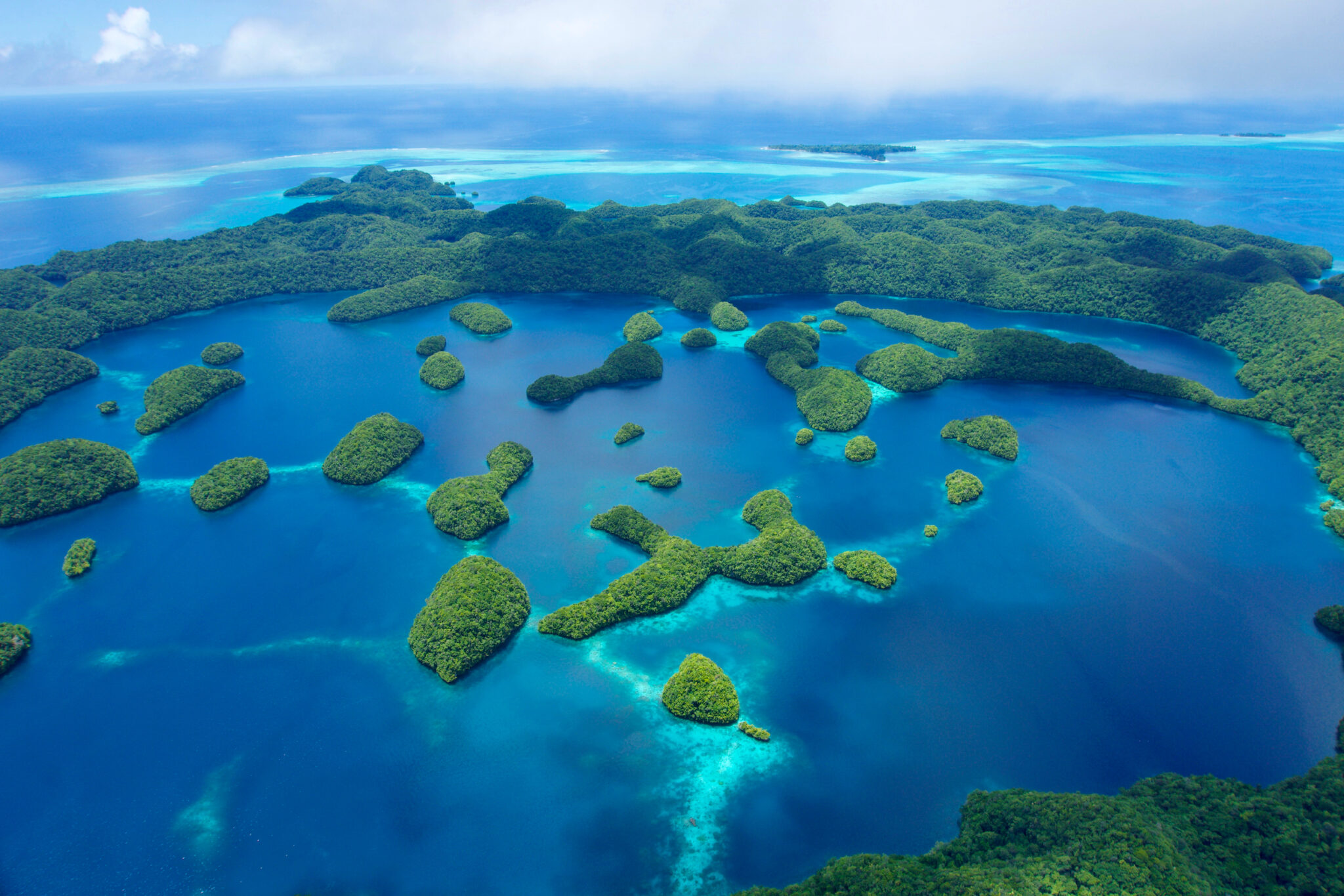 Ulong Channel
Located on the west side of Ulong Island (a fantastic picnic spot), Ulong Channel is a natural underwater channel that resembles a river. This is one of the most well-known and loved dive sites of Palau – and shark enthusiasts definitely won't want to miss it. Starting at the mouth of the channel, divers drift with the current over a sandy bottom surrounded by breathtaking coral gardens. Schools of sharks are very commonly spotted patrolling the channel including whitetip sharks and gray reef sharks. At the right time of year divers often see schools of baby gray reef sharks which is a real treat. Divers might also be greeted by shark cousins like stingrays and spotted eagle rays as they explore Ulong Channel.
---
11. Cuba
Relatively new to the Caribbean diving scene, Cuba serves up remote locales full of fascinating wildlife. However, one place in particular is taking the scuba world by storm. I believe the Jardines de la Reina is the best place to head for shark encounters in the Caribbean islands.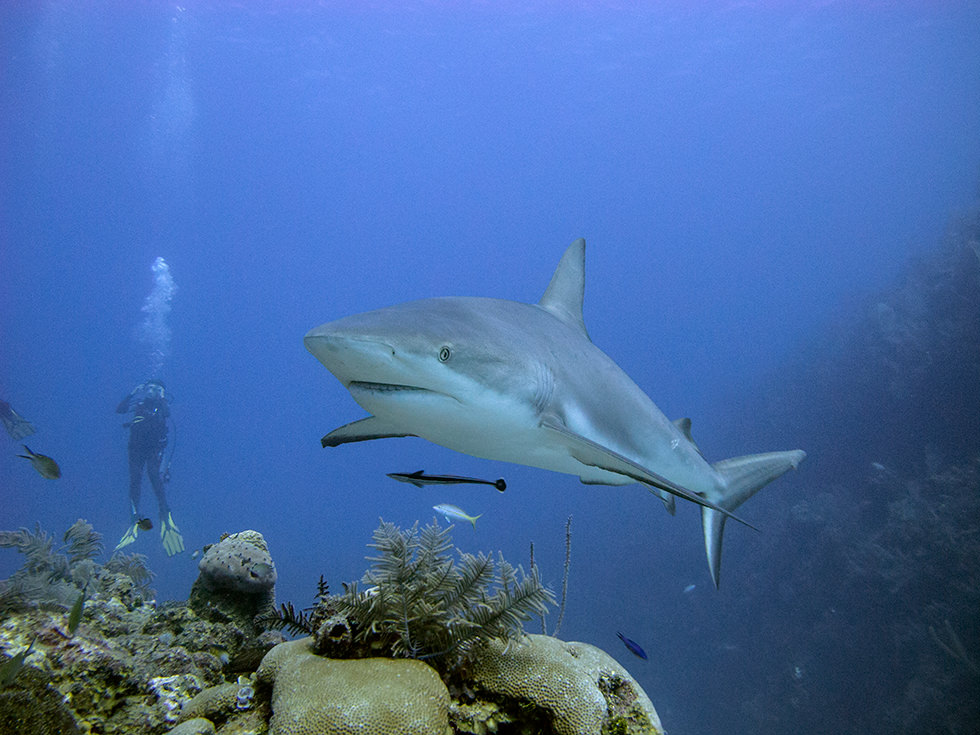 Jardines de la Reina
Since 1996, the waters in the archipelago known as the Jardines de la Reina, or Gardens of the Queen in English, have been a protected marine park. Because of this fact, an extremely healthy marine ecosystem exists. Divers from around the world arrive to this remote paradise by liveaboard in order to encounter vast numbers of Caribbean reef sharks and silky sharks. Sightings are a sure thing year-round, although you may wish to avoid visiting during hurricane season which lasts from roughly June to October. If diving with dozens of sharks doesn't get the adrenalin flowing, you'll also have the opportunity to snorkel with crocodiles during your stay in the Gardens of the Queen.
---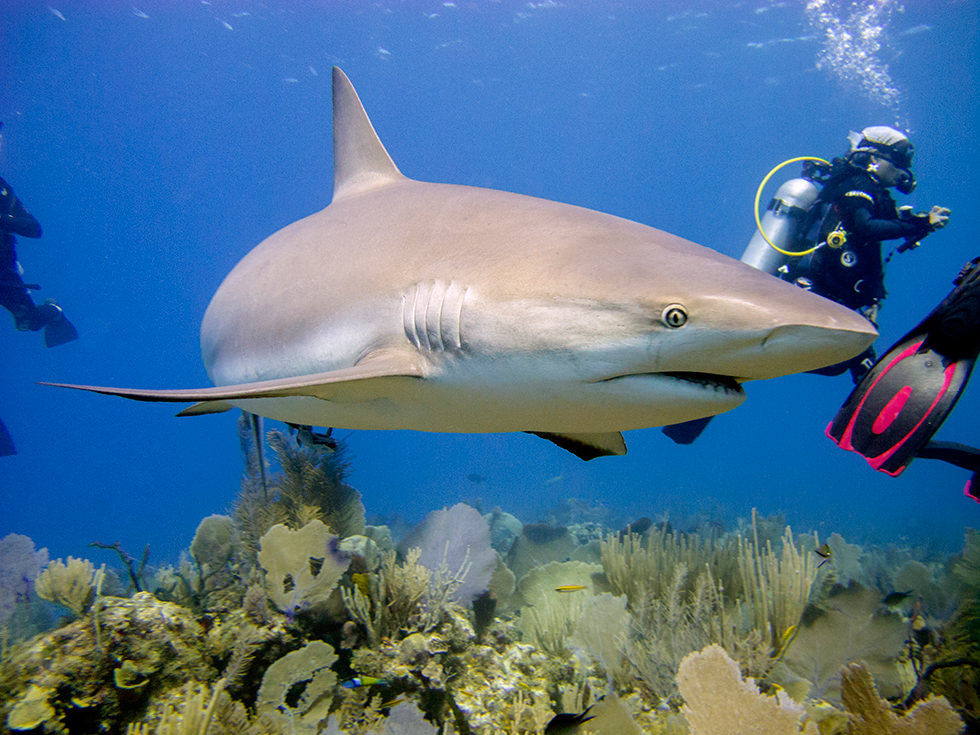 12. Mexico
With coastline on the Pacific Ocean, the Gulf of Mexico and the Caribbean Sea, it only makes sense that Mexico dishes up fantastic shark diving. Although the diving locations in Mexico are numerous, two names stand out for shark enthusiasts. Isla Mujeres is a well-known whale shark hub, while Guadalupe offers world-famous great white shark encounters.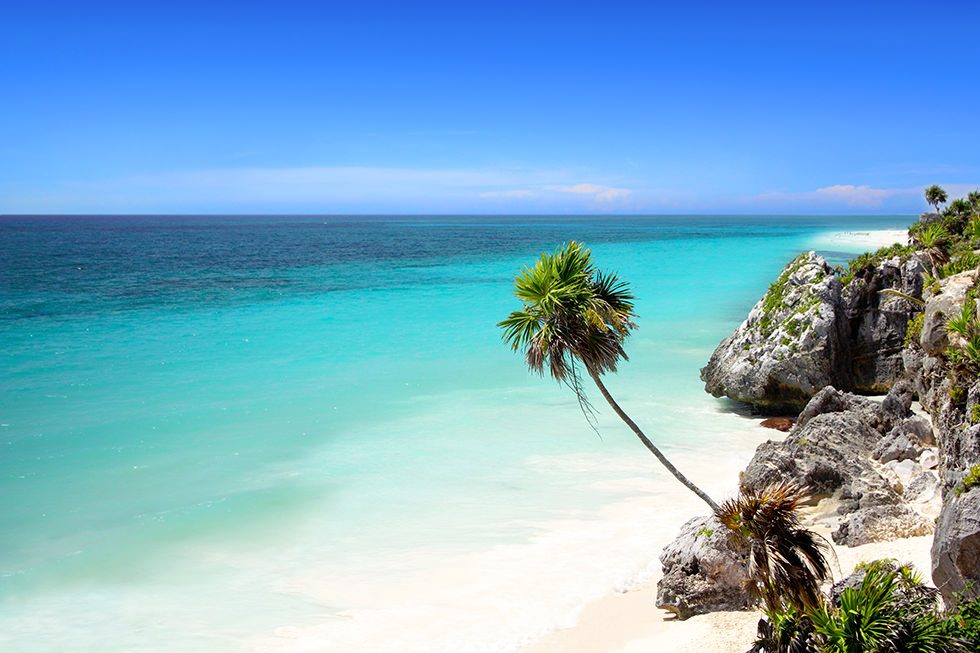 Guadalupe Island (Isla Guadalupe)
*Please note: Guadalupe Island is currently closed to tourism, and great white shark trips are not running at this time.*
Along with South Africa, Australia and California, Guadalupe Island makes the list of the best places in the world for great white sharks. This small volcanic island lies approximately 150 miles off Baja California in Mexico and is home to approximately 170 great white sharks from July to November. Many operators serving Guadalupe Island offer the unique experience of liveaboard diving with great whites. Because of the large population of sharks and clarity of the water, this is a great choice for a great white shark encounter. While it may not be the easiest place to reach, Isla Guadalupe might just offer up the best great white shark experience in the world.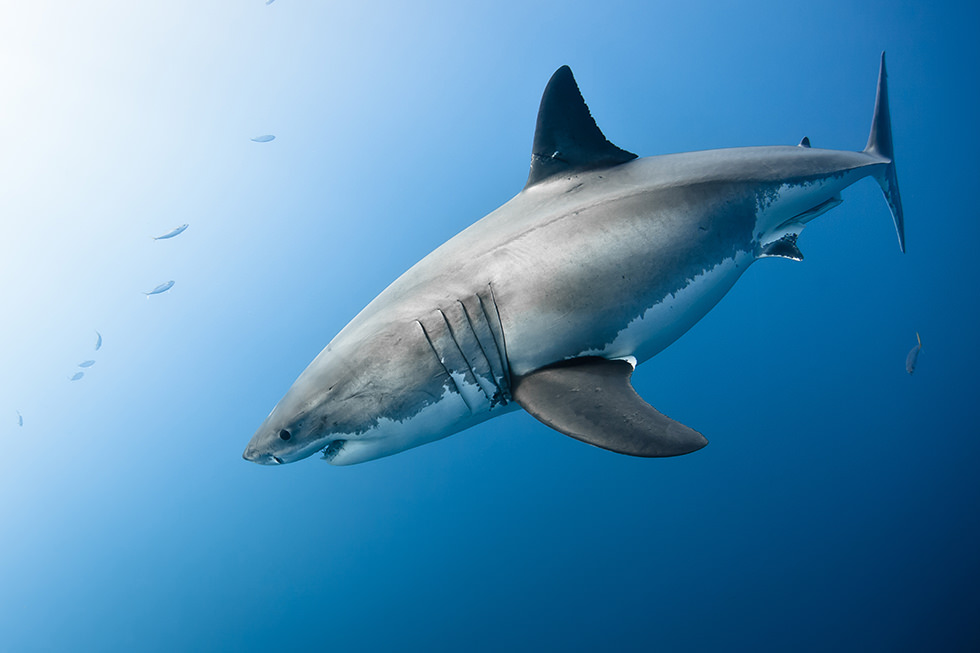 Isla Mujeres
Isla Mujeres sits at the join of the Gulf of Mexico and the Caribbean. As such, it is home to plankton-rich waters that attract hundreds of whale sharks from June to September every year. Some argue that this is the largest gathering of whale sharks in the world, ensuring you the opportunity to swim with at least one if not many more during your visit.
---
13. Cocos Island (Costa Rica)
Featuring an amazing amount of pelagic action, Cocos Island is renowned for its shark encounters. At 550 kilometers off the Pacific coast of Costa Rica, this remote island sits at a convergence of nutrient-rich currents. Schools of scalloped hammerheads are the main shark attraction, but divers also encounter whitetip reef, Galapagos, silky, blacktip, tiger, guitar and silvertip sharks. Liveaboard is the only way to reach Cocos. Book your trip from June to December for the best shark show.
---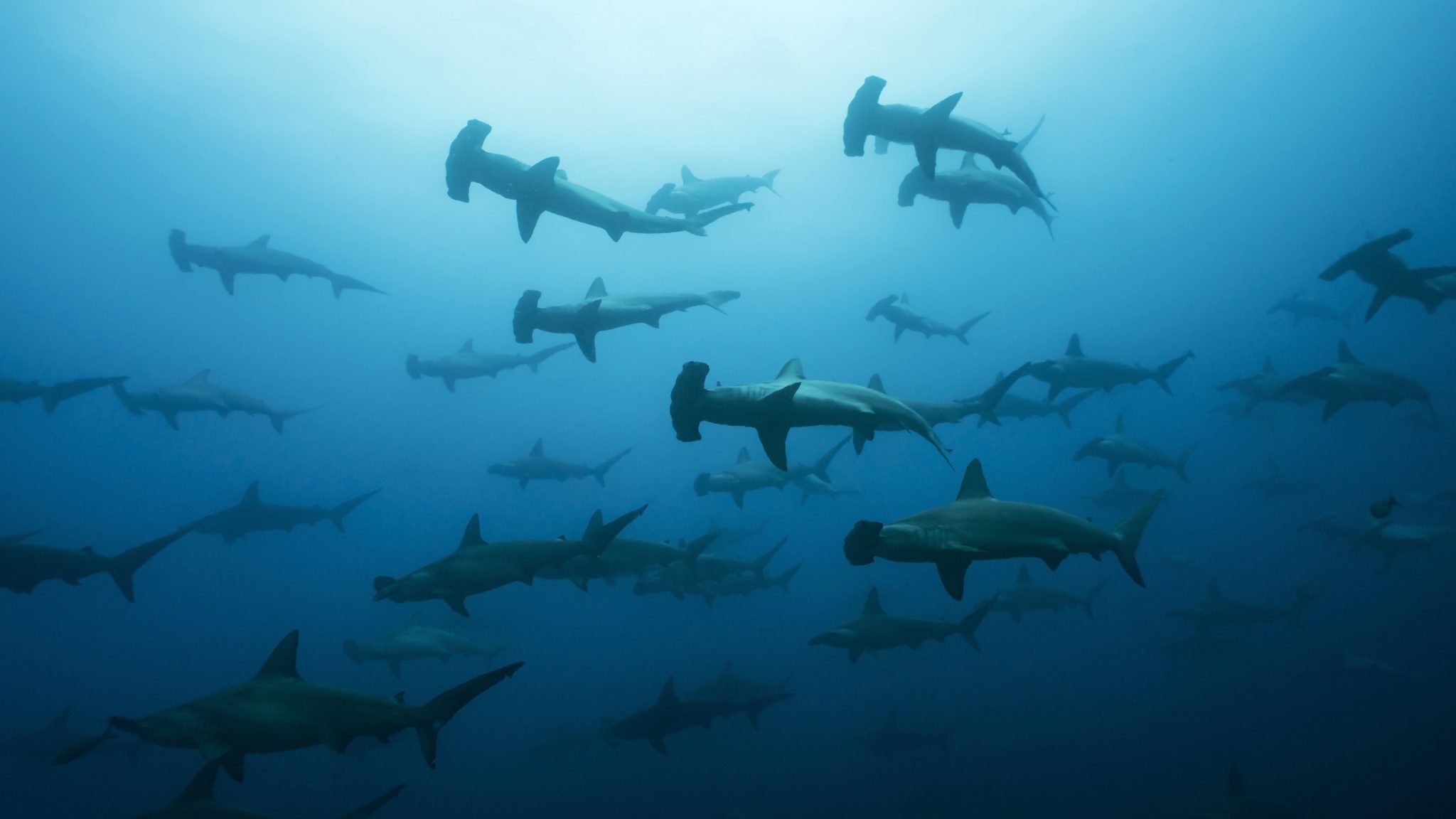 14. Galápagos Islands (Ecuador)
The Galápagos Islands are the place where Darwin came up with most of his theory and are also one of the top places around the world to dive with hammerheads. These odd creatures along with many other pelagic species visit the Galápagos year-round. However, many believe the best hammerhead shark action takes place between January and May. Jump on a liveaboard to the north islands of Darwin and Wolf to dive with schools of hundreds of hammerheads and Galapagos sharks.
---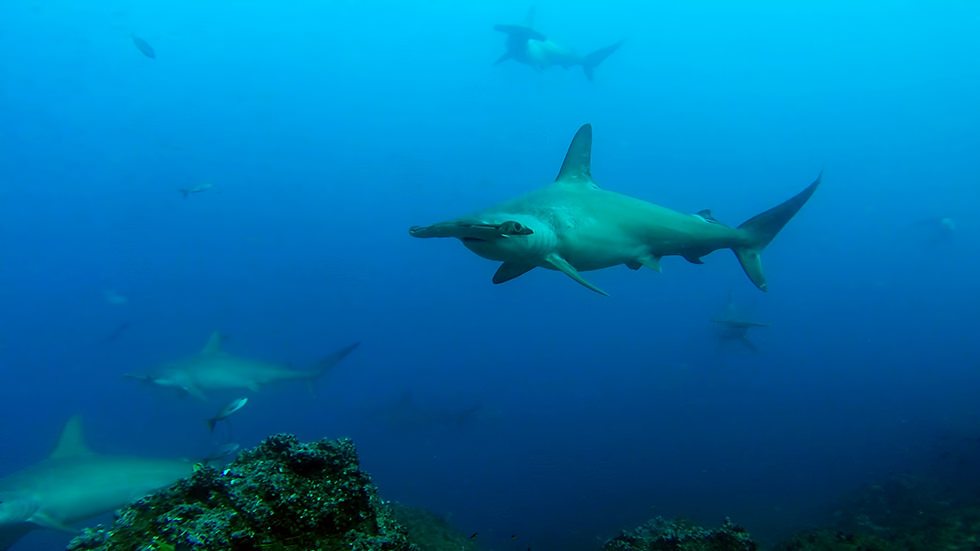 15. Malpelo Island (Colombia)
500 kilometers (310 miles) west of Buenaventura, Colombia in the Pacific Ocean, Malpelo attracts shark enthusiasts and scientists alike. Huge schools of hammerheads and silky sharks await those who visit this remote maritime mountain range. Ragged-tooth sharks, Galapagos sharks, whale sharks and whitetip sharks also make an occasional appearance. For the best conditions, plan your liveaboard trip from July to August or January to March.
---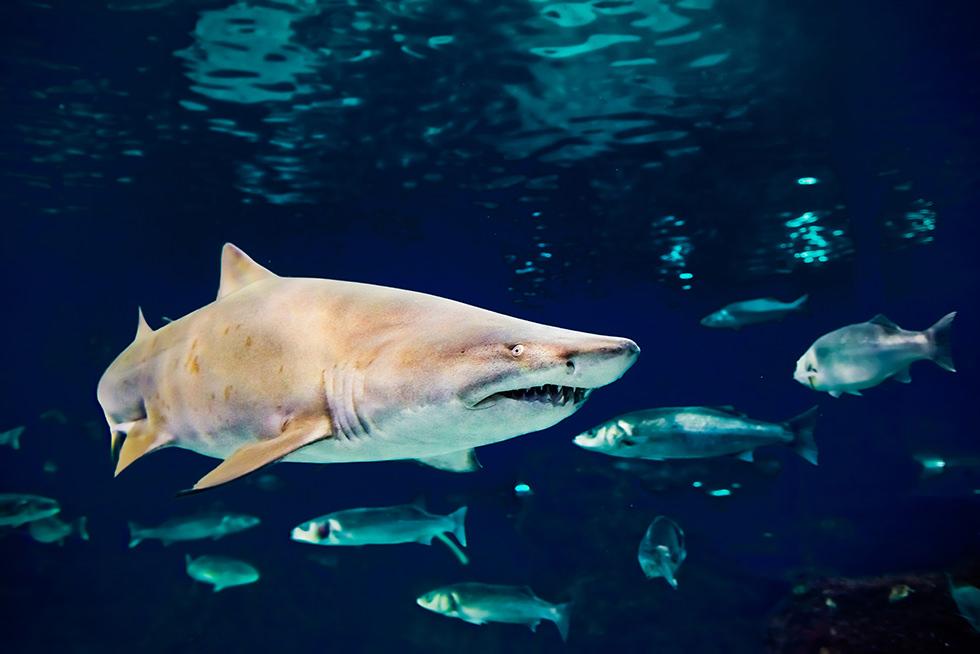 Credits
This article was written by Mario Passoni and Luca Saponari – two marine biologists involved in several projects concerning ocean conservation and education.
Special thanks to Jim Hancock from the Maldives Whale Shark Research Programme, John Richardson from Shark Trust, Victoria Elena Vasquez, and the photographers who allowed us to use their stunning images in this article.