Diving in the Galapagos Islands is marked by the marine life you can find in these waters. Indeed, central to Darwin's theory of evolution, these islands in Ecuador boast a huge number of endemic and pelagic species. You might spot marine iguanas, penguins, sea lions, Galapagos sharks, hammerheads, whale sharks, tiger sharks and silkies. There are also mobula rays, manta rays, dolphins and mola mola. To see all these things, you'll want to be on one of the best liveaboards in the Galapagos.
Is diving in the Galapagos worth it?
The Galapagos Islands are mostly volcanic, and the water temperature changes from summer to winter. So, there aren't many corals in the surrounding area. Underwater landscapes generally include rock formations and pinnacles. But, the channels around the islands work like pelagic highways, so divers can just sit on the edge and watch the action pass by.
The absolute best dive sites in the Galapagos are located around Wolf and Darwin Islands. These distant land masses are not populated and can only be reached by liveaboard – but it's a journey that's more than worth it.
Most liveaboards generally depart from Baltra Island, a short flight from Guayaquil on Ecuador's mainland. The typical length of itineraries in the Galapagos is 7 nights, but some liveaboards offer 8 to 10-night trips.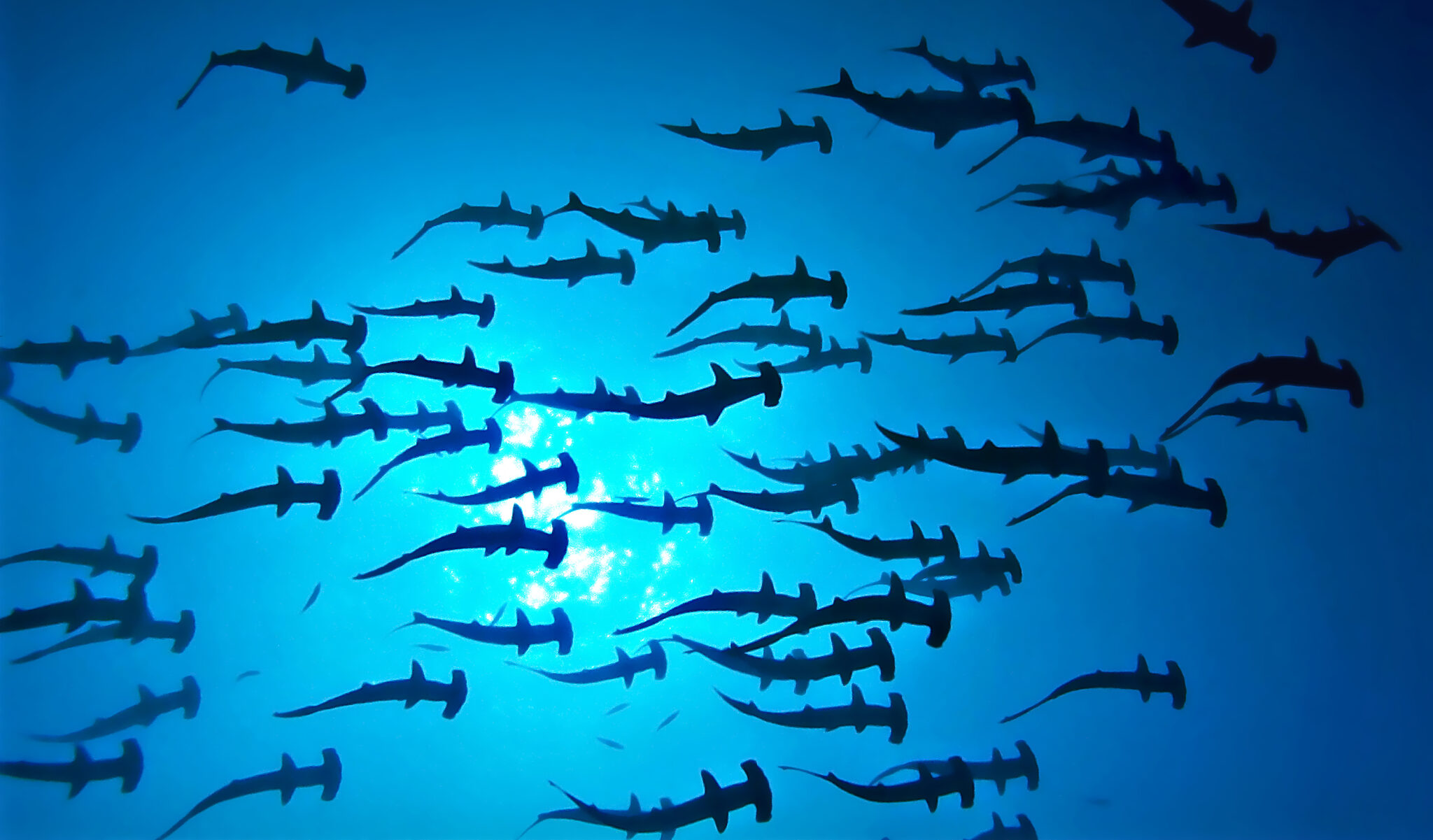 When is the best time to dive the Galapagos Islands?
The best time to dive the Galapagos depends on what you want to see. From December to May, manta rays, schooling hammerheads and other sharks populate the area. These months also bring milder currents and better visibility. On the other hand, June to November is considered whale shark season. The water temperature drops and nutrient-rich current brings in these gentle giants along with mola mola and humpback whales.
Keep in mind underwater conditions in the Galapagos can be fairly rough, and the current can be on the strong side. Therefore, some experience with current is a prerequisite. Most liveaboards require divers to have 50 or more logged dives.
The best liveaboards in the Galapagos Islands
There are many liveaboard operators in and around Ecuador. Below, we recommend five of the best liveaboards in the Galapagos, including the best:
Luxury liveaboard
Mid-range liveaboard
Budget liveaboard
Special interest liveaboard
Non-diving liveaboard
---
Best Luxury Liveaboard: Galapagos Sky
One of the most luxurious vessels in the Galapagos, the Galapagos Sky provides the most modern diving amenities possible.
This spacious vessel allows for 7 days of diving on every cruise (about 17-19 dives in total during your trip). The itinerary includes an astounding 3 days at Wolf and Darwin Islands. This will give you up to 11 dives plus one night dive in the best area of the Galapagos. To help you get the most out of these dives, Nitrox is provided for free.
You'll get to enjoy all of this under the water while relaxing in total luxury above the surface. 8 air-conditioned cabins can accommodate 16 divers. And, you'll have the option of 3 land excursions. Don't miss the opportunity to explore these epic islands above and below the sea.
To travel to the Galapagos Islands with all the comforts of home, book a trip on the M/V Galapagos Sky – one of the best liveaboards in the Galapagos.
---
Best Mid-Range Liveaboard: Humboldt Explorer
The mission of the Humboldt Explorer is to take you on a once-in-a-lifetime adventure to the unparalleled world of beauty, wonder and marine life known only in the historical Galapagos Islands.
In addition, you'll get more dives at Wolf and Darwin Islands than on most other liveaboards in the area. The Humboldt Explorer generally stays in the north for 4 full days on a 7-night itinerary, giving you a total of 15 dives at the best Galapagos diving sites. Plus, there's a naturalist diving instructor on board to explain the unique flora and fauna found in the area.
When not engaged in diving activities, guests on the Humboldt Explorer can relax in total comfort. There is plenty of seating, and the jacuzzi is ideal for unwinding. A full entertainment system awaits in the lounge, and guests are accommodated in 8 ensuite cabins.
For a well-priced liveaboard with a nice selection of extras, the Humboldt Explorer is an excellent choice.
---
Best Budget Liveaboard: M/Y Galapagos Aqua
Gracing our list as the liveaboard with the best value, the M/Y Galapagos Aqua could also be named the most colorful liveaboard in the Galapagos, thanks to its recognizable teal and white exterior.
But what really makes the M/Y Galapagos Aqua unique is its combination of diving safaris to the best dive sites in the Galapagos with naturalist cruises that allow guests to enjoy topside biodiversity on the same trip. Each day features diving, treks, cultural immersion and environmental activities.
In terms of diving, guests on the M/Y Galapagos Aqua will find plenty of support. A large diving platform, complete with rinse tanks for cameras, is available along with dive pros who understand what divers come to the Galapagos to see.
Furthermore, the boat itself is comfortable with enough space for every guest to relax. There's a shaded lounge on the upper deck where you can catch fantastic sunsets. And, each of the 9 cabins is light and airy and boasts an ensuite bathroom.
If you want to visit the Galapagos and want to enjoy both the underwater and topside environments, consider the M/Y Galapagos Aqua.
---
Best Special Interest Liveaboard: MY Blue Spirit
It's fair to say that any Galapagos liveaboard will certainly appeal to (and cater for) nature lovers. But if you have special interests in wildlife, photography and/or technical diving, then you'll want to check out MY Blue Spirit.
As well as the onboard library, wildlife enthusiasts will enjoy the informative sessions and photo presentations included as part of the trip. Along with must-dive Darwin and Wolf Island, MY Blue Spirit also covers the less-visited Marchena Island, where you'll find particularly large concentrations of Galapagos sharks. Technical divers and photographers will appreciate the wide diving platform, camera tables, recharging stations, gear bins and cleaning facilities.
Recently refurbished in 2019, the liveaboard features 10 air-conditioned and ensuite cabins for up to 16 guests. There are also two well-stocked bars and delicious dishes that mix international cuisine with Ecuadorian tastes.
If you're looking for a dream Galapagos liveaboard complete with added touches for specialist interests or gear, then book a trip with MY Blue Spirit.
---
Best Non-Diving Liveaboard: Tip Top IV
You don't need to scuba dive to take in this Pacific Ocean paradise. Whether you're taking a break from diving or you're looking for a trip to enjoy with non-diving friends and family of all ages, Tip Top IV offers a highly recommended non-diving cruise.
There are two kayaks on board, and snorkeling equipment (including child-friendly sizing) is available to use for the duration of your travels – either 4 or 7 nights. You'll be joined on board by specially-trained naturalist guides that are certified by the Galapagos National Park. They host daily excursions – how about the Charles Darwin Research Station, sea lion colonies or a cactus forest?
Tip Top IV has 10 air-conditioned cabins for 16 guests, as well as a bar, dining room, lounge and sun deck. Plus, there is plenty to keep the entire family entertained during downtime: board games, videos, books, music and even a desktop PC.
If you're looking for a fully featured, non-diving wildlife extravaganza for the whole family, then Tip Top IV is one of the best liveaboards in the Galapagos.
---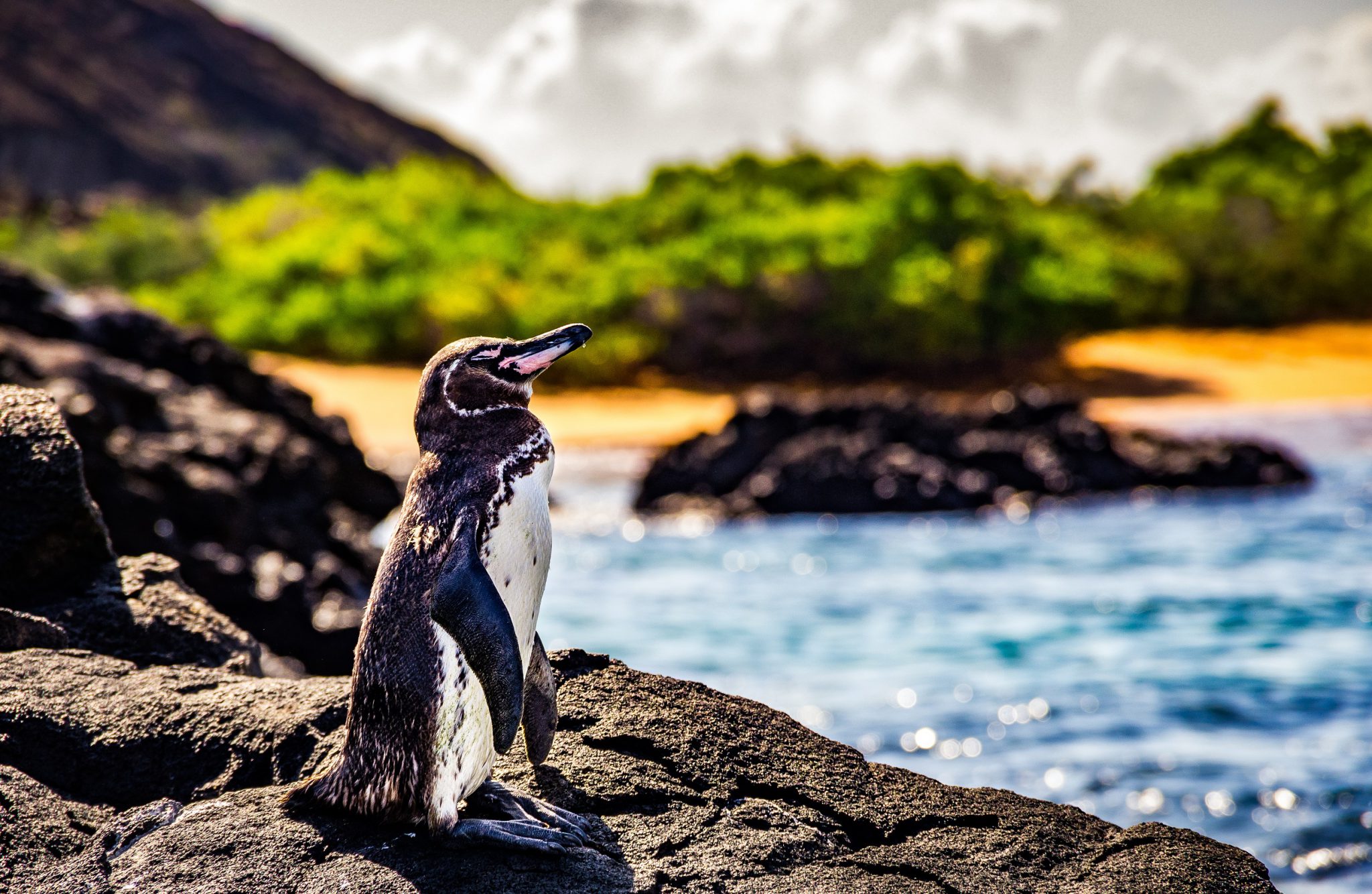 Book one of the best liveaboards in the Galapagos
The five liveaboards you've read about were hand-picked by our scuba diving experts, but there are a few more boats available. To see the full list of liveaboards in the Galapagos Islands, visit PADI Travel today. Our dive travel experts are standing by 24/7 via email, phone and live chat to help you book your dream scuba vacation.