Love them or hate them, there's an unidentifiable mystery associated with caves and caverns. Some may find the idea squirm-worthy, but many of the best dive sites in the world are found within these underground holes. The world's caves hold plenty to explore from fish-filled sinkholes to gypsum-white caverns. Whether you're an open water diver, a cavern diver or a full cave diver, these 10 awesome cave dive sites are sure to make you appreciate diving underground.
A note on safety: Never undertake a dive for which you are not trained. Cave diving is a technical specialty, and requires additional training above and beyond recreational levels. However, divers without cave diving training can still enjoy some of these dive sites. The PADI Cavern Diver Specialty course gives you the knowledge and skills to explore caverns correctly – allowing you to enter far enough for adventure, but staying within the light zone for an easy exit to open water.
---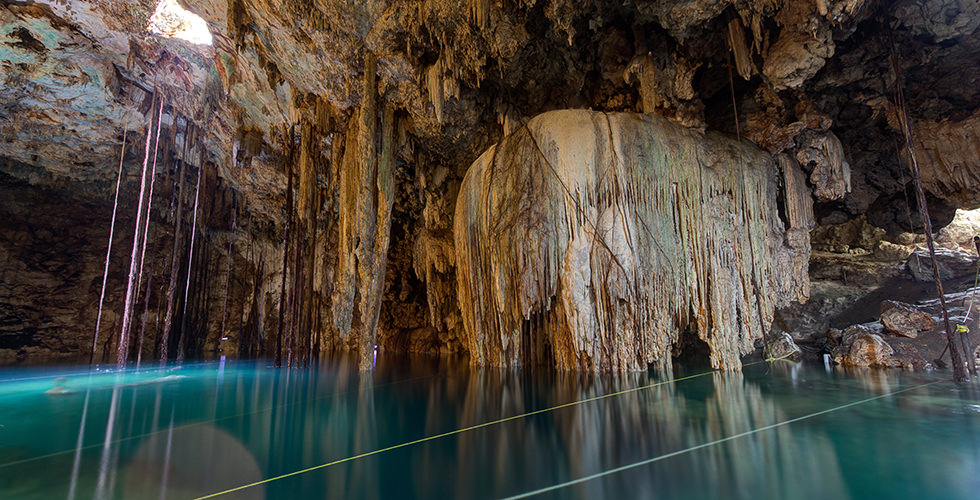 1. Cenote Angelita – Tulum, Mexico
One of the thousands of cenotes found on the Yucatan Peninsula, Cenote Angelita mystifies divers with its layer of hydrogen sulfide. This cloudy, almost mythical substance separates the incredibly clear fresh water from the salt water below at approximately 100 feet (30 meters). The cavern continues to drop to 200 feet (60 meters), but most divers will never make it that far. Be sure to take both your camera and your torch along for this dive!
---
2. Indian Springs (aka Sherlock Springs) – Florida, USA
Located on private property just south of Tallahassee, Florida, Indian Springs is often regarded as the best cave dive in North America. The main passage tunnel reaches 600 feet (183 meters) before coming to a T-junction. At this point, divers can turn right to head upstream or left to go downstream. There are several points of interest within the cave including the Bone Narcosis Room, the Wakulla Room and the Power Room. Most of these are best reached by use of diver propulsion vehicles. Keep in mind that the average depth for a dive in Indian Springs is between 120 and 180 feet (37 and 55 meters), making this a technical dive as well as a cave dive.
Required Certification: Full Cave Diver, Trimix and Proof of 100 Cave Dives
When to Go: Late April to October
---
3. Ben's Cave – Lucayan National Park, Grand Bahama
Lucayan National Park near Freeport, Grand Bahama is home to the longest freshwater cave system in the world. Measuring in at 6 miles (9.5 kilometers), the system is home to mosquito fish, shrimp, freshwater eels and an endemic species of crustacean. Although several caves exist, only Ben's Cave is open to scuba diving. In addition to the fascinating mix of fresh and saltwater, you'll also see stalactites, stalagmites and fossilized conch shells in the cave. Similar to the cenotes in Mexico, Ben's Cave is ideal for novice divers wanting to try out the world of cave diving.
---
4. Nereo Cave – Alghero, Sardinia
Known as the largest underwater cave in the Mediterranean Sea, Nereo Cave sits between 50 and 100 feet (15 and 30 meters) off the coast of Alghero. Its sheer size as well as its arches and tunnels attract cave divers from around the world. Most dive profiles begin with a descent to 100 feet (30 meters) where the lowest entry to the cave can be found. Then divers move upward through a tunnel connecting a room full of outside light. From there, a wide tunnel hundreds of meters long, brings you back to the exit of the cave at 60 feet (18 meters). Because Nereo Cave is within recreational limits and is fairly simple to navigate, this Sardinian dive site makes a fantastic introduction to cave diving.
Required Certification: Advanced Open Water
When to Go: April to October
---
5. Kilsby's Sinkhole – Mt Gambier, South Australia
One of the first sinkholes discovered in Mount Gambier, Kilsby's Sinkhole has a fascinating history. Divers flocked to the area in the 1950s, often diving the caves with little prior training. After a tragic double-drowning the area became a weapons research center. Later an agreement was reached between the landowners and Australia's cave diving association to once again make this a dive-able cave. The sinkhole itself is a 213-foot (65-meter) limestone cavity filled with crystal clear fresh water. It boasts both overhead and non-overhead environments.
Required Certification: Open Water Diver (for non-overhead areas) or Cave Diver (for overhead areas)
When to Go: Year-Round
---
6. Emergence du Russel – Dordogne Region, France
France's Lot and Dordogne regions are considered to have the best cave diving in Europe, but one cave alone makes the trip worthwhile. That is the Emergence du Russel. With passages wide enough to accommodate back-mounted rigs and diver propulsion vehicles, the Emergence du Russel boasts a 2.5-mile (4-kilometer) loop that begins at a fork just beyond its entrance. One of the passages is 30 feet (9 meters) deep and the other descends to 60 feet (18 meters). While most divers will never complete the loop, the challenge attracts cave diving experts from around the world.
Required Certification: Cavern Diver
When to Go: April to October
---
7. Orda Cave – Perm Region, Russia
Extending more than 3 miles (5 kilometers) in length, Orda Cave is the longest gypsum cave in the world and the longest cave in Russia. Located in the eastern foothill of the Ural Mountains, this cave diving heaven is filled with white walls and ever-changing scenery owing to the fact that gypsum dissolves quickly. This ethereal dive site is full of huge rooms of up to 250 feet (76 meters) across and tiny passages that will test your ability to wiggle through. Most of the cave lies yet undiscovered, tempting those with enough experience to reach its furthest depths.
Required Certification: Cavern Diver
When to Go: May to September
---
8. Anhumas Abyss – Bonito, Brazil
For scuba divers and snorkelers alike, Anhumas Abyss can be a most exhilarating experience. Each day 18 to 25 people are allowed to rappel down 24 stories through a tiny opening in the top of the Anhumas Abyss to an underground lake below. Sunlight only penetrates this lake for a short period of time each day, yet the water is filled with huge schools of fish. The crystal clear water invites divers to explore the most beautiful portion of the lake, found between 50 and 80 feet (15 and 25 meters).
---
9. El Cenote – Playa Giron, Cuba
Located in the Zapata Marshes near Playa Giron, El Cenote is a limestone formation connected the sea with a big lake. El Cenote has not yet been thoroughly explored, but it is known that its side fissures travel down to at least 230 feet (70 meters). The entrance itself is at 66 feet (20 meters), but the dive is limited to 100 feet (30 meters) with a passage through a 2600-foot (800-meter) tunnel. There are lots of coral reef fish living in the cave as well as interesting rock formations to view. Overall, El Cenote offers a great alternative to open water diving in Cuba.
---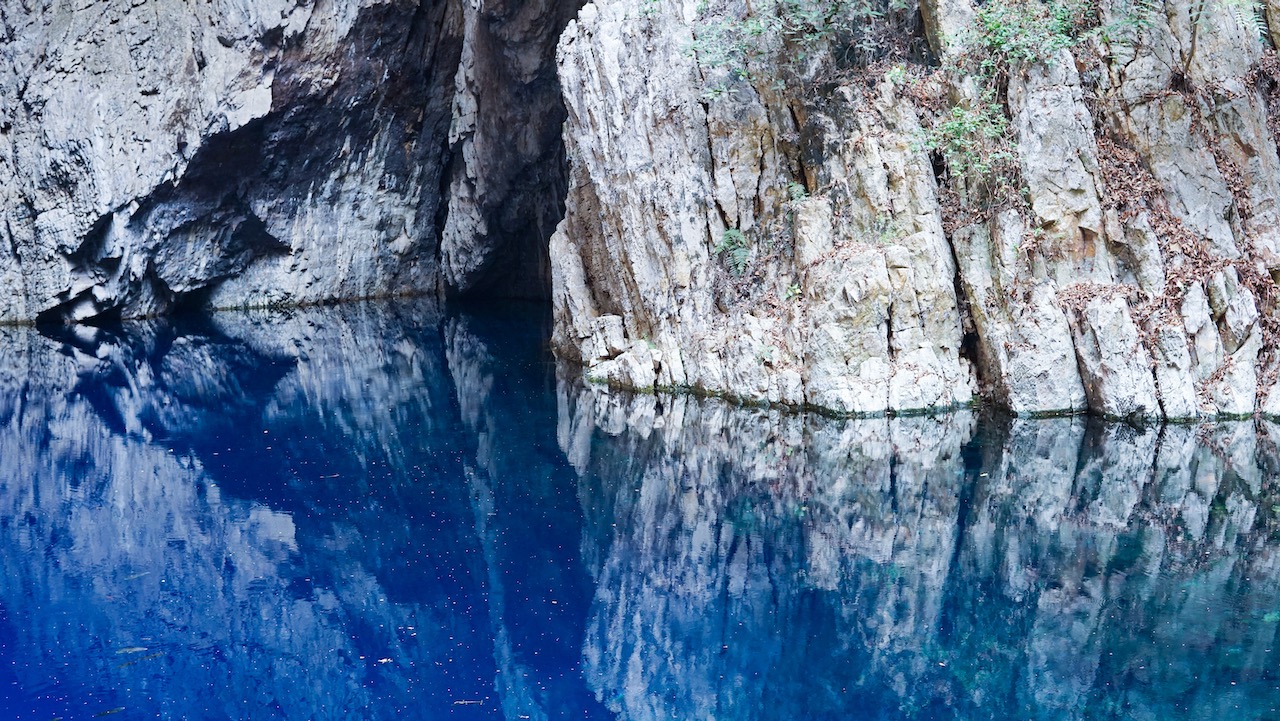 10. Chinhoyi Caves – Mashonaland West Province, Zimbabwe
At Chinhoyi Caves in north-central Zimbabwe, there is something to keep every level of diver entertained, from open water to trimix divers. The system of limestone tunnels and caves is today filled with unusually clear water. There are a couple of entrances to the system, but the Sleeping Pool is the most popular with its 65-foot (20-meter) vertical walls and several windows that allow penetrating sunlight. One of the rooms is littered with bones while the other contains coins tossed in for good luck.
Required Certification: Open Water Diver
When to Go: April to May; August to September
---
While cave diving can lead to memorable experiences, there are some further considerations to observe before diving into your first cave system.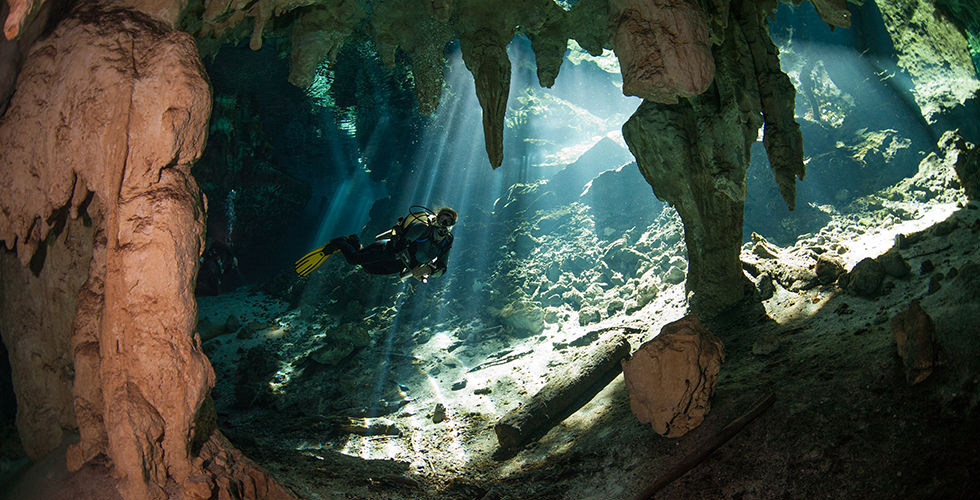 Cave Diving Dangers
Because of the nature of cave diving, there are several dangers associated with the practice. In a typical cave diving scenario, the scuba diver will encounter an overhead environment, preventing direct ascent in the case of an emergency. Additional cave diving dangers include reduced visibility due to lack of natural light and disturbed sediment, strong out- or in-flowing currents, as well as deep diving risks for dive sites at an advanced depth.
While rare, cave diving accidents and cave diving deaths do occur. Most cave diving associations argue that the vast majority of divers who have died in a cave did not undergo specialized cave diver training. Because there is no reliable information regarding cave diving deaths worldwide, it must suffice to say that scuba divers wishing to participate in cave diving should do their research regarding safety and certification prior to entering the water.
Inexperienced cave divers are urged to practice cavern diving (defined as diving not beyond the reach of natural light) before advancing to full cave diving.
---
Are you ready to try these 10 great cave and cavern diving sites? Check out PADI Adventures to plan your dives.