In a growing world of scuba divers and scuba diving sites, liveaboard diving trips are becoming increasingly popular. Whether your aim is to reach remote destinations or take in as many dive sites as possible, liveaboard holidays offer an unparalleled advantage.
These 'eat, sleep, dive' vacations take divers to off-the-beaten-path destinations, such as the Socorro Islands in Mexico or Indonesia's Cendrawasih Bay.
---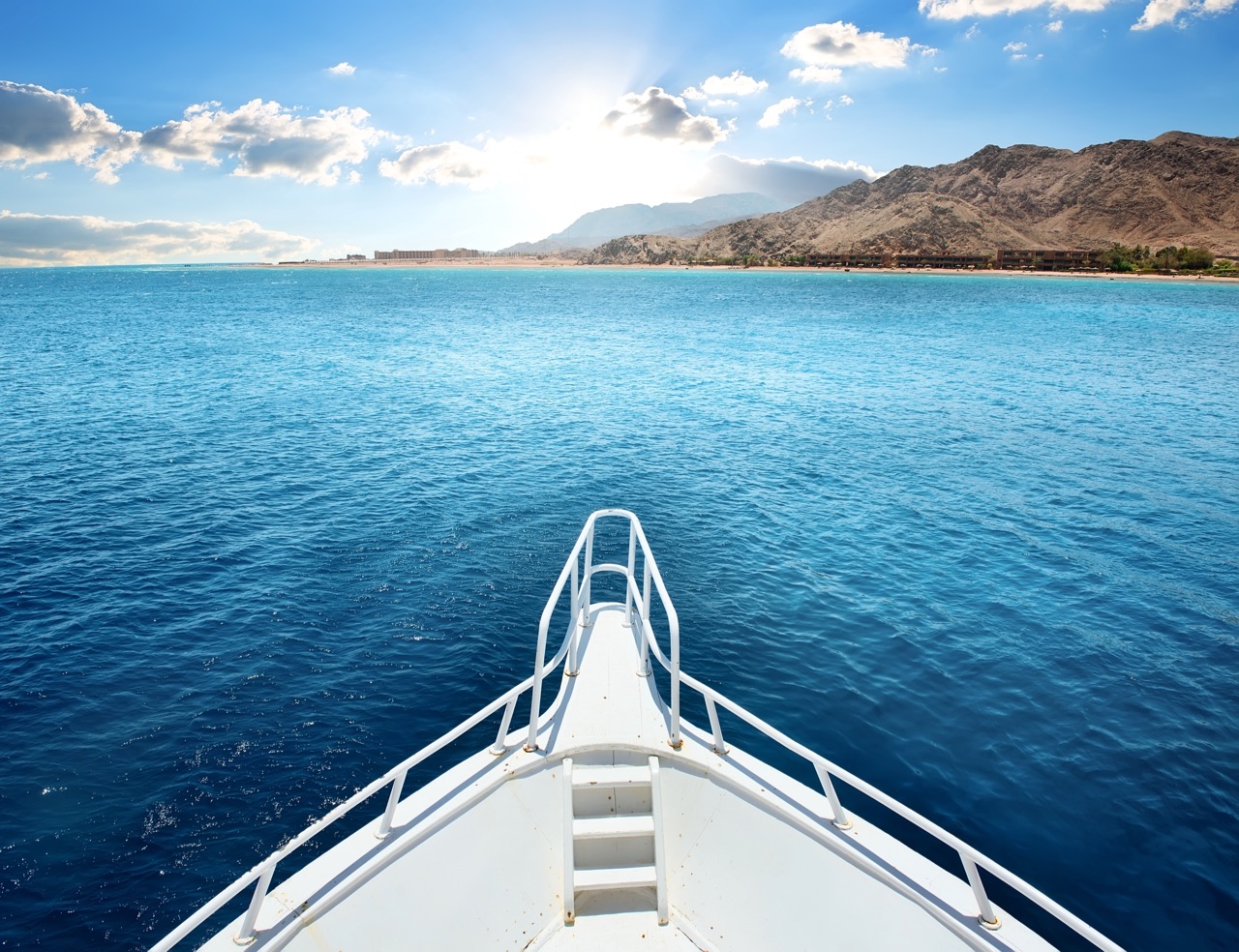 What is Liveaboard Diving?
This type of diving can be called liveaboard, dive safari, or dive charter, but what is it exactly? Above all, a liveaboard is a boat purposely-built for scuba diving or an adapted existing vessel that offers diving trips usually lasting longer than one night. The average duration is seven nights, but you can find both shorter and longer trips. Usually, these types of dive boats host between 12 to 30 divers, but even here, you can find both smaller and larger vessels. In most cases, the diving, as well as the food and drinks, are included in the price of the trip.
---
Benefits of Liveaboard Diving Trips
There are many reasons why divers prefer to dive and stay on a boat rather than at a land-based accommodation:
Unique Dive Destinations: Some of the world's best dive destinations are far away from the nearest coast.
The Best Sites: You'll dive the best sites an area has to offer, not just the ones you can easily get to from shore.
More Diving: When you dive from a liveaboard, you're able to log many dives per day. After all, the only thing you have to do is dive, eat, and sleep!
More Convenient: Your equipment stays in one place, ready to be used anytime. No need to lug all your dive gear around.
Meet New People: Liveaboards usually offer close quarters, making it easy to meet new friends.
---
The Best Liveaboard Diving Trips in The World
Whether this is your first liveaboard experience or you're a seasoned pro, check out these 12 liveaboard destinations. They are the best in the world, and no matter what you're looking for, you're bound to find the perfect fit.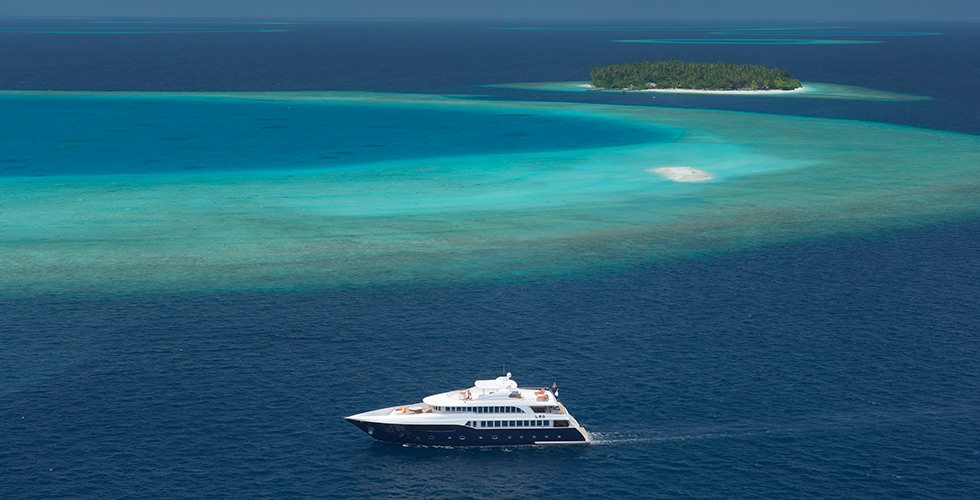 1. Liveaboard Diving Trips in the Maldives
An island country made up of 26 natural atolls, the Maldives was seemingly made for liveaboard diving. In addition, the country's stringent rules for foreign guests make liveaboards a convenient option for traveling around this tropical landscape. Simply pack your gear bag and jump onboard. Paradise is waiting for you in these turquoise waters.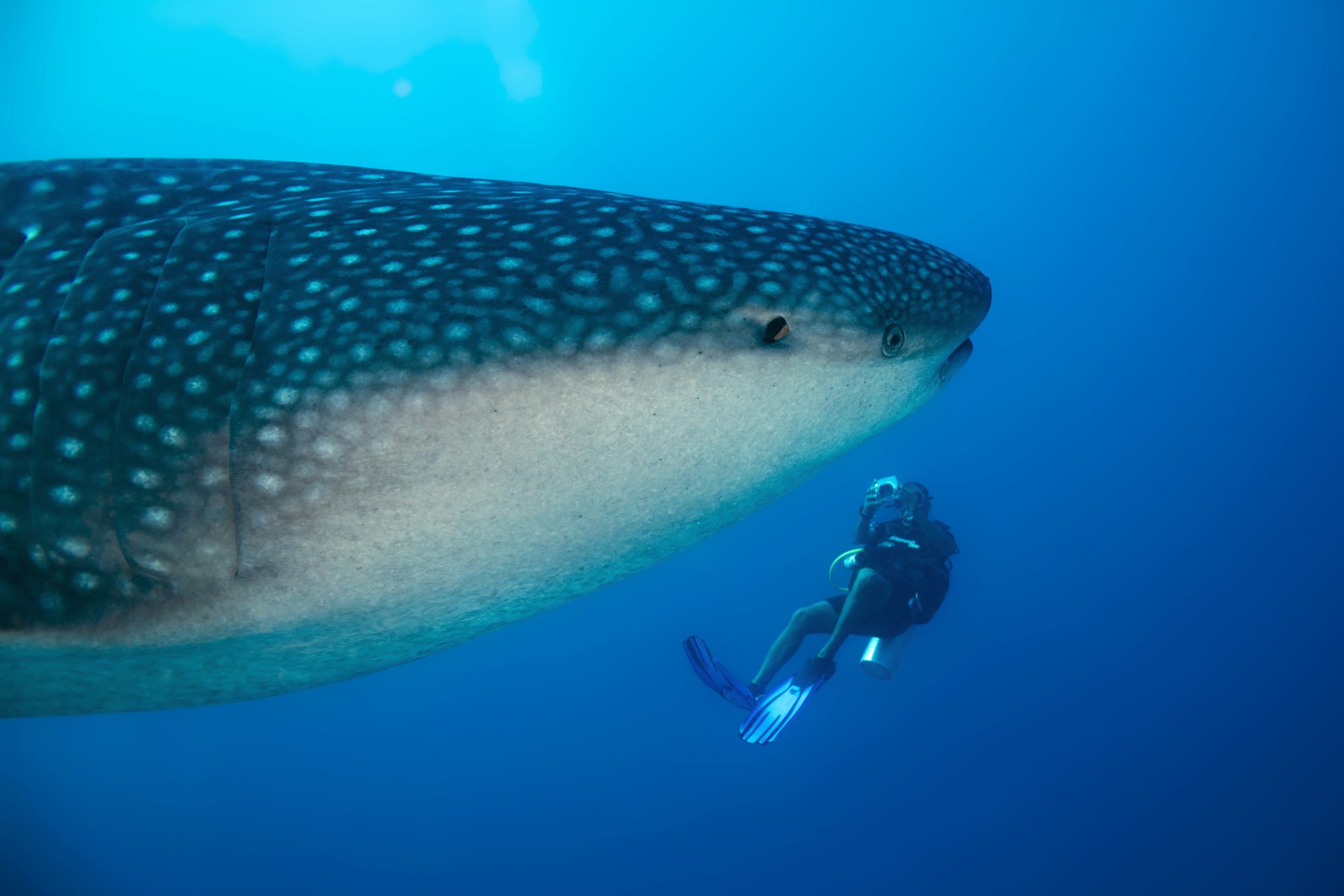 Ari Atoll & Male Atoll
Known for its whale sharks and manta rays, the 105 islands of the Ari Atoll along with the two Malé Atolls are the most popular destinations for liveaboards in the Maldives. You'll often find 7 to 10-night itineraries which combine these atolls into a luxury liveaboard experience. With the number of pelagic species and the exciting drift dives through shallow channels, diving in the Indian Ocean doesn't get much better than the Ari and Male Atolls.
In Ari Atoll, divers will swim alongside schools of colorful fish, flying formations of eagle rays, majestic manta rays, and even the occasional guitar shark. Fish Head, which is under marine protected status, is one of the best places in Ari Atoll for spotting sharks.
North Malé Atoll is famous for its variety of species. Many of the reefs are extremely healthy and provide shelter for a ton of marine life. Frogfish, moray eels, nudibranchs, schools of fusiliers, and hundreds of other colorful fish species reside here.
Diving Season
The best time to go to the Ari Atoll and Malé Atoll is between December and March. The seas are at their calmest during these months. But you can dive in the Ari Atoll year-round.
Liveaboards in the Ari Atoll
Deep South
Book a liveaboard on a Deep South itinerary in the Maldives, and you will be astounded by the unknown. Each trip to these remote atolls results in new dive sites to map for future travels. Most of the time, the crew is as excited about the potential of discovery as the guests are. A variety of sharks, including whale sharks as well as manta rays, are common sightings. Resorts are few and far between in this distant half of the Maldives. This means that liveaboard diving here is almost a must.
Diving Season
The best time to dive in the Deep South of the Maldives is between December and March. The seas are at their calmest during these months, but you can dive in the Deep South year-round.
Liveaboards in the Deep South
---
2. Liveaboard Diving Trips in the Caribbean
From the Bahamas to Cuba, the Caribbean hosts a wide range of liveaboards. In this region, you'll find the ease with which dive charters move between islands and distant destinations to be highly advantageous.
Jardines de la Reina, Cuba
Jardines de la Reina in Cuba is a mangrove labyrinth situated 50 miles (80 kilometers) west of Jucaro in the central part of Cuba. It takes around 3 hours by speedboat to reach this destination, and it's only possible to dive here with a liveaboard.
Cuba is home to the second-largest reef in the world, behind the Australian Great Barrier. What's more, Cuban diving features long drop-offs and grand canyons, which promise dives that are eventful and unforgettable. The uncontaminated reef is one of the best places in the Caribbean to dive with sharks, and if you're brave enough, you can even snorkel with crocodiles.
It's important to note that the protected areas in Cuba allow no more than 300 divers a year. Although this means that the area is less frequented by humans, so the marine life tends to be very curious! This allows for incredible up-close encounters.
Diving Season
The best time to go to Jardines de la Reina is between December and May. You can dive all year round, but these months are outside of hurricane season.
Liveaboards in Jardines de la Reina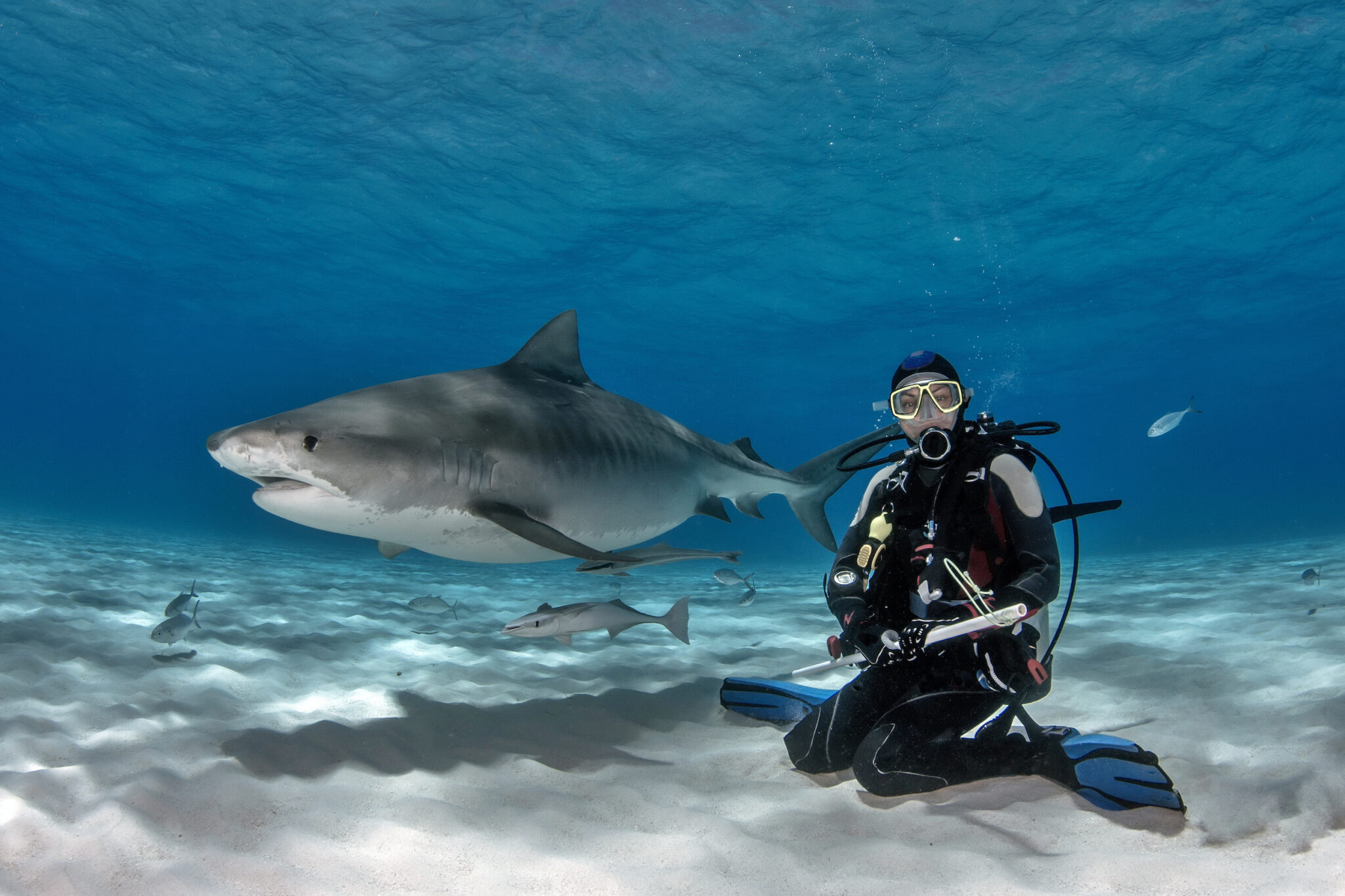 Tiger Beach, Bahamas
As the name suggests, this is perhaps the best location in the world for diving with tiger sharks. Tiger Beach is located about an hour by boat from the West End of Grand Bahama Island. During peak season, you might see upwards of a dozen tiger sharks at one time. And while the tiger may be the biggest shark of the bunch, it's not the only visitor. You'll also see lemon, Caribbean reef, and nurse sharks during a dive at Tiger Beach.
Grand Bahamas Island also features shallow shipwrecks, protected coral reefs along its southern shore, and one of the world's largest underwater cave systems for scuba divers to explore. There's plenty to see in the crystal clear waters of the Bahamas!
Diving Season
The best time to go to Tiger Beach is between October and January because the largest number of sharks are present during these months. However, sharks are always at the site, and liveaboards depart for Tiger Beach throughout the year.
Liveaboards to Tiger Beach
---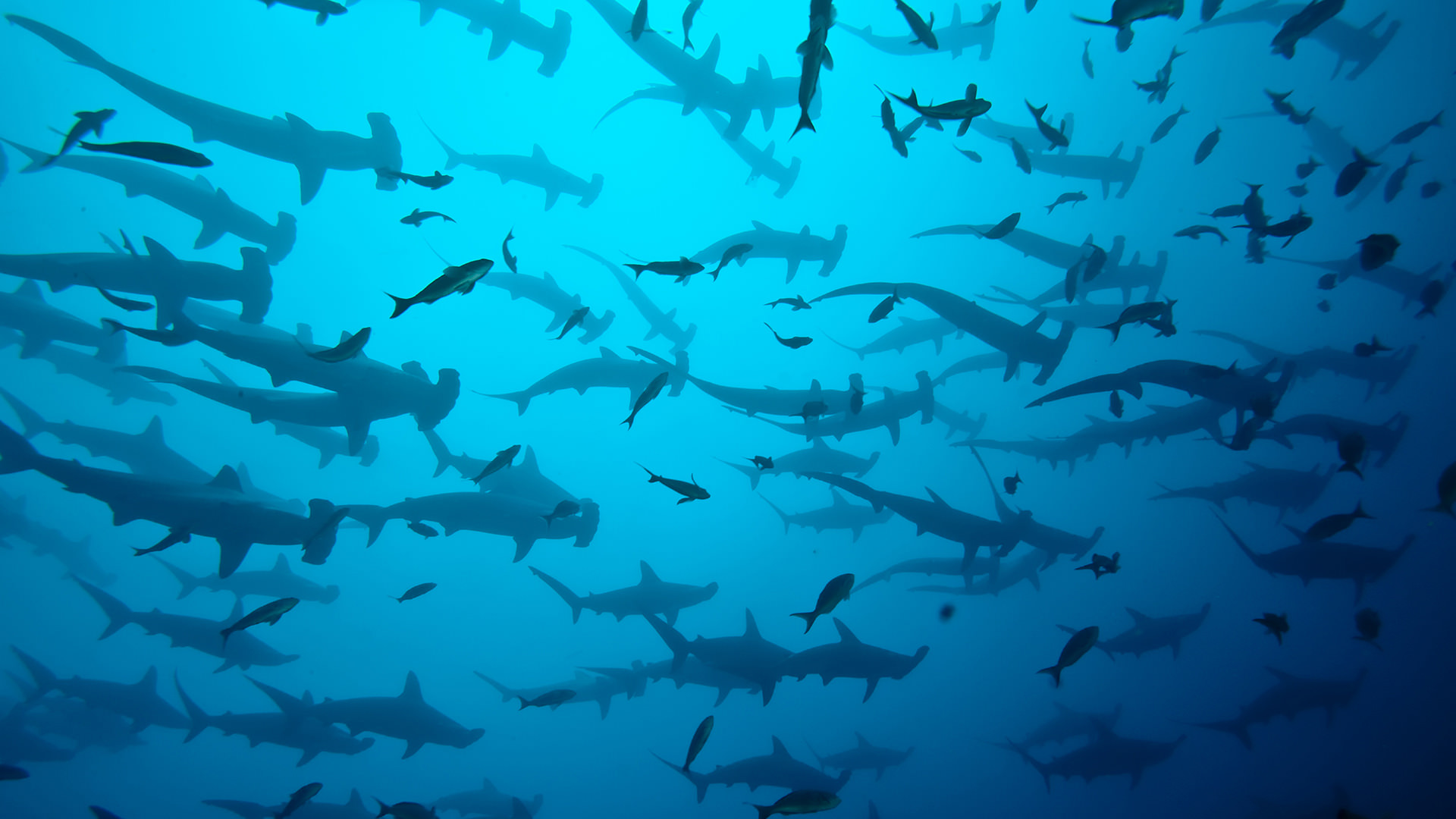 3. Liveaboard Diving Trips to Cocos Island, Costa Rica
Situated 342 miles (550 kilometers) off the west coast of Costa Rica, Cocos Island acts as a magnet for pelagic species, including its famed schooling scalloped hammerhead sharks. The lonely seamount takes 36 hours to reach from Puntarenas, and most liveaboards have a duration of 8 to 10 days. In addition to the hammerheads, you might also see Galapagos sharks, manta rays and mobula rays. Be sure to dive both Dirty Rock and Bajo Alcyone for the best experience on this liveaboard trip of a lifetime.
A UNESCO World Heritage site, Cocos Island National Park contains many natural population densities of large top predators and migratory species. The island is very famous with divers worldwide as a bucket list item, and is often called the modern-day "Jurassic Park."
Diving Season
The best time to travel to Cocos Island is between June and December, because the most pelagic species are present during the rainy season. But you can travel to Cocos Island via liveaboard year-round.
Liveaboards to Cocos Island
---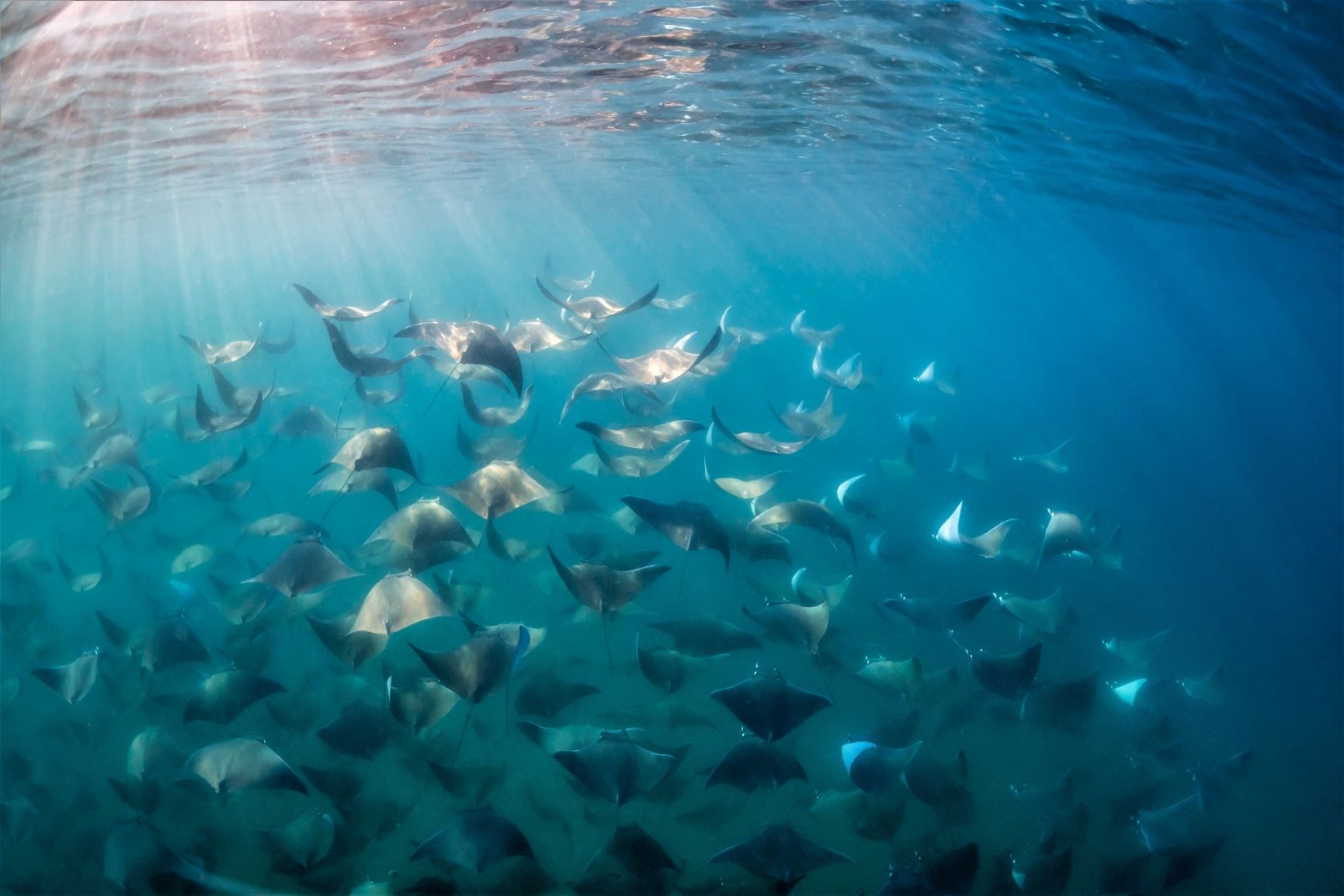 4. Liveaboard Diving Trips in the Galapagos Islands, Ecuador
Almost mythical in reputation, the Galapagos Islands are on nearly every diver's wish list. But the best dive sites in this remote archipelago are at Wolf and Darwin Islands, which can only be accessed by liveaboard. Come here to discover Galapagos sharks, hammerheads, manta rays, marine iguanas, sunfish and whale sharks, but leave with the sense of wonder untouched nature instills in those who go to great lengths to find it.
Here you'll also find whimsical geologic formations. El Arco is renowned as one of the best dives in the world, so be sure to add it to your to do list. On Isabela Island, you can swim with sea lions and penguins in a stunning environment.
Don't miss Roca Redonda, where sharks teem around an underwater volcano. Santa Cruz Island boasts an astounding flamingo lagoon and mangrove forest, as well as the Charles Darwin Research Station.
As you can see, there is no shortage of extraordinary adventures awaiting you in the Galapagos.
Diving Season
The best time to go to the Galapagos Islands is between June and December, because the colder water temperatures attract a variety of larger species. However, you can dive in the Galapagos Islands throughout the year.
Liveaboards to the Galapagos Islands
---
5. Liveaboard Diving Trips in Indonesia
Indonesia is home to more than 13,000 islands. Diving these from a land-based operation would take longer than the average vacation. For this reason, Indonesia is one of the most popular liveaboard destinations in the world.
Raja Ampat
Home to the most biodiverse waters on the planet, Raja Ampat is made up of four major islands and 1500 smaller cays and islands off the Bird's Head Peninsula in West Papua Province. Dive safaris in these colorful waters feature itineraries between 5 to 10 nights. This allows enough time for drift dives through busy reefs and macro dives among fascinating underwater environments like mangroves and caves.
Raja Ampat dive sites are all about diversity and abundance. Whether you're looking to dive with large pelagic species or tiny critters Raja Ampat definitely delivers.
You'll likely see: large schools of fish, manta rays, reef sharks, wobbegong sharks, walking sharks, turtles, Spanish mackerel, tuna, barracuda, pygmy sea horses, nudibranchs galore, ghost pipefish, cuttlefish, crustaceans and stunning pristine coral reefs.
Diving Season
The best time to go to Raja Ampat is between October and April, because these months make up dry season when the most liveaboard boats travel the area. But, if you can find a boat in the region, you can dive in Raja Ampat year-round.
Liveaboards in Raja Ampat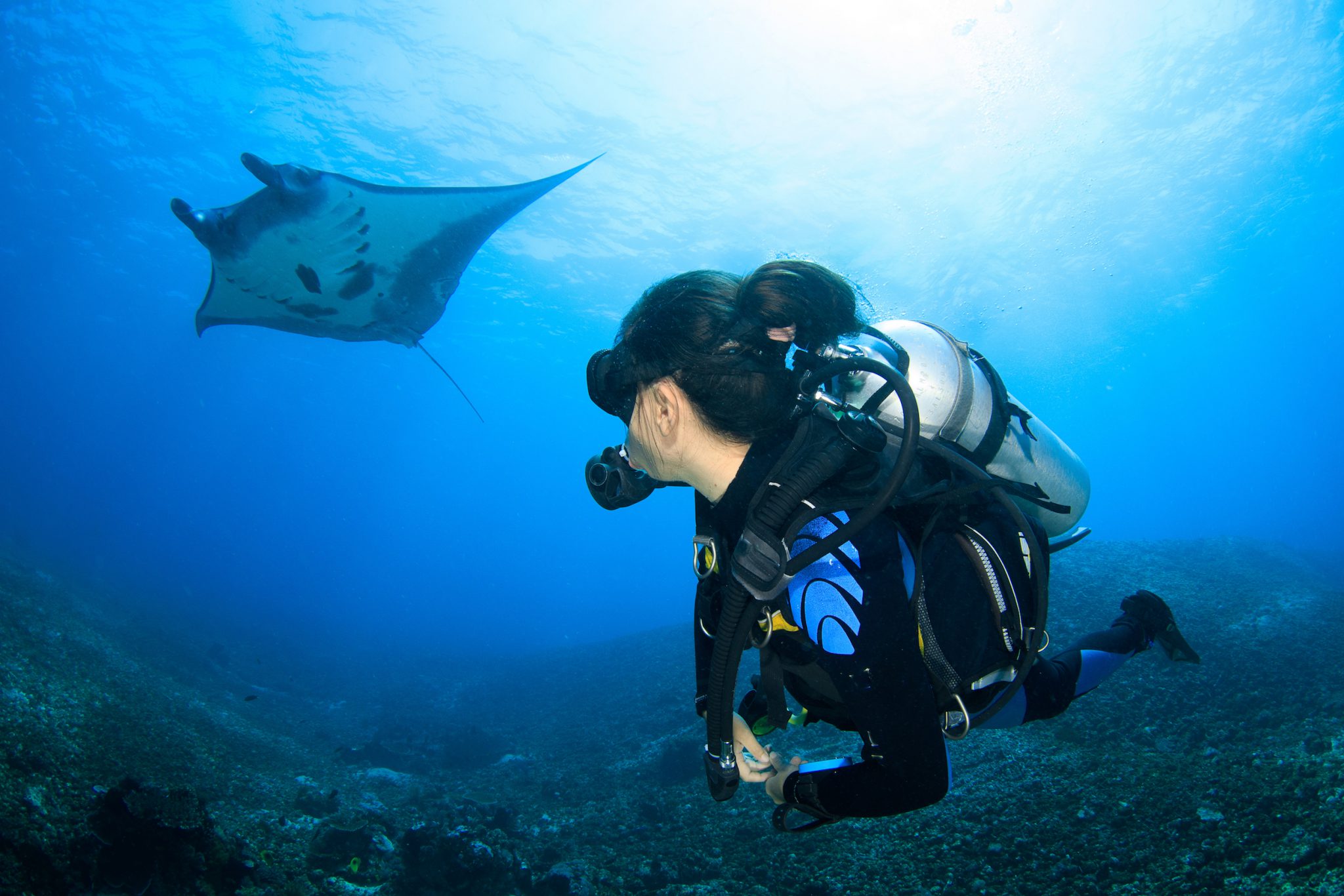 Komodo
Best known as the land of the Komodo Dragon, Komodo National Park is also home to some of the best drift diving in Indonesia. Among its sandy banks and colorful reefs, you'll find plenty of manta rays as well as whitetip and grey reef sharks.
Komodo National Park has plenty to offer macro-lovers, too. Sheltered dive sites boast a myriad of critters hiding among the slopes and walls of healthy hard and soft corals.
Liveaboard trips of 5 to 10 nights are the best way to experience the many thrilling dive sites in the park. Make sure to stop off at Makassar Reef, one of the most unique sites in all of Indonesia!
Diving Season
The best time to go to Komodo is between April and November, because these months are considered dry season and attract the highest number of dive charters. But you can dive in Komodo throughout the year.
Liveaboards in Komodo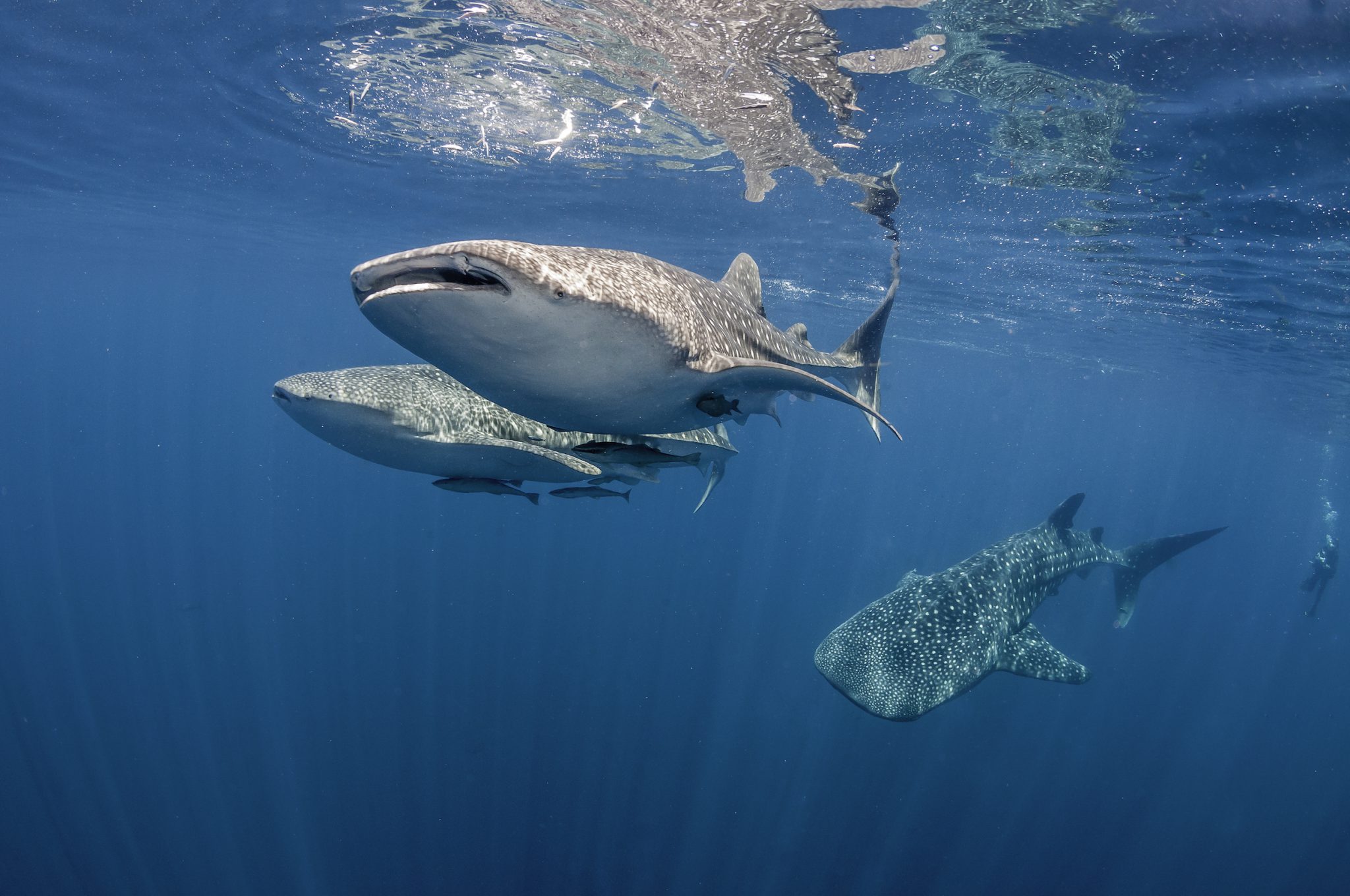 Cenderawasih Bay
As diving boats begin to explore areas surrounding Raja Ampat, they are discovering that Cenderawasih Bay is home to astounding marine diversity, fascinating WWII wrecks and predictable whale shark encounters. Perhaps the whale sharks are most important as divers from the world over come to Cenderawasih Bay to observe these gentle giants. Cenderawasih Bay is located on the northern coast of West Papua Province and offers an off-the-beaten-path alternative to Raja Ampat.
Diving Season
The best time to go to Cenderawasih Bay is between June and October, because during these months the weather in Raja Ampat changes to rainy and windy. Liveaboards use Cenderawasih Bay as a safe shelter during the rainy season storms but, theoretically, you can dive in Cenderawasih Bay during any month.
Liveaboards in Cenderawasih Bay
---
6. Liveaboard Diving Trips in Mexico
Most divers define Mexico by the diving found near Cancun or in the Sea of Cortez. What most don't realize is that Mexico's remote Pacific islands are meccas for pelagic lovers. Dive safaris in Mexico traverse the seas in search of the extraordinary.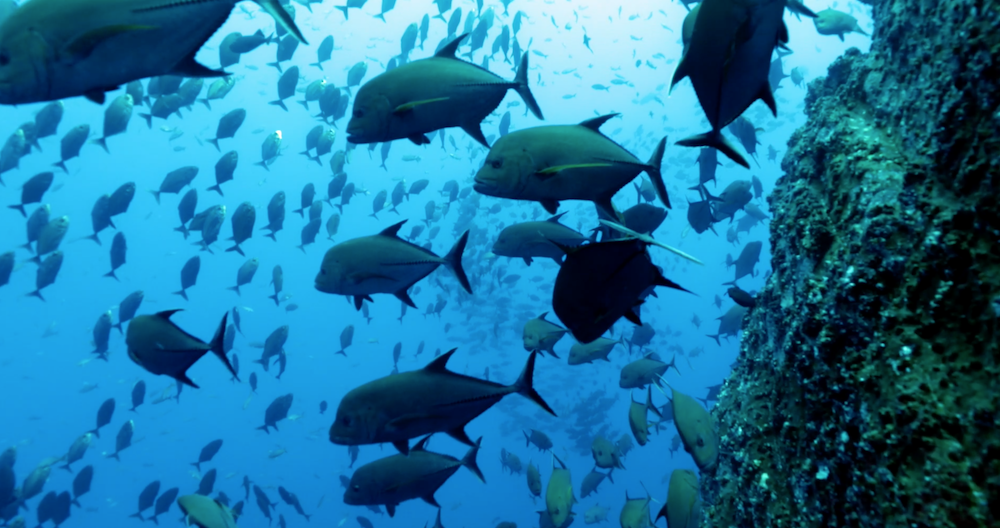 Socorro Islands
Also known as the Revillagigedo Islands, the Socorro Islands were recently named a UNESCO World Heritage site, owing to the biodiversity of species found here. At 240 miles (390 kilometers) west of Baja California Sur, these four volcanic islands attract manta rays and hammerhead sharks. In order to dive this underwater wonderland, you'll need to travel 24 hours from Cabo San Lucas on an 8 to 10-night liveaboard.
Diving Season
The best time to dive in the Socorro Islands is between November and May, because the seas are at their calmest during these months, ensuring a safe and comfortable journey to the islands.
Liveaboards to the Socorro Islands
---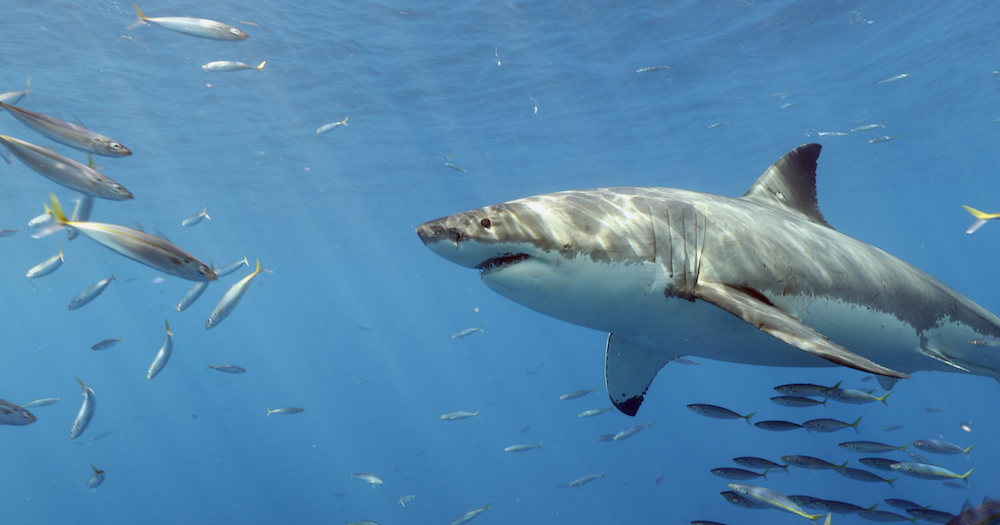 Guadalupe Island
*Please note that Guadalupe Island is currently closed until further notice*
Along with South Africa, Australia and California, Guadalupe Island is one of the four best destinations in the world for diving with Great White Sharks. This small, volcanic island lies approximately 150 miles (240 kilometers) from Baja California and is annually home to about 170 individual sharks.
This spine-tingling experience is heightened tenfold by crystal-clear water (visibility often soars beyond 30m – 100 feet). During surface intervals, you'll likely spot playful fur seals and elephant seals which attract the bounty of sharks to the island.
Diving Season
The best time to go to Guadalupe Island is between August and October, because this is the only time of year liveaboards travel to Guadalupe Island.
Liveaboards to Guadalupe Island
---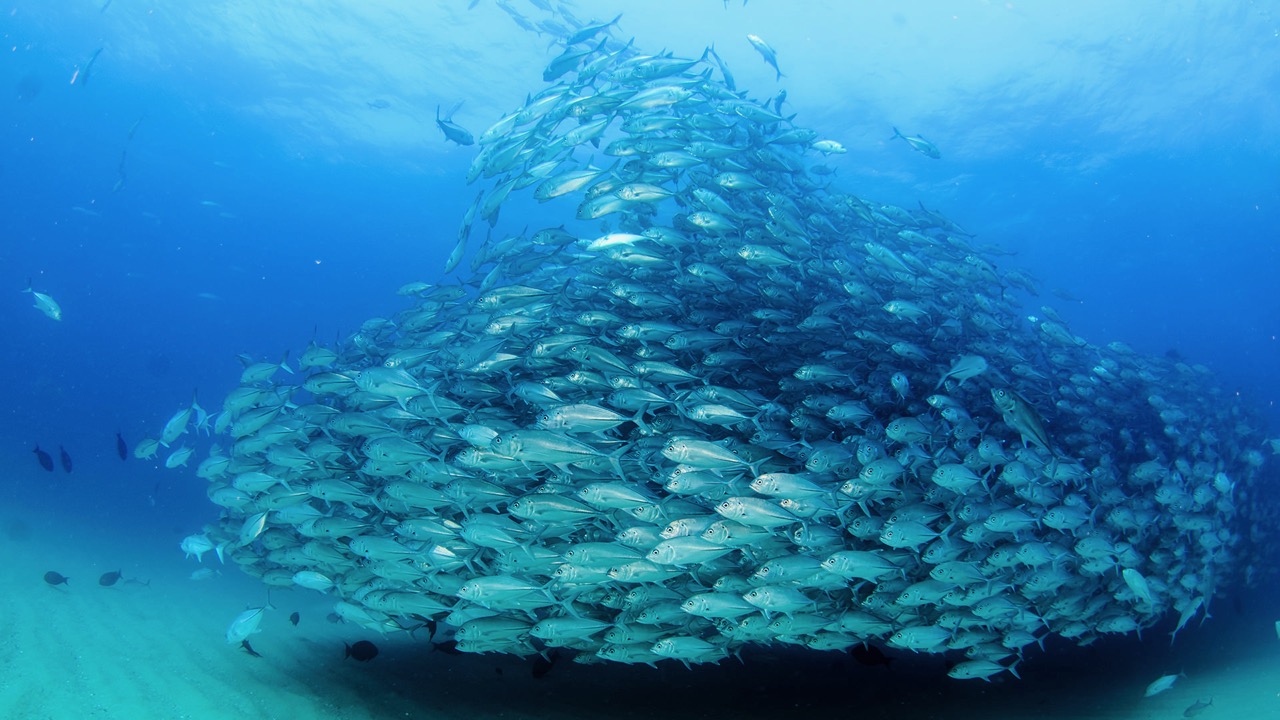 7. Liveaboard Diving Trips in Palau
Best described by superlatives, scuba diving in Palau is wild and beautiful with an array of wrecks, sheer walls and blue holes. Koror is the main hub for the islands, but many of the dive sites are located 45-60 minutes away around the islands of Ngemelis and Peleliu. Because of the sheer number of wonderful dive sites, you'll want to book a liveaboard in order to get the most diving out of your trip. Generally, diving safaris sail around Palau for 7 to 10 nights.
With more than 1400 species of fish, 500 species of healthy coral and its large pelagic action, diving in Palau should be at the very top of anyone's list. Whale sharks, eagle rays, turtles, reef sharks and the occasional hammerhead are a few examples of the astonishing spectrum of marine life this Micronesian archipelago has to offer.
Diving Season
The best time to go to Palau is between November and June, because these months represent the dry season. However, Palau can be comfortably dived year-round.
Liveaboards in Palau
---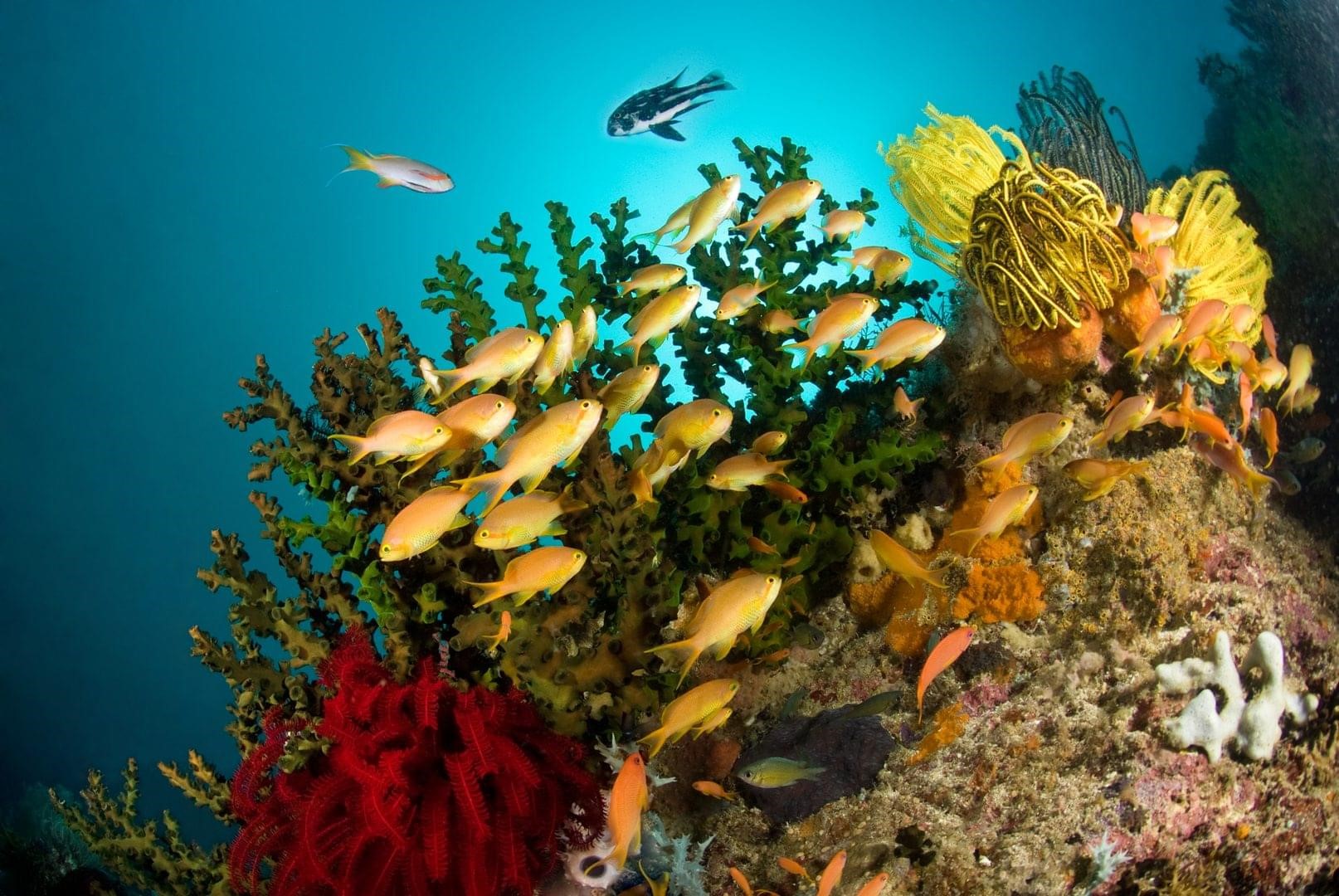 8. Liveaboard Diving Trips in the Philippines
A UNESCO World Heritage site, Tubbataha Reef Natural Park in the Philippines is home to 600 species of fish and 300 species of coral including numerous shark, dolphin and turtle species. Situated 93 miles (150 kilometers) southeast of Puerto Princesa, the only way to reach the shallow coral reefs and sheer drop-offs of Tubbataha Reef is by liveaboard. Trips typically last 6 nights, but diving boats occasionally offer longer, 13-night itineraries.
The Luzon region near Manila is the perfect place to begin your scuba adventure. With easy beach entries and plentiful macro life, thousands of divers use the area to get certified every year. For wreck diving, Subic Bay offers divers the chance to get up close and personal with sunken WWII warships. Soft coral, turtles, a plethora of fish species and sea snakes call the wrecks home.
In terms of marine life, you might also spot thresher sharks, whale sharks, schools of jacks, sardine balls and rays.
Diving Season
The best time to go to Tubbataha Reef in the Philippines is between mid-March and mid-June, because these are the only months the Natural Park is open.
Liveaboards in the Philippines
---
9. Liveaboard Diving Trips in the Red Sea
Sudan and Egypt border the Red Sea, offering a glimpse into the historically crucial body of water. Liveaboards traverse these calm waters in search of mighty sharks, shallow reefs and deep wrecks. Leave your worries behind as you board one of the many budget-friendly yachts of the Red Sea.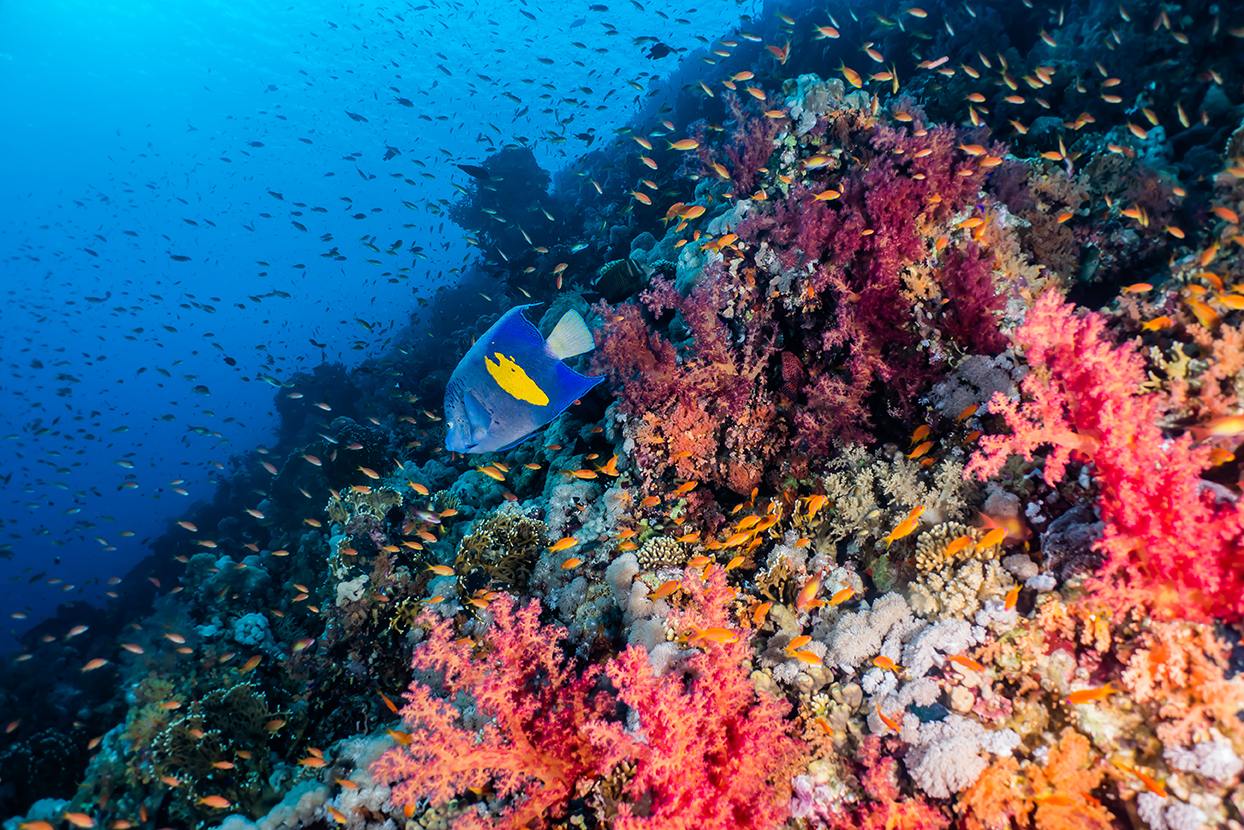 Brothers, Daedalus & Elphinstone
Dive charters in Egypt commonly include an itinerary known as Brothers, Daedalus & Elphinstone. Slightly challenging, this journey takes divers to three of the most impressive dive areas in the Red Sea. Sheer drop-offs, plenty of fish and beautiful coral walls along with a smattering of wrecks await the adventurous diver. Typically, liveaboard journeys to this region depart from Hurghada and last 7 days.
Diving Season
The best time to go to Brothers, Daedalus & Elphinstone is between September and November and then again between April and June, because these months feature a good balance between sea temperatures and air temperatures. However, the Red Sea offers fantastic diving throughout the year.
Liveaboards to Brothers, Daedalus & Elphinstone
St. John's Island
25 miles (40 kilometers) from Elba National Park on the far southern shores of Egypt lies St. John's Island with its spectacular reef system. Famous for its abundant soft and black corals, lucky divers might encounter schooling hammerhead sharks while in this part of the Red Sea. Because it is located offshore from a remote section of Egypt, you'll need to travel by liveaboard in order to visit St. John's Island. These trips are often combined with visits to Rocky Island and Zabargad to fill a 7-night itinerary.
These reefs are teeming with life; bright corals and clouds of fish dazzle with a kaleidoscope of color. With wonderfully calm and clear conditions, Egyptian reefs offer ideal conditions for new divers, marine life enthusiasts, wreck divers or anyone simply interested in exploring light-filled reef systems.
Diving Season
The best time to go to St. John's Island is between September and November and then again between April and June, because these months feature a good balance between sea temperatures and air temperatures. However, the Red Sea offers fantastic diving throughout the year.
Liveaboards to St. John's Island
Northern Wrecks
Unpredictable currents, strong storms, military tactics and shallow reefs have doomed many ships to eternity at the bottom of the Red Sea. Among these, the SS Thistlegorm is the most well-known to divers for its cargo of war supplies including motorbikes and train carriages. This dive site along with countless other wrecks, both shallow and deep, fill out Egypt's popular Northern Wreck liveaboard itinerary. These dive safaris often depart from Hurghada or Sharm el Sheikh and last 7-nights.
Diving Season
The best time to go to the Northern Wrecks is between September and November and then again between April and June, because these months feature a good balance between sea temperatures and air temperatures. However, the Red Sea offers fantastic diving throughout the year.
Liveaboards to the Northern Wrecks
---
10. Liveaboard Diving Trips in Thailand
A favorite among new divers and the more experienced, Thailand is the vacation destination of your dreams. Great food, friendly locals and fascinating underwater environments welcome scuba divers to the Land of Smiles.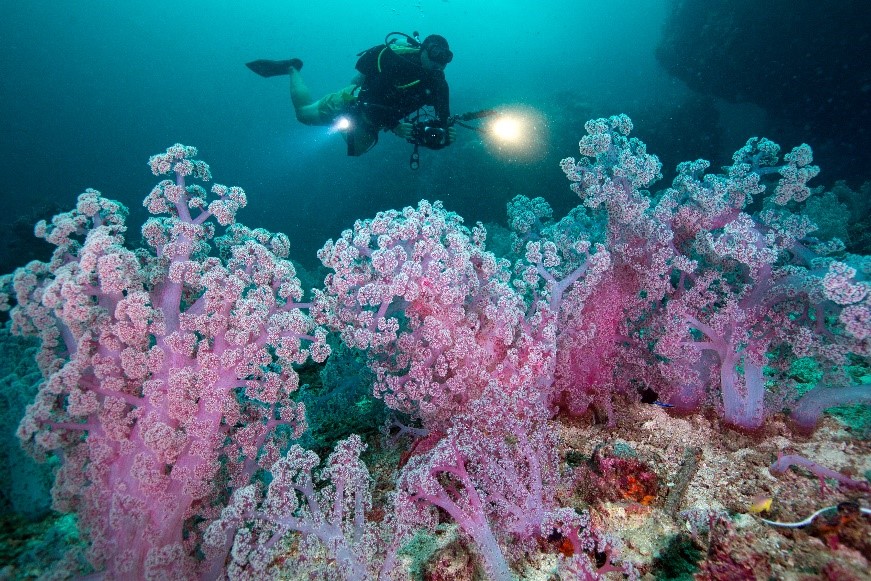 The Similan Islands
The Similan Islands, also known as Mu Koh Similan National Park, are Thailand's premier scuba diving destination. These nine islands are located 31 miles (50 kilometers) west of Khao Lak and are best accessed via liveaboard. Itineraries are, on average, 6 nights, but both shorter and longer journeys can be found. The magnificent, clear waters provide the best opportunity in the Andaman Sea for spotting manta rays and whale sharks.
The west and east coast of the islands are polar opposites in terms of diving. The east coast boasts exceptional visibility and gentle to moderate currents. Hard coral makes up the sand-covered reefs. The west coast is deeper, with stronger currents leading to canyons, tunnels, swim-throughs, archways and caverns. With such varied sites, the Similan Islands are a diving paradise.
Diving Season
The best time to go to the Similan Islands is between November and May because the park shuts down for monsoon season from mid-May to October.
Liveaboards in the Similan Islands
The Andaman Islands
Governed by India, the Andaman Islands can be reached by liveaboard from both Thailand and India. These island chains are approximately 500 miles (800 kilometers) northwest of Phuket.
Until 1993, the Indian government prohibited travel to the Andamans, protecting its coral reefs and marine environments in the process. Today, environmentally conscious tourism has been allowed to develop, and scuba divers are beginning to discover the manta rays, turtles, reef sharks and macro critters that populate the Andaman Islands' crystal clear waters.
Many sites are still undiscovered and you might be lucky to see a place never dived before. Some highlights include Dixon's Pinnacle, walls and channels off Havelock Island, and various manta ray cleaning stations around Barren Island.
Diving Season
The best time to go to the Andaman Islands is between November and April, because June to September represent the monsoon season, but it's possible to dive in the Andaman Islands year-round.
Liveaboards in the Andaman Islands
---
11. Liveaboard Diving Trips in Australia
With around 22,000 miles (36,000 kilometers) of coastline, Australia is home to some of the world's most unique and diverse marine life, making it a popular destination for scuba diving enthusiasts. There are popular dive sites in every state, from giant kelp forests and shipwrecks to stunning corals. But most divers that come to Australia come to visit the Great Barrier Reef.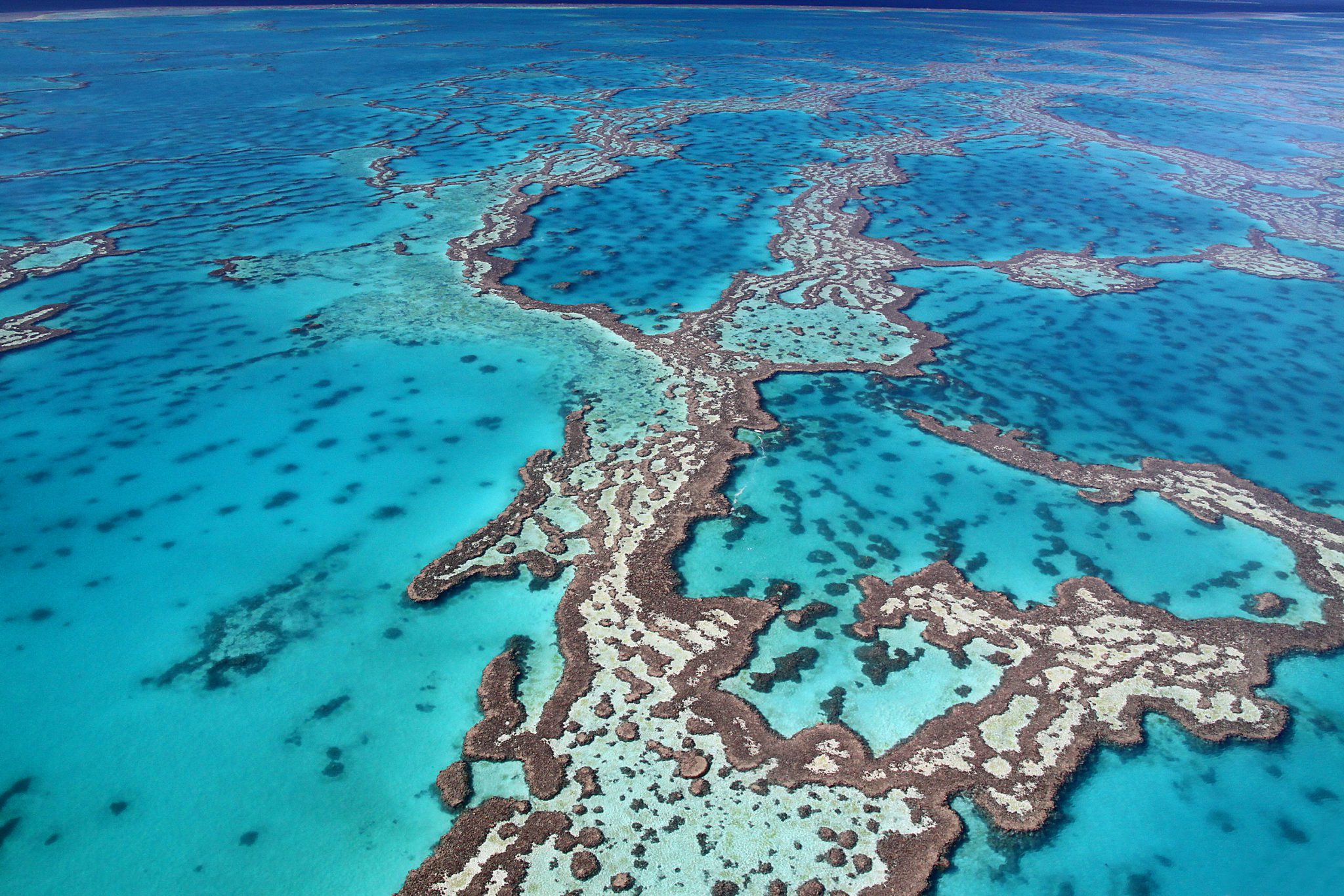 The Great Barrier Reef
Famed for being the world's largest coral reef system and even the largest living organism on Earth, the Great Barrier Reef is notorious for being visible from outer space.
One of the richest natural ecosystems on Earth, it was recognized as a UNESCO world heritage site in 1981 because of the importance of its biodiversity. And, as it's made up of hundreds of islands with thousands of reefs, it's one of the most sought-after dive spots in the world.
Much of the reef is further away from the mainland than you would think. That's why many divers opt for a liveaboard to explore some of the most remote reefs, which are often inaccessible to shore-based divers. Most liveaboards to the Great Barrier Reef depart from Cairns and can last anywhere from a couple of days to a couple of weeks, giving you access to world-class reefs that are too far for day trips.
On your trip, you will be able to see a wide variety of marine life, from sharks and manta rays to giant trevally, turtles, potato cods, Maori Wrasse, and colorful schools of tropical fish.
Diving Season
The best time to go to Australia to dive the Great Barrier Reef is between the months of August and early December to get the best diving conditions. The summer months until May are stinger season when box jellyfish are most active, so if you're headed to Australia around this time, it's best to head to the southern parts of the reef where the risk for jellyfish is much lower.
Liveaboards in Australia
---
12. Liveaboard Diving Trips in Micronesia
The Federated States of Micronesia is an island nation in the central Pacific Ocean located between Papua New Guinea and Hawaii. Made up of over 600 islands, with pristine reefs and clear waters, it's one of the top spots for scuba diving in the world.
Despite being home to some of the world's most spectacular and diverse dive sites, from shallow reefs teeming with vibrant coral gardens to dramatic drop-offs, its main attraction is the legendary Chuuk (Truk) Lagoon, which is considered to be one of the best wreck diving destinations in the world.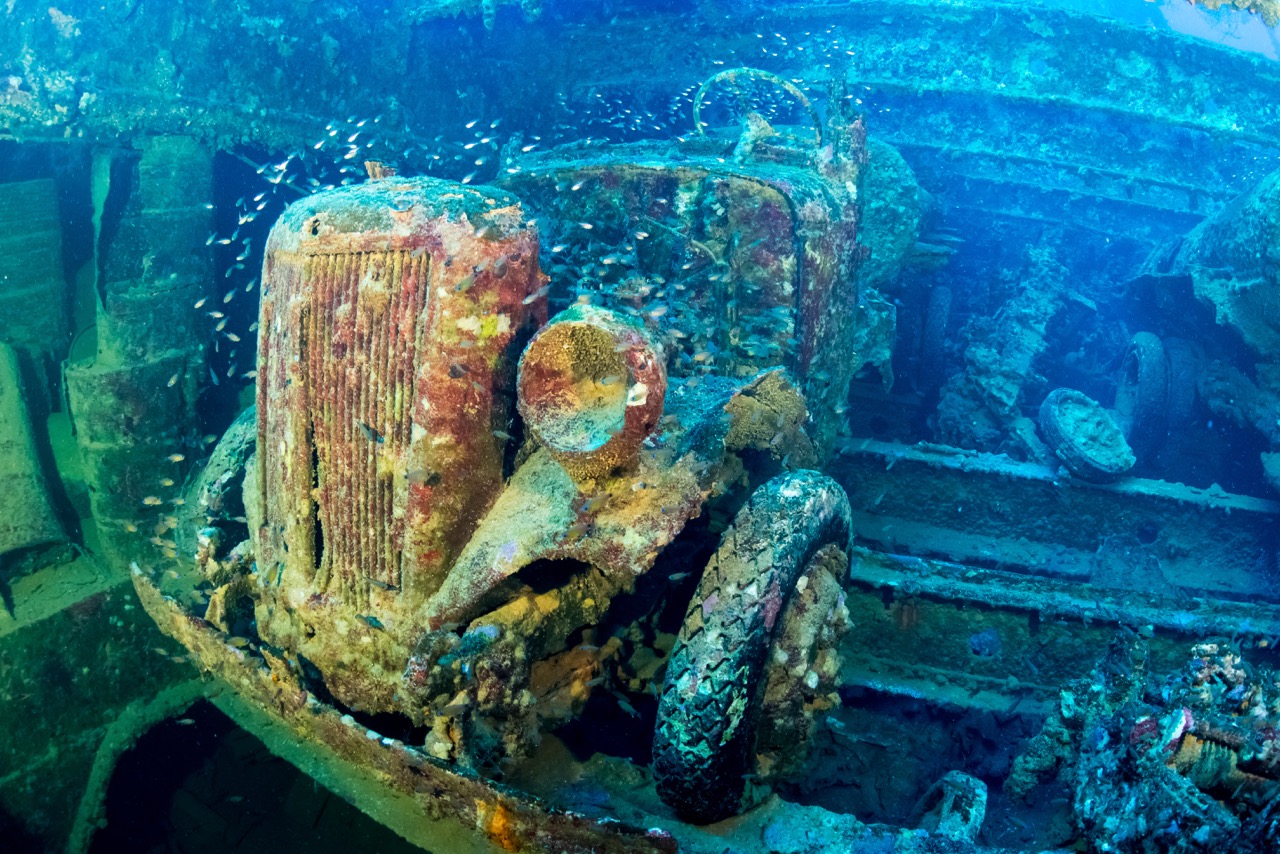 Chuuk (Truk) Lagoon
During the Second World War, this lagoon was home to a major Japanese naval base, and in 1944 and 1945, it became the scene of major battles between Japanese and American forces. As a result of the battles, there are now over 60 shipwrecks lying on its floor, each one both a time capsule of the past and home to an array of exotic marine life that has flourished in the last few decades.
Liveaboard trips are the best way to explore what is called the Wreck Capital of the World. Most of the trips depart from Weno, one of four main islands that make up Chuuk and home to the Chuuk International Airport, and liveaboard trips generally last one to two weeks. The lagoon is sheltered from the open ocean by the reef barrier, which makes the conditions ideal for diving. Visibility can range from 40 to 100ft (12to 30m), and there is rarely any current.
Most of the liveaboards in Micronesia do some diving on the outer reefs of the lagoon as well to enjoy the steep walls and pelagic fish, but the highlight of every trip is the wrecks. Many lie in depths of 100 to 130ft (30 to 40m), perfect for recreational divers, and they are filled with ammunition, torpedoes, and aircraft, a true testament to the war that raged here.
But if you're a tec diver, there are also plenty of deeper wrecks to explore, and some liveaboards cater to tec or rebreather divers.
As well as a witness to the history of WWII, the many wrecks here are covered in soft and hard corals and provide a spectacular home to an array of diverse marine life, from reef fish and turtles to barracuda, snapper, and even sharks.
Diving Season
You can dive Chuuk Lagoon the whole year round, but the best time to go is between December and April, which is the dry season when conditions at sea are calmer.
Liveaboards in Micronesia
---
Are you Looking for Special Deals on Liveaboard Diving Trips?
If so, you're in luck! PADI Travel offers the very best special deals in the industry. Check out the Special Deals section of the PADI Travel website for the latest liveaboard discounts.
---
Related Reading