The Philippines is a vast nation home to more than 1200 species of marine life including weird and wonderful macro critters, elusive thresher sharks and massive, awe-inspiring whale sharks. You can see a lot of amazing things taking day trips from a dive resort, but some of the best dive sites in the Philippines are only accessible by liveaboard – including the UNESCO World Heritage site Tubbataha.
If you're new to diving in the Philippines, a liveaboard trip is a great way to explore a few destinations in one go. Depending on the time of year, boats will either visit Malapascua Island and Leyte, the Visayas, Apo and Bohol or Tubbataha Marine Park. If (like me) you get seasick easily and haven't tried liveaboard diving yet, the Visayas are a calm, beautiful destination for your first liveaboard experience. Read more about liveaboard vs. land-based diving in the Philippines.
The skill level necessary for each destination varies. Tubbataha Reef should only be attempted by experienced Advanced Open Water Divers or above, whereas Apo Island and most diving in the Visayas is suitable for beginners. Review our Philippines Diving Calendar: A Month-by-Month Diving Guide to find out what you can expect to see, or plan your trip around the best time to see whale sharks.
Liveaboards in the Philippines leave from various ports, but the majority depart from Puerto Princesa on Palawan Island or Cebu City on Cebu Island. Most liveaboard trips are 6 nights/7 days, but some operators offer short, 4-day trips and longer, 10-day itineraries.
---
Best Luxury Liveaboard: S/Y Philippine Siren 2
S/Y Philippine Siren 2 is one of the most luxurious liveaboard dive boats in the world. At 40m/131f long and 8m/26f wide, she is the same size as many other liveaboards in the Philippines, but only takes a maximum of 16 guests. Other, similarly sized boats accept up to 24 guests.
Enjoy up to four dives per day, including one night dive. When you're not underwater, stretch out in the air-conditioned salon sundeck, covered outdoor dining area, or relax in your air-conditioned cabin with en suite bathroom.
Other amenities include:
Two high-powered tenders
Spacious dive deck
Kayaks
Onboard masseuse
Laundry service
If you're a fan of total luxury on dive vacations, you won't be disappointed with your stay on the Philippine Siren 2, one of the best liveaboards in the Philippines.
---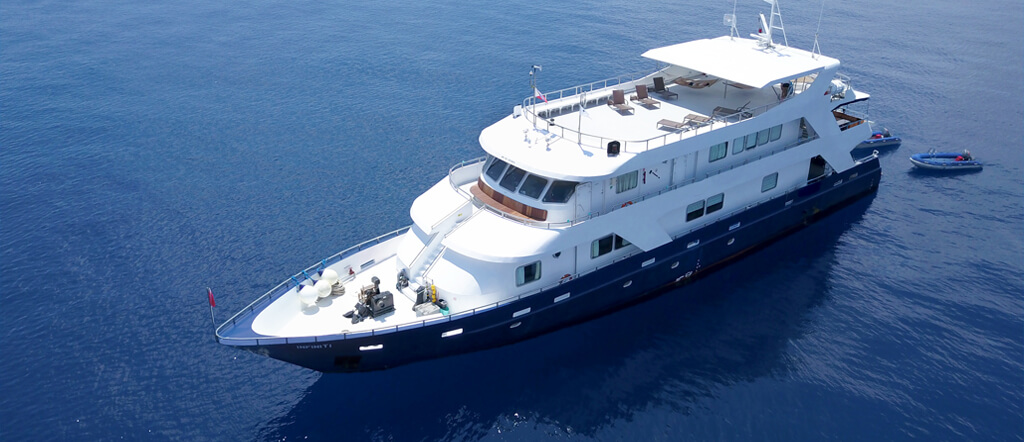 Best Mid-Range Liveaboard: Infiniti
Throughout the year, Infiniti visits some of the best places to dive in the Philippines including:
Apo and Bohol
Central Visayas including Cebu, Malapascua and Gato Island
Southern Leyte (where I saw my first whale shark!)
And, of course, Tubbataha.
This moderately-priced liveaboard takes a maximum of 22 divers and has two RIB tenders. The dive guides are knowledgeable, helpful and excellent critter finders.
Each cabin has an en suite bathroom, window and air conditioning. There's also a dedicated room for underwater photographers with camera stations, a big screen TV and comfortable sofas.
---
Best Budget Liveaboard in the Philippines: Seadoors
Boasting the most diving for the money, Seadoors is a no-frills way to explore the Philippines. The Seadoors is a slightly smaller boat that accommodates up to 16 guests in eight air-conditioned cabins. Rebreather diving is supported, and there is a dedicated area for underwater camera maintenance.
Twelve crew members are on hand to ensure a memorable experience and delicious meals are served buffet-style. Water, tea, coffee, juice and between-meal snacks are included. Alcohol is available for an additional charge. If you want to visit the Philippines and enjoy the liveaboard experience on a budget, Seadoors is a great choice.
---
The three liveaboards above were hand-picked by our scuba diving experts, but there are several more boats available. Click the button below to see the full list of liveaboards in the Philippines, search availability by date and read reviews.
---
Related Reading