With everything on offer from the world's largest fish to the tiniest of exquisite critters, diving in the Philippines is a show case of Mother Nature's marine bio-diversity. Made up of more than 7,100 islands and located in the nutrient-rich Coral Triangle, the Philippines is home to an astounding number of marine creatures. Discover World War II wrecks, steep drop-offs and tropical caves which are home to an impressive array of marine species, virtually unrivaled elsewhere on Earth.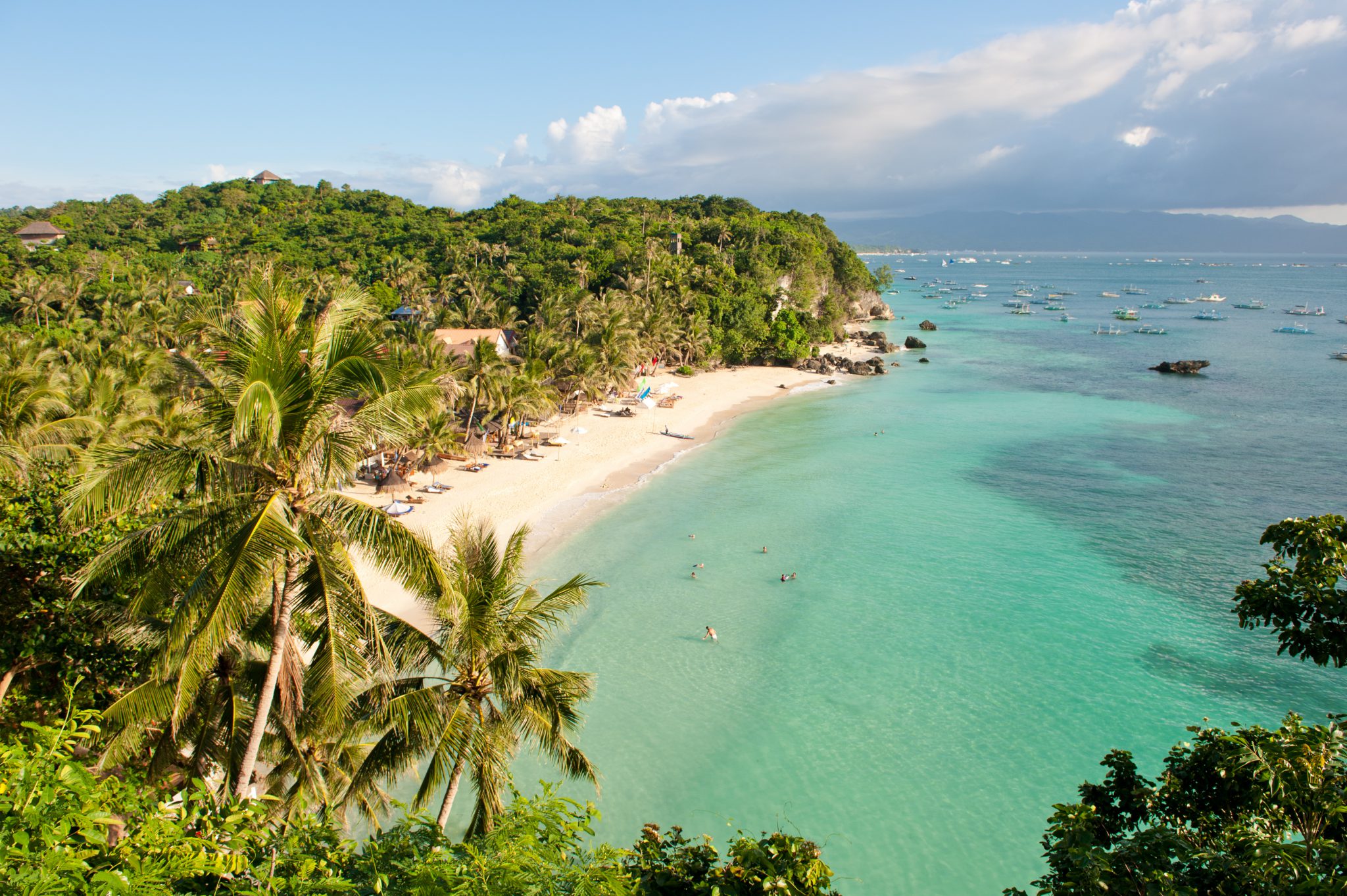 Macro Critters, Turtles, Sharks and More in Puerto Galera
Located on the island of Mindoro, Puerto Galera is famously known for its incredibly vibrant coral reefs teeming with a diverse range of marine life. Underwater you can expect to see some of the world's most peculiar and fascinating critters such as nudibranch, frogfish, flamboyant cuttlefish, mantis shrimp, pygmy seahorse and so much more. Marine life is in abundance here so you can also expect to also see turtles, schooling reef fish of jacks, snapper, groupers, trevally, barracuda, fairy basslets and trigger fish, moray eels and passing reef sharks. The rich variety of marine life, accompanied by the colorful coral reefs and white sand beaches, makes Puerto Galera one destination not to be missed by any avid diver.
Whale Sharks in Sogod Bay – Southern Leyte
Sogod Bay in Southern Leyte, is home to the largest fish in the world, the gentle giant of the ocean – the whale shark. In Sogod Bay, It's possible to swim and snorkel with these magnificent marine creatures in their natural environment – and in an ethical manner. Whales sharks can be seen in the Philippines all year round in a few places. Whale shark season in Donsol and Southern Leyte (which includes Padre Burgos and Pintuyan) is from October to May.
Thresher sharks in Malapascua
Thresher sharks, with their distinctively long tail fins, are a highlight of diving in the Philippines and Malapascua is one of the few places on earth where you can dive with this amazing species. This pelagic shark spends most of its time in the deep waters of the continental slopes so it is rarely seen by divers. Malapascua is an exception where two underwater islands, close to deep water trenches, act as cleaning stations perfect for recreational diving depths.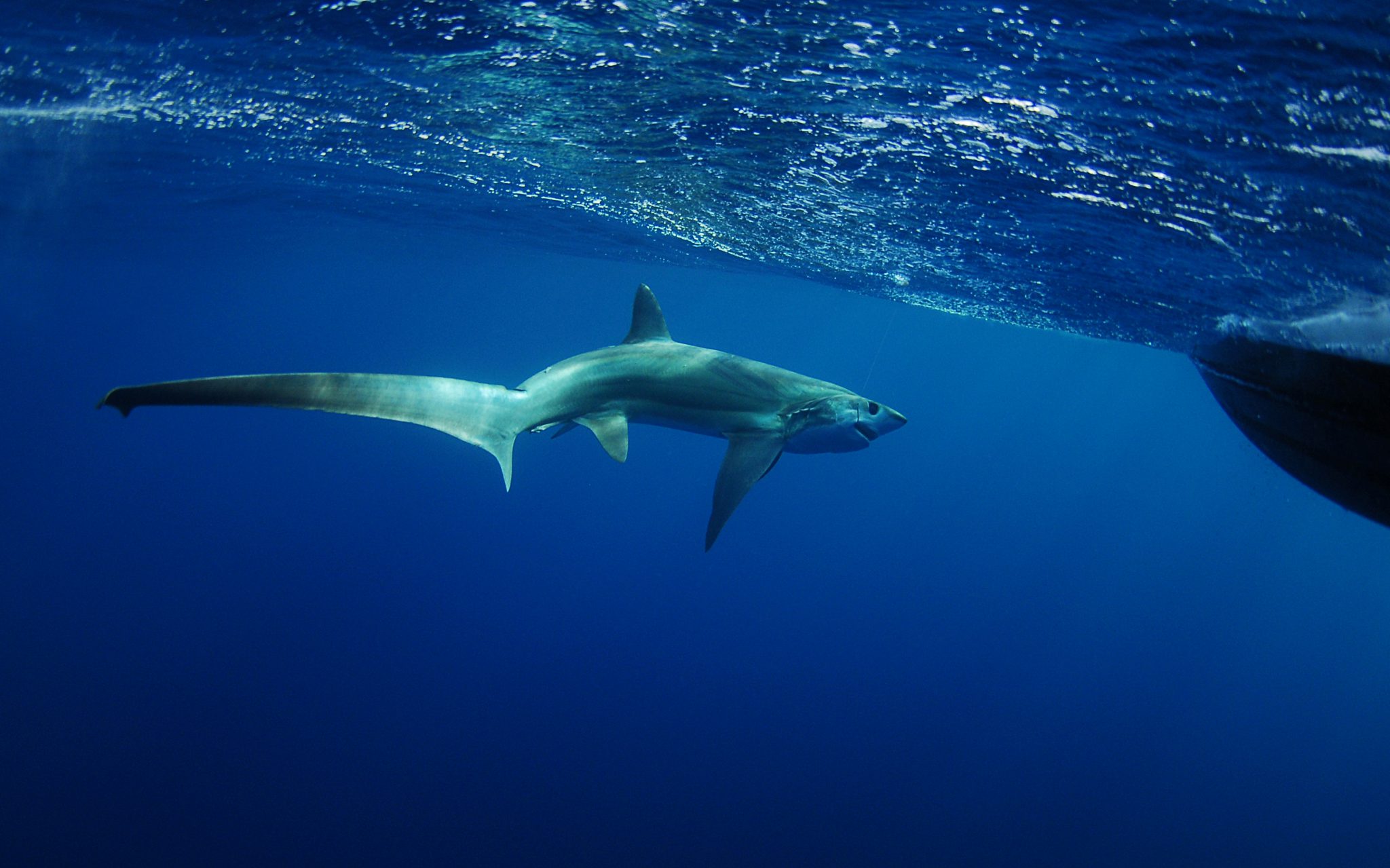 Dugongs in Palawan
The lumbering Dugong, which is also known as the 'sea cow', is one of the most extraordinary marine creatures you might come across underwater. Dugongs have become increasingly rare after being hunted for thousands of years for their meat and oil. It is thought that in the 1970's, dugongs were common in the Philippines but this is no longer the case with one of the last feeding grounds being just off the island of Coron Island in Palawan where a resident population of these sea grass feeding creatures gather.
Critters in Mabini (Anilao) & Dauin
The Philippines is not only a mecca for big fish seekers, it's also home to a plethora of macro marine creatures, including some of the rarest and most unusual on the planet. Mabini (Anilao) and Dauin are world famous sites for their weird, wonderful and often bizarre critters including; blue ring octopus, numerous frogfish species, pygmy seahorses, mandarinfish, nudibranch, harlequin shrimp, cuttlefish, pipefish and all manners of very odd shaped bottom dwellers. These two destinations are a must for any underwater photographer!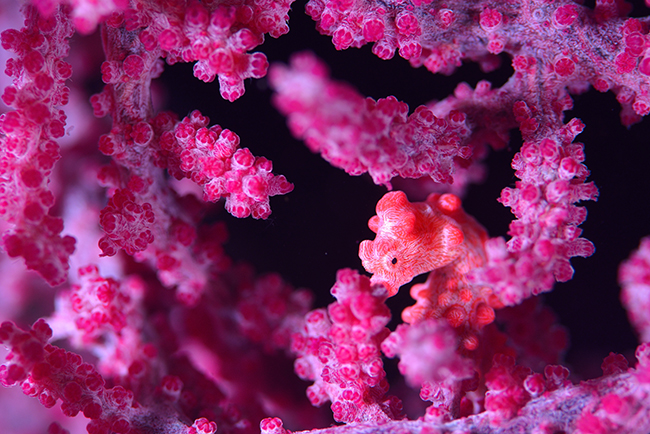 Manta Rays and More in Tubbataha Reef
Tubbataha Reef must be on any marine life aficionados bucket list. The Tubbataha Reefs Natural Park is the often cited as offering the best scuba diving in the Philippines and for good reasons. This large expanse of National Park is only accessible between late March and June by liveaboard and is teeming with marine life. The diversity of these reefs are incredible with the chance to experience an abundance of stunning hard and soft corals, manta rays and several shark species. This is one of the last places in Asia where you are almost guaranteed to see sharks on every dive: grey reef, white tip reef, nurse and if you're lucky, even whale, tiger or hammerhead sharks.
Fish, fish and more fish in Moalboal
Located in Moalboal, in Cebu's south-west, Pescador Island is a protected marine park and one of the most famous dive spots in the area. Underwater, this small island is a diver's playground with tunnels, caverns and swim-throughs. Fish life is abundant here and you'll find white tip reef sharks, schooling barracudas, sardines, jacks and even an occasional thresher shark. The diversity and mass of reef fish is simply breathtaking.
Just off the shore of Moalboal on Cebu Island is where you will find one of the most unique underwater experiences in the world –Moalboals resident sardine run. Just a short swim from the shore of Panagsama Beach, tourists will instantly be surrounded by over a thousand sardines. There is nothing quite like diving into a sardine cloud and watching them quickly form back together as they take over the ocean. Available year round, this is one experience that shouldn't be missed.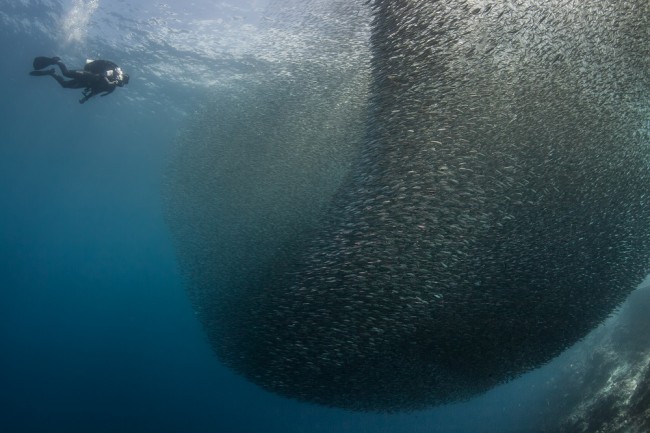 Are you ready to dive into a world of amazing marine life in the Philippines? Locate a PADI Dive Shop and start your adventure today!